Deep red, hot and spicy rayu chili oil. Infused with green onion stalks, ginger and Sichuan pepper.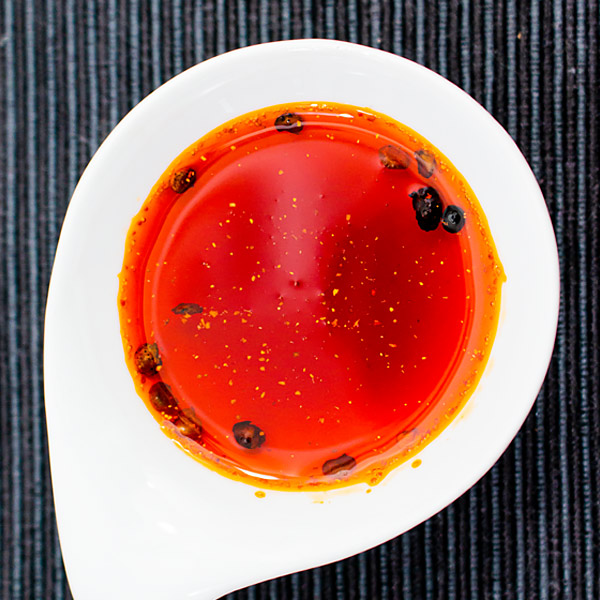 Deep red Rayu Chili Oil is a lovely Japanese condiment that you can prepare at home now!
It can be used a flavored cooking oil in Asian food or as a topping for a ramen soup, as a dipping sauce for gyoza or other Asian pot stickers.
The rayu chili oil is part of the Japanese food series that I filmed together with Momoko, our Japanese food expert. A big thanks to Momoko for sharing this recipe with us!
Jump to:
📕 What is Rayu Chili Oil?
The Japanese Chili oil is called rayu (also spelled layu or la yu). The Japanese r is not pronounced the same way as an English are, and may sound like a cross between r and l (but that's a whole different topic).
Chili oil is also a popular condiment in Chinese cuisine, but they call it differently in China.
The Japanese version is used as a cooking ingredient or as a topping. It adds a deep red color to food and it's spicy hot! The oil is flavored with other ingredients too, making it a unique infused oil.
Taberu Rayu is a modern variation that includes crispy onion and/ or garlic. The oil with crispy infused ingredients is used as a ramen or rice topping, among other uses. Taberu rayu means chili oil for eating.
This recipe is a regular chili oil without crispy onion or garlic.
Rayu is easily commercially available in Japan, so people usually just buy it from a store, but you don't always have that option abroad. This is when this recipe comes handy.
🌶️ Ingredients
Here is a shopping list =. That will help you get organized, and it includes some useful details.
You will find the full recipe with US and metric measurements further below in the recipe card.
Red Chili Pepper Ground - Ichimi Togarashi is a Japanese cayenne chili pepper. You can use Chinese or Korean peppers too. If you can't get any of those, use simply regular cayenne pepper.
Water
Green Onion Stalks - fresh
Ginger Root - fresh
Dried Red Chili Pepper - We used red dried chili pepper. Japanese dried chili peppers or Thai red chili pepper are great choices. If you want it to be mild, use dried Kashmiri red chili pepper.
Sichuan Pepper - Chinese or Indian variety. Chinese and Vietnamese ones are smaller, red-brown. Indian ones are larger and black-brown.
Oil - You can use light processed sesame cooking oil (not the cold pressed ones, it has a low smoking point) OR sunflower oil OR soy bean oil.
🥄 Kitchen Tools
You will need a stainless steel mixing bowl, not a glass bowl (important!) to pour in the hot oil. Oil is hot, and you require something that can take the heat.
Kitchen food gloves, if you are not used to working with chili pepper.
You will also need a small cooking pot and something like a wooden spatula or cooking chopsticks. Remember, you will be working with hot oil.
A cooking thermometer, such as a candy thermometer, is a requirement. That way, you can measure the heat. The oil should be exactly 350 Fahrenheit or 180 Celsius. Too little and it won't infuse that well with the chili pepper, too hot, and you have reached an unhealthy smoking point.
A glass jar with metal lid (not plastic). To store your red infused chili oil.
🔪 How to make it?
Step 1
Combine chili pepper powder and the small quantity of water in a metal bowl. This is to prevent the hot oil from burning the chili powder later.
Step 2
Cut clean (and dry) green onion stalks into 2 inch-sized pieces.
Peel and slice ginger into elongated slices.
Cut off and discard dried chili ends. Cut chili into two.
Step 3
Pour oil into a small sauce pan. Turn on the stove.
Place ginger, green onion, dried chili pepper and Sichuan pepper into the oil
Step 4
Control the heat, and cook over a medium heat setting for 10-15 minutes. Stir occasionally, the ingredients will infuse the oil. Wait for the green onion stalks to turn crisp.
Step 5
Take out green onion stalks, chili pepper and ginger pieces.
Test the oil temperature with a thermometer, it should get to 350 Fahrenheit/ 180 Celsius, not more than that. Take from the heat.
Step 6
Pour, a spoon at a time, hot oil carefully into the previously prepared chili pepper powder and mix it in. Pour in remaining hot oil.
Stir everything and leave to rest and cool for 5-10 minutes.
Step 7
Pour oil into a clean jar and close with a lid.
Use or store.
💡 Tips
Always be careful, you are working with hot oil!
Control heat all the time, use a cooking thermometer after having infused the oil with ingredients.
The crispy fried onion stalks can be used in your food as a topping.
Prepare the red chili powder with small quantity of water well in advance. It needs to be mixed in, and using your hands is the easier approach. Use kitchen gloves if needed. The water in the powder is a preparation to the hot oil, which will be poured over it afterwards. If you poured hot oil over plain red chili powder without water in it, it would get burned.
You can use special chili seasoning blends such as shichimi togarashi or nanami togararshi instead of ground Japanese chili pepper.
You can strain the oil at the end if you want before you pour it into a jar. We leave it, because it infuses the oil further in the jar.
🥣 Uses
Use it like any other cooking oil to prepare other Asian or Japanese style meals. e.g egg fried rice or shrimp stir-fry.
Pour some oil as a topping or sauce over your meals. I like some in my chicken ramen soup or a drizzle over my yaki udon noodles.
If you enjoy plain cooked rice, then you will enjoy it over prepared sushi rice as a topping, just like salmon furikake.
Chili oil is great as a dipping sauce too. Japanese dumplings, gyoza are great dipped in it.
The sauce can be used as a dressing to all kinds of meals, such as sashimi (sliced raw food) or other noodle meals.
🍱 Storing
A jar of homemade rayu/layu chili oil will be good for about 1 month stored out.
It keeps well for about 6 to 12 months in your fridge. If you keep it well sealed, it will last even longer.
You will know if your oil has turned bad if it smells rancid and if the bottoms looks discolored.
I always recommend storing homemade infused oils in your fridge if you live in a hot arid or hot tropical climate.
You can usually keep them out in a cold climate, if it's not summer.
👁️ More Asian Sauces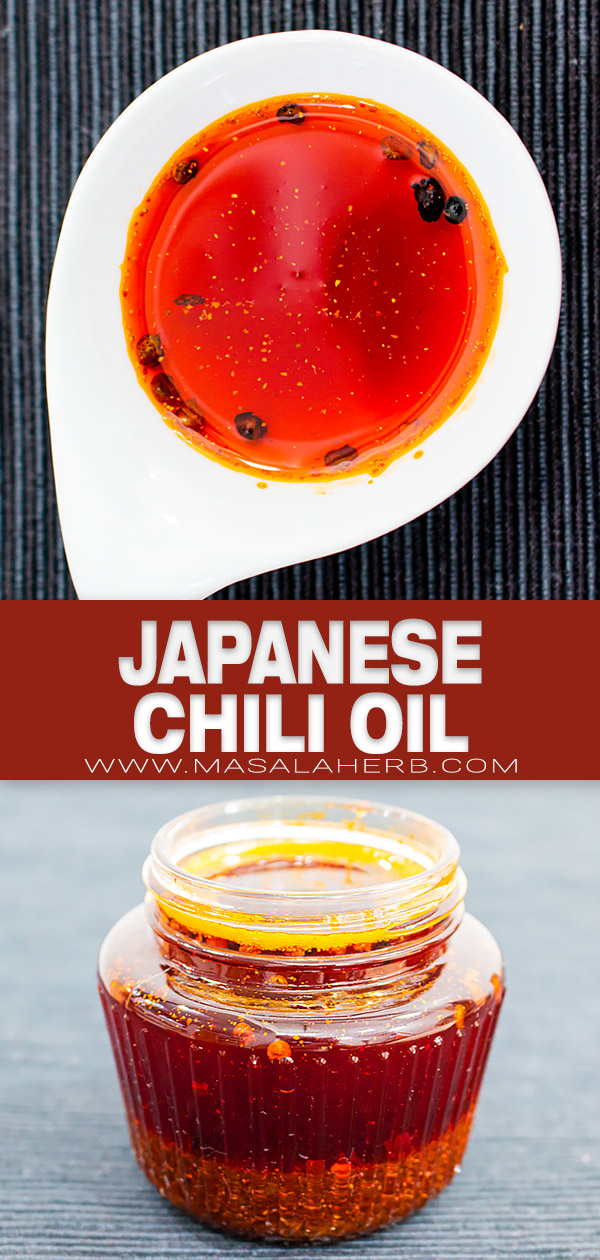 Global Food Recipes
with Spices and Herbs
Free E-Book available for a limited time. Grab yours now and get instantly inspired!
📖 Recipe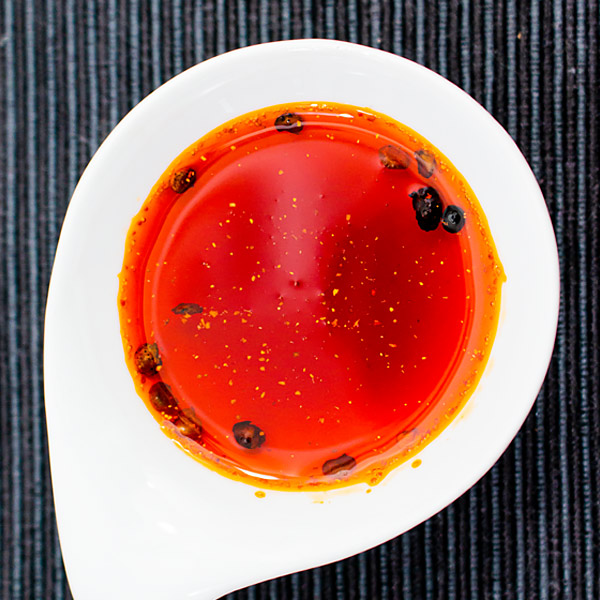 Rayu Japanese Chili Oil Recipe (Layu)
Deep red, hot and spicy rayu chili oil. Infused with green onion stalks, ginger and Sichuan pepper.
Print
Pin
Rate
Instructions
Combine the red chili pepper powder with water in a stainless steel bowl. You need to wet it so that it can take the heat of the oil later. You can mix the water into the ground chili pepper with your hands. Use kitchen gloves. A stainless steel bowl is required because of the hot oil later.

⅓ Cup Red Chili Pepper Ground,

1 Tablespoon Water

Prepare the fresh ingredients. Make sure that your clean onion stalks are dry and not wet. Cut them into 2-3 inch long pieces.

Peel ginger and cut into thick slices. Take off stem from dried chilies and discard, break or cut chili into two to 3 pieces. Keep fresh ingredients aside.

2 Inch Ginger Fresh,

5 Piece Red Chili Pepper

Pour oil into a small pot and take it to the heat. Keep over a medium heat setting.

Place green onion stalks, chili and ginger with Sichuan peppers into the oil. Make sure they are all submerged and stirred in.

20 Piece Green Onions,

2 Inch Ginger Fresh,

5 Piece Red Chili Pepper,

1 Teaspoon Sichuan Pepper

Cook to infuse the oil with the ingredients for about 10- 15 minutes. Watch it, it shouldn't be too hot and bubbling too hard, and it shouldn't cook too slow. Keep over a medium heat setting. The oil is done infusing when the onion stalks have turned crispy.

Take out the green onion stalks, ginger and chili pieces. You can use the green onion stalks in your food, the rest can be discarded. The Sichuan peppers can stay in the oil.

Keep the oil over a medium heat setting and check with a food thermometer. Increase heat if necessary to reach 350 Fahrenheit or 180 Celsius. Once you get there, take the oil from the stove. Do not heat it more because it can get to smoking point which isn't food save and too hot oil over the ground chili pepper will burn it and alter the taste.

Pour a spoon or two of hot oil into the prepared ground chili pepper in the stainless steel bowl and carefully mix it in.

Pour remaining hot oil carefully into the bowl. It will bubble! Mix it all in, cooking chopsticks are a great tool for this!

Let it sit for 10 minutes or so, and then pour your infused rayu chili oil into a clean jar. Close with a lid and store in a cool and dry place away from direct sunlight or use in your food directly.
Notes
1 serving = about 1-2 Tbsp. This recipe makes about 30 servings, and the base recipe is a jar of 10 ounces or 300 ml. These are just estimates.
Nutrition
Nutrition Facts
Rayu Japanese Chili Oil Recipe (Layu)
Amount Per Serving
Calories 103
Calories from Fat 99
% Daily Value*
Fat 11g17%
Sodium 2mg0%
Potassium 31mg1%
Carbohydrates 1g0%
Protein 1g2%
Vitamin A 118IU2%
Vitamin C 4mg5%
Calcium 6mg1%
Iron 1mg6%
* Percent Daily Values are based on a 2000 calorie diet.