DIY Teriyaki sauce condiment to use in recipes that call for teriyaki sauce.
Japanese 3 ingredient Teriyaki Sauce made from scratch.
This is a quick and easy authentic healthier Japanese teriyaki recipe and your best choice if you want to prepare various teriyaki dishes from scratch.
Global Food Recipes
with Spices and Herbs
Free E-Book available for a limited time. Grab yours now and get instantly inspired!
This teriyaki sauce recipe is part of my Japanese food series. I have brought in native Japanese food specialized to the MasalaHerb.com team.
This is an authentic Japanese recipe. Our basic miso soup was the latest in the series.
I have more Asian stir-fry sauce recipes such as the simple stir-fry sauce with 3 ingredients and the Pad Thai stir-fry sauce.
Jump to:
📕 What is Teriyaki Sauce?
Teriyaki Sauce is a Japanese stir fry sauce. Teri means shiny and yaki stir fry/to cook.
The sauce is most notably known for teriyaki chicken and it's mainly a newer, non-traditional, Japanese dish.
Teriyaki sauce and meals are very popular outside of Japan and the rest of the world has various uses for this amazing flavorful sauce.
An authentic Japanese teriyaki sauce is not commonly prepared in advance but rather just while a teriyaki chicken is made.
However, the sauce can be used as a dipping sauce too (i.e with potstickers) or it can be added to prepare a marinade or a glaze.
🔪 How to make it?
Making Teriyaki sauce from scratch is super simple and so much healthier too! You know what's in it and it will save you some bucks.
Here are 3 simple steps to make your own teriyaki condiment. The complete recipe, with ingredients and instructions, is located at the bottom of this post.
Step 1
Add ingredients to a pot and heat up.
Step 2
Bring to a boil and mix occasionally. Reduce the sauce to the desired consistency.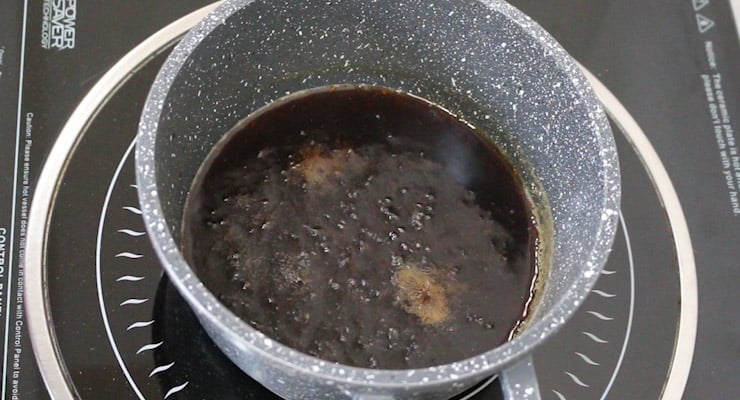 Step 3
Pour hot sauce into a jar to use at a later time or use it further in your cooking.
❔ 🔪 How to thicken your sauce?
This 3 ingredient Teriyaki condiment is on the thinner side so that you can add it to the food that you want to cook. That way it will thicken quickly!
A Japanese teriyaki sauce is usually only prepared when a dish is cooked, such as a teriyaki chicken.
So when the chicken cooks in the quickly prepared teriyaki sauce, the sauce thickens.
However, if you want the DIY sauce to turn out thicker, you can do that by cooking the sauce down further (in step 3) until you are satisfied with the thickness.
Keep in mind that the sauce will thicken even further once it has cooled down.
I do not recommend thickening your teriyaki sauce with cornstarch or xanthan gum because it will make it difficult to use it further in your cooking. Besides, I personally dislike the starchy effect.
🥣 Using
To use your sauce, just add some of it to your food during the cooking process.
For example, add a tablespoon or two, to your chicken, pork, squid, shrimp, salmon or tofu.
Use it at as a dipping sauce with sushi or even pot stickers.
Or marinate tofu, chicken and similar with the sauce so that the flavors get infused.
🍱 Storing
You can store the sauce in a glass jar or airtight container to use it another day.
The sauce should be kept away from direct sunlight and you can keep it out in your pantry if you live in a cold environment.
You don't need to store your homemade teriyaki sauce in your fridge. Store it the way you would keep your soy sauce.
However, if you are not sure and you want to be on the save side, then store in the fridge.
📜 Variations
You can enhance your homemade condiment by adding or using the following ingredients:
Chili Pepper flakes or fresh chili pepper without seeds - to make it spicy
Sesame seeds or a few drops sesame oil
Honey or maple syrup instead of sugar
Ginger - add a small quantity finely ground
Garlic - add a small quantity finely ground
Mirin or Vodka - instead of Sake
Just add the ingredients with the 3 primary teriyaki ingredients during the cooking process.
If you can't get sake, substitute with vodka. It does the trick too and my Japanese friends use vodka too when they can't get sake.
💡 Special Diets
This teriyaki sauce recipe is already vegan friendly and it doesn't include MSG.
To make it gluten-free use gluten-free soya sauce.
For a low sodium sauce, use a low sodium soy sauce.
A teriyaki sauce needs to be shiny (or else it's not a teriyaki sauce) and the sugar makes it all shiny.
That means you can't make it sugar-free or low carb or else it wouldn't be called a teriyaki sauce.
To make it without liquor, substitute with rice vinegar (to add at least some flavor).
👁️ More Asian Condiments
Global Food Recipes
with Spices and Herbs
Free E-Book available for a limited time. Grab yours now and get instantly inspired!
📖 Recipe
Japanese Teriyaki Sauce Recipe
DIY Teriyaki sauce condiment to use in recipes that call for teriyaki sauce.
Print
Pin
Rate
Servings:
5
~ uses in your cooking
Instructions
Add sake to a pot with the brown sugar. (jaggery can be added optionaly to add flavor)

Mix the content and keep on the stove to heat up slowly.

Pour soy sauce into the pot and mix.

Keep pot over medium heat and bring teriyaki sauce to a rolling boil.

Reduce heat and let it simmer for about 5 to 10 minutes. Reduce sauce to desired thickness. Keep in mind that sauce will thicken furthr when cool.

Store in a clean jar or use in your food to make teriyaki chicken for example.
Notes
Use sake or any other neutral tasting liquor such as vodka. My japanese friends abroad recommend using vodka if you can't get sake.
We used regular kikkoman style soy sauce.
Jaggery is optional, I didn't add it in the video but it adds flavor. Substitute also with rapadura, panela, piloncillo or kokuto (japanese version).
To make a thicker teriyaki sauce, cook it 5 minutes further down over a low temperature setting until it thickens up.
The whole batch makes about ½ a cup or 120 ml in quantity.
Nutrition
Nutrition Facts
Japanese Teriyaki Sauce Recipe
Amount Per Serving
Calories 89
Calories from Fat 9
% Daily Value*
Fat 1g2%
Sodium 854mg36%
Potassium 65mg2%
Carbohydrates 18g6%
Protein 1g2%
Calcium 17mg2%
Iron 1mg6%
* Percent Daily Values are based on a 2000 calorie diet.