A simple basic Japanese miso soup.
Basic miso soup recipe - I cover the making of a plain clear miso soup in this post.
Collect some tips on how to make it and ideas on how to enhance it to your preference.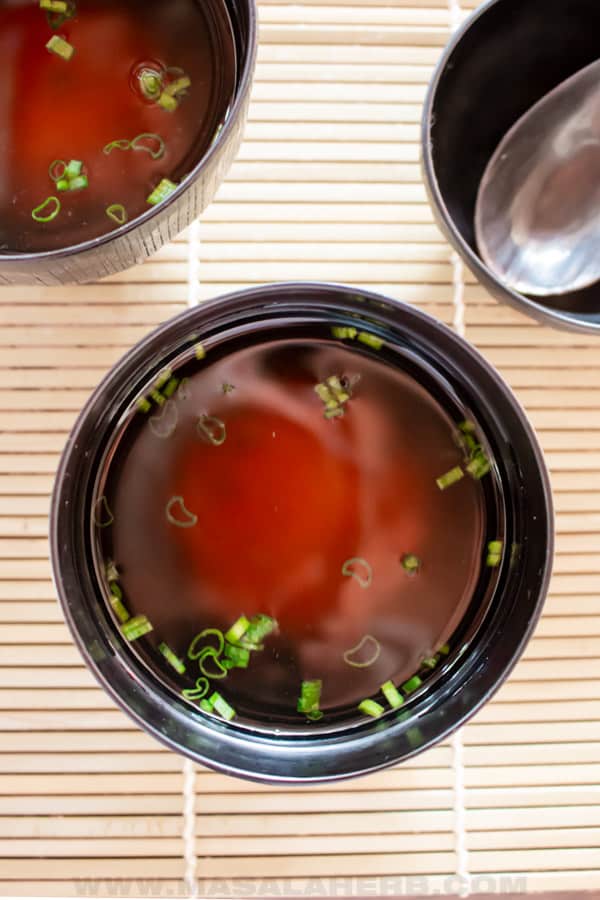 Global Food Recipes
with Spices and Herbs
Free E-Book available for a limited time. Grab yours now and get instantly inspired!
I brought in a Japanese food expert to cover the making of an authentic basic miso soup.
Jump to:
What is miso?
Miso is a traditional fermented soybean paste from Japan.
Variations of miso paste exist, such as red miso and white miso. Regional Japanese miso paste varieties are prepared with fermented barley too.
Miso soup is a quick clear soup, prepared with miso paste and other ingredients.
The paste is used to make an instant soup. It only takes 5 minutes to make a bowl of miso soup.
What is the soup made of?
Here are some pointers on what to look out for when making miso soup from scratch.
Miso Paste
Miso paste is the main ingredient and you can choose to use a red or a white miso paste.
Red miso paste is more common, white miso paste is usually considered superior in taste.
Mixing red and white miso paste can result in interesting soup flavors and is encouraged.
You can buy miso paste in a specialized Asian grocery store or get miso paste online.
Dashi
Classic miso soup is based on dashi, which is a Japanese broth.
Dashi can be made of bonito flakes (dried fish flakes), kombu seaweed and dried shiitake mushrooms amongst other variations.
The best and most flavorful dashi is made with bonito flakes and kombu.
We are making shiitake dashi, in today's miso soup bowl recipe. Today's recipe is a plant-based vegan miso soup variation.
If you don't have dashi on hand, then you can use a regular broth but the taste will be different and it won't make an authentic miso soup. In that case, use instant cubes or flakes or liquid broth (Japanese version preferred above western broth).
Extra ingredients
Soy sauce, some sugar, and salt can be added as well for extra flavor. Sliced green onion stalks can be used as a garnish.
Extra ingredients are not required if you are using a high-quality miso paste.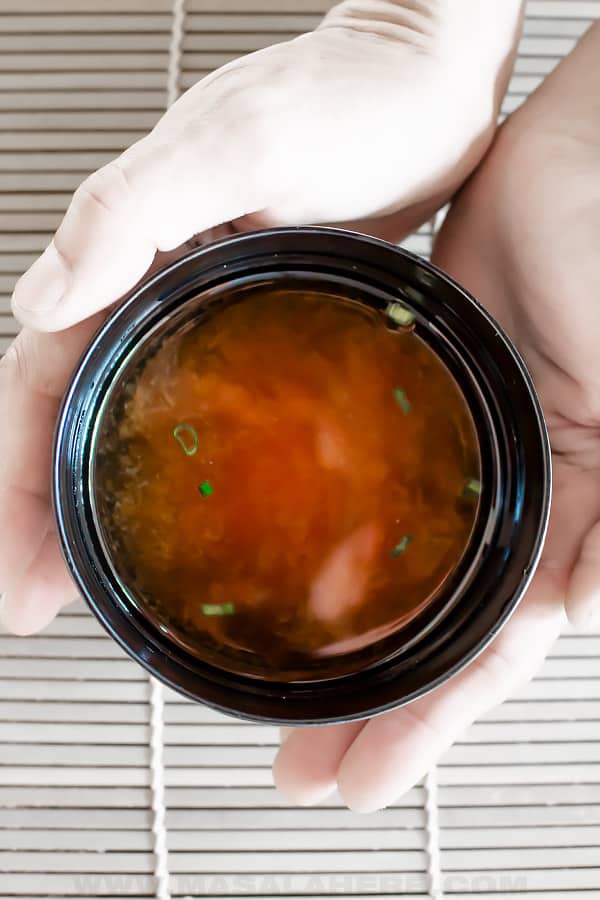 How to make it?
A homemade miso soup essentially consists of 2 parts: the making of the dashi and the miso soup itself.
The focus today is a vegan dashi prepared with shiitake mushrooms.
Luckily making dashi and the soup is easy. Here is how in a nutshell (full recipe in the recipe card further below)
Watch the how-to video to help you along.
Step 1
Prepare the dashi by keeping the mushrooms to soak in water for a few hours.
Take out mushrooms before using the dashi for the soup.
Step 2
Heat up dashi and add flavoring ingredients when it's cooking.
Step 3
Reduce or turn off the heat and add in the miso paste. Combine paste into soup until it has dissolved.
Tip: Miso paste shouldn't boil in the soup or the flavors of the miso will get altered in a not so good way.
Garnish with green onion slices and serve up hot.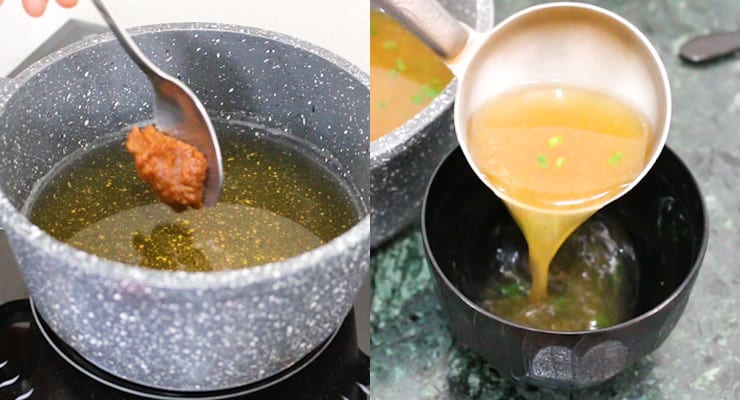 Flavor Options
This is the most classic, simple and basic miso soup out there and you can add ingredients and modify it to your needs.
Add the following to your soup, while the soup is cooking or to garnish, one at a time or combined:
noodles - ramen, udon, soba
tofu - uncooked in the soup or crispy fried as a topping
seafood - clams, surimi, crab, shrimp
meat - stir-fried pork or chicken
vegetables - radish, carrot, potato, taro root, bok choy or green peas
drop an egg in or serve with soft boiled egg half (Ajitsuke Tamago)
Serving
Traditionally, Japanese homes enjoy miso soup mainly for breakfast with a bowl of rice and other small healthy seafood and vegetable bites.
However, a bowl of miso soup is also served up for lunch and dinner the same way as for breakfast.
The combination of miso soup and sushi rolls is a great idea too.
Serve up your clear Japanese soup with a bowl of plain cooked rice, if you have the flu, a hangover or if you want to lose weight (probiotic properties).
The soup is low calorie, so it makes a great accompaniment with most Japanese themed meals.
FAQs
How long does miso soup last?
You can keep your miso soup for up to 2-3 days in your fridge.
Can you freeze miso soup?
I don't recommend freezing miso soup because thawing would take longer than making it from scratch. Instead, I suggest you prepare dashi and freeze that in batches. That way you can make miso soup quickly.
What does miso soup taste like?
Miso soup tastes, salty, fruity, umami and a bit sour. You can enrich the flavors by adding more ingredients.
Is miso soup gluten free?
Miso paste may contain barley or wheat. It's only gluten-free if advertised on the packaging.
More Recipes like this
Global Food Recipes
with Spices and Herbs
Free E-Book available for a limited time. Grab yours now and get instantly inspired!
📖 Recipe
Basic Miso Soup Recipe
A simple basic Japanese miso soup.
Print
Pin
Rate
Servings:
2
small servings
Ingredients
For the Mushroom Dashi:
2

cup

Water

3

Dried Shiitake Mushroom

medium

1x1

inch

Kombu

optional, *see Notes
For the Miso Soup:
1

Teaspoon

Soy Sauce

1

Teaspoon

Sugar

½

Teaspoon

Salt

1

Tablespoon

Miso Paste

*see Notes

Green Onion Stalks

sliced to garnish
Instructions
For the dashi keep water and dried mushrooms to soak. If you have kombu seaweed, add that too. Keep to soak for at least 2 hours (we soaked 6 hours). If you are in a hurry, soak with warm water for 30 minutes.

When done soaking, discard mushrooms (and kombu if you added that earlier). Keep dashi on the stovetop and heat up.

The dashi will form foam. Skim foam with a fine mesh.

Add soy sauce, sugar and salt to the dashi and combine while it's still cooking.

Reduce heat completely or take from heat when it's bubbling and add in the miso paste. Mix paste into your hot soup.

Take miso soup from the heat, garnish with sliced green onion stalks and serve hot.
Notes
You can add kombu, it's optional. The recipe video doesn't include kombu. kombu with shiitake is a great combination and gives a lot of flavor to the soup. To use the kombu, just take it once through running water and add to the water with the mushrooms.
Use red or white miso paste or mixed. If you are using a high quality flavorful miso, you won't need to add the soy sauce, sugar and salt. Never boil the miso paste or else it will change the flavor of your soup. Add at the end so that the miso paste won't get accidently boiled.
You can choose to add more ingredients during the cooking process (but before the miso past is added, miso paste always at the end), such as tofu, vegetables, meats, seafood. See post for ideas.
The servings are small japanese sized bowls. Two of these japanese servings equal 1 large serving in the West. 
Nutrition
Nutrition Facts
Basic Miso Soup Recipe
Amount Per Serving
Calories 36
Calories from Fat 9
% Daily Value*
Fat 1g2%
Sodium 1027mg43%
Potassium 41mg1%
Carbohydrates 7g2%
Protein 2g4%
Vitamin C 1mg1%
Calcium 31mg3%
Iron 1mg6%
* Percent Daily Values are based on a 2000 calorie diet.