Dry your mushrooms to preserve them for the future.
Dehydrating mushrooms can be useful and it's super easy!
I share tips and instructions on how to dry mushrooms at home.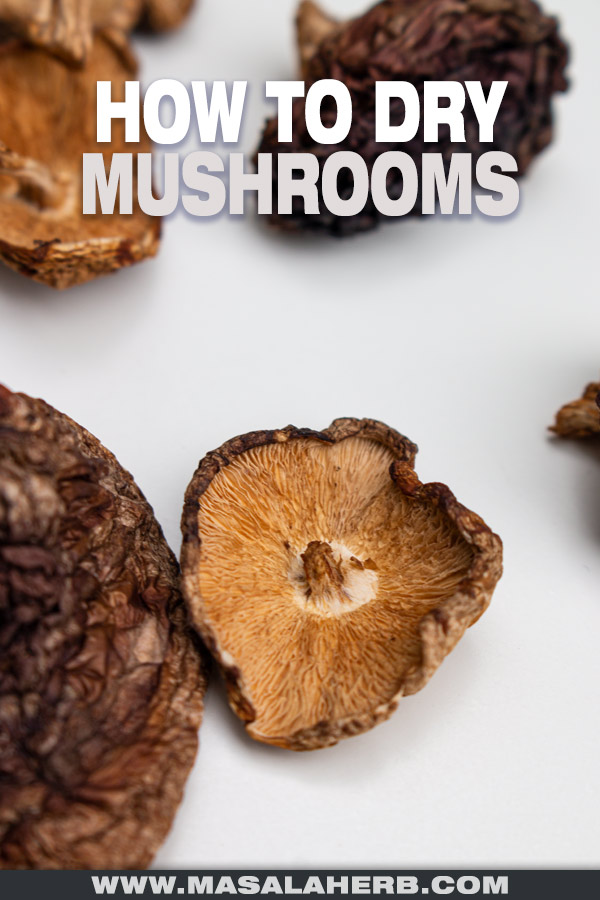 I'm using shiitake mushrooms as an example.
The flavors of a shiitake mushroom turn out more intense after the mushroom has been dried. It developed more umami.
Also drying mushrooms is more commonly done in the East, hence why I picked shiitake mushrooms for this drying guide.
Global Food Recipes
with Spices and Herbs
Free E-Book available for a limited time. Grab yours now and get instantly inspired!
Jump to:
🔪 How to dry mushrooms with a dehydrator?
After having tried different ways to dry mushrooms, I came to the conclusion, that the smartest way is to dry mushrooms in a dehydrator.
Here is how it is done, the full recipe is in the card further below.
Step 1
Clean your mushrooms.
Cut off bad parts if needed.
Cut mushroom if you want, I keep them whole.
Step 2
Place mushrooms on your dehydrator trays.
Stack trays over each other set the dehydrator to medium and dry.
Step 3
Keep your mushrooms to dehydrate until they are dried well enough.
🌡️ Drying Times
Assuming you are drying medium-sized mushrooms at a medium dehydrator heat setting, 135 Fahrenheit/ 50-50 Celsius.
The time may vary depending on how dry you want them to turn out.
Button, porcini, or shiitake mushrooms:
Whole - 6 to 8 hours
Halved - 4 to 6 hours
Sliced - about 3 hours
Oyster or chanterelle mushrooms:
Whole - about 5 hours
Halved - about 4 hours
Sliced - 2-3 hours
Enoki:
Whole - 2 to3 hours
Cut smaller - 1 hour
🆚 Dehydrator VS Oven Drying VS Air Drying
Dehydrator
I recommend that you dry with the help of a dehydrator. It's a special device just to dry fruits, vegetables, mushrooms, and meat.
A dehydrator drys more equally and without burning anything.
You can leave it on and go about your day. A dehydrator can be left on overnight too, so your food is drying when you are sleeping (only with newer models, not with old dehydrators please).
It's also more hygienic, no dust or particles get a chance to sit on your mushrooms.
Oven
You can dry your mushrooms in an oven too but only if your oven has a low heating setting. It has to be able to dry at 130 Fahrenheit or 50 Celsius.
A higher heat setting won't dry your mushrooms but bake them into charcoaled mushrooms.
Your oven would have to be turned on for that drying period, basically, as long as a dehydrator, so you might end up consuming more electricity (not with high-end and A+ energy-rated ovens).
Air or Sun drying
Air drying is the traditional method of drying mushrooms. It's great if you don't want to spend money on a dehydrator.
The problem with air drying is that it takes much longer. You don't control the time that it takes as this depends on your environment.
A humid room for example is not the best place to air dry your mushrooms. Dry dessert-like places have it easier in this case.
Also, air drying might not always be very hygienic, because particles can fall on your clean perfect drying mushrooms.
If all that isn't important to you, you can air dry or sundry your mushrooms in a well-ventilated area.
Sun-drying should be done for about 2 hours in the midday sun. Mushrooms can convert sunlight into Vitamin D!
🍱 Storing
Store your dried mushrooms in an airtight container away from direct sunlight.
Keep them in the fridge in a container if you live in a tropical climate.
That way they keep well for 10 months at least.
🥣 Uses
Rehydrating
Dried mushrooms are usually rehydrated so that they can be used.
Place dried mushrooms in a bowl with water and wait for them to rehydrate. This doesn't take all too long, about 5 minutes or so.
Shiitake mushrooms are even rinsed through clear water 2 times first before they are left to soak because the mushroom has a tendency to lose small particles and that can cause a soup to get cloudy. It's not a must but an advantage to rinse your dried shiitake mushrooms.
Once the mushrooms have taken in some water, you need to press them gently out to take out excess water in the mushroom.
Now you can use the mushroom as is OR you can cut it small and then add to your food.
Here are some recipe uses:
You can also add rehydrated mushrooms to:
pasta
pizza
omelette, scrambled eggs or frittata
mushroom sauce
ramen
other soup sor clear broth
Dried Mushroom Spice
Instead of rehydrating your dried mushrooms, you can choose to grind them further into a powder with a blender or food processor.
The idea is to use powdered mushrooms as a seasoning for your food. This works best with umami-rich mushrooms such as porcini and shiitake.
The ground mushroom powder can be used as an alternative to salt and MSG to season foods. It's great if you are on a low-sodium diet.
The darker a mushroom the more likely it is that it will be rich in umami when dried.
💭 FAQs
How to clean mushrooms?
Avoid washing mushrooms because the gills trap water. They turn out less good when washed and they get soggy. Some mushroom varieties change the flavor altogether when washed such as the saffron milk caps. Button and porcini mushrooms can be rinsed. Clean mushrooms with a small mushroom brush or toothbrush. You can also dampen a cloth and clean the mushrooms like that if they are very dirty.
What mushrooms to get/buy?
Get mushrooms that are organically grown or at least without pesticides. Many mushrooms shouldn't be washed because they trap water in the gills (if they have gills) and they turn out soggy. That's why you shouldn't use mushrooms that have been treated with pesticides. Also, be aware of the place of origin of your mushrooms. Avoid getting mushrooms from areas with high radiation levels because mushrooms can store radiation. Get fresh, healthy-looking mushrooms and yes it's ok if they have been enjoyed by little critters.
Why should I dry mushrooms?
You will want to dry your mushrooms if you have a lot and you want to store them for a longer period of time. I do that after having gone mushroom foraging or we also can our mushrooms. Another option is to freeze your mushrooms. Yet, drying mushrooms is best reserved for porcini and shiitake because the flavors are intensified after the drying process. It's also an easy process that anybody can learn to do if they are ready to set up a good kitchen pantry or homestead.
Can dried mushrooms go bad?
Yes, they can if they are stored in a wet humid environment. Don't keep them at high temperatures. I store them in the fridge when we are in a high humid tropical environment because mold can grow on the mushrooms.
Can I make mushroom chips too?
Yes, you can! Dry simple button mushrooms by coating them with salt, lemon juice, and any other seasoning such as hot chili pepper powder. Keep them dry as per instructions and enjoy your new love for healthy mushroom chips!
Global Food Recipes
with Spices and Herbs
Free E-Book available for a limited time. Grab yours now and get instantly inspired!
📖 Recipe
Dehydrating Mushrooms
Dry your mushrooms to preserve them for the future.
Print
Pin
Rate
Instructions
Clean your mushrooms from dirt. Don't rinse mushrooms with gills because water gets trapped in the gills. Scrub them with a brush. Porcini and button mushrooms can be rinsed but dry them well with a kitchen cloth or paper.

Cut off any bad ends. The caps of button mushrooms can be peeled too but that's optional. You can choose to cut your mushrooms in half or to slice them. It depends on the mushroom variety and how you want to use them when dried.

Place mushrooms on a dehydrator tray. Spread them out so that they all have place.

Stack trays over each other in the dehydrator. 10 oz/280 gm mushrooms fill up about 1 tray.

Dry your mushrooms over a medium dehydrator heat setting at around 135 Fahrenheit or 50 Celsius. Keep them to dry for 6 to 8 hours or until dry enough.

Store dried mushrooms in an airtight container and use them as needed.
Notes
You can use shiitake, porcini, chanterelle, button mushrooms or enoki to dry.
Nutrition
Nutrition Facts
Dehydrating Mushrooms
Amount Per Serving
Calories 6
Calories from Fat 9
% Daily Value*
Fat 1g2%
Sodium 1mg0%
Potassium 90mg3%
Carbohydrates 1g0%
Protein 1g2%
Vitamin C 1mg1%
Calcium 1mg0%
Iron 1mg6%
* Percent Daily Values are based on a 2000 calorie diet.