Pad Thai Sauce is prepared with 3 ingredients only: Tamarind paste, palm sugar, and fish sauce.
A Pad Thai Sauce Recipe is a useful addition to any Asian food lover's kitchen repertoire!
If you are into Pad Thai noodles, then making your own pad thai sauce from scratch is the next step to add value to your Asian food plate.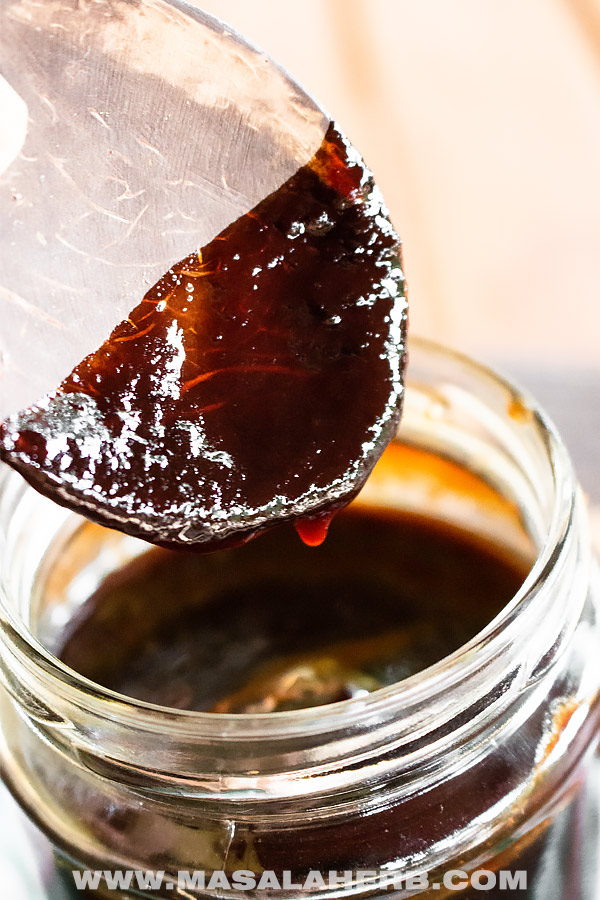 Global Food Recipes
with Spices and Herbs
Free E-Book available for a limited time. Grab yours now and get instantly inspired!
Jump to:
📕 What is Pad Thai Sauce?
Pad Thai Sauce is a stir-fry sauce used to flavor the popular pad thai stir-fry noodle dish from Thailand.
A Pad Thai recipe is prepared with flat rice noodles and besides the sauce, other ingredients are added.
Egg, Tofu, and shrimp are popular Pad Thai Protein additions. Modern, but not traditional, chicken pad thai can be flavored with this pad thai sauce too!
The Sauce is thin and sticky, prepared with only a few handfuls of ingredients.
Today in Thailand, Pad Thai Sauce is prepared with Tamarind Paste, Palm Sugar, and Fish Sauce.
These ingredients create the basic salty, sour, and sweet flavor concoction which we love in our Pad Thai.
The Sauce itself can be prepared during the noodle dish cooking process.
Yet, stocking up and making a bigger batch which will last for a handful of Pad Thai dishes in the future and a few months, is completely worth it.
It will speed up your cooking process and the flavors in the sauce will be already perfectly adjusted.
🔪 How to make it?
Here is how this pad thai sauce is done in a nutshell and this will help you to decide if you want to make it!
The full recipe with detailed instructions is located further down in the recipe card.
Step 1
Place tamarind paste, palm or cane sugar and fish sauce in a non-stick sauce pan.
Heat up over a medium to low-heat setting and stir.
Step 2
The ingredients should be melting. Mix it all together and keep over a lower heat setting.
Step 3
Reduce to desired consistency.
Tip: It's easier to scoop out to season your dish when it's thin, but you can store more in a jar to save fridge space when it's thick.
🍯 Ingredients
This sauce includes 3 ingredients which are all the essential ingredients used in a proper Pad Thai sauce in Thailand.
Tamarind Paste – Adding sourness.
You can use Thai or Vietnamese Tamarind. Indian tamarind paste is not the best choice because it's a thick paste, while Thai tamarind paste is more liquid and like a concentrated liquid.
Besides Thai tamarind is sweeter than Indian tamarind.
Nonetheless, if you can only get Indian tamarind paste, you can use that too. The pad thai sauce will turn out a bit more sour and thicker.
Cane/Palm Sugar – Adding sweetness.
Various cane and palm sugar types exist across the world. They come in a block, cone or crumbled.
It's easier to use crumbled ones but the quality of cane or palm sugar in dense blocks or cones tends to be better.
Try to use only Asian cane or palm sugar but if you can't, you can use south and Central American palm or cane sugar too.
Fish Sauce – Adding saltiness
Many fish sauce brands exist out there. Go for a popular Thai fish sauce of your liking.
Anything else added to the sauce is a derivation or a so-called Pad Thai style sauce or a non-authentic Pad Thai dish.
Families in Thailand and regions in Thailand will have a few additions to their pad thai sauce such as chopped garlic, onion or green onions.
Not that I don't enjoy these western-style Pad Thai dishes, I love them, however, let's just face it, for a basic sauce, you don't need any other ingredients!
The High Heel Gourmet explained this really well in her Pad Thai trilogy, and she also shares some useful historical background and debunks some wrong beliefs surrounding this iconic Thai dish.
Her perspective regarding Thai food is in line with other Thai folks, which I met in my travels.
Don't add the following to your homemade pad thai sauce:
rice vinegar
lime juice
cilantro
red pepper flakes
shrimp paste
dried shrimp
peanuts
bean sprouts – can be added to the finished pad thai meal
💡 Tips
To make this Sour Sauce you will need to keep all the ingredients ready to cook them to thicken the sauce and to kill all the germs.
That way you will be able to store your Sauce in the fridge for a longer period of time.
A proper Pad Thai sauce is a perfect balance of sweet, sour, and salty.
So, when preparing the sauce you need to make sure that these 3 tastes are completely balanced out.
That means to taste your sauce and if you feel it's too sour add a tiny bit of sugar or fish sauce to balance it out.
Repeat the taste test until you are satisfied.
Usually, you don't need to change the recipe if you use homemade Tamarind pulp.
The sauce can be a bit sourer when you use store-bought tamarind pulp.
This is because they compress the tamarind all the more, so the amount of tamarind used in the sauce can be a bit off.
🍱 Storing
This Pad Thai Sauce is prepared in advance by making a bigger batch.
Then the sauce is stored in clean sterilized jars and stored in a cool and dry place.
That way the sauce can be stored for months in a fridge, and you can take it out whenever you intend to prepare a Pad Thai meal.
It speeds up your cooking process so that you can prepare the Pad Thai from scratch with fresh ingredients in a timely manner.
You can also freeze them in ice cube trays to make smaller frozen batches. Once frozen, place your ice cube shaped sauce into a zip lock bag and store in your freezer.
Keep one out to thaw before using in your pad thai dish.
🧰 Kitchen Tools
For this, pad thai sauce recipe, I love using PFOA-free non-stick Sauce Pan pots to make this sticky Sauce.
That way the sauce doesn't stick to the pot.
Thickening a Pad Thai sauce without a non-stick pan can be challenging and that burns the sauce.
Use a silicone Spatula to help you mix and pour the Sauce into the jar or bottle
Make sure to always sterilize your jars/bottles by boiling in hot water or heating the glass and lid in the oven to kill all germs. Use something like a canning kit to help you take out the hot jar and lid or to fill the jars.
Use proper glass jars with lids such as these here or sauce bottles.
The Lids should be new, don't use rusted old lids, buy new lids if required.
👁️ More Asian DIY Sauces
Dear Reader, where did you get to taste your first Pad Thai meal?
Global Food Recipes
with Spices and Herbs
Free E-Book available for a limited time. Grab yours now and get instantly inspired!
📖 Recipe
3 Ingredient Pad Thai Sauce Recipe
Pad Thai Sauce is prepared with 3 ingredients only: Tamarind paste, palm sugar, and fish sauce.
Print
Pin
Rate
Servings:
1
jar or bottle
Ingredients
¾

Cup

Tamarind Paste

Thai version not Indian version!

¾

Cup

Fish Sauce

¾

Cup

Palm Sugar

or Cane Sugar
Instructions
Place tamarind paste, fish sauce and palm sugar into a sauce pan.

¾ Cup Tamarind Paste,

¾ Cup Fish Sauce,

¾ Cup Palm Sugar

Heat up the pan and keep over a medium to low-heat setting. Stir the ingredients together.

Mix up the sauce well and let the sauce simmer on a low-heat setting slowly for a couple of minutes so that all the germs are killed in the heat. *see Notes

Bottle up the sauce when done reducing.

Store in your fridge or freeze in small ice cube tray batches.
Notes
Use Thai tamarind paste not Indian tamarind paste. Thai one is thinner and less sour, on the sweeter side. Indian one is thicker and way more sour. Yet, if you want to experiment or if you can only get Indian Tamarind, then use that simply.
Try to use Thai Palm or Cane Sugar. You can use Asian Jaggery or South American Panela, Piloncillo or Rapadura. You can use crumbled or block or cone-shaped cane/palm sugar.
Likewise, you can make this Pad Thai sauce vegan by using soy sauce instead of fish sauce. If you are not into a vegan lifestyle, then stick to your fish sauce, of course!
The ratio is 1:1:1, which makes it easier for you to prepare this sauce in bigger or smaller quantities. You just need to make sure that all the ingredients are perfectly balanced. For example, when you use thick Indian tamarind paste (which ideally you shouldn't), the sauce will turn more sour and thick. In that case, you will need to adjust the sauce by adding a little more palm sugar and fish sauce. So make sure to taste test your sauce before bottling it up.

You can also cook it down further to a thicker consistency to save space in your fridge. I prepare my pad thai sauce to a honey-like consistency so that I can take out a spoon full easily.

Pad Thai sauce recipe adapted from Highheelgourmet.com
Nutrition
Nutrition Facts
3 Ingredient Pad Thai Sauce Recipe
Amount Per Serving
Calories 667
% Daily Value*
Sodium 13921mg580%
Potassium 1066mg30%
Carbohydrates 166g55%
Protein 11g22%
Vitamin C 4mg5%
Calcium 141mg14%
Iron 3.9mg22%
* Percent Daily Values are based on a 2000 calorie diet.