A bright citrusy ponzu sauce to serve with your favorite hotpot dish, over your sashimi or as a nigiri dipping sauce.
Ponzu Sauce is a traditional Japanese dipping sauce.
Now you can make your own sauce at home!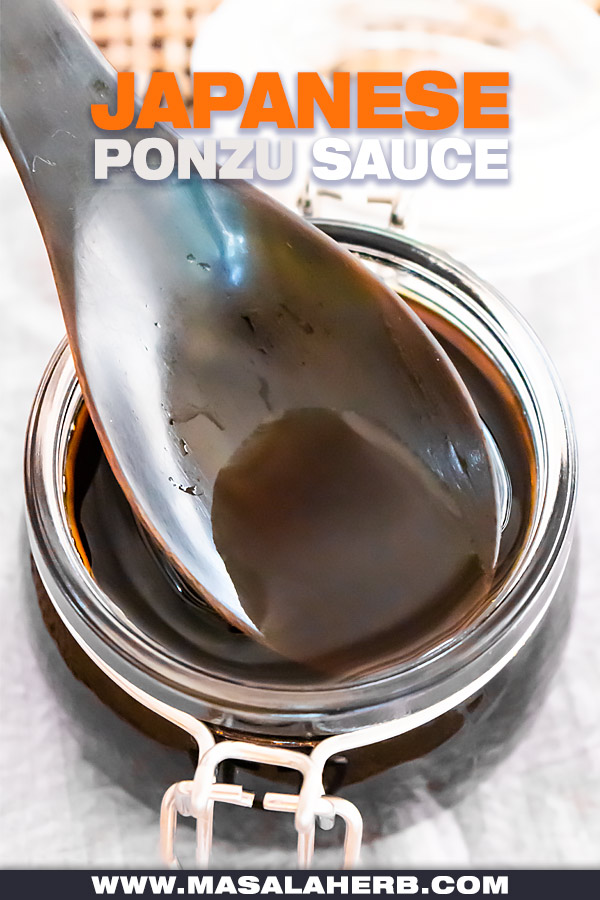 Jump to:
This is another recipe prepared by our Japanese Food expert, Momoko. Arigato Gozaimasu! 🐹
This ponzu sauce recipe is a simplified version of the popular Japanese traditional original and can be easily recreated at home with a few Asian pantry ingredients.
📕 What is Ponzu Sauce?
Ponzu is a Japanese sauce, used as a dipping sauce or marination sauce.
The name itself is an indication that it has a fruity citrusy touch and that it includes vinegar because su or zu means vinegar in Japanese.
A proper ponzu is made with yuzu as the main ingredient. Yuzu is a strongly flavored citrus fruit.
The sauce has bright citrusy notes and tastes also salty, sour and sweet.
Variations exist in Japan with other citrus fruits, such as kabosu a lime-like fruit, daidai a bitter orange variety, and sudachi a lime-like fruit that is related to yuzu.
Sometimes they switch the rice vinegar with one of the other citrus fruits.
Soy sauce is added to turn it into a shoyu ponzu sauce. (shoyu means soy sauce).
Mirin is another very important ingredient. It lends the sauce the sweet sake-like flavor.
The flavor profile is sometimes enhanced further as well with the addition of bonito flakes (aka katsuobushi), kombu (seaweed) or dashi broth.
🥣 Ingredients
Here is a quick overview to help you get organized.
The full list of recipe ingredients with US and metric measurements and full description to make it from scratch is located further below in the recipe card.
soy sauce - regular kikkoman style soy sauce
rice vinegar - mild one with 4% or less acidity preferred.
sugar
citrus fruit juice - lime or yuzu, yuzu preferred.
To make this dipping sauce spicy, add a slit open green chili pepper to the mirin and sugar during the heating process. That way your ponzu sauce will get infused.
🔪 How to make it?
This is your overview.
Step 1
Heat up mirin with sugar.
Allow mirin sugar to cool.
Step 2
Place mirin sugar into a bowl with soy sauce, rice vinegar and citrus fruit juice.
Step 3
Combine all ingredients to a citrusy ponzu sauce.
🍱 Storing
Homemade ponzu sauce can be stored in a glass jar in your fridge. It will be good for at least 2 weeks.
The sauce can be frozen too and needs to be completely thawed before it can be used.
I think it's better to prepare your sauce from scratch than freezing it.
🍴 Serving
Serve up your ponzu condiment with fresh sashimi fish cuts. You can leave the fish to marinate and soak in the sauce too.
The same goes for tataki (briefly seared fish or meat), which goes well with ponzu.
Some folks swear that fresh oysters need to be served with this citrusy dipping sauce
Serve it up with your Japanese hotpot, such as shabu shabu.
You can use it as a dressing too with your poke bowl.
Some people in the west started to serve ponzu sauce with gyoza dumplings or sushi rolls such as salmon sushi roll. It's an option but it's not a common thing in Japan.
However, nigiri sushi is served with ponzu. Shrimp, salmon or tuna nigiri are great with a ponzu dipping sauce!
Soba noodles can be also served and flavored with this amazingly versatile sauce.
💭 FAQs
Is this ponzu sauce a traditional recipe?
No, it's a modern version used by some folks in Japan. The sauce doesn't contain bonito flakes or kombu seaweed.
Is this sauce vegan friendly and gluten-free?
This recipe is made vegan as it doesn't contain fish flakes. You can make your homemade ponzu gluten-free if you use gluten-free soy sauce and mirin.
Can I make homemade mirin too?
You can try to substitute with a homemade mirin version. That said, proper mirin is fermented so I recommend getting good mirin or fermenting mirin.
Can I use other citrus fruits too?
You can also use lemon juice and you can experiment with orange flavors to brighten up your dipping sauce.
Is there alcohol in this sauce?
Ponzu sauce is made with mirin and mirin contains sake (Japanese liquor). We heat up mirin to reduce the alcohol content further, so the traces of alcohol are minimal in this recipe. You can't really substitute mirin in this recipe as it is a main flavor giving ingredients and it's essential for a good sauce flavor profile. It balances the sweet, sour and salty.
Does this sauce contain MSG?
No, you don't need to add msg to this recipe. If you want more umami in your sauce, you can add a piece of kombu to the mirin and sugar to infuse during the heating process.
Ponzu sauce VS Teriyaki sauce VS Soy Sauce. What's the difference?
Ponzu is a citrus fruit and vinegar flavored dipping sauce, which also contains soy sauce. Teriyaki sauce has soy sauce sake (or vodka) and some sugars. Teriyaki is a stir fry sauce. Soy sauce is Shoyu in Japanese and that's just soy sauce with nothing else in it.
More Japanese Sauce:
Global Food Recipes
with Spices and Herbs
Free E-Book available for a limited time. Grab yours now and get instantly inspired!
📖 Recipe
Citrus Ponzu Sauce Recipe
A bright citrusy ponzu sauce to serve with your favorite hotpot dish, over your sashimi or as a nigiri dipping sauce.
Print
Pin
Rate
Instructions
Heat up the sugar with the mirin. The sugar will melt and the alcohol will heat up and evaporate. Simmer over a low to medium heat setting for 2-3 minutes but don't boil.

3 Tablespoon Mirin,

2 Teaspoon Sugar

Allow the mirin sugar mixture to cool down a bit.

Pour mirin sugar blend into a mixing bowl. Add soy sauce, rice vinegar and citrus fruit juice to it.

Use with your food instantly or store in a glass jar for later use. See post for serving ideas.
Notes
Use plain regular Kikkoman soy sauce.
The rice vinegar should be mild. If it's a strongly flavored very acidic rice vinegar, reduce it by a 1 tablespoon from the basic measurement.
Traditionally, yuzu citrus fruit juice is added to flavor a ponzu sauce. You can also use lime juice if you don't get yuzu where you live. Yuzu is more flavorful so you will only have to add 12 drops to the basic recipe. When using lime juice you will need to add more, for the basic recipe about 1 Tsp.
Nutrition
Nutrition Facts
Citrus Ponzu Sauce Recipe
Amount Per Serving
Calories 130
Calories from Fat 9
% Daily Value*
Fat 1g2%
Sodium 3058mg127%
Potassium 151mg4%
Carbohydrates 28g9%
Protein 4g8%
Vitamin A 3IU0%
Vitamin C 2mg2%
Calcium 18mg2%
Iron 2mg11%
* Percent Daily Values are based on a 2000 calorie diet.
The inspiration came from this Japanese simple recipe.