Egg fried rice is best prepared with leftover rice so that the fried rice doesn't get mushy and sticky. This egg fried rice is ready in less than 15 minutes.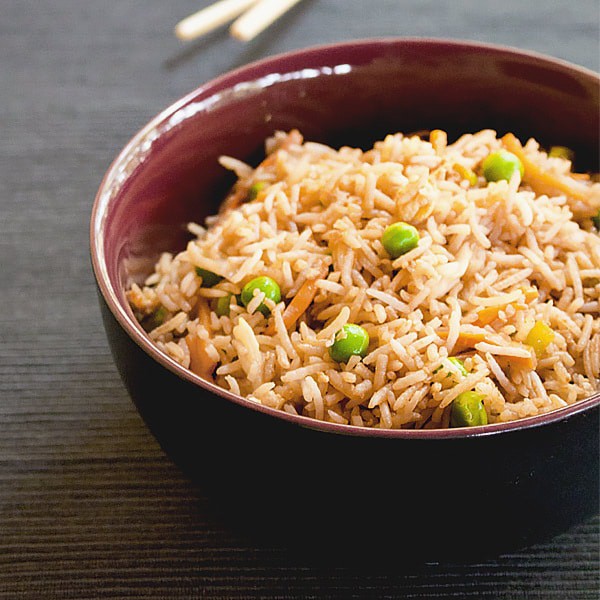 Egg fried rice is an unbeatable Friday night weeknight dinner in my house.
The quick and easy fried rice with eggs is flavorful and can be created with common pantry ingredients in your kitchen.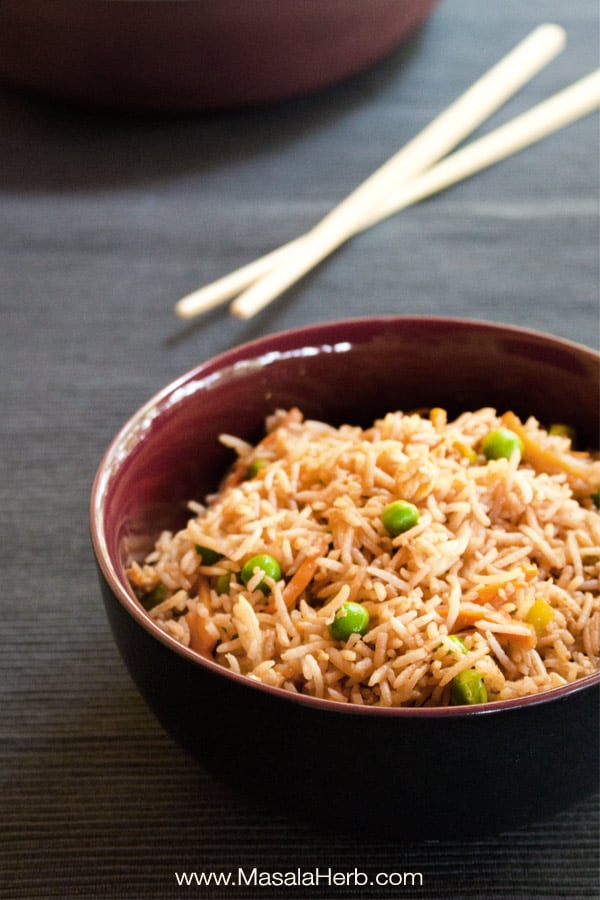 This Egg Fried Rice Recipe is a one-pot, quick and easy weeknight dinner meal and it's Vegetarian, Nut-free, Lactose-free, and Meatless.
Global Food Recipes
with Spices and Herbs
Free E-Book available for a limited time. Grab yours now and get instantly inspired!
Jump to:
📕 What is it?
Egg fried rice is an almost-effortless Asian classic that surely has the potential to become your new best friend in the kitchen.
Homemade fried rice with scrambled egg is the dinner you deserve after a long day of work.
What is even better is that this recipe helps you reuse any leftover rice that you don't know what to do with.
When making egg-fried rice, make sure to either use leftover rice that has hardened a bit in the refrigerator or go for slightly undercooked rice.
This helps maintain texture and avoids the rice from getting too soft or mushy.
Inspired by the classic Chinese fried rice, this dish is quick, easy, and can almost certainly be made from everything that is already sitting in your refrigerator.
All it takes is 15 minutes and a zero-waste, sustainable meal is ready to fill you up! And did I mention, delicious?
🧅 Ingredients
To cook:
oil - such as canola, sunflower, or regular vegetable oil.
eggs - normal eggs. Try it with quail eggs for extra nutritious elements!
onion - white or purple.
ginger - freshly grated or finely chopped.
garlic - freshly chopped.
cabbage - chopped. You can use regular or Chinese (napa) cabbage.
carrot - cut into matchsticks.
green bell pepper - thinly sliced. Optionally yellow, orange, or red bell pepper.
green peas
cooked rice - use al dente (to the bite) cooked rice or use leftover cooked plain rice that was kept in the fridge. The fridge environment is dry and turns the rice kernels nice and crispy. That way your fried rice won't turn out mushy.
Mushrooms, spinach or leek, etc. can also be added depending on what's available!
For the stir-fry sauce:
sugar - white or brown
vinegar - rice vinegar is my favorite but you can use regular white distilled vinegar too
dark soy sauce - kikkoman style
chili sauce or skip and use ketchup for no heat
This recipe is extremely healthy and does not contain any MSG.
You can also skip the extra spice and hold the chili sauce. This egg-fried rice recipe works great even with ketchup!
I added some tabasco sauce to it too in the video. (see Indian variation below for info)
📜 Variations
This egg fried rice is inspired by the Chinese traditional version but it's definitely not authentic. It's more like a quick and easy dinner version and it does resemble the Indian egg fried rice version.
Chinese style - add sesame oil or peanut oil over the. For the Sichuan style fried rice add doubanjiang to the stir fry and green onions with purple onions. Or add fried pork to make a Young Chow Fried Rice
Thai style - Add pineapple as in Thai pineapple fried rice. You can also add some shrimp paste during the stir-frying process. Skip the onion and use green onions only.
Japanese style - Like hibachi fried rice. Use only rice vinegar in your stir fry sauce with soy sauce and sugar. Sprinkle some Ra-yu sauce over the rice as a garnish.
Korean style - Add some kimchi to the stir fry.
Indian style - Use ketchup in the stir fry sauce with tabasco sauce. Use ginger and garlic paste instead of fresh ginger and garlic. You can add a pinch of chili pepper flakes or powder. OR you can add a pinch of asafoetida spice to your stir fry.
American style - add bacon pieces but it won't be vegetarian meatless anymore.
🔪 How to make it?
Here's how to quickly make egg fried rice in one pot (or pan) from scratch to add color to your weeknight:
Step 1
Stir cook cut onion and add ginger + garlic (or use ginger garlic paste as I did)
Step 2
Stir-fry the chopped onion, ginger, and garlic, and add your veggies. Prepare the stir-fry sauce separately.
Step 3
Break the eggs into the pan and slowly incorporate them into the veggies.
Step 4
Add the rice to the pan, pour the sauce over it and mix well.
🍴 Serving
The best way to serve this dish is freshly made, in a bowl or shallow plate with chopped fresh green onion stalks as a garnish.
🍱 Storing
You can store leftovers in an airtight container.
These should last 2-3 days in a refrigerator and can be easily reheated in a pan or microwave.
Freezing this dish is not recommended as the rice may get mushy.
This dish is also extremely meal-prep friendly and can be used as lunch on any weekdays after some quick weekend preparation.
💭 FAQs
Why is homemade egg fried rice better?
Trusted ingredients, zero MSG (add umami with pink salt for added taste), less oil, and reusing leftovers make this dish tastier, healthier, and cost-effective.
What oil to use? 
Any cooking oil except olive oil (which does not compliment the Asian flavor) will be fine for this dish. Healthier options include safflower oil, canola oil, sunflower oil, soybean oil, etc.
Do I need a wok to make this?
No, you may use a simple frying pan or a large skillet. 
Can I add a fried egg over my fried rice instead?
Yes! You can just skip adding and scrambling the egg into the fried rice and instead place a fried egg over your fried rice. But that means you need to cook your egg separately.
Dear reader, what has been your favorite fried rice dish up till now?
Global Food Recipes
with Spices and Herbs
Free E-Book available for a limited time. Grab yours now and get instantly inspired!
📖 Recipe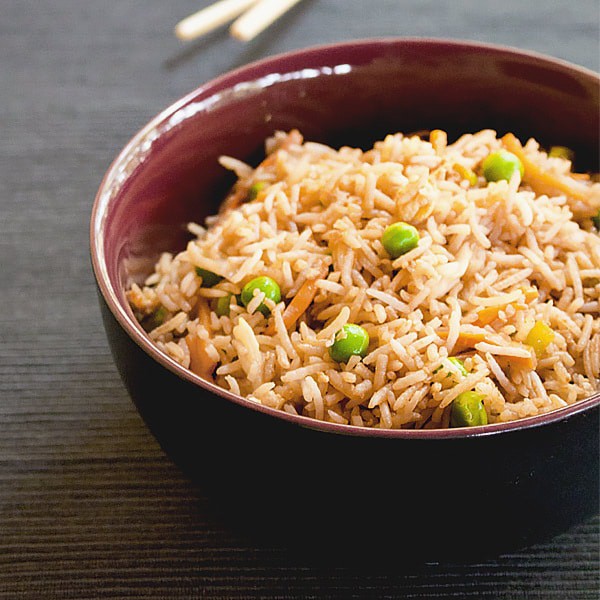 Easy Egg Fried Rice Recipe
Egg fried rice is best prepared with leftover rice so that the fried rice doesn't get mushy and sticky. This egg fried rice is ready in less than 15 minutes.
Print
Pin
Rate
Ingredients
To Cook
2

Tablespoon

Oil

I use Olive Oil

1

Tablespoon

Onion

chopped

1

Tablespoon

Ginger + Garlic

*see Notes

1

cup

Green Cabbage

chopped

1

small

Carrot

cut into matchsticks

1 ½

Tablespoon

Green Bell Pepper

cut into thine slice

2

Eggs

1

cup

Green Peas

1

cup

Cooked Rice

*see Note
Garnish: (optional)
Green Onions

cut the stalks
Instructions
Keep all ingredients ready. Prep and cut veggies.

Heat up the cooking oil in your Wok or large skillet and add your chopped Onion. Stir fry till translucent. Then add the Ginger Garlic and keep on stir-frying over high heat.

Stir in cut cabbage, carrot and bell pepper to the pan and stir fry al dente (so that it's cooked, but hard and not soft).

While you are frying, prepare your sauce by mixing the sugar, vinegar, soy sauce, chili sauce (ketchup) to a smooth sauce. (This can be done before starting to cook too). 

Then make some space in your wok where your veggies are cooking, by keeping the veggies to one side of the wok and break in your eggs. So while the pan is on high heat the eggs will cook and you need to just scramble them and stir fry. Slowly incorporate your veggies with the eggs while still stir-frying the content.

Add your cold rice and pour the previously prepared sauce over it. Stir fry/mix the whole content over high heat so that everything gets well mixed up.

At the end we add the cooked green peas and if you feel it is a bit dry you can add some water too. Stir fry until everything is well mixed up and serve directly hot. 

You can garnish with chopped green spring onion too if you wish, I didn't have any at hand when i filmed this egg fried rice, so I left that out.
Notes
Use finely chopped ginger and garlic with a ratio of 1:2 or use ginger and garlic paste.
Prepare all your vegetables first and the sauce while stir-frying the vegetables at the side. Be quick and use high heat and less oil.
Use a nonstick pan for best results. Serve hot and you may want to garnish with chopped green spring onion.
Also, you have the option of leaving out the veggies or using slightly different vegetables. You could add mushrooms, spinach, and leek if you wish. 
Use rice that was cooked halfway through (al dente) or use rice that was left in the fridge to harden.
If you don't have chili sauce use ketchup + tabasco together.
Nutrition
Nutrition Facts
Easy Egg Fried Rice Recipe
Amount Per Serving
Calories 290
Calories from Fat 162
% Daily Value*
Fat 18g28%
Cholesterol 163mg54%
Sodium 245mg10%
Potassium 404mg12%
Carbohydrates 19g6%
Protein 10g20%
Vitamin A 5080IU102%
Vitamin C 51.6mg63%
Calcium 65mg7%
Iron 2mg11%
* Percent Daily Values are based on a 2000 calorie diet.