Egg fried rice is an unbeatable Friday night weeknight dinner in my house. The quick and easy Indian style egg fried rice is flavorful but not spicy and can be created with common pantry ingredients in your kitchen.
The quick & easy egg fried rice recipe can be found further below with the how to short video clip.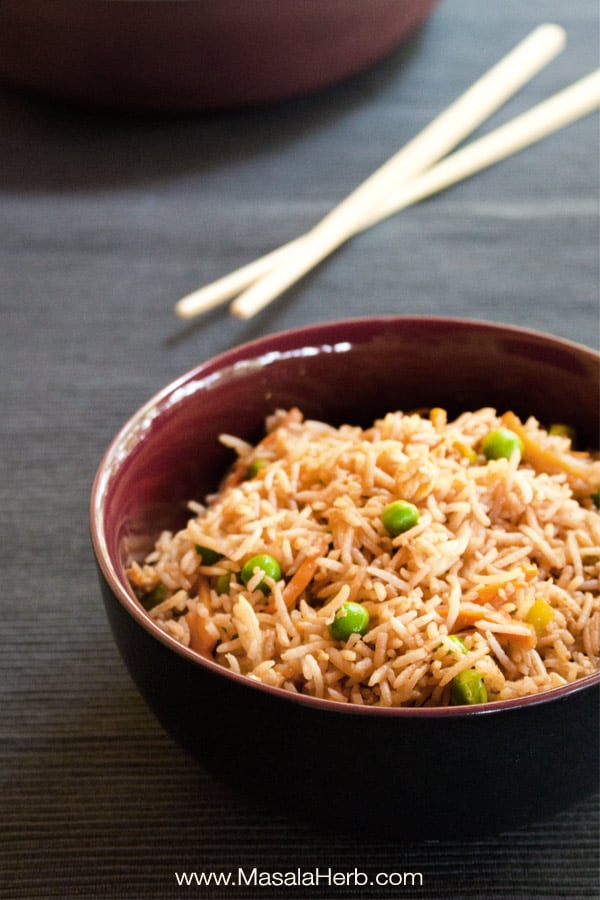 When traveling in India, one of the most common dishes that you will encounter and end up eating is fried rice. It might be veg fried rice, chicken fried rice or egg fried rice, all are a common sight in restaurants, called "hotels" in India, and side road food junctions.
The food junctions might look scary at times however Asian spirit dictates that the good stuff is always quickly going, steaming hot and faster made then McDonalds can ask a customer "French fries or wedges".
Indian street food with dishes such as this egg fried rice and veg chow mein (stir fried noodles) are classics in the society and an integral part of city and tourism life.
-> Get the free Masala Herb Newsletter
While in places like Agra (Taj Mahal) and Bombay you will encounter street food cooks serving up veg and non veg fried rice dishes in eternally steaming massive woks, you will notice a different approach in holy vegetarian places such as in the Himalayan town district Laxmanjhula in Rishikesh and in the Rajasthani dessert lake town Pushkar. Egg, meat and seafood are a big nono and veg fried rice is the common norm. Even noodle dishes are made with egg-less noodles in these places!
In other, non Hindu pilgrimage tourism spots such as Goa, you will get around more fried rice dish choices. The sauce and flavor adaptation, however is widely, almost everywhere the same, that might be in Munnar South India or in McLewd Ganj up in the Northern Mountains.
While the Chinese invented fried rice, other Asian countries made their own versions. In India, for example, there is no addition of nuts, lemongrass or fish/oyster sauce.
A dish, such as the egg fried rice, will never include spices in India however some people will add a green chili or two.
To cook perfect fried rice you need to keep in mind the following tips:
Fried rice is best prepared with white long grain rice, such as Basmati rice
Use precooked rice. Best is left over rice that has been sitting in the fridge from the previous day. The coolness in the fridge dries out the rice kernels, which makes it easier to successfully stir fry the rice without getting soggy and sticky with the sauce and other ingredients.
Use a non stick Wok or a bigger Kadai/Karahi pan, which is kind of a smaller Wok type of shallow pot from the Indian subcontinent.
Keep all your produce ready cut at the side before you heat your wok. Prepare the sauce too at the beginning or while your veggies are cooking.
Cook on higher heat and don't over do with the oil, to cook perfectly stir fried food.
Be quick! Stir frying fried rice shouldn't take you more then a few minutes and you need to stir fry and shake up thing in your pan frequently.
Stir fry your veggies al dente. That means not raw but hard.
You can use cabbage, carrot, spring onion, green peas, capsicum, onion, leek, spinach, mushroom and similar vegetables.
This Egg fried Rice Indian style Recipe is a one-pot, quick and easy weeknight dinner meal and it's Vegetarian, Nut-free, Lactose-free and Meatless.
How to make Egg Fried Rice Indian Style? [Video]
Quick & Easy Egg Fried Rice Recipe below:
Quick & Easy Egg Fried Rice Recipe | How to make egg fried rice Indian Style [+video]
Egg fried rice is best prepared with left over rice from the previous day, so that the fried rice doesn't get mushy and sticky. Prepare all your vegetables first and the sauce while stir frying the vegetables at the side. Be quick and use high heat and less oil. Use a non stick pan for best results. Serve hot and you may want to garnish with chopped green spring onion. Also you have the option of leaving out the veggies or using slight different vegetables. You could add mushrooms, spinach and leek if you wish. This egg fried rice is ready in less then 15 minutes.
Print
Rate
Ingredients
For the Stir Fry:
2

Tablespoon

Oil

I use Olive Oil

1

Tablespoon

chopped Onion or 1 tiny Onion

1

Tablespoon

Ginger + Garlic

50

grams

or 1 cup chopped Cabbage

1

small Carrot cut into matchstick size

1 1/2

Tablespoon

green Capsicum cut into thine slice

2

Eggs

100

grams

or 1 cup cooked Green Peas

Optional 2 Tablespoon Water

if it gets way too dry
For the Sauce:
1/2

Teaspoon

Salt

1

Teaspoon

Sugar

1

Tablespoon

Vinegar

2

Tablespoon

dark Soy Sauce

1

Tablespoon

Ketchup

1

Teaspoon

Tabasco Sauce
Instructions
Your veggies should be already prepared before you start cooking. Increase the pan heat and add your cut cabbage, carrot and capsicum to the pan and stir fry al dente (so that it's cooked, but hard and not soft).

Then make some space in your wok where your veggies are cooking, by keeping the veggies to one side of the wok and break in your eggs. So while the pan is on high heat the eggs will cook and you need to just break them and stir fry. Slowly you incorporate your veggies with the eggs while still stir frying the content.

Quick & Easy Weeknight Dinner favorites 🍜
Paneer Korma
Chicken Curry
Vegetable Chow Mein
More Rice dishes 🍚
Dear reader, what has been your favorite fried rice dish up till now?
Get FREE Recipes via Email:
Don't miss a recipe, Subscribe to the Masala Herb Newsletter!
The following two tabs change content below.
I am Helene, and created Masala Herb to share my food and travel journey with the whole world. You will find Asian and Western dishes here, as well as unique travel guides to inspire your day. Don't miss a post! Subscribe to the free newsletter!
Latest posts by Helene Dsouza (see all)