Egg fried rice is best prepared with leftover rice from the previous day so that the fried rice doesn't get mushy and sticky. This egg fried rice is ready in less than 15 minutes.
Egg fried rice is an unbeatable Friday night weeknight dinner in my house.
The quick and easy fried rice with eggs is flavorful and can be created with common pantry ingredients in your kitchen.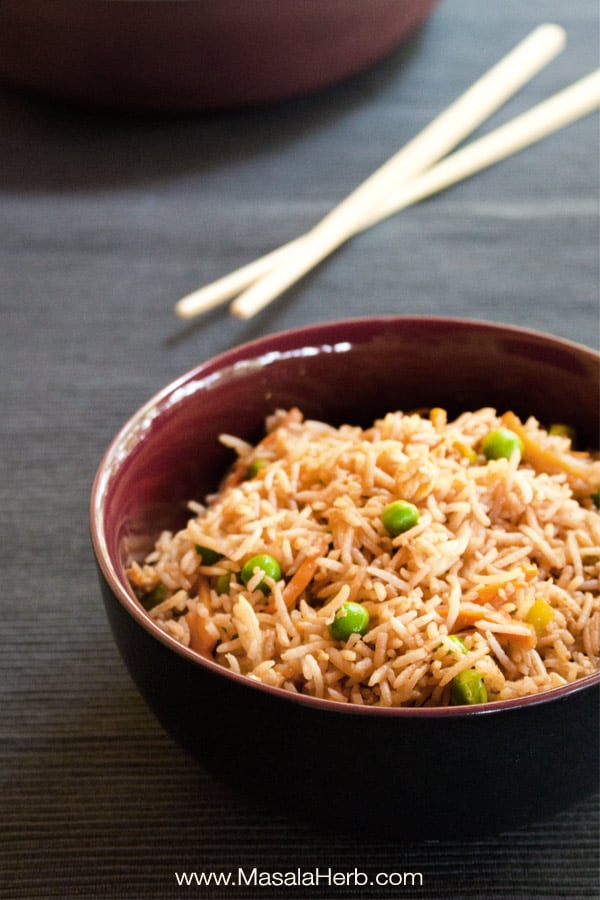 This Egg Fried Rice Recipe is a one-pot, quick and easy weeknight dinner meal and it's Vegetarian, Nut-free, Lactose-free, and Meatless.
How to make Egg fried rice?
Fried rice is best prepared with white long grain rice, such as Basmati rice
Use pre-cooked rice. Best is left over rice that has been sitting in the fridge from the previous day.
The coolness in the fridge dries out the rice kernels, which makes it easier to successfully stir fry the rice without getting soggy and sticky with the sauce and other ingredients.
Use a nonstick Wok or a bigger Kadai/Karahi pan, which is kind of a smaller Wok type of shallow pot from the Indian subcontinent.
Keep all your ingredients ready cut at the side before you heat your wok.
Prepare the sauce too at the beginning or while your veggies are cooking.
Cook on higher heat and don't overdo with the oil, to cook perfectly stir-fried food.
Be quick! Stir-frying fried rice shouldn't take you more than a few minutes and you need to stir fry and shake up thing in your pan frequently.
Stir fry your veggies al dente. That means not raw but hard.
You can use cabbage, carrot, spring onion, green peas, capsicum, onion, leek, spinach, mushroom and similar vegetables.
How to add egg to fried rice?
The eggs in a fried rice dish are cooked first.
That means that the vegetables are pushed to the side in the pan.
That way the eggs are dropped into the side of your pan where they are left to cook until done.
The eggs are then broken into pieces and mixed quickly with the other ingredients before the rice and stir fry sauce are added.
You can also scramble the eggs first in a bowl first before adding them to the pan.
More Fried Rice Recipe Ideas
Dear reader, what has been your favorite fried rice dish up till now?
Please feel free to share your thoughts and ideas with us in the comment section further below!
PIN to save for later!
So you love SPICES and HERBS?
GET 5 FREE SEASONING LESSONS
Type in your email address below.
Including free access to the
Seasoning Members only Club!
Easy Egg Fried Rice Recipe
Egg fried rice is best prepared with leftover rice from the previous day so that the fried rice doesn't get mushy and sticky. This egg fried rice is ready in less than 15 minutes.
Print
Pin
Rate
Ingredients
To Cook
2

Tablespoon

Oil

I use Olive Oil

1

Tablespoon

Onion

chopped

1

Tablespoon

Ginger + Garlic

*see Notes

1

cup

Cabbage

chopped

1

small

Carrot

cut into matchsticks

1 ½

Tablespoon

Green Bell Pepper

cut into thine slice

2

Eggs

1

cups

Green Peas
Instructions
Heat up the cooking oil in your Wok or large skillet and add your chopped Onion. Stir fry till translucent. Then add the Ginger Garlic and keep on stir-frying.

Your veggies should be already prepared before you start cooking. Increase the pan heat and add your cut cabbage, carrot and capsicum to the pan and stir fry al dente (so that it's cooked, but hard and not soft).

While you stir fry, prepare your sauce by mixing the sugar, vinegar, soy sauce, chili sauce (ketchup), Tabasco sauce (optional) to a smooth sauce. (This can be done before starting to cook too).

Then make some space in your wok where your veggies are cooking, by keeping the veggies to one side of the wok and break in your eggs. So while the pan is on high heat the eggs will cook and you need to just break them and stir fry. Slowly incorporate your veggies with the eggs while still stir-frying the content.

Once your scrambled stir-fried your eggs add your cold rice and pour the previously prepared sauce over it. Stir fry/mix the whole content so that everything gets well mixed up while stir-frying on high heat.

At the end we add the cooked green peas and if you feel it is a bit dry you can add some water too. Stir fry until everything is well mixed up and serve directly hot.

You can garnish with chopped green spring onion too if you wish, I didn't have any at hand when i filmed this egg fried rice, so I left that out.
Notes
Use finely chopped ginger and garlic with a ratio of 1:2 or use ginger and garlic paste.
Prepare all your vegetables first and the sauce while stir frying the vegetables at the side. Be quick and use high heat and less oil.
Use a nonstick pan for best results. Serve hot and you may want to garnish with chopped green spring onion.
Also, you have the option of leaving out the veggies or using slight different vegetables. You could add mushrooms, spinach, and leek if you wish. 
Nutrition
Nutrition Facts
Easy Egg Fried Rice Recipe
Amount Per Serving
Calories 290
Calories from Fat 162
% Daily Value*
Fat 18g28%
Cholesterol 163mg54%
Sodium 245mg10%
Potassium 404mg12%
Carbohydrates 19g6%
Protein 10g20%
Vitamin A 5080IU102%
Vitamin C 51.6mg63%
Calcium 65mg7%
Iron 2mg11%
* Percent Daily Values are based on a 2000 calorie diet.
This post may contain affiliate links that point to things or services that I recommend. This may include Amazon, getyourguide and booking.com. As an Amazon Associate I earn from qualifying purchases.