This Thai influenced curried fried rice makes a great weeknight meal or lunch because you can cook it within 20 minutes and in just one pot if you use leftover rice. I even encourage to use leftover rice because the rice dries out and even hardens a bit in the fridge and that way it will stir fry really well without getting mushy.
Thai Pineapple Fried Rice is a real one-pot wonder stuffed with flavors thanks to the curry powder, pineapple chunks and other amazing fresh ingredients!
The yellow curry fried rice comes together quickly and easily as well.
You are going to enjoy the discovery of this dish if you are the kind of person who loves homemade food with fresh ingredients and needs ideas to use up leftover rice.
What I really like about this curried pineapple fried rice is that it' s another time-saving weeknight meal!
You know, I prefer to prepare popular take-out meals at home because I get to choose what to add and what not.
The fact that you can prepare a fresh meal within 15 minutes, is a total plus point for me!
The addition of curry powder seasons the dish amazingly well and makes it taste better.
Thai curry rice is yellow and kind of reminds me of Singapore fried noodles (because of the curry powder) and yes, it's an adaptation of the classic Thai khao pad sapparot and my egg fried rice.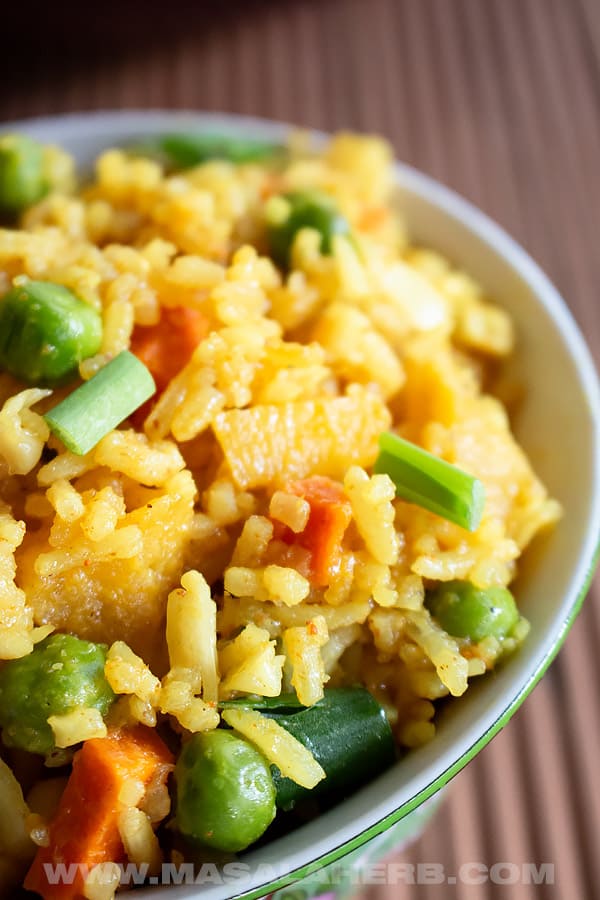 Ingredients
The Thai inspired fried rice includes pineapple as the main star ingredient in this particular meal which adds another flavor profile to the fried rice.
But of course, pineapple is not the only fresh ingredient in this meal.
I also add fresh carrot pieces, sliced spring onion, cabbage, and green peas.
These are ingredients that I have in my pantry most of the time.
If I don't have fresh green peas I use frozen ones.
I call it a Thai-inspired dish because of the choice of the ingredients because, for example, Carrot is not a traditional ingredient in Thai cuisine.
Also in Thailand, they will use jasmine rice but because jasmine rice can be expensive or rather hard to get, I give you the option of using Basmati Rice.
I personally used Basmati rice to this time for the pictures and video.
Of course, if you want to add a really classic Thai fried rice flavor then use jasmine rice only
For the Curry powder, use Thai Curry powder or Madras Curry powder.
There is a difference but of course, I tend to use the Madras curry powder more often in my food so I don't bother to buy or prepare a Thai version from scratch.
The conventional curry powder fulfills the purpose of this recipe.
Ginger Garlic paste is another important component of this Thai Pineapple Fried Rice recipe.
For the Sauce try to use rice vinegar, dark soy sauce, and brown sugar.
I add Sri Racha because.... well it's not a traditional dish and I love the taste when prepared that way! =D
How to make it
Here is an overview of how this recipe comes together. The details are in the recipe card further below.
Step 1
Heat up a shallow deep pan and stir fry veggies and pineapple. Stir rice in.
Step 2
Prepare stir fry sauce and pour over rice in the pan.
Step 3
Stir cook quickly over high heat until it's done.
Kitchen Tools
I think you can't do this dish without some kind of a Wok or Wok-like shallow pan!
A Cast Iron Wok or a stainless steel Wok will help you to create this dish easily.
A good Wok can take up space so in that case, you can get a large pan to stir-fry the rice.
Omnivorescookbook.com explains why you might not need a wok to stir fry Asian dishes such as fried rice.
I personally use smaller wok-like Indian/Pakistani PFOA-free non-stick or hard anodized Kadai or proper Cast Iron Balti shallow pans to stir fry my rice.
These are smaller more compact in size compared to a large wok but they are shallow and cook food uniformly well on all sides.
As you must have noticed in my videos, I always use a bamboo spatula to cook my food.
I just love these bamboo spoons because they are light sturdy, don't scratch my pots, are easy to clean and handle in a humid climate.
Besides the bamboo spatula looks great as well!
My spices are always stored individually in small glass jars so that I can see them easily in my custom-made spice rack.
Unfortunately, my spice rack is not for sale (my husband made it) but this bamboo expandable spice rack is a great option as well and I Would totally get this if I continue to collect spices at the rate I am now.
This Thai Pineapple Fried Rice is a great Meal Plan dish, which you can prepare on a Sunday afternoon for the week ahead.
Store these in an eco-friendly and durable glass meal prep container.
Those can be placed in the oven, microwave, freezer to heat up your fried rice and can be washed in the dishwasher easily as well.
So you can travel with those airtight and leakproof containers so that you get to enjoy homemade Thai fried rice at work!
More Recipes
Dear Reader, how did you get to know about Thai Pineapple Fried Rice?
Thai Pineapple Fried Rice Recipe
This Thai influenced curried fried rice makes a great weeknight meal or lunch because you can cook it within 20 minutes and in just one pot if you use leftover rice. I even encourage to use leftover rice because the rice dries out and even hardens a bit in the fridge and that way it will stir fry really well without getting mushy.
Print
Pin
Rate
Instructions
Keep all ingredients ready before cooking. Slice your spring onion bulbs and the green stalks, cut your carrot small, slice your cabbage, slice your bell pepper/capsicum into small pieces, cut your pineapple into chunks. Keep your green peas ready as well and the ginger garlic paste.

Prepare your stir-frying sauce by mixing together rice vinegar, soy sauce, sriracha sauce, sugar and curry powder.

Grab a shallow frying pan such as a wok or kadhai and add your oil. Heat up and then add the sliced spring onion bulbs. Stir fry on high heat for a minute to get a bit soft then continue to add in the carrot, cabbage and green bell pepper.

Mix and now add the green peas and pineapple chunks. Also, add the ginger garlic paste at this point. Stir fry on high heat for a minute.

Then add in your cooked rice and pour your previously prepared stir frying sauce over the rice and with the water.

Mix and Stir fry on high heat for 2-3 minutes. Garnish with the cut green spring onion stalks.

Serve hot
Notes
Try to use Jasmine rice for a more authentic taste. Otherwise, use Basmati.
For the Curry powder, you can use the conventional madras style curry powder or simply Thai curry powder. Use whichever curry powder you prefer.
For the Ginger and Garlic use a paste or fresh ingredients chopped small. the ratio is Garlic 2:3 or Ginger 1:3.
Nutrition
Nutrition Facts
Thai Pineapple Fried Rice Recipe
Amount Per Serving
Calories 281
Calories from Fat 63
% Daily Value*
Fat 7g11%
Sodium 566mg24%
Potassium 470mg13%
Carbohydrates 45g15%
Protein 7g14%
Vitamin A 11190IU224%
Vitamin C 51.6mg63%
Calcium 65mg7%
Iron 2mg11%
* Percent Daily Values are based on a 2000 calorie diet.