Bright flavored coleslaw to serve as a cold side dish with East Asian main course meals.
A bright intense ginger dressing served over napa cabbage.
This is an Asian-inspired vinaigrette coleslaw side dish recipe, which you can serve with most East Asian main course meals.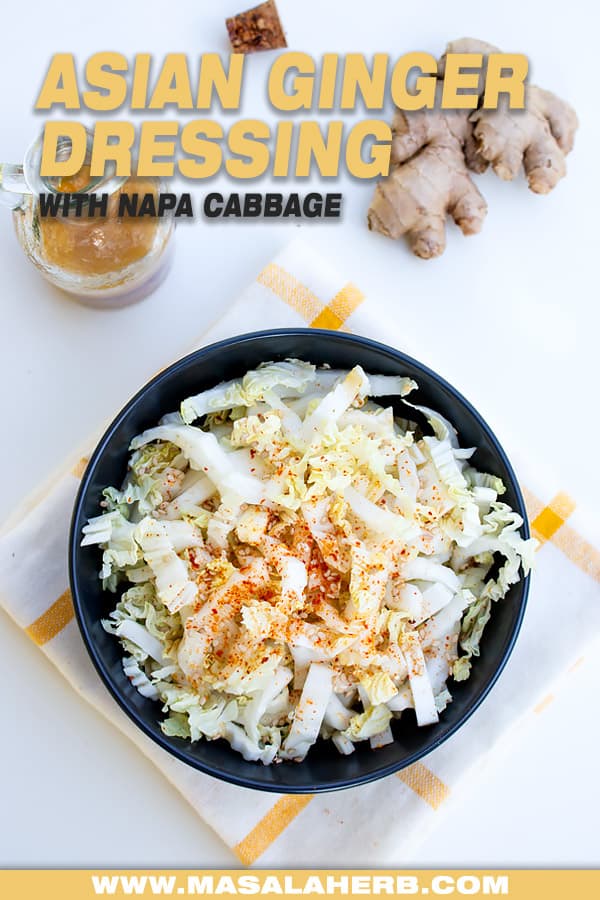 Global Food Recipes
with Spices and Herbs
Free E-Book available for a limited time. Grab yours now and get instantly inspired!
Jump to:
💡 Dressing ingredients
The homemade dressing is a straightforward, Asian flavored vinaigrette style salad topping.
The recipe was inspired by my Japanese cabbage slaw salad, just that this napa slaw is more complexly flavored.
The ingredients will remind you of east Asian meals.
Ginger
The dressing is prepared with freshly chopped ginger root. It has to be fresh ginger, dried ginger won't bring it.
Nothing screams more Asian than ginger!
Rice Vinegar
Rice vinegar is an Asian vinegar variety. It's soft and not strongly flavored, making it a perfect choice for salads.
You may use other vinegar but mix it with a small quantity of water if the vinegar is too strongly flavored.
Soy Sauce
I use the most common soy sauce in the world, regular Kikkoman or the healthy boy brand soy sauce.
Both are a thin soy sauce variation.
Sesame Oil
Not every sesame oil tastes the same!
There are different variations such as toasted sesame oil.
Just use one that you enjoy.
Canola Oil
I think canola oil is great for salads! It's not that heavy and it blends well with the other ingredients in this recipe.
As a substitute, you may use sunflower oil too or any other salad oil of your choice.
Brown Sugar
Sugar helps to balance the flavors in the dressing. It's necessary so that all the Asian flavors come out.
I use brown sugar because it tastes better in my opinion but you are free to use any regular white sugar too.
🔪 How to make it?
To prepare this refreshing bright sesame ginger dressing with cabbage is rather easy. I have outlined the steps.
The complete recipe with all the ingredients and step details to print out is located at the bottom of this post.
Step 1
Prepare your cabbage. Rinse and discard wilted leaves.
Chop cabbage into bite-sized pieces and keep it in a mixing bowl at the side.
Step 2
Peel and chop ginger.
Prepare the dressing. Combine all ingredients in a salad shaker, small bottle or in a bowl.
Step 3
Pour salad dressing over cabbage and garnish.
Serve cold as a side dish.
📜 Variations
This recipe can be enhanced by adding any of the following ingredients to the dressing or salad.
Pep up your dressing by adding:
chopped fresh garlic
dash of peanut oil
carrot puree (hibachi copycat) or pumpkin puree or mango pulp
dash of a hot sauce such as sriracha, tabasco, franks hot sauce or mango habanero hot sauce or any other of your choice
Add the following salad ingredients shredded or cut into two:
carrot
cocktail or cherry tomato
cucumber
More garnish ideas:
bonito flakes
crushed nori seaweeds
spring onion greens chopped
🥣 Serving suggestions
Serve your Asian napa cabbage salad with east Asian main course meals.
I like it with Chinese noodles such as chicken chow mein or a fried rice dish, as in hibachi fried rice.
Japanese meals such as teriyaki chicken, miso soup (as a light meal), or sushi work great with this salad too.
Thai, Vietnamese and other east Asian foods can be served with this salad too.
The Asian salad dressing can be served without the cabbage too with seafood such as with raw oysters and smoked salmon or tuna.
Another idea is to switch the ginger dressing with a Japanese Wafu dressing.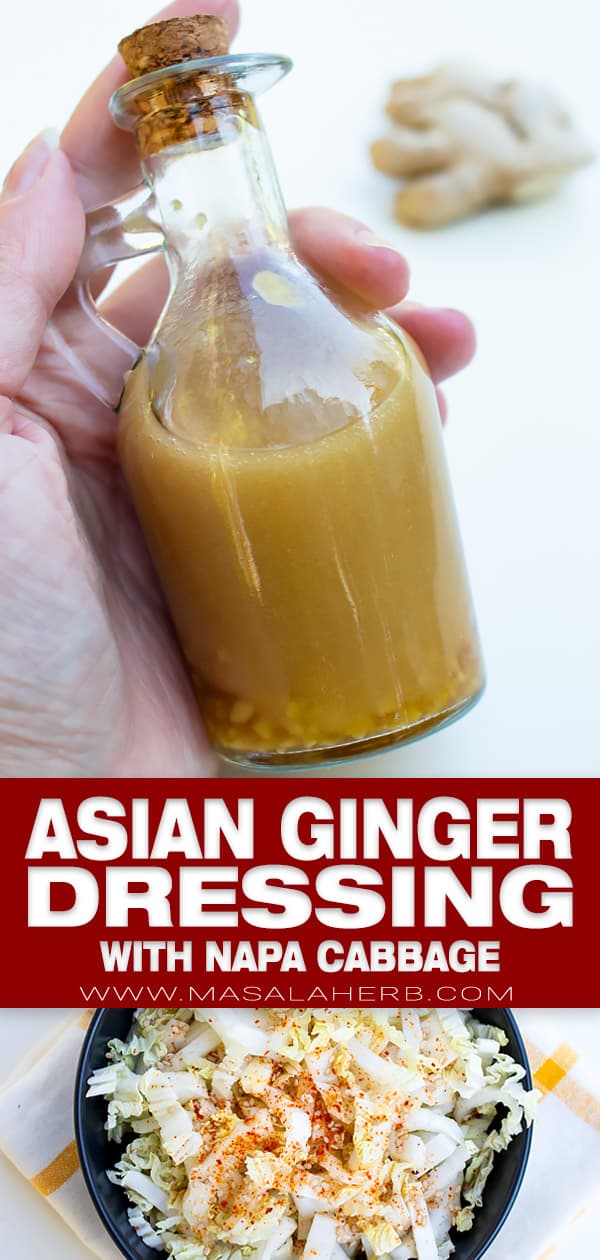 Global Food Recipes
with Spices and Herbs
Free E-Book available for a limited time. Grab yours now and get instantly inspired!
📖 Recipe
Asian Ginger Dressing with Napa Cabbage Recipe
Bright flavored coleslaw to serve as a cold side dish with East Asian main course meals.
Print
Pin
Rate
Instructions
Rinse and discard wiltet napa cabbage leaves. Chop napa cabbage leaves to desired size and keep in a bowl aside.

To prepare the dressing add the vinegar, soy sauce, sugar to a container and combine.

Now add the sesame oil and canola oil to the dressing and blend to a dressing,

Pour dressing into a bottle to user up later or pour directly over prepared cabbage salad in a serving bowl.

Garnish with chili flakes and sesame. Serve up cooled.
Notes
Use all-purpose Kikkoman style soy sauce.
Use toasted or regular sesame oil
Use Canola oil or sunflower or other salad oil
The garnish is optional
The dressing can be stored over a longer period in a bottle. I totally recommend that you do that because the dressing gets well infused with ginger flavors.
Nutrition
Nutrition Facts
Asian Ginger Dressing with Napa Cabbage Recipe
Amount Per Serving
Calories 203
Calories from Fat 171
% Daily Value*
Fat 19g29%
Sodium 192mg8%
Potassium 372mg11%
Carbohydrates 7g2%
Protein 2g4%
Vitamin A 477IU10%
Vitamin C 41mg50%
Calcium 116mg12%
Iron 1mg6%
* Percent Daily Values are based on a 2000 calorie diet.