Easy hibachi style fried rice copycat recipe. Make this dish your own by choosing your favorite protein ingredients. I added chicken and eggs in mine.
Easy Hibachi Fried Rice Recipe to make this tasty copycat Japanese steakhouse fried rice recipe at home from scratch.
I can never get enough eating it!
Jump to:
How to make it?
Simply follow the steps to make your own Japanese steakhouse fried rice at home!
Step 1
Keep all your ingredients cut ready, your proteins, vegetables, cooked rice and mix the sauce ingredients together.
Step 2
Heat up a wok or shallow pan with oil.
Stir cook onion bulb slices, ginger and garlic and vegetables over high heat for a minute.
Step 3
Stir in raw protein, cooked rice and pour over that stir fry sauce.
Stir cook for 2-3 minutes until cooked through. Serve up.
What is hibachi fried rice?
Hibachi Restaurants are Japanese Teppanyaki show kitchen, which are common all around the world.
The food these establishments serve, are common pan Asian meals such as the ones you get from Benihana.
The meals served in these show kitchens are then known as hibachi meals, such as today's fried rice.
Hibachi cooking is essentially Japanese chefs entertaining guests with their breathtaking cooking and knife skills.
My recipe for this fried rice is a copycat approach on the one that you get served in the various Hibachi restaurants.
I love this hibachi fried rice recipe with yum yum sauce and hibachi grill steak or seafood!
Ingredients
The best part is, that I created the recipe in such a way that YOU can adjust the recipe to your liking!
Rice
I tend to use whatever rice I have in my pantry, mainly Asian rice varieties such as basmati or sometimes Japanese sushi rice.
Short grain rice tends to be a great choice but long grains are fine as well.
Also, I tend to use leftover, one day old rice, so this is another reason why I'm not that strict with the choice of rice.
One day old leftover rice is the best rice for a asi
Protein
You can pick whichever protein you like to add to your copycat hibachi fried rice.
Adding two proteins is not uncommon as well.
As Protein you can add:
Eggs
Tofu
Chicken
Shrimp
Beef
I prepared a hibachi chicken fried rice recipe in the how-to video further below. Here is a recipe a classic chicken fried rice.
For a more authentic fried rice recipe, just add eggs or skip the protein altogether.
Vegetables
The veggies are straight forward in this fried rice recipe.
You can't go wrong with carrots cut into match sticks, green peas and sliced spring onions.
You can also add cabbage or napa cabbage if you like but I wouldn't add anything else as this would alter the flavor of your hibachi style fried rice.
Seasoning and sauce
I think the stir fry sauce is the flavor giving A and O of a good fried rice dish.
You just need to mix soy sauce, rice vinegar and some sugar to create a stir fry sauce that will rock your wok.
The flavor profile of the sauce will be well balanced, salty (soy sauce), sweet (sugar) and sour (vinegar
Garlic and Ginger add flavors as well, which I add finely chopped or in a paste form so that it mixes into the fried rice.
You can also substitute the Garlic and Ginger by using garlic butter to add flavor.
This will result in a Benihana rice recipe version.
Fried Rice Recipes
Dear Reader, how are you going to enjoy your hibachi fried rice?
📖 Recipe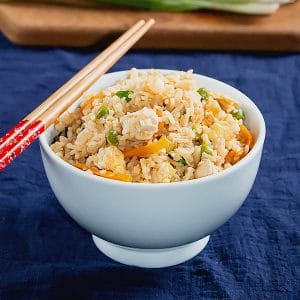 Hibachi Fried Rice Recipe
Easy hibachi style fried rice copycat recipe. Make this dish your own by choosing your favorite protein ingredients. I added chicken and eggs in mine.
Print
Pin
Rate
Ingredients
Instructions
First, have your rice cooked and ready. If you don't have leftover rice, cook your rice al dente (to the bite), that way when you plan on stir-frying the rice it won't turn soggy.

Keep all your ingredients ready. Mix the sauce ingredient together and keep aside. Cut the carrot into matchsticks. Clean and/or cut your protein into bite-sized pieces.

Heat up a large skillet or wok with the oil and stir cook the sliced green onion bulbs with the ginger + garlic (or substitute with garlic butter).

Add the carrot and peas and stir cook for a minute on high heat.

Make space in your pan (see video) and break in the eggs. Scramble, cook and break the eggs. Mix and stir cook everything quickly.

Make space again and add your protein. In the video, I used chicken pieces. Stir cook on all side on high heat for a minute and mix everything together.

Now add in your cooked rice and pour your stir fry sauce over the rice. Mix and stir cook everything for a minute or two until everything is cooked and well combined. Use high heat and don't over mix because it shouldn't get mushy.

Garnish with fresh sliced green onion stalks. Serve hot.
Notes
Use preferably 1-day old leftover rice because that will be fridge dried crispy and your fried rice won't turn soggy.
You can use Asian short or long grain rice, whichever you prefer. I like to use Basmati or Japanese short grain rice because that's what I have in my pantry most of the time.
You can use freshly chopped ginger and garlic or a ginger and garlic paste. I used the latter because it mixes in better.
You may substitute the garlic and ginger with garlic butter to prepare a benihana copycat fried rice.
The protein of your choice can be chicken, tofu, shrimp (prawns), calamari (squid) or beef.
Nutrition
Nutrition Facts
Hibachi Fried Rice Recipe
Amount Per Serving
Calories 349
Calories from Fat 117
% Daily Value*
Fat 13g20%
Cholesterol 100mg33%
Sodium 834mg35%
Potassium 226mg6%
Carbohydrates 42g14%
Protein 13g26%
Vitamin A 3475IU70%
Vitamin C 4.3mg5%
Calcium 40mg4%
Iron 1.7mg9%
* Percent Daily Values are based on a 2000 calorie diet.