Homemade copycat Panda express fried rice, prepared from scratch with just a few ingredients. Try to use leftover plain flavored cooked rice for the best fried rice ever. That way you will succeed frying your rice every time!
Did you know that making your own panda express fried rice is super easy?
The budget-friendly, one-pan, copycat fried rice prepared at home has its perks and I love it with Black Pepper Chicken.
You get to adjust it the way YOU like it, turning it into a healthier meal!
Does that sound great to you?
Great!
Then let's dive into the details further below.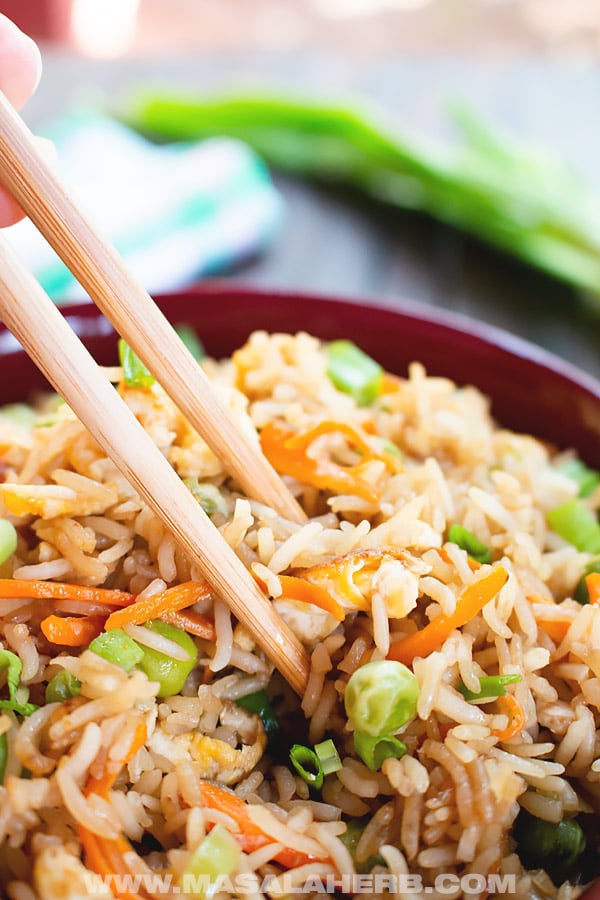 Jump to:
What is Panda Express?
Panda Express is a popular Asian American Fast Food Chain, which has several restaurants abroad as well.
The food served in panda express is typical non-traditional Chinese style food.
This kind of food is popular across the western world and often while has little resemblance to the original Chinese food culture.
This includes meals such as the all famous Panda Express Orange Chicken, Chow Mein, and Fried Rice.
My Family and friends alike are a huge fan of "New Age" Asian foods and once you learn how to make your own at home, you will be obsessed with it as well!
How to make it?
This is a super quick overview to help you get going! Full recipe in the recipe card below.
Step 1
Keep ingredients ready cut, including cooked rice.
Stir cook spring onion bulbs and carrot.
Step 2
Break-in egg and cook and cut into pieces. Mix it up.
Add green peas and cooked rice.
Step 3
Pour the vinegar, soy sauce, and sesame oil over the rice.
Stir cook over high heat until done. Serve up!
Ingredients
To prepare Panda express fried rice at home you will need a few ingredients which you can get in your nearest grocery store.
rice
eggs
carrot
green peas
green onion
soy sauce
vinegar
oil
You can use fresh or frozen peas and carrots.
The panda food chain uses frozen ones.
The Panda Express copycat fried rice ingredients mentioned above can be adjusted if you prefer a little more or fewer veggies or rice.
The whole point of preparing fried rice at home is to have the freedom to do what you enjoy. Right?
Other perks of preparing your own copycat fried rice at home are that you know what's in your meal, making it a healthier dinner option and the fact that you save some money.
That's why this fried rice is going to be better than take-out!
The full fried rice recipe card to print can be found below and can be used as a basic guideline to prepare this delicious dish.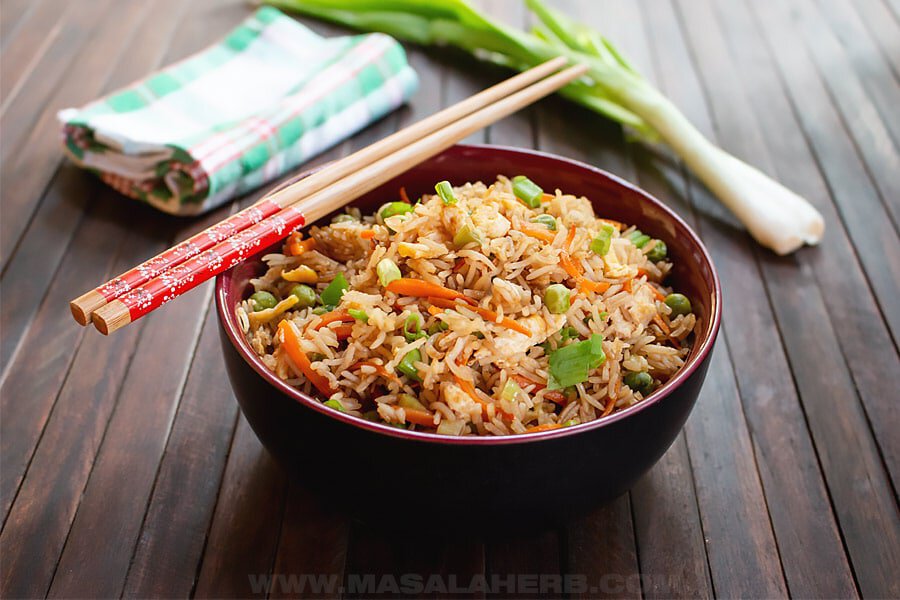 Choice of Rice
Use long grain rice white rice such as basmati or other Asian rice variations.
It doesn't really matter which long-grain rice, what matters is that the rice doesn't get mushy when you try to stir fry.
The trick for amazing fried rice is simple.
Use leftover fridge-cold fried rice.
This is the easiest way to succeed in preparing fried rice every time!
OR boil fresh rice to the bite, that means undercook it.
That way, when you intend to fry the rice, you will be able to cook it without the rice sticking to the pan or getting all mushy and ugly.
If you want to add another healthy element to your copycat rice, try switching the rice with brown rice.
But keep in mind that it will greatly differ from the original panda express rice.
Serving
The copycat panda rice is a side dish just like the panda express chow mein and steamed rice.
The fried rice was created to be served with typical panda express meals such as Orange Chicken and String Bean Chicken Breast, just to name a few.
I personally love the fried rice with a chicken cabbage stir fry or any other wok stir fry.
Feel free to enjoy the veg egg fried rice without anything else.
In that sense, the panda express fried rice makes a neat vegetarian dinner meal idea.
More fried rice recipes
Dear Reader, how are you planning to serve this panda express fried rice?
Global Food Recipes
with Spices and Herbs
Free E-Book available for a limited time. Grab yours now and get instantly inspired!
📖 Recipe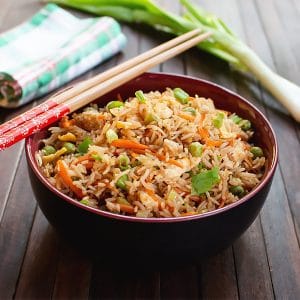 Panda Express Fried Rice Recipe
Homemade copycat Panda express fried rice, prepared from scratch with just a few ingredients. Try to use leftover plain flavored cooked rice for the best fried rice ever. That way you will succeed frying your rice every time!
Print
Pin
Rate
Ingredients
1

cup

uncooked long grain Rice

(*see notes) or about 3 cups cooked rice

1-2

Tablespoons

Oil

2

sliced bulbs and stalks of Green Onions

aka spring onion

½

cup

Carrots cut into matchsticks

2

Eggs

½

cup

soft Green Peas

2

Tablespoons

Soy Sauce

1

Tablespoon

Vinegar

½

Tablespoon

Sesame Oil

[optional]
Instructions
For the rice either cook it halfway through so that the rice grains are semi/almost cooked or even better use leftover rice which was kept in the fridge. Leftover fridge rice tends to get a bit hard in the fridge and that's what we want. It's easy to stir fry the rice that way or it will get mushy.

Heat up a pan or wok with oil.

Add the sliced green onion bulbs and stir fry for a minute or two until the onion bulbs have turned soft.

Then add the carrot pieces and stir fry for a minute as well.

Break the eggs into a small bowl and scramble eggs.

Push the carrot and onion slices to the side of the pan so that we can cook the egg. Pour the egg into the pan and let it cook. Then break the eggs into pieces.

Mix the whole content of the pan.

Add in the green peas. I use cooked soft green peas. Mix everything well.

Now you can add the cooked rice.

Stir fry and mix the rice with the other ingredients on high heat. Use two wooden frying spatula for that purpose or

Chinese cooking chop-sticks

.

Pour the soy sauce and vinegar over the fried rice. Mix and stir fry again for a minute.

Pour the sesame oil over the panda express fried rice for extra Chinese food flavors

Mix everything well, garnish with the sliced green onion stalks.
Notes
Use long grain rice such as Basmati rice.
Use Rice Vinegar or regular white vinegar. A mild vinegar variation works best.
The sesame oil is optional. It lends the dish typical Chinese flavors.
To stir-fry on high heat use, only PFOA & BPA-free Non-Stick frying pans such as those from Tefal or use a stainless steel wok. A wok will make your fried rice extra crispy but if you don't have one, then a frying pan will do the job too (just the way I prepare it too)
Please watch my how to recipe video to see how I prepare this panda express copycat fried rice from scratch.
Nutrition
Nutrition Facts
Panda Express Fried Rice Recipe
Amount Per Serving (419 g)
Calories 551
Calories from Fat 135
% Daily Value*
Fat 15g23%
Cholesterol 163mg54%
Sodium 1098mg46%
Potassium 429mg12%
Carbohydrates 84g28%
Protein 16g32%
Vitamin A 5980IU120%
Vitamin C 18.6mg23%
Calcium 79mg8%
Iron 2.8mg16%
* Percent Daily Values are based on a 2000 calorie diet.