Quick and easy Asian inspired Chicken cabbage stir fry prepared in one frying pan! Low-carb and one-pot meal.
Asian-inspired Chicken Cabbage Stir Fry skillet, prepared in just one pan within minutes.
Enjoy this delicious cabbage chicken meal to the fullest, because it's gluten-free & low-carb as well!
Watch the how-to video and get the step-by-step recipe!
One night I was about to cook a chicken chow mein.
I had prepared and cut all the fresh ingredients when I realized I was out of Chinese egg noodles (aka Low Mein noodles).
I decided to move on anyway because let's face it, you have to eat when you are hungry!
So, I prepared a chicken cabbage stir fry, but with carrots.
The end result was alright, the carrots were too much of the good.
I skipped the carrots the next time when I prepared them again, and that is how this quick chicken cabbage stir fry came to be.
Jump to:
🧅 Ingredients
The chicken and cabbage meal is low in carbs, gluten free, and includes wholesome ingredients.
You can switch some ingredients to your liking if you prefer.
I mention below each some ingredients how you can substitute them effectively.
Chicken
For the chicken use, boneless breast or boneless legs lean chicken pieces.
I shredded the chicken into lengthy bite-sized equal bites.
Try to get A-grade chicken, it's superior in quality and won't turn chewy during the cooking process.
You can substitute the chicken with boneless turkey meat.
Cabbage
I simply tend to use whichever cabbage I have in my fridge.
That can be the regular globally most common cabbage head, or it can also be a Chinese cabbage variety such as Napa Cabbage.
Ginger & Garlic
Both Ginger and Garlic, go hand in hand and are common in Asian cuisine.
The ginger lends the dish a warm spicy touch and the garlic compliments these flavors.
Green Onions
Also called Spring Onions, green onions are used to create flavor and to garnish the dish.
Separate the bulb from the stalks and use the sliced stalks as a garnish.
Soy Sauce
I use regular thin Soy Sauce here. It acts as a stir-fry sauce.
The soy sauce is added while you sauté the cabbage and chicken. IT adds flavor and salty touch to the meal.
Sesame
I like to just sprinkle some sesame seeds, black and/or white, over my meal. That is, to give it an Asian touch altogether.
You can also simply sprinkle some sesame oil over the meal.
Red Pepper Flakes (aka Red Chili Flakes)
The pepper flakes add little heat and are great as a garnish because of the red shredded bits.
It's visually appealing, and this is why I add it as a garnish at the end.
🥣 Flavor variations
Over time, I tried this recipe by adding or switching some ingredients, and you can do the same and experiment around.
The most notable change was the use of turkey meat strips instead of chicken.
I totally recommend you try that too.
I also tried using red cabbage instead of napa cabbage and the result was great too because you also eat with your eyes.
Another time I threw in some fish sauce, besides soy sauce, and that was another winner in my book.
For a curried chicken cabbage stir fry, add a teaspoon of curry powder during the stir-fry process.
🔪 How to make it?
Prepare this cabbage chicken stir fry tonight by following the process steps.
The Recipe card with ingredient and instruction details can be found further below.
Step 1
Keep your ingredients cut and ready.
In a pan, stir cook sliced green onion bulb and ginger and garlic.
Add the cabbage and sauté until it has reduced on size in the pan.
Pour the soy sauce and water over the cabbage in the pan and saute.
Step 2
Make space in the center of the pan and add in the chicken strips.
Place cabbage over chicken and cook like that for a minute.
Stir cook and mix on high heat so that the chicken gets cooked on all sides quickly.
Step 3
Garnish with sesame seed or sesame oil, red pepper flakes for some heat, and with sliced green onion chalks.
🍴 Serving
You can serve up this easy one skillet low-carb dish with rice in a bowl.
You can also add curry to the bunch.
I also enjoy it with cooked noodles or with plain bread at the side.
Another idea is to prepare a wok with simple stir-fried vegetables and to serve it together.
👁️ More Recipe Ideas
Dear Reader, have you tried the recipe?
📖 Recipe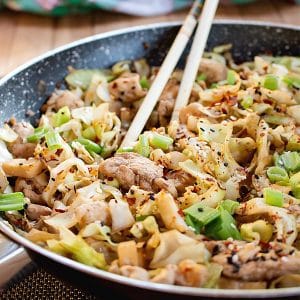 Quick Chicken Cabbage Stir Fry Recipe
Quick and easy Asian inspired Chicken cabbage stir fry prepared in one frying pan! Low-carb and one-pot meal.
Print
Pin
Rate
Ingredients
For the Stir Fry:
1

Tablespoon

Oil

2-3

Green Onions

bulb and stalks separated and sliced

1

inch

Ginger

2-3

cloves

Garlic

10.6

ounces

Cabbage shredded

8.5

ounces

Boneless Chicken breast cut into strips

2

Tablespoon

Soy Sauce

1.7

fluid ounces

Water
To garnish:
Sesame Seeds or Sesame Oil

Red Chili Pepper Flakes

Red Chili Flakes
Instructions
Keep all the ingredients ready. Slice the green onion and keep the white bulb and the green stalks separate. We will use the stalks as a garnish. Cut chicken into bite-sized pieces. Shredd cabbage. chop ginger and garlic.

Heat oil in a pan and stir fry the onion bulb slices.

Add the chopped ginger and garlic and stir fry for a minute as well.

Add cabbage and sauté for 2-3 minutes or until the cabbage takes up less space in the pan. I like to use

Chinese cooking chopsticks

to stir-fry because they are longer and easier to use.

Pour the soy sauce and water over the cabbage stir fry and mix well. Sauté 2 minutes over medium high heat.

Make some space in the center and add chicken strips and stir fry. Mix the cabbage over the chicken and sauté everything. Make sure the chicken is cooked on all sides. The cabbage helps in keeping the chicken from turning chewy while cooking, however, make sure to not overcook the chicken on high heat for all too long. Stir cook quickly on high heat.

Once the chicken is cooked, the cabbage is crisp and tender and the liquid has dissolved, take from the heat and sprinkle some sesame seeds or sesame oil, as well as red pepper flakes over the cabbage chicken skillet meal. Spread the sliced green onion over the dish and serve still hot.
Nutrition
Nutrition Facts
Quick Chicken Cabbage Stir Fry Recipe
Amount Per Serving (338 g)
Calories 258
Calories from Fat 90
% Daily Value*
Fat 10g15%
Cholesterol 77mg26%
Sodium 1176mg49%
Potassium 772mg22%
Carbohydrates 12g4%
Protein 29g58%
Vitamin A 305IU6%
Vitamin C 59.6mg72%
Calcium 80mg8%
Iron 1.8mg10%
* Percent Daily Values are based on a 2000 calorie diet.