Simple poppy seed filling recipe. Prepared from scratch with whole ingredients. Choose to use white or black poppy.
Homemade poppy seed filling to use in cookies, cakes and desserts.
Prepare it from scratch within minutes with the help of my how to guide.
Global Food Recipes
with Spices and Herbs
Free E-Book available for a limited time. Grab yours now and get instantly inspired!
In this recipe, I would like to share with you how to make a delicious home-made poppy-seed paste.
You can use it as a filling in a variety of baked goods, such as a poppy-seed rolls and buns, strudel, stollen, and as a rich layer in a cake.
It is much better than the store-bought variety and is very easy and quick to make, the whole process only takes 10 minutes.
Jump to:
📕 What are poppy seeds?
Poppies are oilseeds and come from the ripe seedpod of the beautiful scarlet red poppy flower that sits atop a delicate stem and sways gently in the wind.
You might have seen these delicate bright flowers blooming along wheat fields in Europe.
Poppy seeds have a long history of culinary use and the seeds, as well as the oil pressed from the seeds have been used in cooking and baking since antiquity.
You can find poppy seeds in a variety of preparations, such as salad dressings, muffins, cakes, sprinkled on breads and bagels, and even as a crunchy pasta topping.
Eastern European and Central Asian baked goods and breads often use this little black seeds as toppings or ground and mixed with a sweetener as a filling.
In India, white poppy seeds are especially prevalent in Bengali cuisine, where they are used in numerous vegetable and fish preparations.
Black poppy seeds have a fruity fragrance, a nutty taste, and a slightly oily mouthfeel. They pair well with lemon.
White poppy seeds are a bit more delicate in taste and texture.
🆚 Blue/black poppy seeds VS White Poppy
Poppy seeds come in several different varieties, varying in color.
In North America and Europe, the most commonly poppy seeds used are the black or blue poppy seeds, while in Asia and the Middle East, a white variety is cultivated and used in cooking.
The varieties differ not only in color but also in size and taste.
The black variety has a stronger, nuttier taste and the white one is milder and creamier.
But both varieties are well-suited to make a rich and delicious poppy seed paste that you can use as a filling for a variety of baked goods.
🔪 How to make Poppy Seed Filling?
Here is an overview on how to make your own black or white poppy seed filling.
The complete recipe with US and metric measurements is located at the bottom of this post.
Step 1
If you are using white poppy seeds, dry roast them briefly over high heat while shaking the pan until the aroma is released and the seeds have turned a golden brown.
If you are using black seeds, skip this step and proceed directly to grinding the seeds.
Step 2
Grind the poppy seeds.
You can use a food processor or grind the seeds into a paste by using the traditional mortar and pestle method, which is more labor-intensive.
You can also find special hand grinders that are made for grinding poppy seeds.
Step 3
Add the ground poppy seeds to a saucepan and add ⅔ of the milk, mix well and heat on low heat for a minute.
Add the remaining ingredients (sugar, semolina, salt, vanilla sugar, rum, and the remaining milk) until the mixture begins to bubble.
Remove from the heat and let the paste cool before handling.
🥛 Ingredient Ideas
Depending on your geographical location, you will be able to have access to the different varieties of poppy seeds.
You can use both, black and white types for this recipe.
You can make this recipe vegan by using any nut milk, such as soy milk, almond milk, oat milk, or coconut milk.
You can also create an alcohol-free version by omitting the alcohol or by using liquor aromas.
You can also personalize the poppy seed paste further by adding any spices that would complement your pastries, such as cinnamon, nutmeg, dry ginger, vanilla, cardamom, and lemon zest.
🍴 How to use your poppy seed fillig?
Traditional Central and Eastern European preparations using a poppy seed filling are associated with Christmas and are makowiec (poppy seed stollen roll), strudel, mohnstriezel, kolaches, knödel, and dessert noodles (schupfnudeln).
In Jewish cuisine, poppyseeds play an important role during the Purim festival and a variety of pastries with a poppy seed filling can be seen on the festive table, such as hamantaschen, rugelach, and babka.
Both the black and white varieties of poppy seed are used in Turkey.
The most famous preparation using a white poppy seed paste is the katmer, a flaky flat bread with a sweet and savory white poppy seed filling.
🍱 Storing Instructions
The poppy seed filling can be stored for up to 5 days in the fridge in an airtight container.
But it is best to prepare it freshly as the oils in the poppy seeds get rancid.
The paste can be frozen in batches and thawed in the fridge overnight to be used for baking the next day.
💭 FAQs
Why should I dry roast my poppy seeds?
As with most spices, dry roasting poppy seeds lends the seeds a more intense flavor as the heat causes the oils to release. Since the black poppy seeds already have a quite intense flavor, you do not need to dry roast them. Dry roasting white poppy seeds, on the other hand, enhances their flavor and gives the seeds a lovely golden color. 
Are poppy seeds dangerous?
The poppy plant is the infamous source of opium, but the seeds, while containing traces of opiates, do not have any narcotic properties. In fact, they contain a lot of nutrients, such as antioxidants and microelements. Because of the poppy's bad reputation, growing poppies has been banned in several countries, such as the US. But the import of poppy seeds is allowed. Please note that consumption of poppy seeds can produce a positive result on drug tests. Also, pregnant women should limit their consumption of poppy seeds to a small amount.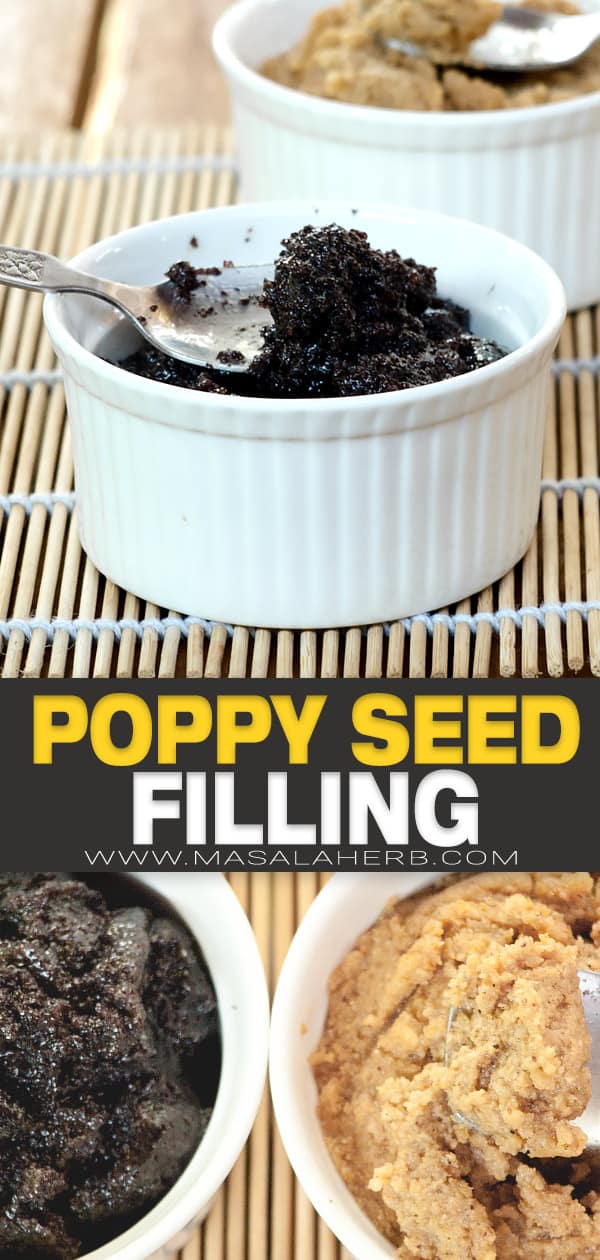 Global Food Recipes
with Spices and Herbs
Free E-Book available for a limited time. Grab yours now and get instantly inspired!
---
📖 Recipe
Poppy Seed Filling Recipe
Simple poppy seed filling recipe. Prepared from scratch with whole ingredients. Choose to use white or black poppy.
Print
Pin
Rate
Instructions
If you use white poppy, dry roast them in a skillet to activate the flavors. If you use black poppy seeds, you don't need to do that because black poppy are already instense.

Grind poppy seeds in a regular blender with a small jar or in a spice or coffee grinder.

Add the poppy seeds to a nonstick saucepan and pour in ⅔ of the milk. Mix over a slow to medium heat setting.

Stir in the other ingredients (sugar, semolina, salt, vanilla, rum, and the remaining milk) and combine.

Continue to cook over a low heat setting and keep on stirring until the content turns into a thick paste consistency.

Allow the poppy filling to cool and use in your baking or store and user another day.
Notes
Use semolina flour if you can. If you can't get this ingredient, switch the quantity with all-purpose flour.
Nutrition
Nutrition Facts
Poppy Seed Filling Recipe
Amount Per Serving
Calories 976
Calories from Fat 423
% Daily Value*
Fat 47g72%
Cholesterol 17mg6%
Sodium 100mg4%
Potassium 991mg28%
Carbohydrates 108g36%
Protein 27g54%
Vitamin A 276IU6%
Vitamin C 1mg1%
Calcium 1619mg162%
Iron 11mg61%
* Percent Daily Values are based on a 2000 calorie diet.