Easy Vegetable Chow Mein is a Chinese stir fried noodle dish and a common street food in Asian countries. Especially in India the vegetable chow mein is a very popular take away. The easy vegetable chow mein below is the commonly available Chow Mein version in India.
Learn how to make easy chow mein noodles from scratch with the step by step instructions below: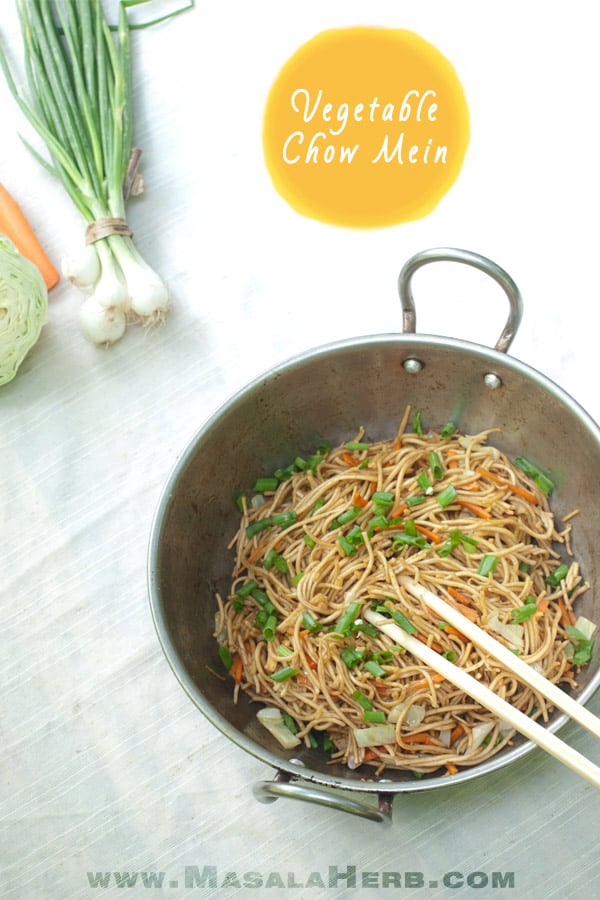 Back in 2006 I had made my first visit to India. My first visit was Agra, the city that is known for the glorious Moghul monument, the Taj Mahal.
When arriving to Agra I was shocked by the culture and busy street life. The small round about before the Taj Mahal's South Gate was where I collected my first impressions of India.
TIP: If you are planing to visit Agra and the Taj Mahal then you might want to check out a blogger friend's guide on how to avoid all the touts at the Taj Mahal.
Let me tell you, it wasn't a pretty sight with the street dogs, beggars, dirt and stink.
The energy around this place was strange and ominous and in a way oriental mysterious but one thing stood out which balanced my point of view towards the whole environment. It was an Indo Chinese Food Cart, emitting the most wonderful food smell ever.
People were gathering around the Cart and of course I had to check out what this was all about. Two younger, noodle thin, boys were making and selling Vegetable Chow Mein and Fried Rice.
Of course I was petrified to even think of eating this street food, I knew from school time colleagues, who had visited India before, that a foreigner could easily pick up food poisoning.
However, after passing the cart 3 days in a row with a desire to enjoy the wonderful aroma that I was taking in, of course in a complete hungry state of mind, I gave in and had a plate of Vegetable Chow Mein while watching barefoot cycle Rickshaw carriers hitting on some foreigners to increase their meager business.
A plate of Chow Mein was at the time priced below 20 INR (about 0.25 €), a cycle rikshaw round was less then 10 INR for a short distance ride back then. Of course all this has changed but that's another story.
Vegetable Chow Mein Chinese noodles was the first dish that I ate and enjoyed in India.
-> Get the free Masala Herb Newsletter
For days I had been confused trying to find out what on earth I could eat in this country. Obviously I hadn't contemplated the food situation in India before my visit, so I was shocked by the food choice I had to go through.
I did not understand the spices and I refused to eat a Rice Thali plate. Also the few eating joints that apparently served "pasta" and "sandwiches" were just big disappointments.
Well, I should have stuck to the Chow Mein on the road because I never got sick of it. Days later I got sick from the place opposite of the round-about, which was pretending to prepare continental food and I got sick form that water bottle that I got from the Hotel manager because he had filled it with bad water so that he could send me to a doctor, and who in return, would pay him his commission. Yeah, I learned a lot in my first week!
Anyway since that I have embraced a good plate of Indo style Vegetable Chow Mein every once in a while.
Chow mein is a very quick dish to make and it won't take you more than 15 minutes cooking time all together. There are countless Chow Mein versions in this world, this is my easy Vegetable Chow Mein take on this dish and it has some Indian notes such as the incorporation of Chili sauce.
We have Chinese restaurants back in Europe, but of course the food is Europeanized, meaning that most probably it doesn't come close to the real Chinese food deal.
In a way it's the same thing in India. Chinese food is popular in this country, yet I feel it includes some Indian flavors. Chinese food is very popular in India and a much favored street food.
This easy Vegetable Chow Mein recipe will come handy when you don't know what to cook and when you need something quick without much effort.
Other MasalaHerb.com Videos
How do you make chow mein?
To make chow mein from scratch easily and successfully you need to keep a few things ready:
A deep Chinese Wok or an Indian Tadka pan
a timer to not over cook your noodles
your vegetables cut small and ready
your sauce ingredients mixed and ready
The Point of a chow mein stir fry is to work quickly to achieve the correct consistency and result. That's why keeping your ingredients ready is essential and working with the right tools will make your life easier.
A Wok or tadka is required, as the heat is more concentrated in the center and you keep on stir frying, so in that way you achieve the most perfect cooking environment for your easy vegetable chow mein.
Easy Vegetable Chow Mein Recipe – How to make Chow Mein Noodles step by step below:
Easy Vegetable Chow Mein Recipe
A delicious quick and easy weeknight dinner idea. You can adjust the ingredients to add more vegetables or if you want you can also break an egg into the wok and scramble it before you add the noodles to make the chow mein. You need to make sure to keep your cut vegetables and your sauce ready, so that you can prepare the chow mein quickly and easily.
Ingredients
For the Sauce:
For the Chow Mein:
1 Packet Hakka Noodles a 200 grams (you can also use egg-less noodles) or 7 oz
2 Tablespoons Oil
40 gram shredded Cabbage or 1.4 oz
30 gram thinly sliced sticks Carrot or 1 oz
1 Tablespoon Ginger Garlic Paste
Salt to taste
Pepper to taste
2 Tablespoon Water
3-4 Green stalks sliced Spring Onion
Instructions
At first prepare all the ingredients. Chow Mein is a fast preparation dish that means you need to add all ingredients very quickly to the stir fry wok.
In a bowl add the ingredients for the Sauce, the Soy Sauce, The vinegar, chili sauce and sugar. Mix all well and keep aside.
Grab a pot and fill it with water to cook the noodles. Let it boil and then add all the noodles. Get a timer and time it at 2½ minutes (or prepare according to packet instructions). We need to cook the noodles half way or they will get mushy while stir frying. Strain the noodles in a colander after cooking and place them back into the empty pot.
Place your wok over low fire and add the remaining 2 tablespoons of oil (at that point you could add more oil as do the street vendors) and sir fry your 1 tablespoon of Ginger Garlic paste first.
Then add the shredded cabbage and carrot and stir fry for 2-3 minutes or until the ingredients start to get soft.
Now add in the cooked noodles and mix and stir fry quickly.
Then add the Soy sauce preparation and 2 Tablespoon of water, some salt and pepper for flavoring. Stir fry and mix the whole content for 3 minutes or until all the ingredients are soft. The content should not stick to the wok.
Finish by topping the noodles with the sliced spring onions and serve hot directly.
Nutrition Information
Serving size: 
222 g
Calories: 
361 kcal
Fat: 
12.11 g
Saturated fat: 
2.222 g
Unsaturated fat: 
9 g
Trans fat:
0.089 g
Carbohydrates: 
52.28 g
Sugar: 
3.82 g
Sodium: 
416 mg
Fiber: 
3.3 g
Protein: 
10.74 g
Cholesterol: 
56 mg
Related comfort #Weeknightdinner ideas
Dear Reader, do you like Chow Mein and if you have cooked it before, how do you cook it?
This post may contain affiliate links, and I receive a small commission when you click through and purchase. It basically buys me my daily coffee and cheese, and yes, my flour so that I can make pizza for dinner!
The following two tabs change content below.
I am Helene, and created Masala Herb to share my food and travel journey with the whole world. You will find Asian and Western dishes here, as well as unique travel guides to inspire your day. Don't miss a post! Subscribe to the free newsletter!
Latest posts by Helene Dsouza (see all)