A delicious quick and easy weeknight dinner idea. You can adjust the ingredients to add more vegetables.
Easy Vegetable Chow Mein is a Chinese stir-fried noodle dish and a common Asian Takeout meal.
The homemade chow mein with fresh veggies and crispy noodles is a very popular and flavorful meal which you can easily recreate at home!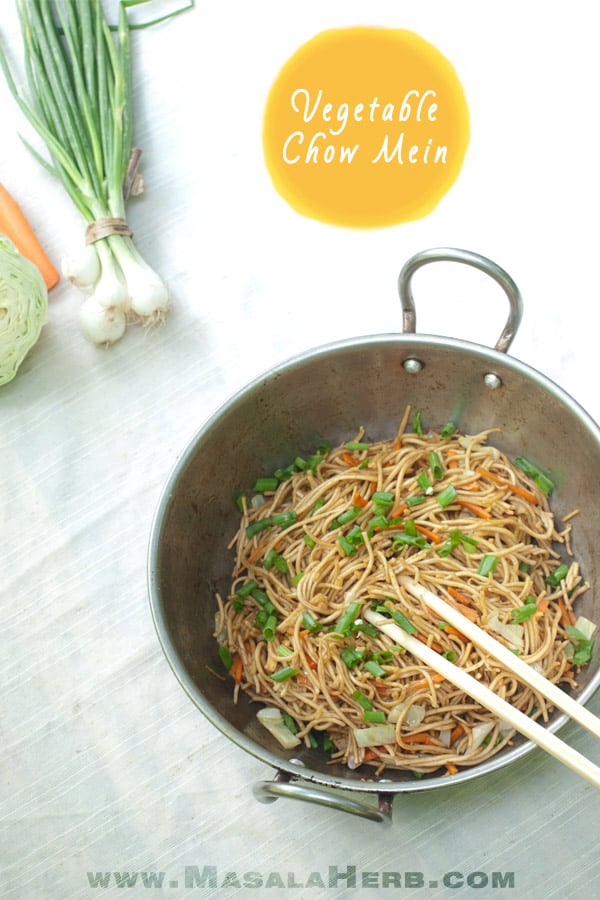 Global Food Recipes
with Spices and Herbs
Free E-Book available for a limited time. Grab yours now and get instantly inspired!
Jump to:
Chow mein is a very quick dish to prepare at home and it won't take you more than 15 minutes of cooking time altogether.
There are countless Chow Mein versions in this world, this is my easy Vegetable Chow Mein take on this dish.
The healthy Chow Mein recipe will come handy when you don't know what to cook.
And when you need something quick without much effort, while still enjoying premium flavors and real food!
This veg Chow Mein is completely Vegan.
📕 What's Chow Mein?
Chow Mein are Chinese noodles, stir-fried in a deep frying pan over high heat.
The dish consists of Chinese egg noodles, a stir-fry sauce, and vegetables, meat, seafood or eggs.
Sometimes 2-3 proteins can be mixed in a chow mein but most of the time chow mein meals are specialized in one ingredient.
The most common Chow mein dishes out there are Vegetable Chow Mein, Chicken Chow Mein, Beef Chow Mein, Shrimp Chow Mein, and Pork Chow Mein.
The simple Chow Mein is prepared in a short time frame and the ingredients are cooked quickly.
The vegetable or protein is stir-fried first, then the semi-cooked noodles are added and the sauce is poured over everything.
Everything is then stir-fried without delay and served directly hot.
Chow Mein is a global dish and variations may exist in different regions across the globe.
The dish might be known in other languages (translated) simply as "fried noodles" which refers to the crispy chow mein noodles.
🆚 Vegetable Chow Mein VS Lo Mein
Chow mein and Lo mein are both Chinese style noodle dishes and they are almost the same except for the way they are prepared.
Vegetable Chow Mein is:
Stir-fried on high heat
Noodles are shortly cooked crisp and usually still al dente (to the bite)
The noodles suck in partially the stir-fry sauce
Vegetable Low Mein on the other hand is:
Stir cooked but wet and never dry
The noodles are soft
Noodles cook further in the sauce/gravy and take in the sauce flavors all the more
In the US, you will find low mein more commonly prepared and sold on the east coast, whereas chow mein dominates completely the west coast.
That is why sometimes a confusion may arise between chow mein and low mein.
The name ends up being interchangeably used between the two dishes in various establishments in the USA.
Crispy Chow Mein is also known as Hong Kong style.
Different places will also offer different variations of vegetable chow mein. My chow mein recipe is prepared with mixed vegetables.
🥬 Veg Chow Mein Ingredients - What's in Chow Mein
To prepare the veg chow mein I will give you some freedom! 🙂
I always end up using the same ingredients in my vegetable chow mein, which includes carrot, spring onion, Ginger, garlic and Cabbage.
This is because I like it that way the most and besides I always have these ingredients at home.
Vegetables
You can add the following ingredients as well if you want to add more flavor or veggies:
Nappa Cabbage (aka Chinese Cabbage)
Red Cabbage
Broccoli
Celery root
Mushroom
Spinach
Chow Mein Sauce & Noodles
The Chow Mein Sauce is prepared by simply mixing together soy sauce, vinegar, chili sauce and sugar.
Hence the sauce is a bit hot but sour and sweet.
If you don't want chili sauce, then substitute with ketchup.
This veg chow mein sauce is without fish or oyster sauce and therefore it's a vegan chow mein recipe if you use noodles without eggs.
For Gluten-free, simply use gluten-free egg noodles.
🔪 How to make Vegetable Chow Mein?
You can prepare your own vegetable chow mein tonight.
Follow my steps and get the printable recipe card with more details, instructions, and ingredients further below.
Step 1
Prep everything first before you start cooking.
That means, cut your vegetables small and mix together the sauce ingredients for the stir fry.
Step 2
Heat up a pot with water and cook your Asian noodles al dente, as per package instructions.
Heat up your wok or large pan with the oil and add in your ginger and garlic to stir cook quickly.
Add in your vegetables and stir cook for a minute or two on high heat.
Step 3
Place your cooked noodles into the wok to the vegetables.
Pour the stir fry sauce and some water (I like to use the noodle water) over the noodles.
Stir cook your chow mein over high heat for 2-3 minutes, so that the ingredients get mixed up and the noodles get cooked further.
Serve directly hot and garnish with chopped green onion stalks.
🧰 What kitchen tools do I need to make this veg chow mein?
To make this easy chow mein recipe from scratch easily and successfully you will need to keep the following ready to cook the vegetable chow mein within 10 minutes.
Stir Frying Pan - Stainless steel, cast iron or PFOA-free non-stick.
Kitchen timer to not overcook your noodles because the Chinese chow mein noodles need to stay crispy to stir-fry them successfully.
your vegetables cut small
your sauce ingredients mixed
The Point of a chow mein stir fry is to work quickly to achieve the correct consistency and result.
You will stir-fry all the vegetables on a high heat within 3 minutes.
This is a quick-cooking process!
Keeping your ingredients ready is essential and working with the right tools will make your life easier.
A shallow Stir Frying Pan is required, as the heat is more concentrated in the center and you keep on stir-frying.
In that way, you achieve the most perfect cooking environment for your easy vegetable chow mein.
The vegetables in the Chow Mein should be still to the bite when the dish has been cooked.
This adds texture and a crunch to the dish.
The Vegetable chow mein will be fresh and more nutritious.
👁️ More Asian Noodle Meals
Dear Reader, have you tried vegetable chow mein before?
Global Food Recipes
with Spices and Herbs
Free E-Book available for a limited time. Grab yours now and get instantly inspired!
📖 Recipe
Easy Vegetable Chow Mein Recipe
A delicious quick and easy weeknight dinner idea. You can adjust the ingredients to add more vegetables.
Print
Pin
Rate
Ingredients
For the Vegetable Chow Mein:
Instructions
Prepare your veggies by cutting them small as mentioned in the ingredients.

Prepare the Sauce. Mix the soy sauce, vinegar, chili sauce, and sugar together. Keep aside.

Grab a pot and fill it with water to cook the noodles. Let it boil and then add all the noodles. Get a timer and time it at 2 ½ minutes (or prepare according to packet instructions). We need to cook the noodles half way or they will get mushy while stir frying.

Place your wok or large pan over low fire and add the oil and stir fry your Ginger and Garlic shortly.

Then add the shredded cabbage and carrot and stir-fry for high heat for 1-2 minutes so that the ingredients get slightly soft.

Now add in the cooked noodles.

Pour the previously prepared sauce and 2 Tablespoon of water, over the noodles. Stir fry and mix the whole content for 2 minutes on high heat or until all the ingredients are slightly soft (don't overcook!). The content should not stick to the wok.

Finish by topping the noodles with the sliced green onion stalks and serve hot directly.
Notes
Use fresh Ginger and Garlic chopped fine (⅔ garlic and ⅓ ginger ratio) or Ginger Garlic Paste (convenient and mixes in easily).
You can try this recipe with more or other vegetables. See vegetable ingredient suggestion in the post, above this recipe card.
You can also break in an egg right after stir frying the vegetables by making some space in the pan and pushing vegetables to the border. The egg is then cooked on high heat for a minute and then you just need to break the egg into pieces and you can continue to sitr cook and add the remaining ingredients.
Nutrition
Nutrition Facts
Easy Vegetable Chow Mein Recipe
Amount Per Serving (222 g)
Calories 342
Calories from Fat 99
% Daily Value*
Fat 11g17%
Sodium 941mg39%
Potassium 177mg5%
Carbohydrates 53g18%
Protein 8g16%
Vitamin A 4894IU98%
Vitamin C 8mg10%
Calcium 22mg2%
Iron 1mg6%
* Percent Daily Values are based on a 2000 calorie diet.