More than 5 fantastic inside out sushi roll ideas to help you get inspired!
These can all be easily made from scratch at home.
Global Food Recipes
with Spices and Herbs
Free E-Book available for a limited time. Grab yours now and get instantly inspired!
Jump to:
📕 What are inside out sushi rolls?
Inside-out sushi rolls are inspired by traditional Japanese maki zushi.
Regular maki sushi comes with ingredients and rice on the inside and the nori seaweed on the outside. There are two main maki sushi types, the hosomaki, a thinner version, and the futomaki, a larger maki sushi.
Inside out sushi rolls are also known in Japanese as uramaki.
Uramaki is called inside out sushi because the nori sheet is rolled between layers of rice. So, there is sticky flavored sushi rice on the outside AND on the inside.
They are a western invention and are not traditionally Japanese. Yet, these sushi rolls have also caught the attention of younger folks in Japan over the years.
Because they are a most recent invention, the stuffing rules have been rather loose, which gives us more options to be creative!
🍥 California Roll Sushi
The California roll is the original inside-out sushi. It's stuffed with avocado, cucumber, surimi imitation crab meat and Japanese mayonnaise. The outer side is rolled in sesame seeds.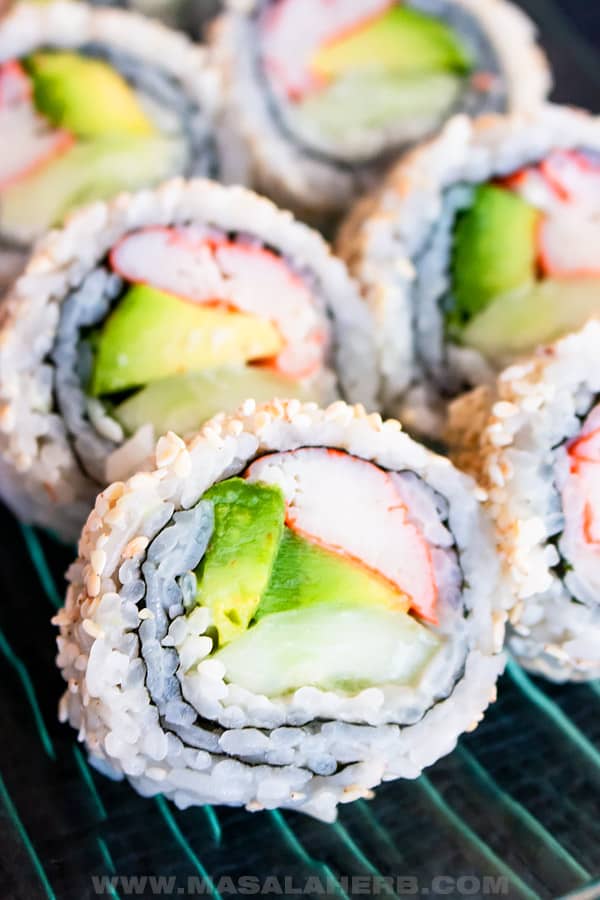 🌈 Rainbow Roll Sushi
True to its name, the rainbow roll is a colorful uramaki sushi! Our take on this sushi is prepared with common ingredients, surimi crab stick, avocado, cucumber, mango, salmon and mayonnaise.
🐉 Dragon Roll Sushi
The green dragon roll recipe imitates the look of an Asian dragon. Fresh avocado is sliced and used as a topping to mimic dragon scales.
This sushi roll is stuffed with cooked shrimp, fresh avocado, cucumber and Mayonnaise and at last the dragon roll sushi is topped with bright orange tobiko fish roe.
🍣 Spicy Salmon Roll Sushi
A spicy salmon sushi roll comes the closest to the original California roll. It's stuffed with raw fresh salmon, avocado and a spicy mayonnaise.
🍤 Philadelphia Roll Sushi
This particular inside-out sushi roll has gained on popularity over the last years. The philadelphia roll is stuffed with Philadelphia cream cheese instead of mayo, as well as avocado and cucumber. Sliced raw salmon is used as a topping.
🐟 Boston Roll Sushi
The boston roll sushi is a bright orange uramaki. This is achieved by coating the outer side in tobiko fish roe. The sushi is stuffed with cooked shrimp, cucumber, and avocado.
It's a beautiful sushi richly prepared gourmet sushi!
Avocado Cucumber Beet Mango Sushi Roll
Our Avocado Cucumber Beet Mango Sushi Roll prepared with veggies and fruits. The filling consists of cucumber, cooked or pickled beet and mango. The topping of this sushi is made with avocado slices.
This is a vegan, plant-based sushi. Perfect for all those who don't eat raw seafood and I can also recommend it for pregnant ladies.
💡 Tips to make Uramaki Sushi at Home
Use a plastic wrap to wrap your sushi mat, so to roll in your inside out sushi. The rice on the outside is sticky too, and that way it's easier to roll and clean your sushi mat.
Season your homemade cooked sushi rice the correct Japanese way.
Stick your rice tightly over the nori seaweed sheet to create an even layer. The layer shouldn't be too thick.
Roll in slowly by pressing down gently and moving on carefully with your rolling motion.
If you make inside out sushi for the first time, start with the California roll, it's the easiest one to make from scratch.
Cut your sushi roll into 8 pieces. Use a sharp knife and cut through with a clean motion. Clean your knife after every cut with water and a kitchen cloth, The knife shouldn't be wet when cutting even-sized sushi roll slices.
🥢 Serving Ideas
I like my inside out sushi rolls with a dip. For that, I usually choose to mix wasabi paste in soy sauce. Japanese soy sauce somewhat tastes better for this purpose too.
Another idea is to dip your rolls into a citrus flavored ponzu sauce.
Don't forget to add pickled sliced ginger to all that. The ginger tickles your taste, buds, brightens the flavors and helps to clean your palate after every sushi bite.
To make them look better, top your sushi rolls with brightly colored fish roe. I love, love, love salmon roe, tobiko and masago fish roe. They all taste differently, and they can enrich your sushi beautifully.
The vegan alternative to that are seaweed pearls. They come in black or orange and taste a bit like real fish roe. This is a more sustainable and animal-friendly option.
Global Food Recipes
with Spices and Herbs
Free E-Book available for a limited time. Grab yours now and get instantly inspired!