Easy recipe for homemade japanese pickled sushi ginger. Budget-firendly and healthy!
Quick Japanese sliced pickled ginger to serve with your favorite homemade sushi!
Making a jar of homemade ginger pickle (aka gari) has never been easier than that.
Jump to:
This recipe is part of our Japanese food series. Momoko, our Japanese food expert is sharing your recipe for homemade pickled ginger sushi.
📕 What is it?
Japanese pickled ginger are preserved ginger slices.
It's a traditional Japanese method to preserve ginger roots and people still make them from scratch at home in Japan.
The slices are most commonly served with sushi and are known to be beneficial to digestion. Ginger also takes away any fishy smell.
Pickled ginger is also very common in the west. Insideout sushis such as the California roll always come with pickled ginger.
The thin and raw ginger slices are left to pickle in a vinegar sugar water solution. That softens the flavors but keeps them crisp.
The texture and flavor are meant to enrich a sushi meal. It also cleans the palate after every sushi bite, which is useful when you try many different sushi variations.
I personally can't have my sushi without pickled ginger!
🍠 Ingredients
ginger - super fresh, the roots should not be fibrouse and though. The more pale and juicy, the better.
vinegar - rice vinegar or white synthetic vinegar
sugar - regular plain sugar
salt
Japanese love pink pickled ginger! It's pink because they use very fresh ginger shoots, which appear pink when they grow out of the earth.
The pinker the pickled ginger, the more value it has in Japanese society.
You won't be able to purchase pink ginger in stores, but you can grow ginger at home and harvest the roots when they are fresh and pinkish.
There is no water in this recipe because water would decrease the shelflife of your pickle. So don't add water!
🔪 How to make it?
Here is an overview of how this pickle comes together. The full recipe with US and metric measurements is in the printable recipe below.
Step 1
Combine sugar, salt and vinegar.
Peel ginger and cut it into thin slices.
Step 2
Bring a pot with water to boil and place ginger slices into the water.
Blanch ginger (short cooking).
Take out into ice water. Squeeze ginger through a cloth to get rid of excess water.
Step 3
Place ginger into a canning jar and pour vinegar sugar-salt mixture over the ginger.
Close jar and store in a cool place.
Leave it to pickle for 2-3 days, then you can start using your pickled ginger.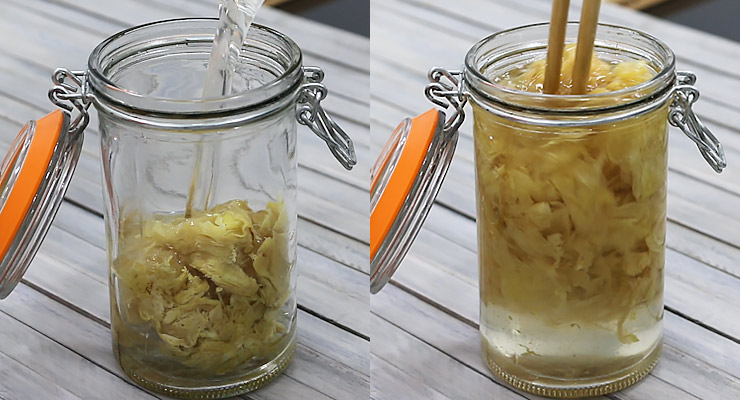 🍱 Storing
Store your pickled ginger in clean sterilized jars in a cool and dry environment (if you live in a cold climate).
If you live in a tropical climate store them in your fridge.
Typically, the Japanese prepare pickled ginger about twice a year, so those will be good for at least 6 months.
You can make your ginger pickle to last even longer by canning the jars. Follow my water bath canning guide to do this.
💭 FAQs
How to serve pickled ginger?
Take out some ginger slices from your jar, just drip off excell pickling juice, and place them into a small serving bowl or plate. Enjoy with your favorite sushi!
What is the meaning of Gari?
Pickled Japanese ginger is known as gari. Gari is the sound that the ginger slices make when you chew on them. Yep, the Japanese have humor!
Can I freeze pickled ginger?
No, it's not recommended. It would make them soggy when they thaw and they would lose the crunchiness. I recommend preparing the recipe is per instructions and if you want to store them longer, can the jars. That way they will last for over 12 months.
Can I make this without sugar?
No, the sugar in this recipe helps to preserve your ginger. It also adds flavor to the pickle and helps to balance the tart vinegar.
Global Food Recipes
with Spices and Herbs
Free E-Book available for a limited time. Grab yours now and get instantly inspired!
📖 Recipe
Japanese Pickled Ginger Recipe
Easy recipe for homemade japanese pickled sushi ginger. Budget-firendly and healthy!
Print
Pin
Rate
Instructions
Combine sugar, salt and vinegar.

1 cup Vinegar,

¾ cup Sugar,

¼ cup Salt

Peel ginger. Cut ginger into fine slices.

Keep a pot with water to boil and place ginger into the water.

Blanch ginger (cook quickly) for a minute.

Take out ginger and place into the bowl with the ice water. This stops the cooking process imidiatly.

Arrange a cheesecloth over a strainer and that over a bowl. Place ginger into the cheesecloth and close it.

Press all the liquids out by twisting and pressing the cheesecloth into a tight bowl. Do that until the ginger is looking dry.

Place ginger into a clean jar and pour the vinegar mix over that.

Stir to loosen up the ginger. Close jar and store in a dry place away from sunlight.

Keep the pickle out for 2-3 days without opening. The ginger will get pickled. Use afterward to your liking.

Store outside, store in your fridge if you live in a tropical climate.
Notes
25 servings makes 1x 16 oz or ½ liter jar. We used jars with a rubber gasket but you can use regular mason jars too. 
Equipment
16 oz or ½ liter jar

Bowl with ice water

Fine Mesh Strainer with a Cheesecloth
Nutrition
Nutrition Facts
Japanese Pickled Ginger Recipe
Amount Per Serving
Calories 33
Calories from Fat 9
% Daily Value*
Fat 1g2%
Sodium 1133mg47%
Potassium 40mg1%
Carbohydrates 8g3%
Protein 1g2%
Vitamin C 1mg1%
Calcium 3mg0%
Iron 1mg6%
* Percent Daily Values are based on a 2000 calorie diet.