The boston roll is prepapred with cooked shrimp, avocado, cucumber, mayonnaise, sushi rice, nori seaweed and tobiko fish roe.
The Boston roll is a brightly colored fancy sushi roll.
Our homemade version uses tobiko fish roe as a topping and as a filling cooked shrimp, avocado, and cucumber.
Jump to:
This recipe is in collaboration with Momoko, our Japanese food expert. Other sushi rolls in this series include the Salmon roll, Philadelphia roll, and dragon roll to just name a few.
📕 What is a Boston Roll?
The Boston roll is an inside-out sushi roll inspired by the Japanese makizushi roll.
A traditional Japanese maki roll is prepared with rice on the inside and nori seaweed on the outside.
The inside-out sushi roll was invented on the American continent and contains rice on the inside and outside, with the nori seaweed in between.
The most well-known and first creation was the California roll.
A Boston roll is topped with brightly colored tobiko fish roe and the filling can be with something else.
In our recipe, we chose to use cooked shrimps with soft avocado and crunchy cucumbers as a sushi filling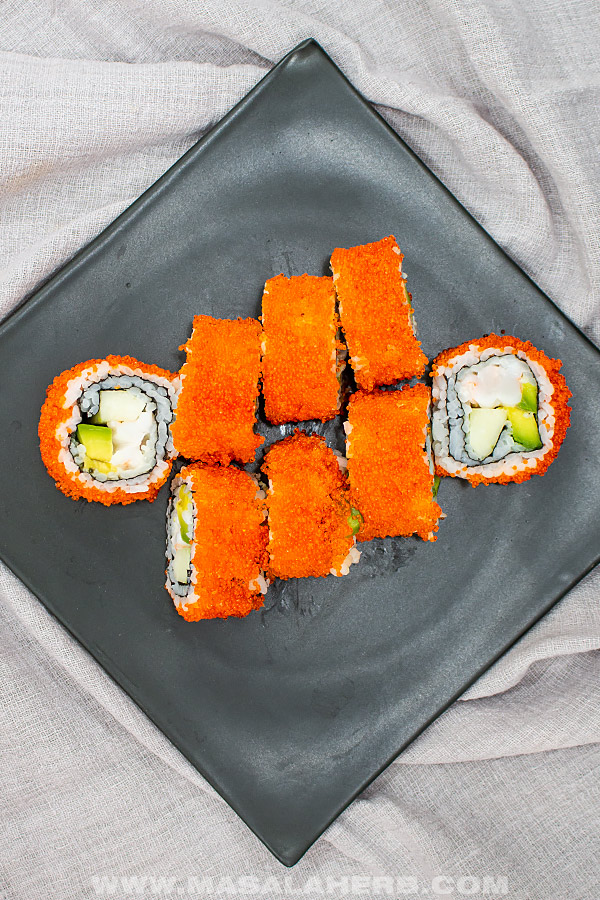 🍣 Ingredients
Here are the ingredients that you will need listed in a nutshell. The complete recipe is located further below in the recipe card.
sushi rice - cooked and prepared as per our sushi rice recipe
nori seaweed - plain ones for sushi
avocado - fresh and not all too soft
shrimps - cooked
cucumber - fresh
mayonnaise - best option, Japanese mayonnaise
tobiko - orange colored fish roe
Tobiko is kind of like caviar but bright orange in its uncolored natural state. a similar and cheaper option is masago. A vegan option would be seaweed pearls, which come in black or orange.
Your tobiko can be dyed too with natural ingredients. Add a few drops of lemon or yuzu juice to your tobiko, to make them yellow.
🔪 How to make it?
Here is a helpful overview of how this homemade sushi comes together. The full recipe with US and metric measurements is located further below in the recipe card.
Step 1
Prep and slice avocado, cucumber, and tobiko ready. Keep cooked rice ready.
Cook butterflied shrimp in some boiling water.
Step 2
Spread most of your sushi rice over your nori sheet. It should stick.
Turn around and use the remaining rice on the other side. Keeping about ½-1 inch or 1-2 cm empty from the top and down border.
Step 3
Pour a line of mayonnaise over the rice.
Place and arrange cut avocado, cucumber, and cooked shrimp over the rice.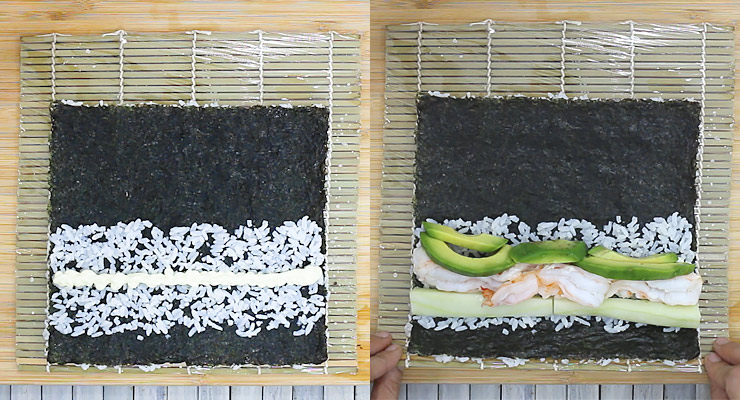 Step 4
Roll and press down sushi roll gently with both hands to form a tight maki roll.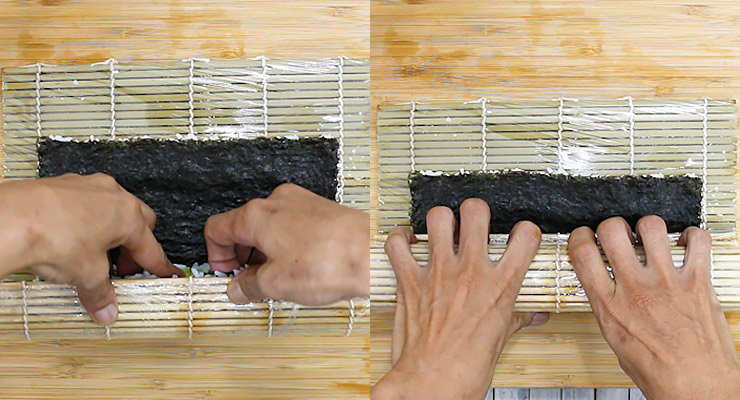 Step 5
Arrange tobiko fish roe over sushi roll and shape it with a 2nd sushi mat so that tobiko sticks to the roll.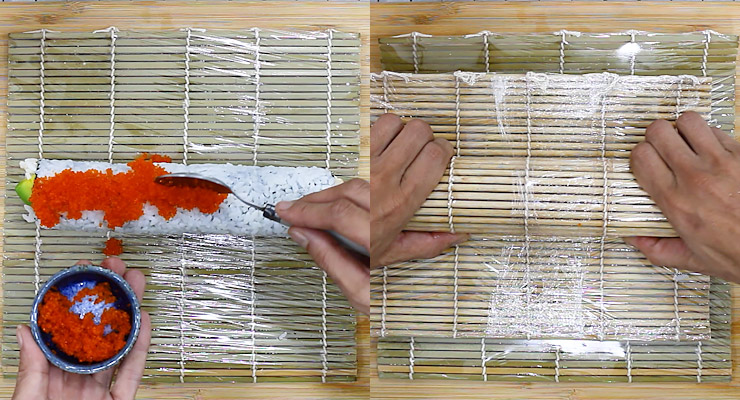 Step 6
Cut your sushi with a clean knife into slices.
Serve up.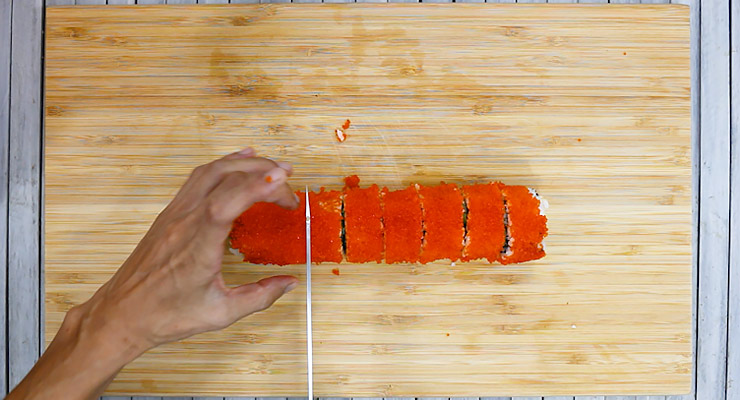 🍴 Serving
Feel free to serve this sushi along with other sushi rolls, temaki hand rolls, or nigiri sushi.
I like my sushi rolls with regular soy sauce and wasabi paste mixed in. I then just dip the sushi slices each at a time with my chopsticks in the soy sauce wasabi mix and eat it!
You can also dip your sushi into a ponzu sauce.
Use pickled ginger slices to clean your palate after each bite or so.
💡 Tips
prepare the sushi rice as per our instructions for the best result.
wrap your sushi mat in clean wrap, that way your rice won't stick on the mat and it will be easier to roll.
fish roe is expensive. As a budget alternative, and perhaps as amore sustainable option, use seaweed pearls
when rolling your sushi, press gently down for a tight and even roll
when cutting the sushi roll into slices, clean your knife after each cut to make clean perfect slices
eat it the same day and don't keep the sushi for too long in the fridge because the rice will get hard and the rolls will fall apart. Sushi rolls don't keep that well and should be enoyed when freshly made.
💭 FAQs
How much sushi rice do you need per Boston roll?
You will need about 1 cup cooked and prepared sushi rice to make this sushi roll. Please follow our instructions to make sushi rice from scratch to get rice that sticks.
Can you roll without a mat?
No, you can't roll an inside-out sushi without a mat. The roll is sticky with the fish roe on the outer side, and a sushi mat is required to roll a proper tight roll. Or else your roll won't be a roll. For a hand roll check out temaki sushi.
Why do you wrap your bamboo mat in a plastic sheet?
Inside-out sushis have sticky rice on the outside and inside. The plastic on the map helps in rolling this sushi variation with ease. The outer ingredients will otherwise get stuck in the mat and you will struggle to roll a tight even roll.
How to make a tight roll?
Roll slowly in with both hands while pressing down gently and equally. The pressure will make it all stick together, with the sticky rice and mayonnaise keeping it all glued. Continue to roll in while pressing down until you have a tight roll sitting in front of you. A little practice and time and you will be a sushi master!
How to cut clean Philadelphia roll slices?
Use a sharp large knife. A sushi roll is usually cut into 8 even sizes, so either start at the center to get it right or envision when to cut each slice in advance. With a clean stroke cut each slice without moving the slices too much (or else the mayonnaise will get smudged). We recommend cleaning your knife with some water after each slice has been cut, or else it will start to stick and it will get harder to cut slices.
What is the difference between a California roll and a Boston roll?
California roll has surimi imitation crab as a filling. The outside is usually just sesame seeds rolled into the sushi rice. Boston roll has a tobiko topping and it is usually made with cooked shrimp as a filling. Both sushi rolls have avocado and fresh cucumber in it.
Can I eat a Boston roll while pregnant?
Please, consult your physician.
Is the Boston roll raw?
The filling calls for boiled shrimp, so those are cooked. The topping uses Tobiko, which is fish roes so those are raw. You can switch the fish roes with vegan caviar too.
Global Food Recipes
with Spices and Herbs
Free E-Book available for a limited time. Grab yours now and get instantly inspired!
📖 Recipe
Boston Roll Sushi Recipe
The boston roll is prepapred with cooked shrimp, avocado, cucumber, mayonnaise, sushi rice, nori seaweed and tobiko fish roe.
Print
Pin
Rate
Instructions
Prep Ingredients
Cut half avocado into 3 slices lengthwise. Peel the cucumber, half it in the length,

Butterfly shrimp and remove tail. Cook clean shrimp for 2-3 minutes in boiling water.
Prepare Sushi
Place your nori seaweed on your Sushi mat. Use a sushi mat wrapped in plastic so that the sushi won't stick.

Spread almost all of your cooked (keep about 2-3 Tablespoons aside) rice all over your nori seaweed. The rice has to cover the seaweed completely and it needs to be an even layer. Stick it n the nori with your fingers.

Turn the rice covered seaweed and spread the 2-3 Tablespoons of rice over one half of your seaweed, but keep about 1 inch or 2-centimeter distance from the bottom end of your seaweed. Spread it out to an even layer.

Spread mayonnaise in one line in the center of the rice.

Place shrimps and cucumber over the mayonnaise and arrange 3 avocado slices on that in one line.

3 piece Shrimp,

½ Cucumber,

½ Avocado

Take the seaweed with the toppings to the border of your plastic-wrapped mat, hold with both hands and start to roll in your sushi.

Continue to roll in your sushi and press down with both hands to create a tight wrap. Roll until you have a tight sushi roll.

Arrange tobiko over the sushi roll to create a topping.

Press down with another sushi mat to mold the roll and so that the tobiko sticks on the sushi.

Take the sushi from the bamboo mat and cut into 1 inch or 2 centimeter thick slices or so that you are left with 8 thick slices.

Arrange the boston roll on a serving plate and serve with soy wasabi dipping options and some pickled sliced ginger.
Notes
Wrap your sushi mat into a clean wrap.
Use cooked sushi rice only and please follow my recipe to make sushi rice.
Use fresh tobiko or masago fish roe. If you don't want raw fish, use vegan seaweed pearls.
Nori is seaweed. Use unflavored plain maki sushi nori seaweed sheets to make this recipe.
You can mix a few drops rice vinegar or another mild vinegar into your classic mayonnaise to make it resemble Japanese vinegar, or just make Japanese mayo from scratch.
It's important to roll in the sushi slowly and as tight as possible. Take your time and press carefully down with both hands while rolling in.
Nutrition
Nutrition Facts
Boston Roll Sushi Recipe
Amount Per Serving
Calories 1164
Calories from Fat 369
% Daily Value*
Fat 41g63%
Cholesterol 473mg158%
Sodium 1317mg55%
Potassium 917mg26%
Carbohydrates 165g55%
Protein 35g70%
Vitamin A 950IU19%
Vitamin C 13mg16%
Calcium 270mg27%
Iron 13mg72%
* Percent Daily Values are based on a 2000 calorie diet.