Homemade dragon roll prepared with cooked shrimp, fresh avocado and cucumber.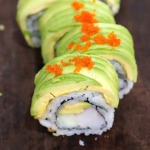 The dragon roll sushi is a showstopper and it tastes amazing!
This is an inside-out maki sushi roll. You can make it at home now!
This dragon sushi roll is part of our Japanese food series with our Japanese food expert Momoko.
If you like inside-out maki sushi rolls, then check out the rainbow roll , Boston roll, and the California roll.
Global Food Recipes
with Spices and Herbs
Free E-Book available for a limited time. Grab yours now and get instantly inspired!
Jump to:
📕 What is a dragon roll?
The dragon roll is a popular inside-out maki sushi roll.
The topping makes it look like a green dragon scale on the outside.
It's a common sushi maki roll in Japan, but it's also popular in American-Japanese restaurants in the US, such as Benihana.
Another similar sushi roll, but vegan, is the avocado beet cucumber mango roll.
🥑 Ingredients
This sushi roll will be made with common food ingredients so that you can make it at home too.
Originally in Japan, the dragon roll is made with eel and sometimes they include crab too.
There are two types of eel in Japan, saltwater and sweet water eel, and eel is not all the same all over the world.
In Japan, they have so-called eel chefs. A cook whose profession is to just cook eels!
We use cooked shrimp instead of eel in this homemade DIY dragon roll.
You will need the following ingredient: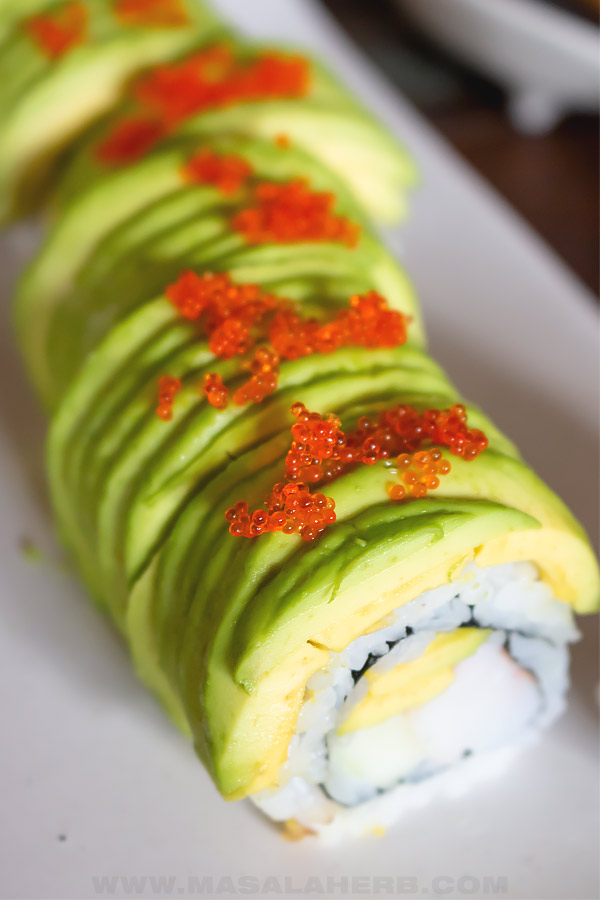 You can also use sriracha mayonnaise if you like.
The shrimp can be substituted with cooked crab lumps or cooked eel.
🔪 How to make the sushi roll?
Here is how YOU can make this pretty amazing sushi roll at home.
This is an overview, the complete recipe with US and metric measurements and details can be found further below in the printable recipe card.
Step 1
Keep your ingredients ready.
Boil shrimp, prepare sushi rice, cut the cucumber into lengthy pieces, and an avocado piece into slices. The avocado half for the topping is cut later when the roll is ready.
Cut nori sheet into two.
Step 2
Spread most of your sushi rice over your nori sheet. It should stick.
Turn around and use remaining 2-3 tablespoon rice on the other side. Keeping about ½-1 inch or 1-2 cm empty from the top and down the border.
Step 3
Pour a line of mayo over the rice.
Place and arrange cut cucumber and shrimp over the mayo.
Step 4
Roll and press down sushi roll gently with both hands to form a tight maki roll.
Step 5
Cut avocado into thin slices and place over the roll with a plastic wrap and your sushi mat. Press down so that the avocado sticks.
Cut your sushi with a clean knife into slices. Rinse with water in between to cut slices easily.
🍴 Serving
We used tobiko fish roes as a topping to decorate and enhance the dragon roll.
The colors pop out and make it look all the more special. This is perfect if you want to amaze your guests!
Fish roe tastes great too but they might not be your thing. Paul doesn't like them, so for his sushi, I use seaweed pearls instead, which look like fish roe but they are vegan.
But fish roes are expensive, they are considered gourmet food. You can choose between Tobiko, masago and salmon fish roe.
Serve your sliced dragon roll with soy sauce, wasabi, and pickled sushi ginger. A citrus ponzu sauce can be used as a dipping sauce too.
💭 FAQs
How much sushi rice do you need per roll?
You will need about ¾ cup or 100 grams of cooked and seasoned sushi rice to make one dragon roll
Why do you use only ½ a nori sheet for this sushi?
You only need ½ nori because there is a considerably sized filling in this sushi roll.
How to make a tight sushi roll?
Start rolling and press down equally and carefully, taking breaks in the rolling movement in between. It's a step at a time when rolling in the sushi. The ingredients will start to stick together. That's why it's important to prepare the sushi rice properly. Follow our sushi rice how-to to make quality sticky sushi rice for your rolls. In time you get better in rolling in your sushi, so keep on practicing!
Why do you wrap plastic around a bamboo mat?
When preparing inside-out maki sushi rolls, you need to wrap plastic around the bamboo sushi mat so that the rice and ingredients don't get stuck on the mat.
Can you roll without a mat?
No, not to our knowledge. Except if you have an idea, feel free to share it with us in the comment section.
Can you store your sushi in the fridge?
Keep your sushi cooled in the fridge in an airtight container for up to 1 day.
Is it safe to eat dragon roll when pregnant?
Please, consult your physician.
Is dragon roll raw?
This dragon roll recipe calls for boiled shrimp. If you choose to add fish roe, those are raw.
Global Food Recipes
with Spices and Herbs
Free E-Book available for a limited time. Grab yours now and get instantly inspired!
📖 Recipe
Dragon Roll Sushi Recipe
Homemade dragon roll prepared with cooked shrimp, fresh avocado and cucumber.
Print
Pin
Rate
Ingredients
Instructions
Keep the filling ingredients ready. Cook and prepare the sushi rice, boil shrimp for 5 mins, cut cucumber lengthwise and cut avocado into smaller slices.

Cut nori seaweed into two. We will only need ½.

Spread most of the rice (reserve about 2-3 Tbsp) over one side of the nori seaweed. Stick it to the nori sheet so that it's all an even layer.

Turn the sheet with the rice around and spread the remaining 2-3 Tablespoons of rice over the inside part of the nori sheet too. Keep a ½ to 1 inch or 1 to 2 cm border where you don't add rice to the top and the bottom only.

Add the mayo in a line over the rice, place shrimp, cucumber, and avocado slices over the rice so that everything fits. If you need to cut a bit of cucumber or avocado, that's ok. As long as everything is spread out equally.

Start to roll in your sushi with the help of your bamboo mat. Gently roll and press down with both your hands until you have a tight sushi roll.

Cut your avocado half into thin slices. It helps if you have a sharp knife.

Place avocado slices over the sushi roll so that they are spread out a bit. That way the avocado looks like green dragon scales.

Place a cling wrap over the avocado and the sushi mat and wrap around the avocado so that it sticks on the inside-out sushi rice. The avocado slices should be holding to the rice on the sushi roll.

Slice your sushi roll with a sharp clean knife into 8 slices. It helps if you clean and wet your knife after every cut.

Top with tobiko fish roe if you like and serve up.
Nutrition
Nutrition Facts
Dragon Roll Sushi Recipe
Amount Per Serving
Calories 639
Calories from Fat 234
% Daily Value*
Fat 26g40%
Cholesterol 36mg12%
Sodium 199mg8%
Potassium 587mg17%
Carbohydrates 91g30%
Protein 11g22%
Vitamin A 162IU3%
Vitamin C 11mg13%
Calcium 45mg5%
Iron 3mg17%
* Percent Daily Values are based on a 2000 calorie diet.