This rainbow sushi roll is colorful, tasty, freshly prepared from scratch, and healthy.
Every colorful bite of this rainbow roll sushi will make you want to have more!
Learn how to easily prepare and roll your own perfect sushi from scratch at home with this recipe and our video guide.
This is another Japanese inspired modern sushi recipe, which I prepared together with our Japanese food expert.
Global Food Recipes
with Spices and Herbs
Free E-Book available for a limited time. Grab yours now and get instantly inspired!
Jump to:
📕 What is a Rainbow Roll?
A rainbow roll is a colorful inside out sushi.
Regular maki sushi has rice and stuffing on the inside, while the nori sheets are wraped around it.
Inside out sushi has rice and other ingredients on the inside and outside. The nori seaweed is in-between all this.
It's also called an uramaki sushi in Japanese.
The ingredients used on the outside make the name, rainbow roll, justice and can be anything from avocado to salmon to create a colorful contrast.
Imitation crab (aka surimi), cucumber, and avocado are used on the inside. This sushi roll resembles the California roll.
🍚 Ingredients
These are the ingredients that you need to get to make this rainbow roll:
Sushi Rice - prepared as per our sushi rice recipe. You will need about ¾ cooked rice for one roll. It has to be sushi rice because it sticks and acts as glue.
Imitation Crab Sticks - also called surimi, used as a filling
Avocado - used as a filling and as a topping
Cucumber - used for the filling
Salmon - raw salmon fillet cut into slices OR cured smoked salmon. Used as a topping.
Mango - ripe and sliced but not mushy. Used as a topping.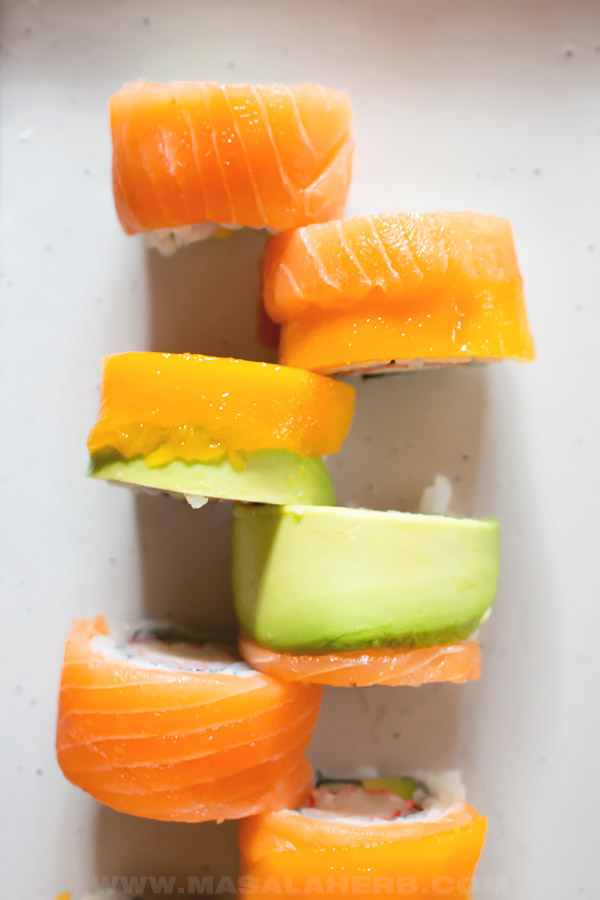 Substitutions
If you can't get imitation crab sticks, you can use cooked shrimps too or smoked salmon on the inside.
We chose to use mango as a topping instead of dark red raw tuna steak slices to create the rainbow effect. The idea came from a user on cookpad.
Mango is incredibly sweet and delicious. It complements the other ingredients well, so I totally recommend that you try this roll with mango!
You may substitute mango with sliced tuna too.
🔪 How to cut filling and topping ingredients?
Keep all those ingredients ready. Best is before you prepare the sushi roll.
Some Avocado varieties brown faster than others. In that case, drop some lemon juice over the avocado.
For the filling:
Surimi - nothing, use as is
Avocado - cut into thin slices, each shouldn't be larger than 0.2inch or ½ centimeter.
Cucumber - use a cucumber that is almost as long as your sushi mat or place together 2 pieces (as shown in the video). Peel and cut into half, quarter, and again into eights lengthwise. Use one slice as a filling
For the topping:
Salmon - Cut a raw fresh salmon fillet carefully lengthwise. The thickness should be about 0.1 inches or 3 millimeters.
Mango - Cut rectangular slices of mango. Same size and thickness as the salmon.
Avocado - Cut rectangular slices of avocado. Same size and thickness as the salmon. (Use softer avocado for the best result)
🍣 How to make it?
Here is an overview on how to make your own rainbow roll from scratch.
The complete recipe with US and metric measurements is located at the bottom of this post. The video is the pop-up.
Step 1 - Nori and Rice
Cut nori seaweed sheet into two.
Place and spread almost all the cooked rice over the nori sheet. That will be the outer side.
Reserve 2 Tablespoons of the cooked rice and turn the nori sheet around to create the inner filling.
Place and spread remaining rice over the nori strip, keeping a border at the top and bottom cleared.
Step 2 - Filling
Arrange sliced cucumber, sliced avocado and surimi over the inner rice part.
Step 3 - Roll in
Start to slowly roll in the sushi and press down with both hands carefully while rolling steadily to create a tight sushi roll.
Step 4 - Topping
Arrange salmon slices, mango slices and avocado slices over the sushi.
Place clean wrap over that and roll in sushi again so that the topping sticks to the outer rice layer.
Step 5 - Cutting
Cut sushi into 8 big slices and serve up.
🍴 Serving
Serve up your beautiful rainbow roll with soy sauce and wasabi. I also like to dip my sushi in a ponzu sauce.
Pickled sliced Japanese ginger is always a great addition too because it brings out the other flavors and helps you to enjoy your sushi all the more.
As a special garnish, we recommend using tobiko fish roe. The orange fish eggs are precious and expensive.
Yet, fish roe really looks great on the sushi too and they add a lot of flavors.
You can use salmon caviar too, which is almost the same thing. Tobiko is sweeter. The darker and deeper the orange, the better the quality.
Instead of fish roes, you can choose to add vegan fish roes (aka seaweed pearls). They look and taste almost like real ones and they come in orange or black.
💭 FAQs
How much sushi rice do you need per roll?
You need about ¾ cup or 100 grams of cooked sushi rice to make this rainbow sushi.
Why do you use only ½ a nori sheet for this sushi?
Because that's all it is needed. This roll is filled with more ingredients compared to the California roll so the nori seaweed is cut into two.
How to make a tight roll?
Roll slowly in while gently pressing down so that the ingredients start to stick together to form a tight roll. The sushi rice acts as glue. Continue to roll in slowly and keep on pressing down until you have a beautiful tight roll ready. Practice makes a master!
Why do you wrap plastic around your bamboo mat?
This is an inside-out sushi maki roll, so there is sticky rice on the inside and on the outside and to avoid it from sticking to the mat, you need to wrap your sushi mat with plastic wrap. That way your rolling process will go smoothly.
Can you roll without a mat?
No, I don't recommend it. A sushi mat is an essential tool.
Can you store your sushi in the fridge?
You can keep your sushi in the fridge for up to 1 day and not more because the ingredients used are mainly raw in this sushi.
👁️ More Sushi Roll Ideas
Global Food Recipes
with Spices and Herbs
Free E-Book available for a limited time. Grab yours now and get instantly inspired!
📖 Recipe
Rainbow Roll Sushi Recipe
This rainbow sushi roll is colorful, tasty, freshly prepared from scratch, and healthy.
Print
Pin
Rate
Ingredients
Instructions
Cut the nori sheet into half.

Place almost all the cooked rice over the nori sheet, reserve 2 Tablespoons. Spread out rice over nori sheet and press down so that the rice sticks to the seaweed.

Turn the nori with rice on it around and spread the remaining rice over the nori sheet. Keep about 1 inch/ 2-centimeter distance space to the top border and about ½ inch or 1 centimeter at the bottom. Make sure that the rice sticks to the nori sheet.

Prep your filling ingredients. Keep sliced avocado and cucumber ready.

Place imitation crab pieces over the line of rice so that the 3 pieces fit there. Cut the center seafood stick if need be to make it fit properly.

Arrange the avocado and cucumber the same way.

Start to roll in sushi with the sushi mat with both hands and gradually press down while rolling in. That way the sushi roll will be rolled tightly and it won't fall apart after slicing into pieces.

Prep your topping ingredients. Slice the salmon, mango, and avocado into thin 0.1 inches/ 3 millimeter thick slices. They should be rectangular.

Arrange salmon, mango, and avocado slices topping over the sushi roll.

Place cling wrap over the rainbow roll and over that the sushi mat. Press down so that the topping sticks to the cooked sushi rice.

Remove the cling wrap and mat. Cut the sushi roll into 8 equal-sized sushi pieces.

Serve up with soy, wasabi, and pickled Japanese ginger slices. Enjoy.
Notes
Use cooked sushi rice only and please follow my recipe to make sushi rice.
Surimi is also called imitation crab meat. You can use crab meat too or cooked shrimp.
Nori are seaweed sheets. Use unflavored plain maki sushi nori seaweed sheets to make this recipe.
Cut the slices for the topping into thin rectangular slices. That includes salmon, avocado, and mango.
Cut the salmon slices from a raw and fresh salmon fillet OR use smoked and cured salmon slices.
The Avocado for the topping shouldn't be too hard or else it might break during the shaping process or it won't hold. The avocado should be a bit soft but not mushy.
It's important to roll in the sushi slowly and as tight as possible. Take your time and press carefully down with both hands while rolling in.
Clean your knife after every cut when you are slicing the sushi. That way the slices will look super clean and clear and it will be easier to cut through as well.
Equipment
Sushi Bamboo Mat

Cling Film
Nutrition
Nutrition Facts
Rainbow Roll Sushi Recipe
Amount Per Serving
Calories 634
Calories from Fat 108
% Daily Value*
Fat 12g18%
Cholesterol 32mg11%
Sodium 538mg22%
Potassium 656mg19%
Carbohydrates 108g36%
Protein 21g42%
Vitamin A 451IU9%
Vitamin C 18mg22%
Calcium 33mg3%
Iron 2mg11%
* Percent Daily Values are based on a 2000 calorie diet.