Fried fish stick, known as fish fingers in the UK, are a welcome meal when served with french fries, Tartar Sauce and a light green iceberg salad with vinaigrette.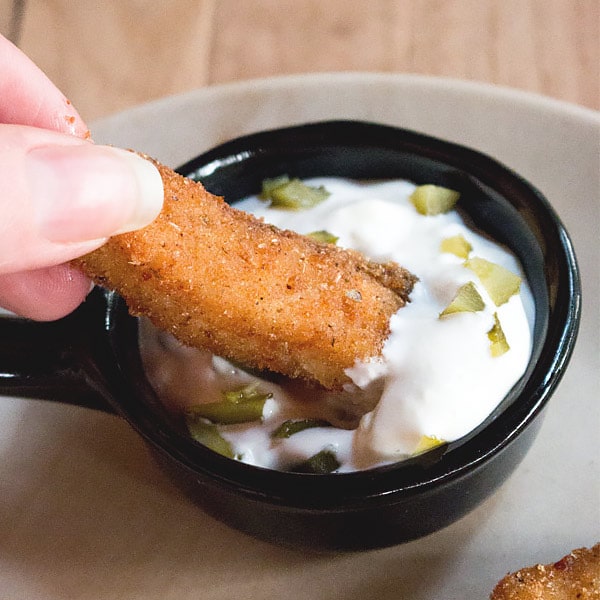 Fried Fish sticks with french fries, dipped into a homemade Tartar Sauce, that's what I call summer comfort food.
Fish Sticks are also called Fish fingers across the pond!
Global Food Recipes
with Spices and Herbs
Free E-Book available for a limited time. Grab yours now and get instantly inspired!
Jump to:
Fried fish sticks have never been considered a health food because they are deep-fried.
Yet I love them, it's my comfort food!
Fish fingers can be baked too and they taste great baked as well if you prefer less oil in your food.
Imagine baked fish fingers served with baked home fries! 😀
I prepare fish sticks from scratch at least once or twice a month during the hotter days in the year, mostly on a Friday, because Friday is fish day according to our customs in Europe.
📕 Making fish sticks from scratch
Fish sticks are easy to prepare at home.
Get a quality piece of fish filet cut into smaller stick sizes and cover with egg and some kind of a coating such as breadcrumbs.
I like the simple breadcrumbs variation as a coating as it's the simplest and if you are making fish fingers from scratch for the first time, try to use breadcrumbs to make it easier for you.
You could also use a different coating to suit your needs or to make the fish sticks Gluten-free, such as with crushed Cornflakes, Panko and Cornflour.
The different coatings will create variations of fish fingers and will determine the crunchiness and of course the flavor.
Fish fingers sold commercially are most made with ground fish and the ones made with real fish filet are considered higher quality and are usually marked with a seal on the package.
🐟 What fish is suitable to make fish sticks?
White fish variations are suitable to prepare fish sticks.
The meat should be tender but firm and should contain less fat.
Pick something like cod and flounder fish.
If you are not sure which fish fillet to buy, ask you, local fish seller, they will guide you, if you mention that you are planning to make fish fingers.
🔪 How to prepare fish sticks?
You can get a big fresh filet piece and cut it into smaller ~3 inch long sticks.
Make sure that there are no bones left in the fish fingers and cut off any of those close to the fish skin dark grey/brown fish meat pieces as those taste awful in fish fingers.
Make sure to cut off the brown fish meat, which is the bloodline and on the edge of the fish, and you are good to go.
Then cover your fish sticks with scrambled raw egg, with your breadcrumbs herb mixture and deep fry until golden crisp.
❄️ How to freeze homemade fish fingers?
To freeze, cut a big piece of fish fillet, do the egg and breadcrumbs coating, place the fish fingers raw into zip-lock bags and freeze.
Next time, you just need to take them out, leave them out a bit to defrost and then just deep fry.
This works well with a breadcrumb coating, however, I would not suggest freezing when you use another coating such as cornflakes, because the cornflakes will get soggy while defrosting.
How to serve fish sticks?
Personally, I don't just consume fish fingers as a snack, I actually prefer them as a main meal with homemade french fries, served with Tartar dipping sauce and a light green salad with vinaigrette dressing.
Or another popular version of serving fish fingers in my house is with red cabbage or some kind of mash potato variation.
Fish Finger Sauce 🥄
Dear reader, have you ever tried different fish stick flavor variations?
Global Food Recipes
with Spices and Herbs
Free E-Book available for a limited time. Grab yours now and get instantly inspired!
📖 Recipe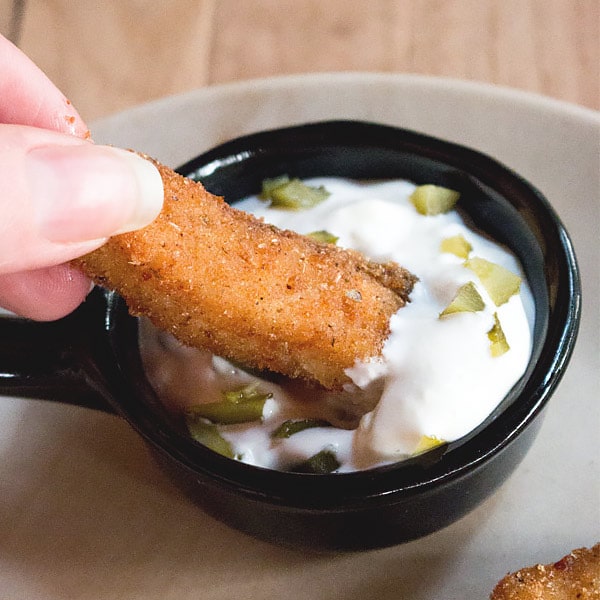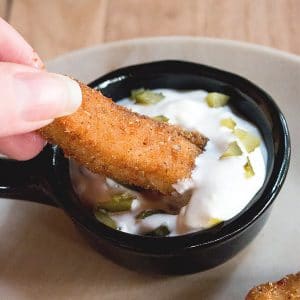 Homemade Fish Sticks Recipe with Herbs
Fried fish stick, known as fish fingers in the UK, are a welcome meal when served with french fries, Tartar Sauce and a light green iceberg salad with vinaigrette.
Print
Pin
Rate
Instructions
Prepare your fish fillet first. Look out for any fish bones and skin remainders, cut off and discard. Cut your fish filet into sticks and keep aside.

In a bowl scramble the raw egg and keep aside. Get another bowl and add the breadcrumbs oregano, marjoram, salt and pepper, mix that content well.

Now you need to cover the fish sticks one by one with the coating. You start by covering a fish stick with the scrambled egg then directly place it into the breadcrumbs mixture bowl and cover it there equally with the breadcrumbs by rolling the fish stick into it. The egg is like a glue between fish meat and breadcrumbs mixture, it will hold the coating together. Repeat the coating process until you have all the fish sticks ready and finished coated.

At that point you can freeze some or all of your fish sticks by placing them carefully into ziplock bags. Whenever you want to use them, just defrost the fish sticks completely first and then deep fry.

To deep fry the fish sticks, heat up oil in your fryer or in a deep frying pan. Wait until the oil is very hot, NEVER add the fish sticks when the oil is not hot. Test by sprinkling tiny amounts of breadcrumbs into the cooking oil, if it catches and starts to bubble around the breadcrumbs, you can add your fish fingers to the cooking oil. It might splash a little bit, so be careful and prepared. DON'T over crowd your pan or they will take too long to cook, a too crowded pan reduces the heat of the oil a bit, which is not necessarily what you want when deep frying anything.

Watch them carefully and turn them when they get golden on one side. Once the fish sticks are equally golden on both sides, which is a matter of a few minutes only, you can take them out by shaking off carefully excess oil, and placing them into a previously prepared dish with paper kitchen towel. Tap them a bit dry, to absorb excess oil with some more paper kitchen towel.
Notes
You can bake the fish sticks too if you don't want to fry them. To bake place the breaded fish sticks into a heatproof dish next to each other. Cover the fish sticks equally with some Olive Oil and place to bake into the preheated oven at 180 C/350 F for about 12 minutes or until the fish is flaky.
~24 small fish sticks
Pick a white fish like cod, halibut or cabo, a fish that remains firm while frying and which tastes neutral (ask your fish guy)
Nutrition
Nutrition Facts
Homemade Fish Sticks Recipe with Herbs
Amount Per Serving
Calories 26
% Daily Value*
Cholesterol 14mg5%
Sodium 76mg3%
Potassium 51mg1%
Carbohydrates 1g0%
Protein 3g6%
Vitamin A 10IU0%
Calcium 8mg1%
Iron 0.3mg2%
* Percent Daily Values are based on a 2000 calorie diet.