A basic recipe for savory french crêpes. The instructions show you how crêpes are made in a skillet.
A simple savory crêpe recipe, just the way French people make them at home.
You will only need a regular skillet to make thin perfect crêpes. Those can be stuffed with a savory filling.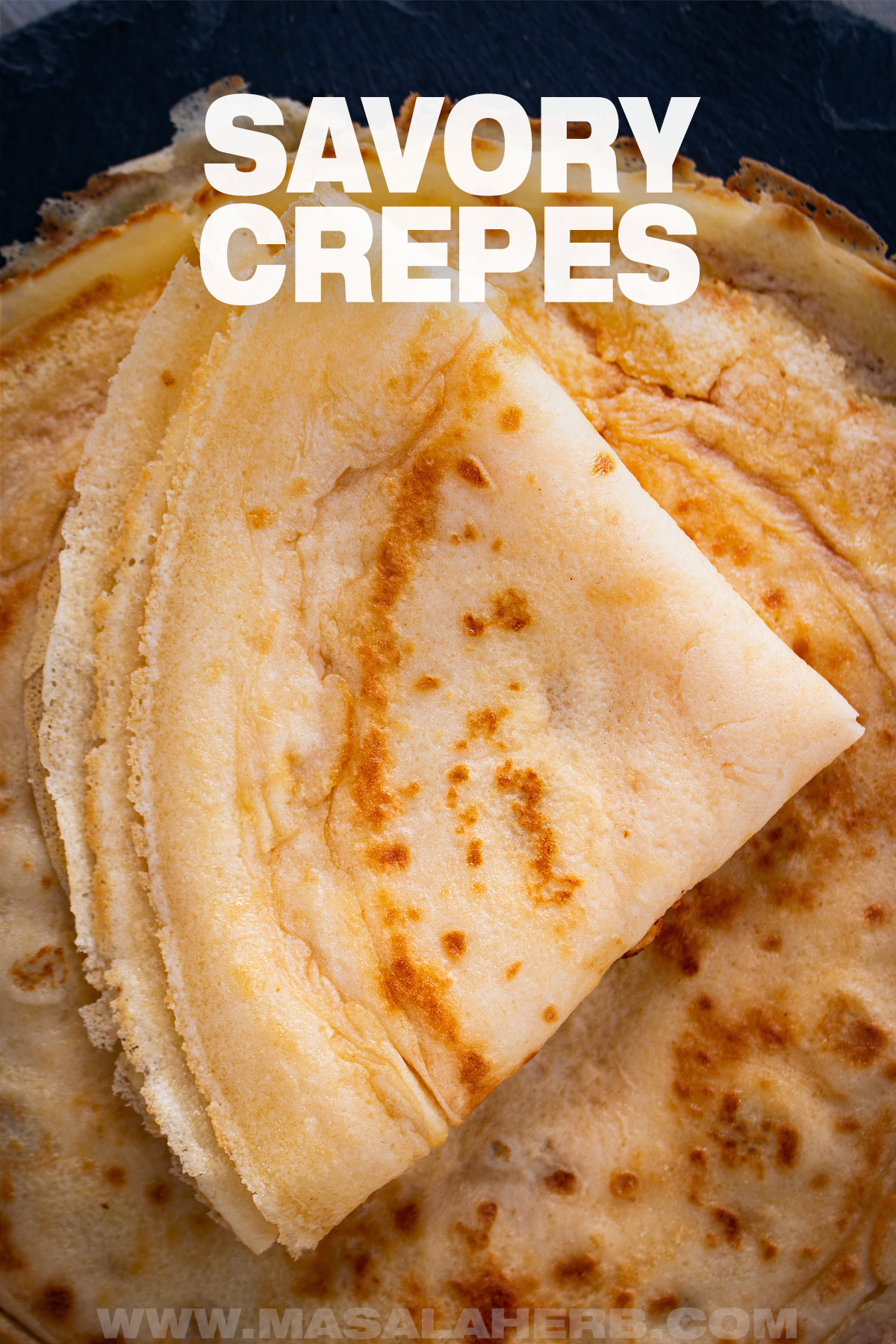 Global Food Recipes
with Spices and Herbs
Free E-Book available for a limited time. Grab yours now and get instantly inspired!
Jump to:
📕 What are Crêpes?
Crêpes are french paper-thin large round pancakes. They resemble the German or Austrian Pfannkuchen or Palatschinken, just that they are thinner than that.
French crêpes can be sweet or savory, and they are usually stuffed with a filling.
In France, it is common place to see French Crêperies, a food take away specialized in making crêpes, on the streets of cities and towns.
These Crêperies cook crêpes on a large flat griddle or a crepe pan and the batter is spread out in a circle motion on the hot griddle with a wooden spreader.
Most French homes on the other hand, simply use regular skillets. It's just more convenient, we are used to it, and you don't have to buy a special crêpes pan just for that!
If you have a crêpes pan or an Indian dosa pan you can use that to make these savory crêpes. South Indian dosa's are made just like French crêpes! The differences are the batter ingredients.
🧈 Ingredients
Savory crêpes are prepared almost the same way as sweet crêpes. You just need to skip the sugar, leaving you with 4 batter ingredients and butter to fry your homemade crêpes.
This is a brief outline of the ingredients that you will need to make this savory crepe batter.
Find the complete US and metric measurements in the recipe card much further below!
All purpose flour
Eggs
Milk
Salt
Butter – unsalted, to fry your Crêpes
You can use salted butter too if you prefer.
🔪 How to make them?
Here is how we make thin savory crepes pancakes at home in France with a skillet.
The recipe card at the bottom has all the details with measurements, and it includes a video, so watch it!
Step 1
Beat the eggs.
Stir in flour, salt and milk, a little at a time and blend to a smooth runny batter with the whisk or hand mixer.
Leave the batter to rest for 15 mins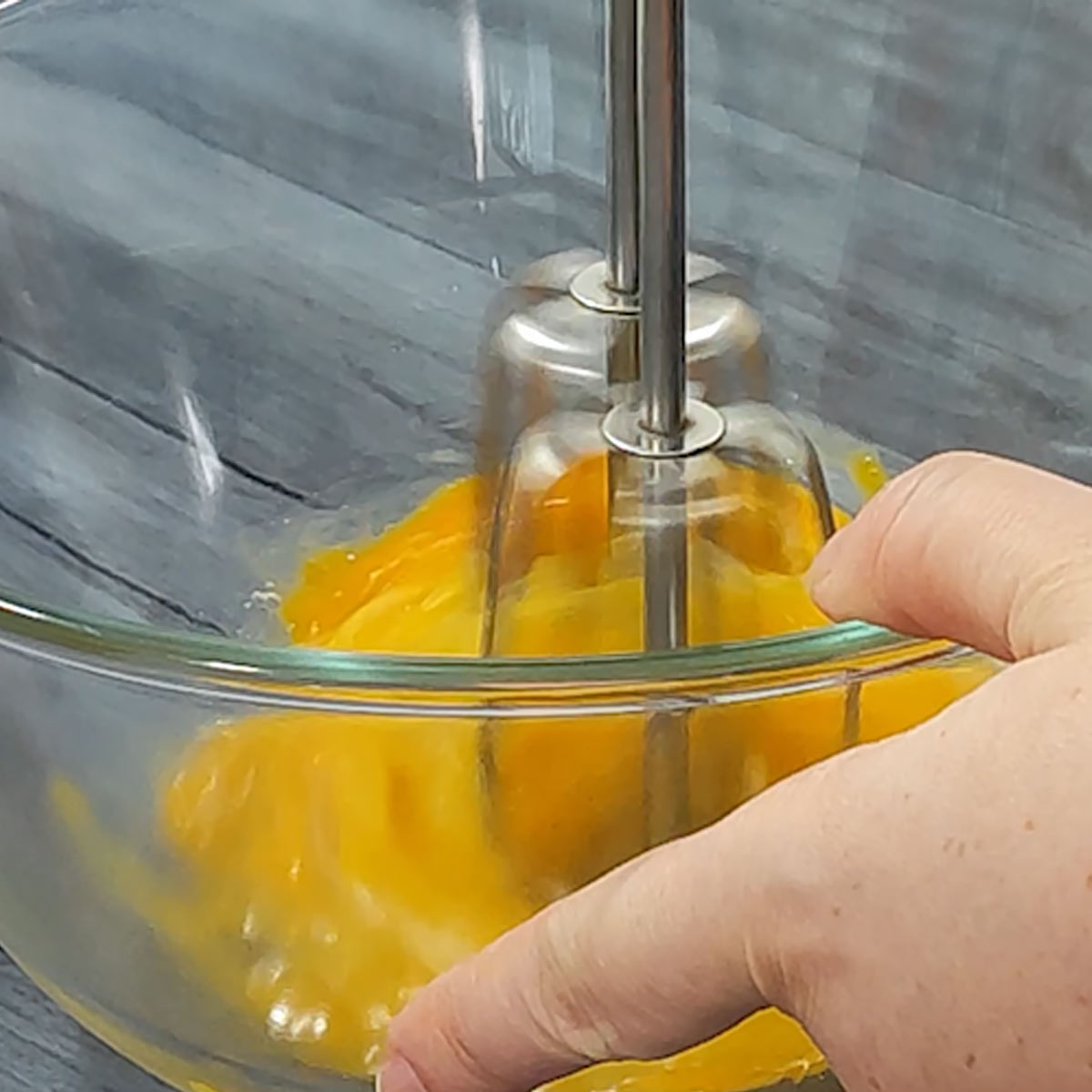 Step 2
Heat up a large skillet and melt the butter.
When the skillet is hot, pour almost a full ladle of crepe batter into the pan.
Move around the batter in a circling motion so that it spread out evenly. The result should be a round even crepe.
Step 3
Fry your crêpe until it starts to detach from the borders and brown spots appear.
Step 4
Flip your crepe and cook it on the other side until done.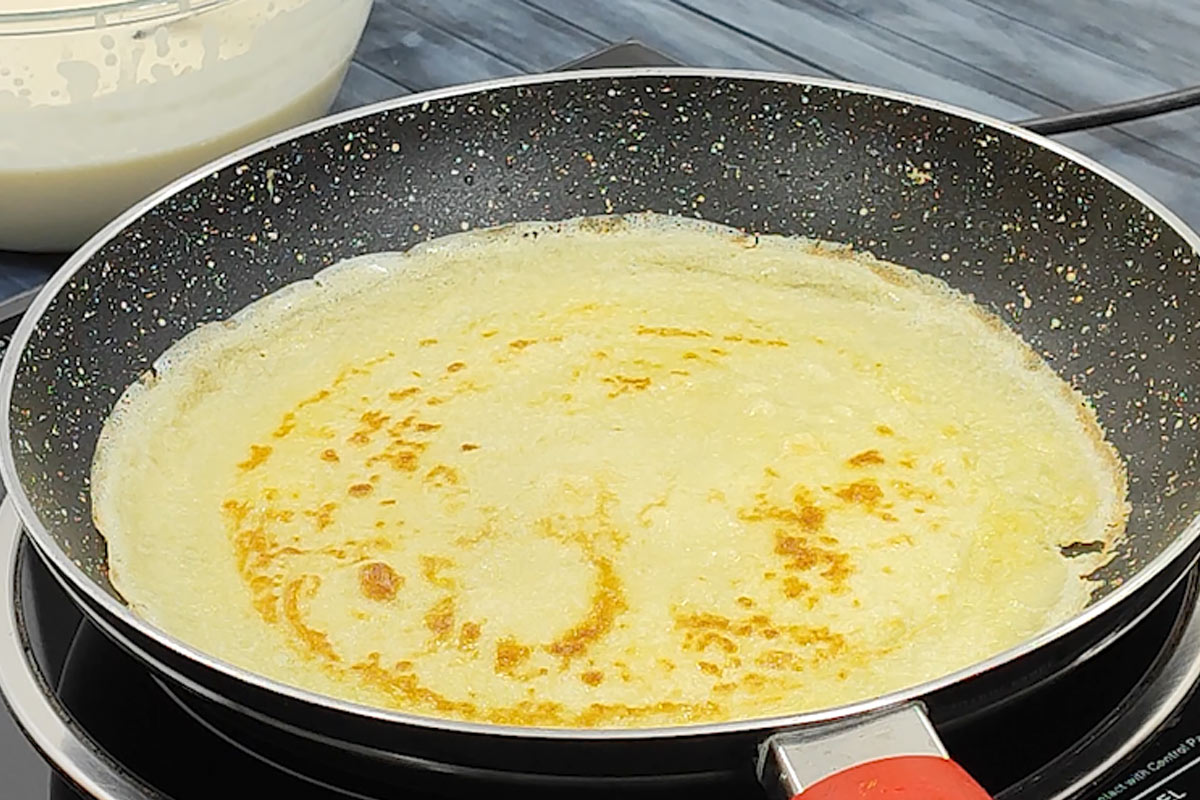 Step 5
Take your crepe from the heat and stack on a plate.
Repeat the frying process with the remaining batter.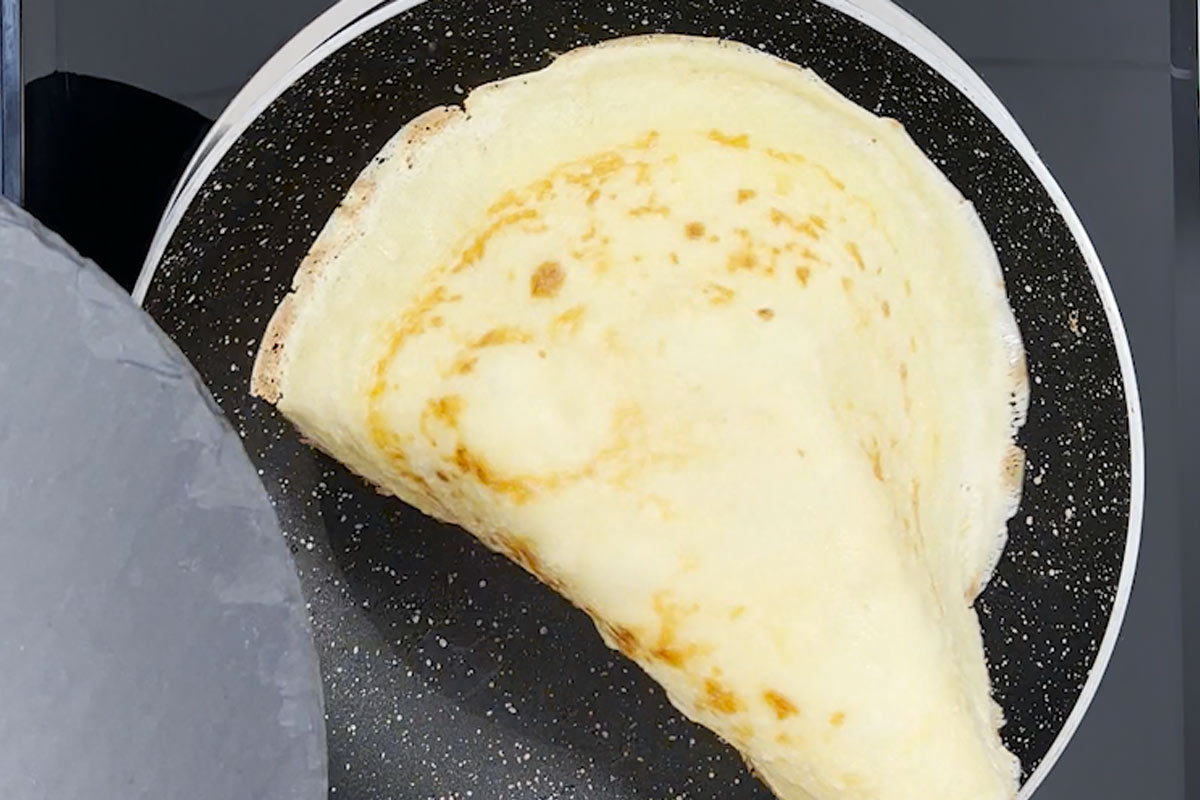 💡 Tips
The batter should be on the thinner, liquid side. That way it will spread better and more equally with the motion of the skillet.
Work well organized and swiftly. Keep your batter ready and the butter with the skillet. Timing is key to perfect crêpes!
Keep on whisking the batter before you take out a ladle and spread it in the pan.
Make sure that your skillet it hot and well greased with butter before dropping batter into the pan. But it shouldn't be smoking! This is important because when you poor the batter into the pan it needs to start cooking while you turn around the pan to spread the batter. If the skillet isn't hot enough, the batter will just mix with the butter and your crepes will get thicker in some areas.
Fill your ladle to 90% only. 100% is too much and moving the ladle to the pan will just create a mess in your hurry.
Control the heat, continuously. Reduce when needed after each crêpe frying (or else your pan will start to smoke!) and increase after pouring the batter but don't go full heat or else you will burn your crêpes. A medium to semi high heat setting is the best heat setting.
Take the skillet in your hand and pour with the other into the hot well greased skillet while moving around the pan so that the batter gets spread in a circling motion. The aim should be a thin round layer of a crêpe.
Cook on a medium-high heat setting and wait for it to detach from the sides on its own.
Turn the crêpes to cook on the other side when it has gained some color and looks cooked. Turn with a wooden spatula or silicon spatula to not scratch the skillet.
The crêpes need to cook on both side equally well. It's done when it's turning a bit brown on the second side as well in some spots.
Take out from the skillet and keep on a plate. Rinse and repeat and stack them all on the plate.
The broader or larger the skillet the easier and better the batter will spread. The result is a thin perfect French crepes!
Every French known that the first crepes is usually the worst of them all. This is because you get better in time and the skillet is at a perfect temperature and it's better greased when frying the other crepes.
A perfect crepes has some light brown spots, is slim, flexible soft on the inside and crispy on the outer thinnest points.
🥣 Savory Crêpe Filling Ideas
Here are some fantastic ways to fill your savory crepes!
Ficelle Picarde – a northern French stuffed savory crêpes dish au gratin.
Gallete Bretonne style – use this savory crêpes' recipe with an egg ham and cheese filling
Fried egg, bacon pieces and chopped fresh chives – makes for a simple but delicious savory crêpes idea
Cheese béchamel with ham – Prepare a cheesy béchamel and fill your crêpes with that and ham. This has been popular in France lately.
Smoked salmon with cream cheese and dill
Mushroom Duxelles – a vegetarian mushroom and parsley filling. I made a mushroom Duxelles for a pasta dish, but the same filling can be used for your savory crêpes.
Goat cheese, arugula, nuts, and honey – This filling is for all gourmets out there!
Shrimp, broccoli, and béchamel – An Italian version known as Crespelli di Mare. With cooked shrimp and broccoli coated in béchamel sauce in generously stuffed in the crêpe.
Egg, omelette, and Wiener sausage – A thinly fried egg omelette layered on the crêpes and rolled in with a cooked Wiener sausage.
My favorite filling is a simple-fried egg, cheese and ham filling, but I also appreciate a smoked salmon cream cheese with dill filling.
A must-have to try when in France, is the Ficelle Picarde!
🍴 How to serve French Crepes?
Savory crêpes can be served for breakfast, brunch, and lunch.
In fact, they are commonly enjoyed as a lunch, and sometimes also as a dinner meal, in France.
We just enjoy our savory crepes for lunch with a little green salad or a plain tomato salad at the side. Those usually come with a mustard infused vinaigrette.
A glass of red wine is a great way to enjoy your lunch crepes!
💭 FAQs
Can I make these savory crêpes egg-less?
No. This is a basic French recipe and the eggs are required for the flexibility, color, and taste experience. Otherwise, it's not a crêpe.
Can I substitute the cow milk with coconut or almond milk?
Yes, in theory, but I haven't tried it myself in this recipe. I did it in the coconut Goan pancakes.
How to make these sweet?
I'll have a sweet crêpe recipe made for you in the future. In the meanwhile, add 1-2 Tablespoon Sugar to this recipe and if you want a few drops vanilla extract.
Can I use oil or ghee to fry the crêpes?
Yes, you can use oil or ghee, but the taste experience won't be the same. French crêpes taste best when fried in butter. Yet, if you have no butter in your fridge, use a neutral oil such as sunflower oil, canola oil or vegetable oil.
How long does it take to fry one crêpe from start to finish?
It takes about 10 minutes to cook a crêpe from the beginning to the end.
Are crepes best served hot or cold?
We prefer them hot.
What's the difference between a savory VS a sweet crepes?
Savory crepes are prepared without sugar or anything else sweet and they are stuffed with savory fillings. Sweet crepes include sugar in the batter and the filling is sweet.
👁️ More French Recipes
Global Food Recipes
with Spices and Herbs
Free E-Book available for a limited time. Grab yours now and get instantly inspired!
📖 Recipe
Skillet French Savory Crêpe Recipe
A basic recipe for savory french crêpes. The instructions show you how crêpes are made in a skillet.
Print
Pin
Rate
Ingredients
1½

Cup

All-purpose Flour

unsifted

2

Piece

Eggs

2

Cups

Milk

pinch

Salt

6

Tablespoon

Butter

to fry, 1 tablespoon per Crepes
Instructions
To make the Crepes Batter:
Keep all your ingredients on stand-by. Break the eggs into a mixing bowl and whisk or blend with a hand mixer foamy. The eggs have to be beaten until they turn pale yellow.

Stir some of the flour with the salt into the beaten eggs, together with some of the milk. Don't add everything in at one time.

1½ Cup All-purpose Flour,

2 Cups Milk,

pinch Salt

Blend with the hand mixer until it gets thick and then add more milk. Blend and keep on adding all the flour and milk and keep on mixing until it's well incorporated and you left with a lump-free thin batter.

Leave the batter to rest for 15 minutes.
To fry the Crepes:
Keep the skillet on the stove and the batter nearby with a ladl in it.

Heat up the skillet to a medium-hot setting and stir in a table spoon butter. Wait for it to melt and spread it well. The skillet should be hot but not smoking!

Take the skillet into your hand and pour with the other hand a ladle of batter into the hot pan and move around the pan in a circling motion quickly to spread the batter evenly to all ends. Don't waste time!

Once your batter has spread and stopped moving around in the pan, take the skillet back to the heat. Keep over a medium-hot setting.

Cook on one side until the crepes turns a bit brown in some spots. The sides will start to detach themselves, making it easier to flip it.

Flip it carefully with a wooden spatula and cook on the other side. Keep on the same heat setting.

Fry your crepes on both sides until done, or they turn a bit brown in some places. It takes about 10 minutes to cook one crepes on a medium-high heat setting on both sides. One side takes about 5 minutes more or less. The crepes should be crispy on the thinnest parts.

Take the crepes from the griddle and place it with a wooden spatula on an empty plate. Reduce stove heat to medium.

Repeat the process with the remaining batter. Always add about 1 tablespoon butter to fry each savory crepes. Keep the skillet on the heat but control the heat, the pan and butter should never smoke (that would be a health hazard)! A little sizzle from the butter is ok.
Notes
If the batter is too thick, add some more milk. It should be the consistency of a syrup falling off a spoon.
Whisk the batter every time quickly before pouring it with the ladle into the skillet.
Don't over fill the ladle, fill it to 90% because that's all you need for a thin crepes and it's also easier to move around the ladle without making a mess (I'm guilty of that!)
See savory filling ideas and serving instructions in the post.
Nutrition
Nutrition Facts
Skillet French Savory Crêpe Recipe
Amount Per Serving
Calories 284
Calories from Fat 144
% Daily Value*
Fat 16g25%
Cholesterol 94mg31%
Sodium 142mg6%
Potassium 179mg5%
Carbohydrates 28g9%
Protein 8g16%
Vitamin A 561IU11%
Calcium 116mg12%
Iron 2mg11%
* Percent Daily Values are based on a 2000 calorie diet.