French Crêpes with cream cheese topped with smoked salmon, fresh dill herb and cucumber slices. It's a marriage of flavors in this savory crêpes filling.
Savory filled Crêpes with cream cheese, salmon, dill, cucumber filling. This is a delicious breakfast brunch or even lunch idea, if you are looking for a next-level flavor experience.
Jump to:
📕 What are savory crêpes?
Crêpes are french paper thin, skillet sized pancakes. They can be filled by folding or rolling them in.
In France, they are a popular street food, and they come in two versions, sweet or savory.
A sweet crêpe has sugar added to the crêpe batter, and it is then filled with a filling of choice and served as a dessert. That can be chocolate sauce, ice cream, fresh fruits, whipped cream or even just plain granulated sugar.
A savory crêpe, on the other hand, doesn't include sugar in the batter and the filling can be anything savory, such as sautéed mushrooms, ham and cheese or, as shown in this recipe, cream cheese and salmon. They are traditionally eaten for lunch or dinner.
Savory crêpes are served and sold by crêperies, french crêpes street food stalls, equally much as sweet crêpes.
This recipe is for the savory version which comes with a cream cheese layered salmon cucumber dill filling.
Another traditional savory crêpes' version is the Galette Bretonne with ham, cheese and a fried egg from the Brittany region, and the Ficelle Picarde from the Picardi province.
🥚 Ingredients
You have two options for making this savory crêpes filled with salmon cream cheese, cucumber, and dill.
Option 1, you prepare your savory crêpes yourself from scratch. I will add the recipe to that in the recipe card further below.
Option 2, you use ready to use store-bought unsweetened savory crêpes. They can be found in all major supermarkets.
To make your own crêpes batter (option 1), you will need:
All-purpose flour
Eggs
Milk
Salt
Butter – unsalted, to fry your Crêpes
For the savory crêpes filling get:
Salmon – smoked raw fresh or lox (as in lox cream cheese spread)
Cream Cheese – If you can't get cream cheese and live in France, use Crème fraîche instead.
Dill – fresh dill compliments salmon and cucumber and seasons cream cheese
Cucumber – fresh cucumber slices
Salt
Black Pepper
🔪 How to make it?
Here is how this dish comes together.
Remember, you can make your own savory crêpes from scratch with a batter OR you can make this recipe also with pre-made commercially available packed crêpes.
Step one to three describe preparing the crêpes from scratch. Skip step one to three if you intend to buy and use packed crêpes.
Step 1
Combine all the batter ingredients in a bowl. Mix so that you have a velvety smooth batter with a liquid thin texture.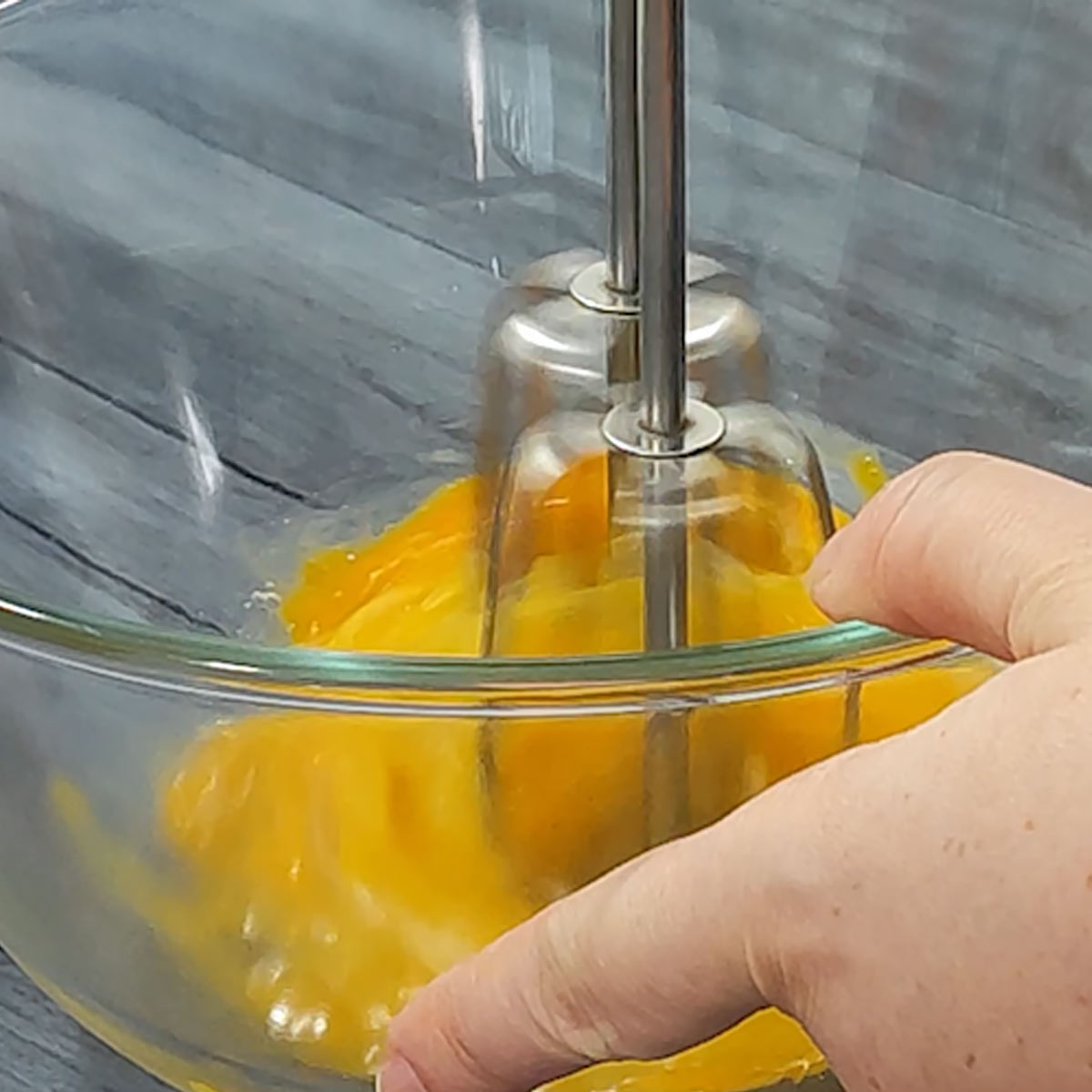 Step 2
Heat a skillet with butter.
Wait for it to get hot enough and drop a ladle of batter into the pan while swirling the pan around to spread the batter evenly.
Step 3
Fry the crêpe until it detaches and looks golden brown. Turn the crêpes around and fry the other side.
Do that with the remaining batter.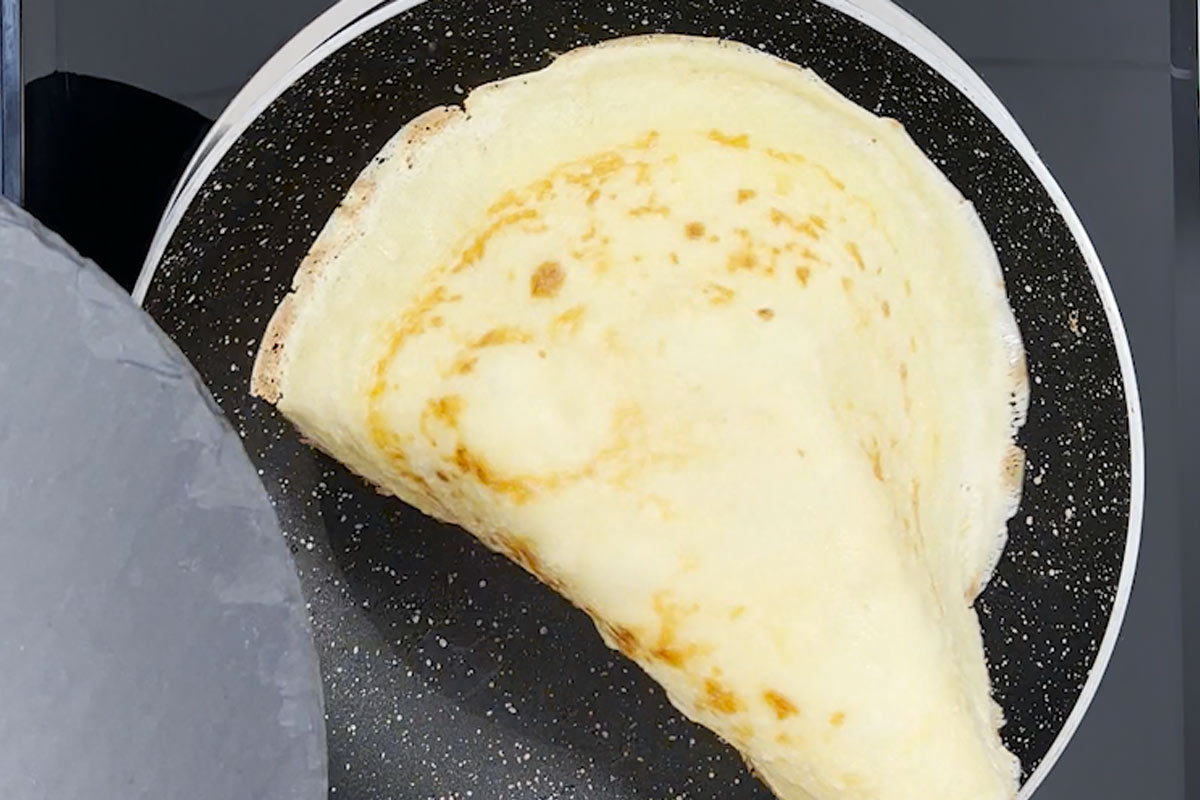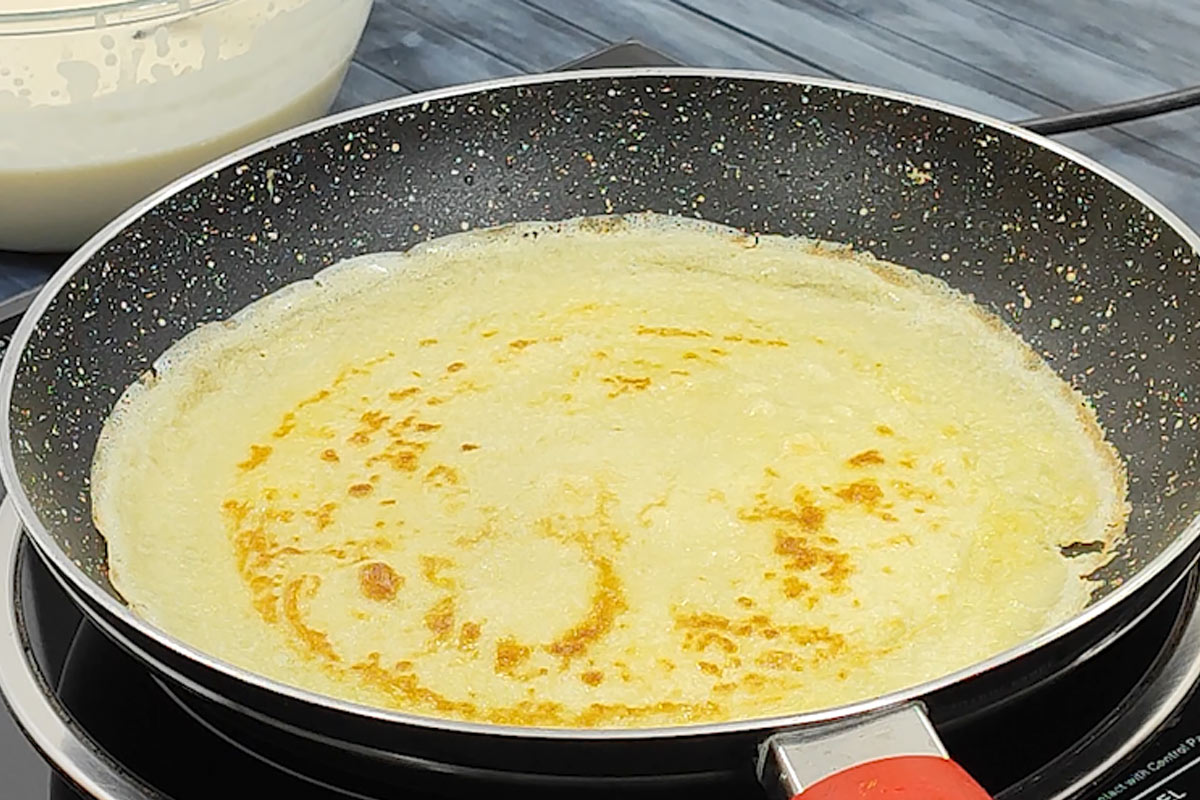 Step 4
Prepare all the fresh ingredients.
Peel and slice cucumber, clean salmon by cutting off bad parts and chop fresh dill
Step 5
Combine in a bowl cream cheese, dill, salt and black pepper.
Step 6
Spread the cream cheese over the open face crêpes.
Place a slice of salmon over the cream cheese, centered, and a few slices of cucumber over that.
Step 7
Fold in your crêpes the way you prefer and enjoy.
💡 Tips
To make sure the batter spreads evenly, it should be thin and liquid.
Be well-organized and quick when making the crêpes, and have the batter and butter ready.
Whisk the batter before ladling it into the skillet, which should be hot and greased with butter, but not too hot.
If the heat is too low, the crêpes will be thick in some areas. Fill the ladle 90% full and move it quickly to spread out the batter over the hot skillet.
Control the heat and adjust it as needed to avoid burning the crêpes or smoking the skillet. Pour the batter into the skillet and move it in a circular motion to spread it evenly.
Cook on both sides and wait for the crêpes to detach from the sides before flipping them over with a wooden or silicon spatula.
Cook on the other side until light brown and crispy. Stack the crêpes on a plate and repeat the process until all the batter is used up.
Remember that the first crêpes may not be perfect, but with practice, you can make perfect thin French crêpes.
🥣 Flavor Ideas
You can use other cured fish varieties too instead of salmon to make these filled savory crêpes. I like smoked black pepper mackerels.
Another idea is to season the cream cheese mixture with everything bagel seasoning.
If you can't get cream cheese, or you see crème fraîche in stores, use that. It's fresh French cream and its consistency is close to cream cheese.
Tomato slices or sliced pickled cucumbers can be added to the equation as a topping too.
I like to add fish roe such as bright orange tobiko or salmon roe as a topping. A more sustainable version for this are seaweed pearls.
🍱 Storing
Recipes which call for fresh raw smoked salmon should be consumed within a few hours and cannot be stored.
Yet, you have the option to prepare the cream cheese mix, and to prep the salmon and cucumber in advance.
This can be useful if you intend to make this for a get-together, so to save prepping time before serving. Just make sure to place the ingredients into separate stackable containers in your fridge.
Freshly prepared homemade crêpes don't store well and should be used and consumed right after cooking.
💭 FAQs
Are these filled crêpes best served hot or cold?
These are served right after putting them together at room temperature. Usually, the crêpes are still slightly hot and the cream cheese and salmon are cold because they were in the fridge.
Can I use oil or ghee to fry the crêpes?
While it is possible to use oil or ghee, the flavor of the crêpes will not be as authentic as when cooked in butter. However, if you do not have any butter on hand, you can use a neutral oil like sunflower oil, canola oil, or vegetable oil as a substitute.
Can I make these savory crêpes egg-less?
Without eggs, a crêpe cannot be considered as such since they play an essential role in providing the desired flexibility, color, and taste experience. This recipe is a fundamental French recipe that requires eggs.
📖 Recipe
Savory Crêpes filled with Cream Cheese Salmon Dill Cucumber Recipe
French Crêpes with cream cheese topped with smoked salmon, fresh dill herb and cucumber slices. It's a marriage of flavors in this savory crêpes filling.
Print
Pin
Rate
Ingredients
Homemade Savory Crêpes (You can skip that and use pre-made Crêpes instead)
2

Medium

Eggs

1½

Cup

All-purpose Flour

2

Cups

Milk

pinch

Salt

6

Tablespoons

Butter

to fry
Instructions
To make the Crepes Batter:
Make sure to have all your ingredients ready. Begin by cracking the eggs into a mixing bowl and using a whisk or hand mixer, beat them until they become frothy. It's important to continue beating until the eggs change to a pale yellow color.

Mix a portion of the flour and salt with the beaten eggs, and also add some milk to the mixture. Avoid adding all the ingredients at once.

1½ Cup All-purpose Flour,

pinch Salt,

2 Cups Milk

Using a hand mixer, blend the mixture until it thickens, then gradually pour in more milk. Continue to blend while adding all the flour and milk, ensuring that everything is well combined and there are no lumps left, resulting in a thin batter.

Allow the batter to rest for 15 minutes.
To fry the Crêpes:
Ensure that the skillet remains on the stove while keeping the batter nearby, along with a ladle.

Preheat the skillet to a medium-hot temperature and add a tablespoon of butter, stirring until it has melted and is evenly distributed. Ensure that the skillet is hot but not smoking before proceeding.

With one hand, take the skillet and use the other hand to pour a ladle of batter into the hot pan, quickly moving the skillet in a circular motion to evenly distribute the batter across the entire surface. It's important to work swiftly and avoid wasting time.

After the batter has been evenly distributed and has settled in the pan, return the skillet to the heat, maintaining a medium-hot setting.

Cook the crêpe on one side until it starts to turn slightly brown in some areas. As it cooks, the edges will begin to separate from the pan, making it easier to flip.

Using a wooden spatula, carefully flip the crêpe and cook it on the other side, maintaining the same heat setting.

Cook the crêpes on both sides until they are done or have turned slightly brown in certain areas. It should take approximately 10 minutes to cook one crêpe thoroughly on medium-high heat, flipping it to cook each side for approximately 5 minutes. Ideally, the crêpes should be crispy on the thinnest parts.

Using a wooden spatula, transfer the cooked crêpe from the griddle onto an empty plate, and then lower the stove heat to medium.

Repeat the same steps with the remaining batter, making sure to add approximately 1 tablespoon of butter to the skillet before frying each savory crêpe. Keep the skillet on the heat, but be cautious not to overheat the pan and butter to the point of smoking, as this could pose a health risk. A slight sizzle from the butter is acceptable.
For the Filling:
Prepare all the fresh ingredients. Peel and slice the cucumber, clean the salmon by cutting off the brown/gray parts, chop your fresh dill weed.

1 Small Cucumber,

6 Slices Smoked Salmon,

2 Teaspoon Dill

In a bowl, combine the cream cheese, dill weed, salt and black pepper.

2 Teaspoon Dill,

½ Cup Cream Cheese,

⅛ Teaspoon Salt,

⅛ Teaspoon Black Pepper

Place your crêpes over a working board or plate so that it is open-faced. Spread some cream cheese filling over the crêpes.

Place a small slice of smoked salmon over the cream cheese in the center. Place and spread cucumber slices over that.

6 Slices Smoked Salmon,

1 Small Cucumber

Fold your filled savory crêpes your way, either like a burrito or in half two times. Serve up and enjoy.
Notes
Choose if you want to make your own batch of savory crêpes or if you are going to use store-bought pre-made unsweetened crêpes. If you select store-bought crêpes, which is the faster effortless option, skip all the crêpes making instructions in this recipe and jump right to the recipe filling instructions.
If you make your own crêpes from scratch:
If the batter is too thick, add some more milk. It should be the consistency of a syrup falling off a spoon.
Whisk the batter every time quickly before pouring it with the ladle into the skillet.
Don't over fill the ladle, fill it to 90% because that's all you need for a thin crêpe, and it's also easier to move around the ladle without making a mess (I'm guilty of that!)
You will need about 1 tablespoon of butter per crêpes to fry. I use about 6 tablespoons to fry my crêpes.
For the Filling:
You can substitute smoked salmon with lox.
Cream cheese can be substituted with crème fraîche (mostly common in France)
You can skip dill weed in the recipe if you can't get it, but it adds a lot of flavor.
See post for variations and for next-level seasoning ideas.
Nutrition
Nutrition Facts
Savory Crêpes filled with Cream Cheese Salmon Dill Cucumber Recipe
Amount Per Serving
Calories 355
Calories from Fat 198
% Daily Value*
Fat 22g34%
Cholesterol 114mg38%
Sodium 251mg10%
Potassium 241mg7%
Carbohydrates 29g10%
Protein 9g18%
Vitamin A 840IU17%
Vitamin C 1mg1%
Calcium 139mg14%
Iron 2mg11%
* Percent Daily Values are based on a 2000 calorie diet.