Creamy full flavored lox spread. Make this quick and easy spread any time of the day. Make a bigger batch and store in an airtight container in the fridge. Makes a great party appetizer cheese spread too over crackers!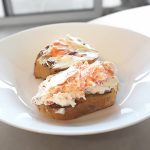 A delicious lox spread recipe which you can make within minutes from scratch.
Bagel with cream cheese lox or any other bread will make this a perfect bite any time of the day.
Gigi from the Vicious Foodie is sharing with us today her go-to travel snack, a salmon lox spread recipe!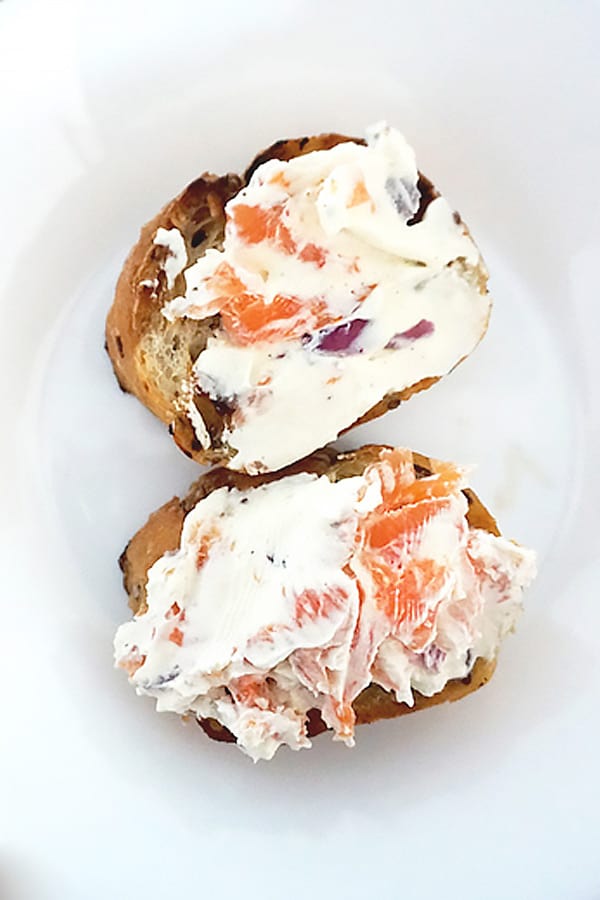 Jump to:
For nearly seven years, I've been traveling the world full-time.
I've rented lofty studios in Mexican coastal towns, ridden a vintage Swiss military bicycle across France, spent winters cozied up in tiny Parisian studios, and spread out in sunny Croatian apartments with distant views of the Adriatic Sea.
I've also cooked a lot of meals on the road.
Pots of soup in Airbnb kitchens.
Roasted chickens in rental ovens.
Even once parmesan risotto in a hotel bathroom.
Because I love to cook.
And I love to travel.
And I'm committed to making the two work together, no matter the kitchen setup.
Sometimes this means getting creative with my cooking—making cookies without measuring cups, baking cinnamon rolls in pie tins, slowly incorporating broth into my risotto in a tiny hotel bathroom.
And sometimes it's less about being creative and more about having a few recipes that are so easy and so good that I can make them anywhere.
One of those standby, go-to recipes?
It's my own twist on lox bagel, which is a salmon cream cheese spread over a round New York style bagel bread.
What is Lox?
Lox is finely sliced salmon fish and is the Yiddish word for Salmon (related to the German word Lachs).
Lox is most commonly served as a salmon spread over bagels but can be turned into a lox sandwich too or enjoyed over any other bread.
There are several terms that get interchanged a lot when we're talking about salmon for breakfast, including lox, smoked salmon and gravlax.
Smoked Salmon vs Lox vs Gravlax
The first term worth defining is smoked salmon.
This is literally any salmon that has been smoked.
The smoking process is hot or cold.
The salmon can be wild-caught or farmed.
The important element here is simply smoke.
Lox is salmon that's been cured in a mix of salt and sugar—not necessarily smoked.
Some say the only true lox is that made from the belly of the fish (which is fattier and richer), cured for three months.
There's no regulatory body that makes sure anything labeled "lox" is belly-only, so if that's what you're after, you'll have to do a little research on the fish you're buying.
Finally, you've probably also heard the term Gravlax thrown around.
Gravlax is a Scandinavian version of cured salmon.
In addition to the usual salt and sugar, you'll find Gravlax cured with plenty of dill (which is delicious).
Ingredients
My lox spread is made of salmon lox, salt, cream cheese, onion and garlic powder.
You can also add fresh herbs to your lox spread, such as dill or garden cress.
Some more details about the salmon and salt:
Salmon
Personally, I use the term lox loosely.
Really any type of cured or smoked salmon slices will work in this salmon spread recipe.
Sometimes when shopping in foreign grocery stores, you take what you get.
Salt
As you may already know, a teaspoon (or a pinch or a tablespoon or any unit of measurement) of salt can vary in saltiness depending on the type of salt you use.
This has to do with the crystalline structure.
Some salts (typical table salt, for instance) have tight structures and so the volume of salt you get in a teaspoon is higher because there's less air and structure around it.
Other salts (like fleur de sel) have a structure/shape that doesn't fit together as densely.
This means a teaspoon of fleur de sel salt will taste less salty than a teaspoon of table salt.
In this recipe, we've added the complication of salmon that's often already salty—to varying degrees.
So a word of caution: It's always a good idea to err on the side of too little salt at first and then add a bit more at the end as needed.
How to make it?
Step 1
Cut onion and shred salmon.
Step 2
Combine cream cheese with seasoning
Step 3
Add onion and salmon to cream cheese and mix in well.
More cheese spreads
Dear Reader, have you tried this lox spread?
Please feel free to share your thoughts and ideas with us in the comment section further below!
So you love SPICES and HERBS?
GET 5 FREE SEASONING LESSONS
Type in your email address below.
Including free access to the
Seasoning Members only Club!
📖 Recipe
Lox Spread Recipe
Creamy full flavored lox spread. Make this quick and easy spread any time of the day. Make a bigger batch and store in an airtight container in the fridge. Makes a great party appetizer cheese spread too over crackers!
Print
Pin
Rate
Ingredients
¾

cup

Cream Cheese

Salt

to taste

Black Pepper

to taste

Garlic

fresh chopped or powder, to taste

⅙

large

Red Onion

chopped

¼

cup

Lox

chopped, *see Notes
Instructions
Cut onion and shred salmon.

In a bowl, mix cream cheese with a pinch or two of salt (again, go light on the salt here; you can always add more later), freshly-ground pepper, and garlic (fresh garlic finely diced is your best bet, but honestly garlic powder is my go-to here). 

Add half the red onion and half the lox and mix well. Taste it and add more salmon and onion until you're satisfied with the flavor and consistency

Use over toasted butter bread or bagels.
Notes
Use cured Lox or Smoked Salmon. See in the post above for detailed explanation.
Once you get comfortable with the basics, try incorporating local, in-season herbs. A little fresh dill or basil can shift the flavors here in interesting ways.
Nutrition
Nutrition Facts
Lox Spread Recipe
Amount Per Serving
Calories 104
Calories from Fat 81
% Daily Value*
Fat 9g14%
Cholesterol 32mg11%
Sodium 135mg6%
Potassium 49mg1%
Carbohydrates 1g0%
Protein 2g4%
Vitamin A 380IU8%
Vitamin C 0.2mg0%
Calcium 28mg3%
Iron 0.2mg1%
* Percent Daily Values are based on a 2000 calorie diet.