Homemade warm, sweet and delicious soft flaky French brioche buns. Make it and bake it! (See brioche prep and baking tips in post and recipe card notes)
Total Time:
1

hour
15

minutes
Brioche Bun Recipe is easy to make from scratch and almost effortless if done properly.
I love the smell of a freshly baked sweet brioche bun in my house!
Global Food Recipes
with Spices and Herbs
Free E-Book available for a limited time. Grab yours now and get instantly inspired!
Jump to:
I am sharing my grandmother's authentic French soft brioche bread roll recipe so that you can make these brioche buns too!
Learn how to make brioche buns further below with the step by step instructions and tips on how to prepare a yeast dough.
📕 What is Brioche bread?
Brioche is a partially sweet, buttery soft bread commonly prepared in France.
What makes brioche bread different to other bread and buns is that it contains a good amount of butter and milk.
That is why brioche is flakey, soft, fluffy and buttery good.
Slight sweetness is often while added but not always a must, however, a golden baked surface makes any good brioche bread.
Brioche bread can be formed into buns, rolls, toast bread, brioche rolls and bigger loaves.
Traditionally, brioche bread is turned into one big braided "loaf".
I personally prefer the brioche bun shape because I tend to give a few away and rolls are just easier to handle in a smaller oven.
🔪 How to make Brioche buns?
To prepare this brioche bun recipe is easy.
It's a brioche bread recipe passed down by my mothers French family, which was prepared almost daily.
My grandmother would prepare her homemade brioche the night before, the gorgeous looking dough would rest overnight and in the morning she would bake it easily without wasting time.
I like this approach and after having tried a few different recipes and dough tactics, I came to the conclusion that her recipe is a solid success!
So in the evening, I prepare the yeast dough.
I let it rise in its own time, work it out again, let it rise overnight completely, take the dough the next morning, shape it, leave it to rise a bit more, cover with egg yolks and bake it.
That's it and you can do this easily as well!
Brioche bread is a very basic and simple bread, nothing fancy but homemade brioche bun does taste sensational, which is why I love to make brioche.
If you are getting into baking, then this brioche bun recipe is perfect for you!
Brioche bun ingredients:
Easy basic brioche bread recipe is prepared with ingredients in your pantry including flour, sugar, yeast, salt, eggs, milk and butter.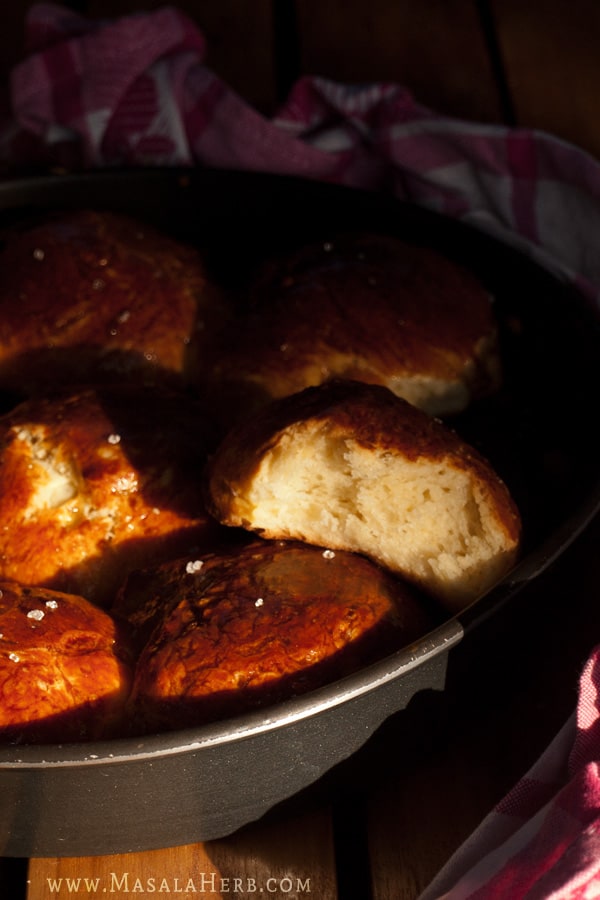 ❓ How to make sure the yeast in the brioche bread rises?
Use quality baking flour to make brioche buns and pick active yeast or fresh yeast with which you have worked before or use this active yeast.
Quality yeast makes your life easier and helps you create perfect brioche buns.
Baking flour, aka bread flour, contains more gluten which is needed to turn your brioche bread soft.
If you can't get baking flour in your country than just ask in your grocery store for gluten rich flour.
That will make your life easier!
The addition of small quantities of sugar in brioche bread is an advantage since the sugar will "feed" the yeast and create fluffy sweet buns easily.
Therefore, if you are baking with yeast for the first time, you will enjoy preparing this brioche bun recipe.
The sugar in the yeast will be your friend and alley this time!
Trouble with getting yeast dough to rise?
Why is my brioche dough not rising?
There are several reasons why your brioche dough is not rising
Used poor quality all purpose flour. The yeast is a living organism and needs to eat the flour to rise and the more gluten the flour contains the more elastic the dough will be. That is how air pockets and lightness are created in a yeast dough, therefore pick a quality flour.
Used poor quality yeast. The yeast is usually the most common reason why your brioche dough is not rising.
You changed some ingredients or the amounts a lot in the brioche recipe! For example, in a dry climate less Milk can result in a dry dough and turn the dough stone hard and that can be another reason for it not to rise. Or you added way too much salt. Stick to the bread recipe.
You didn't work out the dough long enough into a smooth dough.
You didn't let the dough rest long enough. Give the yeast time to rest and rise.
The dough environment is not suitable for the dough to rise. Yeast dough is a living organism. That means if the environment is too cold or too hot, the yeast will struggle and won't ferment as it should to get the dough to rise.
The room temperature and weather for the dough to rise are often while overlooked reasons why the yeast dough doesn't rise.
Besides the room temperature, you need to look out for the humidity in the air.
Tropical climate/High humidity has an adverse effect on the rising of the brioche dough.
To solve the temperature and humidity problem for your yeast dough, try to adjust in small quantities the amount of liquids added to the dough.
High humidity in the air means the flour will be more humid as well, so in that case try to add little fewer liquids.
The room temperature is usually automatically higher in a high humidity environment, so a trick is to use cool liquids in the brioche dough.
The point is to keep the dough cool but not ice cold or hot.
Remember yeast is a living organism and it dies at 40 celsius/104 Fahrenheit!
I found here a few valid and useful tips from commercial bakers to rise yeast dough in a tropical climate.
Those are all great tips and observations which I adhered too when I was preparing yeast dough in the tropics.
Tropical climate yeast dough rising trick!
Before I keep my freshly made dough to rise, I warm up my oven for less than half a minute until it's nice warm inside and then I just pop in my flour and cloth covered dough so that it can rise beautifully.
I do this because yeast needs to rise in a warm and, most importantly, dry environment.
While following this trick please keep in mind that yeast is a living being and that it will die (and in turn not rise!) if the environment is above 40 Celsius/104 Fahrenheit.
Back in Austria, when I visited the hotel management college, we had a heating cabinet where we would keep our doughs to rise and my trick with the oven is basically a copied approach to the heating cabinet.
❔ Why is brioche yellow?
The eggs in combination with the high amount of butter in a brioche bread turn a brioche slightly yellow in shade.
It appears more yellow than other bread just because of the high egg amount.
Besides that, egg yolk is brushed over the unbaked brioche bread.
That way the brioche gets a deep golden shade on the bun surface during the baking process.
📜 Why is my brioche dry and/or dense?
A brioche gets more dry and dense when the liquids added where not sufficient.
This happens a lot more ina dry climate as the weather and environments are dry.
In that case, while working out your dough add a tiny amount more milk to the brioche dough.
Also, make sure to use quality flour and yeast and work out your dough into a smooth bouncy dough.
Also the longer you keep the dough to rise the better the French brioche buns will turn out.
That is why the overnight rising trick for brioche bread is so useful and this step will most probably result in lovely flaky, soft, light and fluffy brioche buns.
Another reason for a dry dough is the baking time and heat.
Stick to the time and heat mentioned in the recipe (+/- 5 mins depending on the over).
Baking too long on high heat will result in a dry dough.
Test your sweet buns to check if they are done baking by poking into the hot bun with a skewer.
If raw dough is left on the skewer, you need to give the dough some more minutes to bake.
Usually, the golden crust is another great indication of a perfectly baked brioche homemade bun!
🕰️ How long will brioche last?
Homemade Brioche bread usually last for 2-3 days at normal room temperature, that means in a dry climate.
In a highly humid climate homemade buns will not last not more than 1 day, mold will form.
🥶 Can you freeze fresh brioche?
You can freeze the just baked brioche buns.
Allow the freshly baked buns to cool down on a wire rack.
Then wrap them individually into a clean wrap and store them in a paper bag in the freezer.
That way you can freeze the brioche buns up to two months.
To use the buns, take out and let them thaw before enjoying the brioche.
Tools to help you create perfect Brioche Buns:
Kitchenaid stand mixer - This stand mixer will help you to create easy brioche buns
Cooling Rack (also a roasting rack) - Useful after baking, so that the buns cool down evenly.
Bread Proofing Basket Set - For serious bread bakers!
👁️ How to use Brioche buns
For breakfast with butter, jam, honey or cold cuts.
On its own dipped into your chocolate milk
To prepare French Toast ( aka Pain Perdu)
As sandwich or hamburger bread
Dear Reader, how are you planning to enjoy the Brioche buns?
I like to top my brioche bun with the following jam variations:
The post, Brioche Bun, was first published on the 12th Jan 2014 and has been updated and enhanced ever since.
Global Food Recipes
with Spices and Herbs
Free E-Book available for a limited time. Grab yours now and get instantly inspired!
Save
📖 Recipe
Homemade Brioche Recipe
Homemade warm, sweet and delicious soft flaky French brioche buns. Make it and bake it! (See brioche prep and baking tips in post and recipe card notes)
Print
Pin
Rate
Instructions
In a mixing bowl combine the dry ingredients first, 250 grams flour, sugar, and salt. If you use dry active yeast instead of instant yeast, mix the yeast into the lukewarm milk (The milk must not be hot or the yeast will die!) and wait until you can see some bubbles form (that's to test if your yeast is alive and healthy). For fresh yeast just crumble the yeast cube into the other ingredients. Add the milk and yeast to the dry ingredients.

Mix the whole flour bowl content well and work it out into a half smooth ball. Then add 5 smaller batches of the soft butter to the dough, one at a time and always add some of the remaining 80 grams of flour until you have used it all up.

Turn the dough into a smooth ball, cover with some flour and a kitchen cloth and place in a warm but dry environment for 2 hours to rise.

After 2 hours of rising, your dough should have doubled in size and have cracks on top. Test by poking into the dough with your finger, you should be able to feel soft airy dough going getting pressed down. Work out the dough shortly so that the extra air comes out. At this point I keep the brioche dough in a covered

bread proofing bowl

overnight out or in the fridge to rest.

The next morning, work out your dough once again with some extra flour and form into 8 equal balls. Place into a greased mold and keep to rise again for ½ hour. Once they have risen again, preheat your oven to 180 Celsius/356 Fahrenheit and mix 2 egg yolks together and brush the yolk on top of the rolls so that they will have a golden finish.

Bake for 20-25 minutes, at 180 Celsius/356 Fahrenheit, or until the homemade brioche is done (check and poke into the bread with a skewer, if it comes out clean, it's ready).

Keep the freshly homemade baked brioche bread to cool on a

cooling rack

.
Notes
To make things easier with the yeast, use instant dry yeast instead of dry active yeast as you don't need to dissolve instant yeast in the milk. Fresh yeast is usually very reliable if you pick that use 12 grams fresh yeast.
Use a stand mixer to beat the dough The dough needs to be worked out for about 10 minutes if you do it by hand.
Let the dough rest properly as described in the recipe for the best results for a flaky soft fluffy and light brioche bread.
For a golden crust, brush egg yolks over the shaped rested rolls just before baking.
To test if finished baked, poke into the roles and if it comes back clean the roles are ready. Let cool on a cooling rack.
After the brioche buns have cooled down, you can freeze them.
Nutrition
Nutrition Facts
Homemade Brioche Recipe
Amount Per Serving (92 g)
Calories 325
Calories from Fat 144
% Daily Value*
Fat 16g25%
Cholesterol 143mg48%
Sodium 153mg6%
Potassium 87mg2%
Carbohydrates 37g12%
Protein 7g14%
Vitamin A 565IU11%
Calcium 35mg4%
Iron 2.2mg12%
* Percent Daily Values are based on a 2000 calorie diet.