Basic Bechamel Sauce, also known as White Sauce. One of the famous french mother sauces, a classic!
Bechamel Sauce is a basic french sauce, also called and known as the white sauce.
This sauce is used in lasagne, in casserole dishes, pasta meals and more.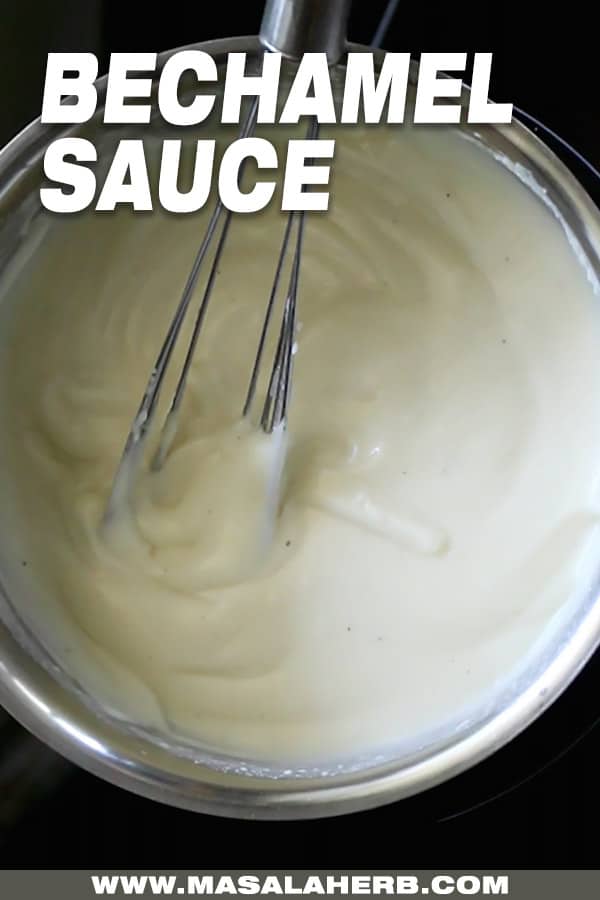 Global Food Recipes
with Spices and Herbs
Free E-Book available for a limited time. Grab yours now and get instantly inspired!
Jump to:
📕 What is Bechamel?
Bechamel Sauce (actually spelled Béchamel) is one of the five basic mother sauces in French classic cuisine.
They are called mother sauces because other french sauces can be based on these sauces.
The bechamel sauce can be turned into other sauces by adding ingredients such as:
Mornay Sauce - with cheese
Soubise Sauce - with onion puree
Nantua Sauce - with crayfish
🔪 How to make it?
A bechamel is prepared with a roux as a base.
That means butter and flour are combined, milk is whisked in and the sauce thickens over the stove.
Here is a quick overview of how it's done so that you get an idea.
You can find the complete recipe at the bottom of this post with detailed ingredients and instructions.
Step 1
Add butter to a saucepan over a slow heat setting.
Pour the flour in and keep on whisking to create a roux.
Step 2
Pour in your milk and increase the heat.
Keep on whisking and your sauce will thicken.
Step 3
Season your sauce and use it in other dishes as directed.
💡 Why does my sauce curdle/split and how to fix it?
Your white sauce can curdle if it was heated too much. Cook on lower heat and keep on whisking and stirring.
Also, if you add cheese, some cheese have a fair amount of oils and this can cause your sauce to split.
Just whisk vigorously to bind it again and add your grated cheese at the end to your smooth whisked sauce (when it's not over heat).
Don't reduce the quantity of butter, flour or milk in the recipe because the ratio is perfectly set and if you change it, your sauce won't bind.
Too much or too little of one ingredient can destroy your sauce.
Lumps can form if the flour wasn't whisked into the butter over a slow flame. The milk should be room temperature too.
Also, try to avoid using skimmed milk as it contains fewer fats and fats help to bind the sauce. It's easier to work with full or semi fat milk.
🥣 Uses
Here are some ideas on how you can use your bechamel sauce (besides lasagne):
💭 FAQs
What is a roux?
A roux is butter (or another fat) whisked together with flour over heat, to create a base for a sauce
Bechamel VS Alfredo Sauce
Bechamel is prepared with butter, flour, and milk as a base. Alfredo Sauce, on the other hand, uses mainly cream and cheese and doesn't include flour. Bechamel is lighter in calories but both have their uses.
How to thicken my sauce?
Cook it further down until you are satisfied with the result. Keep in mind that your sauce will appear thicker when it cools down.
How to thin down your bechamel sauce?
Add more water during the heating process and whisk all the time. Take from the heat when you are satisfied with the thickness.
How to season bechamel?
A bechamel is always seasoned with grated nutmeg, salt and pepper. White or black pepper can be used. You can also add onion and garlic powder in small quantities but it's rather an unusual practice in France. Italian seasoning is another idea.
Can I use another fat instead of butter for the roux?
Yes, you can try using lard, olive oil or sunflower oil. Margarine is not recommended as it contains trans fats (not good for your health)
What cheese can I add?
We like to use cheddar, emmenthal, gruyere and similar. Pick a cheese that isn't all too oily for your bechamel cheese sauce.
Global Food Recipes
with Spices and Herbs
Free E-Book available for a limited time. Grab yours now and get instantly inspired!
📖 Recipe
Bechamel Sauce Recipe
Basic Bechamel Sauce, also known as White Sauce. One of the famous french mother sauces, a classic!
Print
Pin
Rate
Instructions
Place sauce pan on the stove, add butter and melt.

Add half of the flour and whisk. into butter. Keep over slow to medium heat.

Add the remaining flour and whisk in over a medium heat setting. Whisk and reduce until it bubbles and it has slightly turned light brown. The roux needs to be smooth.

Reduce heat and pour in slowly milk and whisk in.

Increase heat to medium and keep on whisking to incorporate sauce ingredients. Keep on whisking, the sauce will get formed and will thicken.

When you are happy with the consistency, season with salt, pepper, and grated nutmeg. Adjust flavor to your liking.

At this point, you can choose to add cheese too to make a cheesy sauce mornay. Use the sauce in another dish or serve with meats or veggies.
Notes
Use butter or lard. You can use olive oil or sunflower oil too but the taste won't be that great compared ot butter or lard.
For your seasoning taste test and adjust.
4 servings is an estimate and depends on the way you use this sauce.