Easy recipe to prepare chicken cordon bleu from scratch. Cooked over the stove top in a skillet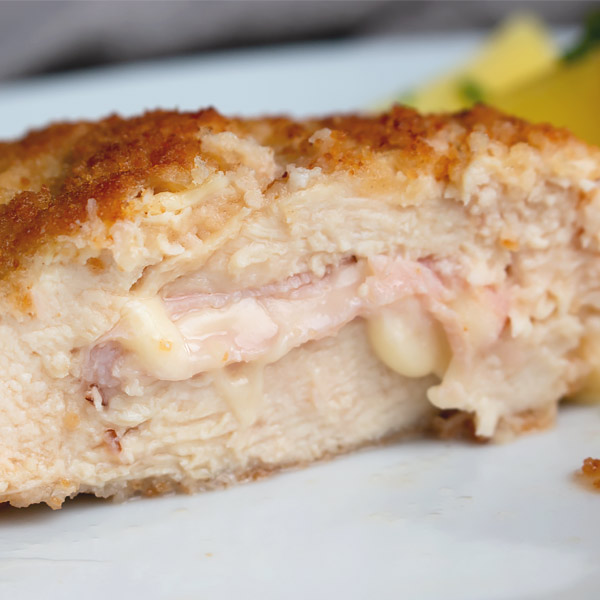 One-pan juicy skillet chicken cordon bleu, stuffed with melt in your mouth cheese and ham, coated with a crispy golden breading.
Discover how to easily make this family dinner favorite from scratch at home.
Global Food Recipes
with Spices and Herbs
Free E-Book available for a limited time. Grab yours now and get instantly inspired!
Jump to:
📕 What's Chicken Cordon Bleu?
Chicken Cordon Bleu is a breaded, ham and cheese stuffed or rolled in, boneless chicken breast.
It was inspired by the veal cordon bleu, which is prepared the same way, just that veal is used.
Veal or Pork Cordon Bleu is common in Europe.
The chicken cordon bleu on the otherhood is "kosher" and popular in the US (if used with kosher chicken "ham"), Canada, and the Philippines.
Other similar dishes that are not stuffed but breaded include the Wiener Schnitzel, the Sesame Chicken Schnitzel, and the Chicken Katsu.
🍗 Ingredients
You will need the following ingredients to make chicken cordon bleu from scratch at home:
Boneless chicken breasts - all the same size preferably
Ham slices - black forest ham is really good!
Cheese slices - your favorite cheese. I used gruyere cheese.
All-purpose flour
Salt and black pepper
Egg
Breadcrumbs
Toothpick - to hold it all together
Butter or lard to cook
You can also choose to season the ham and cheese stuffing with oregano or Italian seasoning.
You can switch the breadcrumbs with panko. Just follow the recipe as per instructions.
🔪 How to prepare and cook Chicken Cordon Bleu?
Chicken Breasts are stuffed, breaded and cooked.
Here is an overview on how it's done. That should help you get into the kitchen!
The recipe with US and metric measurements is locate at the bottom of this post.
Step 1
Tenderize meat with a mallet and cut a pocket into the chicken breast.
Fold cheese slice into the ham. Stuff chicken breast with cheese and ham and fix it all with a toothpick.
Step 2
Prepare 3 trays.
Tray one with flour. Mix salt and black pepper into flour.
Tray two with raw scrambled egg.
Tray three with the bread crumbs.
Step 3
First, drag the stuffed chicken breast through the seasoned flour so that it's completely coated.
Secondly, coat with raw egg.
Thirdly and at last, completely coat the stuffed chicken breast with the breadcrumbs.
Step 4
Heat up a skillet with butter or lard, wait for it to get hot (but not smoking point).
Cook chicken cordon bleu on all sides golden, so that it's cooked on the inside too.
Serve up.
🥣 Serving
You can serve your chicken cordon bleu with a side and a sauce. I have also included some wine paring ideas.
Sides and Sauces
We love our chicken cordon bleu without sauce, served with parsley potatoes or french fries.
A small side dish salad such as a green salad, green bean, or beet salad compliment a cheesy ham stuffed cordon bleu.
If you want a sauce with it serve with any of the following sauce:
Cheesy bechamel aka mornay sauce
Basic Mayonnaise and Ketchup
Another great dinner idea is to serve the chicken cordon bleu with creamy mushrooms and pasta.
Wine
The most common wine recommendation for a chicken cordon bleu is a cooled white wine. A Chardonnay, Sauvignon Blanc or a Riesling will do well.
I like a cooled Rosé wine too. It adds a lovely contrast to the meal.
I recommend fruity Rosé from the Provence, South France.
🍱 Storing
Chicken Cordon Bleu leftovers can be easily stored and you can freeze it as well. Here is how:
Leftovers
You can store chicken cordon bleu leftovers in an airtight container in your fridge for up to 2-3 days.
You can reheat the meat in a skillet over the stovetop, in the oven, or in a microwave.
Freezing
Chicken Cordon Bleu can be prepared in advance and can be stored in the freezer.
This comes handy when you are keeping a large batch ready for the future.
Just follow the instructions in the recipe but don't cook them.
Place the breaded chicken cordon bleu over a tray next to each other without them touching one another.
Keep the tray in the freezer and wait for the cordon bleu to freeze hard.
Take from the tray and place the frozen hard chicken cordon bleu into a freezer-friendly container or bag.
You can keep them in your freezer for up to 2-3 months and use by then.
To thaw, place your homemade frozen chicken cordon bleu into a casserole dish or similar and into your fridge and thaw over-night. Cook as per recipe instructions over the stovetop.
You can bake them in the oven when stone-hard frozen too (they will take longer to cook through), but I don't recommend that because the meat won't turn out juicy tender.
💭 FAQs
How long to cook chicken cordon bleu?
This is a one pot skillet chicken dish that is cooked and fried in fats. One chicken cordon bleu will take about 10-15 minutes to cook through over a medium heat setting. It should be golden fried on the outside. This depends on the size of your chicken cordon bleu and the heat setting. Don't cook over high heat or else the meat will remain raw on the inside and get too dark on the outside. Also, use enough butter or lard, too little will turn the breading dark and the meat uncooked as well. Cook over a medium heat setting.
What's the inside meat doneness temperature of the chicken?
Check with a meat thermometer. The chicken is cooked and done at 165 Fahrenheit or 75 Celsius.
Global Food Recipes
with Spices and Herbs
Free E-Book available for a limited time. Grab yours now and get instantly inspired!
📖 Recipe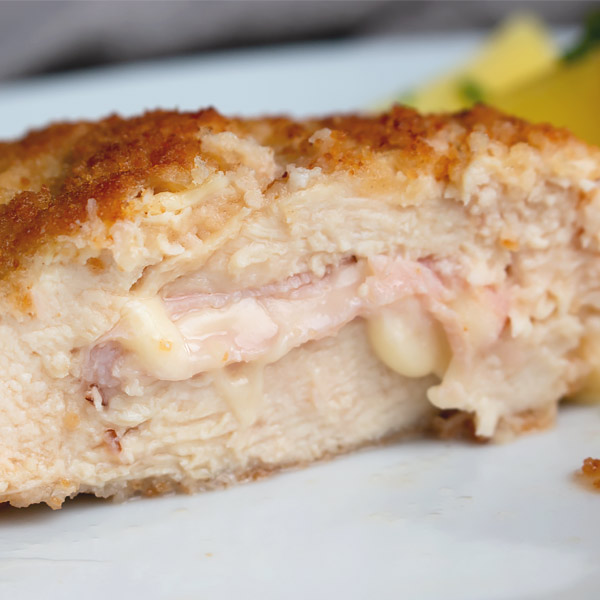 Skillet Chicken Cordon Bleu Recipe
Easy recipe to prepare chicken cordon bleu from scratch. Cooked over the stove top in a skillet
Print
Pin
Rate
Ingredients
Cooking
Butter

or Lard, as needed
Instructions
Stuffing
Place your clean dry chicken breast on a cutting board and place cling wrap over that. Tenderize meat with a meat mallet on both sides. *see Notes why

With a knife, cut a pocket into the chicken from teh side in.

Fold a slice of cheese into a slice of ham. Fold it in such a way so that it fits into your cut out chicken pocket. I fold it into quarters. Make sure that the ham and cheese are placed well into the pocket and that they are not looking out.

Fix it all well with toothpicks. I use about 2 toothpicks per cordon bleu.
Coating
Prepare three trays or shallow plates to coat the chicken.

1st tray combine all-purpose flour, salt, and black pepper.

2nd tray scramble a raw egg.

3rd tray should be filled with breadcrumbs.

Take a chicken cordon bleu and dredge in flour first, then coat with scrambled egg, and at last coat with breadcrumbs. Repeat the process with all and keep aside.
Cook
Heat up a skillet with butter or lard. I add 1 Tablespoon at a time and more if need be later while the meat is cooking.

Wait for the fats to be hot but don't allow them to smoke. Test by dropping in some bread crumbs and if the oil is bubbling, it's time to cook your chicken cordon bleu.

Carefully place 1 or 2 cordon bleu into one pan and cook over a medium flame on both sides until golden. Check if the meat is cooked through with the help of a thermometer. Add more butter/lard during the cooking process if it looks too dry.
Notes
We tenderize chicken with a meat mallet because the meat fibers will soften and the chicken cordon bleu meat will turn out tender and juicy. The cling wrap between the meat and the mallet prevents the meat from getting damaged with holes by the mallet. Besides that, the chicken will stretch out a bit, and that way it will cook through better at the center points.
I need about 2 Tablespoons of butter/lard for 2 cordon bleu to cook through. Cooking with lard will result in a more flavorful chicken cordon bleu.
Don't cook with a very high heat or else the breading will get black and the chicken won't cook through. Control heat at a medium setting and test if the chicken is done on the inside (see post for meat temperature).
Take out the toothpicks before serving or inform your guests about their existence.
Equipment
Cling Wrap

5-10 Toothpicks

3 Trays or shallow Plates
Nutrition
Nutrition Facts
Skillet Chicken Cordon Bleu Recipe
Amount Per Serving
Calories 569
Calories from Fat 198
% Daily Value*
Fat 22g34%
Cholesterol 229mg76%
Sodium 1406mg59%
Potassium 1012mg29%
Carbohydrates 22g7%
Protein 66g132%
Vitamin A 403IU8%
Vitamin C 3mg4%
Calcium 263mg26%
Iron 3mg17%
* Percent Daily Values are based on a 2000 calorie diet.