I love Asian noodle dishes, especially when they have been prepared freshly in a sizzling hot wok.
Stir Fry Asian noodles are a quick-fix weeknight solution.
The aroma while cooking fresh noodles with ingredients is just another plus point of making these express Asian dishes at home and they beat anytime take out!
So, while at times Asian noodle dishes seem daunting, they are actually worth gold in your meal planning repertoire, because they are as easy as A to prepare from scratch and won't take you more than 20-30 minutes of your precious time.
Plus Asian noodle dishes are soo good!
On top of that, you get to pick your favorite noodle variation.
So, while I enjoyed for a very long time the simple common egg noodles, I got the taste these days for the thicker rice noodles (which look like tagliatelle pasta).
Stir-fried oriental noodle dishes have come a long way and have become a popular weeknight dish all over the world.
You get them everywhere these days so it's not quite surprising that each place has influenced Asian stir-fry noodles with their own personal flavor preferences.
A common menu choice remains with stir-fried noodle dishes all over the world.
Vegetable, chicken and shrimp/prawns can be a common stir-fried noodle preparation, which your neighborhood Thai or Chinese place might serve.
Basically, noodle dish ingredients are adaptable.
New-fashioned westernized noodle recipes add ingredients such as asparagus and broccoli.
While Tibetans and Nepali, high up in the Himalayan, still serve noodle dishes with yak meat.
My first days in India involved a Chow Mein dish.
In fact, I was standing right next to the Taj Mahal while enjoying a hot and comforting stir-fry noodle dish.
I won't have known about stir-fried noodles 10 years ago if not for that street vendor in Agra.
When you get to prepare oriental noodles at home, you get to choose how you like it and you know what's in it.
When making your own noodles dishes, you get to pick...
noodle variety; egg-noodles or rice noodles
amount of oil
the ingredients
the sauce
the cooking style
In fact, you get to even pick the cuisine!
There are numerous ways to prepare a noodle dish according to local common available ingredients and the cooking ways of people in the region.
Example:
Chinese noodle dishes
Thai noodle dishes
Vietnamese noodle dishes
Korean noodle dishes
Indian, Nepali noodle dishes
Japanese noodle dishes
Malaysian & Singapore noodles dishes
Mongolian noodle dishes
So, while we have a lot of choices, Asian noodle variations tend to be out of our sight and we end up eaten the same takeout noodles again and again.
That's exactly why I chose to compile a list of lip-smacking & amazing stir fry Asian noodle recipes and I got you even 12 of those.
Each is unique and will turn you into an ultimate lover of all Asian noodles.
You can get the full printable recipes with instructions and useful tips on clicking on the dish title or picture.
12 fantastic Stir-Fry Asian Noodle Dishes you need to try!
by ConnoisseurUsVeg.com
~~~
~~~
by PeasAndCrayons,com
~~~
~~~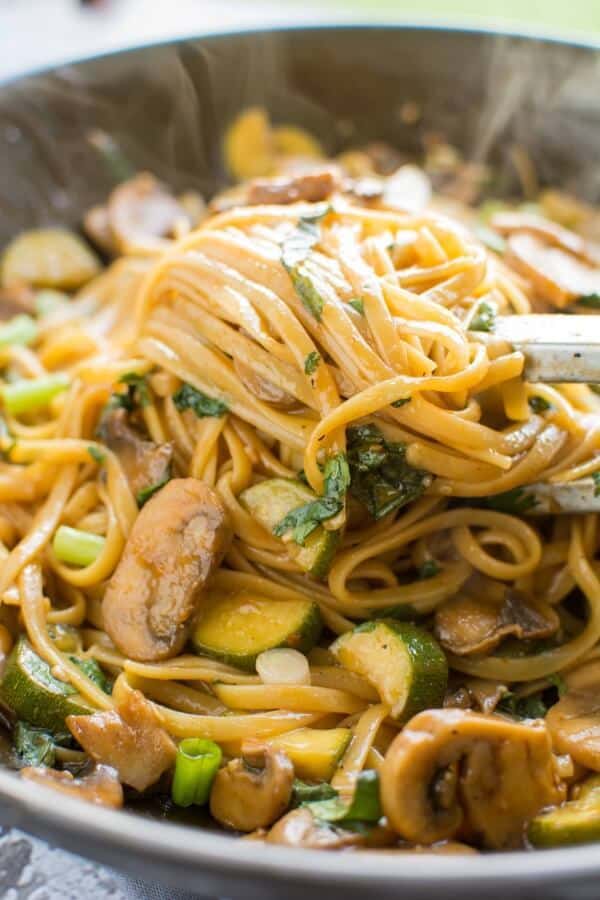 by SslowCookerGourmet.net
~~~
by JeanettesHealthyLiving.com
~~~
~~~
by IowaGirlEats.com
~~~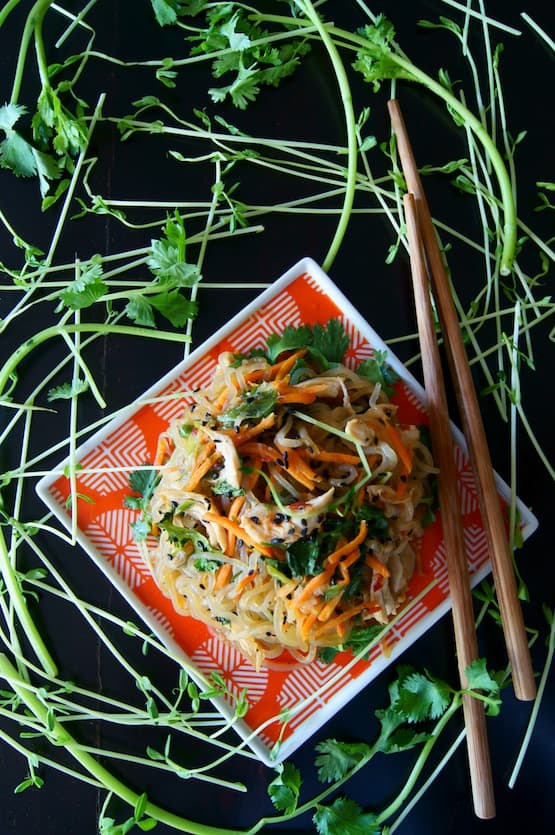 by CookingOnTheWeekends.com
~~~
by ConnoisseurUsVeg.com
~~~
~~~
Easy Shrimp Pad Thai
by HapaNom.com
~~~
by IowaGirlEats.com
More notable Asian noodle dishes!
More Asian eats:
Dear Reader, which Asian stir-fry dish will you make next?
Global Food Recipes
with Spices and Herbs
Free E-Book available for a limited time. Grab yours now and get instantly inspired!