This delicious Hot and Sour Soup with Noodles and Sweet Corn is a quick and easy one-pot vegetarian recipe, ready within 20 minutes. Fresh ingredients such as sweet corn, leek, and mushroom, turn this soup into a comfort food delight.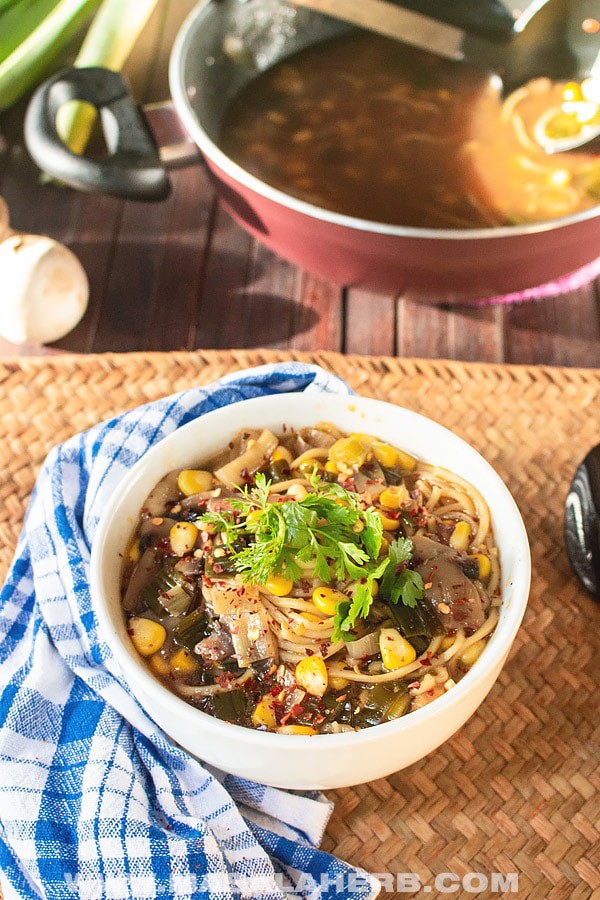 What is this hot and sour soup?
Hot and Sour soup is usually a Chinese Soup variety prepared with spicy hot chilis and souring agents such as vinegar. Nonetheless, other Asian countries, such as Thailand and Vietnam, have their own version of hot and sour soups.
Besides that, in the US, hot and sour soups are common as well. Popular restaurant chains such as Panda Express and Pf Chang popularized this amazing tasting Asian dish and made it their own!
Todays hot and sour soup recipe is Asian influenced but doesn't belong to one particular cuisine. Besides this soup includes sweet corn (adding sweetness) and noodles.
The noodles balance the flavors and turn this dish into a 20 min wholesome fusion Asian noodle dish, which you won't be able to resists.
Hot and Sour Soup Ingredients
For this hot and sour, I decided to add fresh ingredients including leeks, sweet corns, and mushroom. I adore leeks combined with sour acidic flavors! Sweet Corn just balances out the flavors, adds crunch and nutritious elements. The mushroom adds another element of texture and a depth of flavor.
More aroma and a certain saltiness are added with soy sauce and fish sauce (veg fish sauce to make this soup vegetarian) to the soup. The heat is created with red Chili flakes (which also looks nice as garnish) and some Black Pepper. I add mouthwatering acidic flavors with rice vinegar and lime juice.
To complete these flavors, I add brown sugar. The sweetness is like a link between the heat, acidity, and saltiness. Don't skip that!
For the noodles, I use simply egg noodles, however, you can use gluten-free or low carb rice noodles or Japanese buckwheat soba noodles.
This hot and sour soup doesn't impose country-specific rules. It's a soup which you can customize to your liking and this is what makes it so fun and enjoyable!
Customize the hot n sour soup:
You can also add or exchange the fresh veggies with the following ingredients.
Shiitake Mushrooms
Bok Choy
Nappa Cabbage (Chinese Cabbage) or regular Cabbage
Carrot
Spring Onions
Spinach
Green Peas
How to make Hot and Sour Soup? [VIDEO]
More Soup recipes like this:
Easy Hot and Sour Soup with Noodles and Sweet Corn Recipe below:
Easy Hot and Sour Soup with Noodles and Sweet Corn
Easy One-pot healthy hot and sour Asian soup with noodles, sweet corn, and leeks. Super delicious and you can customize it to your needs to adding other veggies (see suggestions in the post)
Ingredients
1 Tablespoon Oil
about ⅓ of a big Leek roughly sliced
200 grams (1½ cup or 7 ounces) Sweet Corn
2 big fresh Button Mushroom sliced
500 milliliter (2 cups or 17 ounces) Broth mixed with 800 milliliters (3⅓ cups or 27 ounces) Water
⅛ Teaspoon grated Nutmeg
⅛ Teaspoon Black Pepper
1 Tablespoon Chili Flakes
1 Tablespoon Brown Sugar
2 Tablespoon Soy Sauce
1 Tablespoon Veg Fish Sauce (*see Notes)
1 Teaspoon Vinegar such as Rice Vinegar
75 grams (2.65 ounces) Noodles (*see Notes)
Juice of 1 Lime
Cilantro to garnish
Instructions
Heat up a shallow pan, add the oil.
Throw in the cut leek and fry soft for 2 minutes.
Add the sweet corn and mushroom. Stir and mix well.
Pour in the broth mixed with water.
Season with nutmeg, black pepper, chili flakes, brown sugar, soy sauce, fish sauce, vinegar.
Mix the whole content well and let it cook covered until the sweet corn is getting soft. This might take 10 minutes.
At the end add the noodles and cook those soft for another 5 minutes uncovered.
Remove from heat and pour in the lime juice. Mix the soup well and serve hot.
Notes
1. Use regular Fish Sauce if you are not a vegetarian. Here is a recipe for homemade
vegetarian fish sauce
.
2. You can use regular lo mein yakisoba style Chinese egg wheat noodles or even Japanese Ramen noodles. For Gluten-free or low carb use rice noodles or buckwheat soba noodles.
3. See post how you can customize the choice of vegetables to your liking.
Nutrition Information
Serving size: 
592 g/ 20.88 oz
Calories: 
171 kcal
Fat: 
6.02 g
Saturated fat: 
1.042 g
Unsaturated fat: 
4.7 g
Trans fat:
0.029 g
Carbohydrates: 
27.62 g
Sugar: 
8.48 g
Sodium: 
951 mg
Fiber: 
2.8 g
Protein: 
5.4 g
Cholesterol: 
0 mg
Dear Reader, What type of Hot and Sour Soup have you tried before?
Please feel free to share your thoughts and ideas with us in the commetn section further below!
This post may contain affiliate links, and I receive a small commission when you click through and purchase. It basically buys me my daily coffee and cheese, and yes, my flour so that I can make pizza for dinner!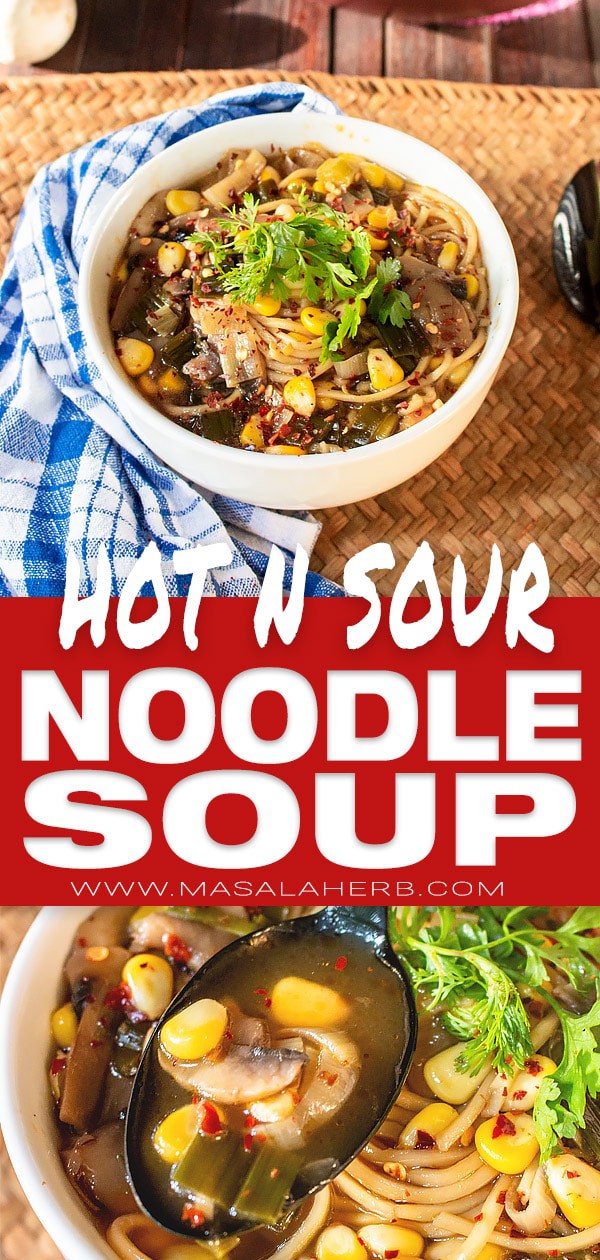 The following two tabs change content below.
I am Helene, and created Masala Herb to share my food and travel journey with the whole world. You will find Asian and Western dishes here, as well as unique travel guides to inspire your day. Don't miss a post! Subscribe to the free newsletter!
Latest posts by Helene Dsouza (see all)