Tom Kha Gai soup is a delicious coconut based soup with chicken, thai ginger and lemongrass as main ingredients. The aromatic soup will give you comfort and turn you into a new fan!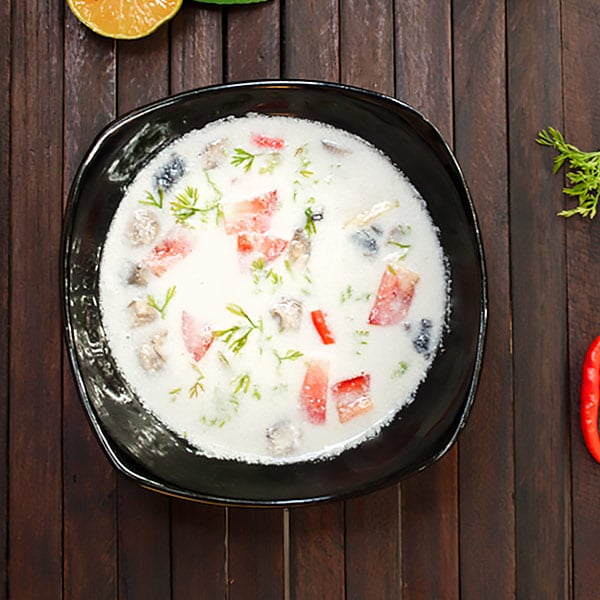 Tom Kha Gai is a flavorful modern Thai soup with coconut milk, chicken and galangal (Thai ginger).
The soup is freshly made from scratch and is a quick and easy soup to prepare.
Your tom kha gai will be ready in less than 20 minutes!
Global Food Recipes
with Spices and Herbs
Free E-Book available for a limited time. Grab yours now and get instantly inspired!
The first time I came across Tom Kha Gai soup was in a Thai place in Europe.
Nope, for once it wasn't in Asia, it was good old traditional, Sauerkraut infested Europe.
It all happened in a little Thai take away place.
I fell in love with the aroma of flavors intermingling with each other in a white broth.
It was love at first sight!
Jump to:
📕 What is Tom Kha Gai Soup?
Tom Kha Gai (also spelled Tom Kha Kai) is a modern Thai soup which means literally translated boiled thai ginger chicken
Coconut milk, Chicken, Thai Ginger (Galangal), Lemongrass, lime leaves, and Fish sauce make this dish so crazily addictive!
You will have a spoonful and you will understand what I mean.
Tom Kha Gai is a popular soup in Europe (and I think in America too).
The cool part is that it will take you only 20 minutes max.
to prepare and cook the soup and you can already enjoy it with all the comforting flavors after a long day.
✔️ Pros
That's why the Tom Kha Gai Thai coconut soup has become my go-to dinner dish.
It's versatile, you can prepare it and freeze the rest because the Thai coconut soup tastes even more intense after heating it again.
Also, tom kha gai soup is great in winter and in summer.
In winter it lightens up your day and in the summer, when it is hot, it helps you to eat healthily and keeps you on track with fresh food ingredients, which are stuffed with important nutrients.
🥥 Ingredients
These are some of the most prominent ingredients that make a Tom Kha Gai.
Coconut Milk
Coconut milk is a common ingredient all over the world.
You can make your own delicious creamy coconut milk from scratch too with ripe coconuts (and learn here about soft and hard coconut flesh).
Fresh coconut milk will always taste better, however, packed or canned coconut milk will do the trick too.
Galangal (Thai Ginger)
Thai Ginger, also known as Galangal, is the tricky ingredient to get for this soup.
Some Asian stores do keep this fresh.
In Europe, I couldn't get it in the store but my Thai take away place was kind enough to share some of theirs.
In case you can't find galangal ask your local Thai restaurant, they may prove to be helpful and share some of their goodies.
Lemongrass
Lemongrass can be commonly found in many places all over the world.
Most of the time they are found dried.
Ask for fresh lemongrass at your local Asian store or market.
Or you can keep a lemongrass plant too. I always found my plant super handy.
You can use the lemongrass to make tea too.
Otherwise, once you get a bunch of fresh lemongrass, you can just freeze the lemongrass for later use.

Kaffir Lime
Kaffir lime leaves, are important to make this soup too.
If you can't get kaffir lime, just use regular lime leaves or kaffir lime rind or juice.
Kaffir Lime leaves or lime fruits can be bought in a store in most Asian stores.
Other important ingredients include mushroom, birds eye chili or regular red chili, fish sauce.
coriander (cilantro) and tomato.
👁️ More Thai recipes:
Dear Reader, did you try the recipe?
Global Food Recipes
with Spices and Herbs
Free E-Book available for a limited time. Grab yours now and get instantly inspired!
📖 Recipe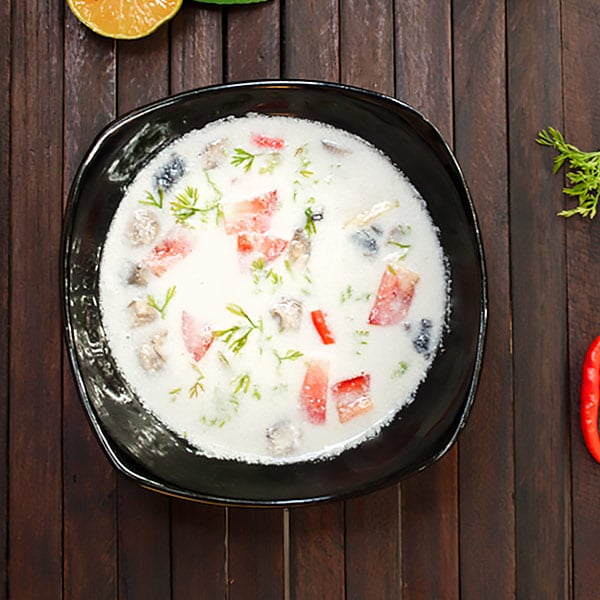 Tom Kha Gai Soup Recipe
Tom Kha Gai soup is a delicious coconut based soup with chicken, thai ginger and lemongrass as main ingredients. The aromatic soup will give you comfort and turn you into a new fan!
Print
Pin
Rate
Ingredients
2

cups

Coconut Milk

= 1 can

1 ½

cup

Water

1

piece

Lemongrass stalk

*see Notes

3

piece

Kaffir Lime Leaves

*see Notes

1 ½

inch

Galangal

aka Thai Ginger, *see Notes

7

ounces

Chicken Boneless

cut into stripes

12

piece

Mushrooms

sliced

1-3

piece

Chili Peppers

dried or fresh, Thai Chili preferably

2

Tablespoon

Fish Sauce

3

Tablespoon

Lime Juice

can be kaffir lime juice or regular

Salt

to taste

1

Tomato

diced

Cilantro

aka fresh Coriander
Instructions
First, we infuse the coconut milk by placing the milk into a pot with the water. Simmer on low heat until warm. In the meanwhile prepare your cleaned lemongrass by removing the outer stalk layer and cutting the lemongrass into thicker pieces.

Lightly crush the lime leaves and peel and cut the Thai ginger in smaller stripes. Place the lemongrass, lime and that ginger pieces into the simmering coconut milk. Let it simmer on low heat for 5 minutes approximately so that the milk takes up the aroma.

Then add the cut chicken with sliced mushroom pieces to the simmering coconut milk.

Let it cook on low heat for about 10 minutes. When stirring occasionally the milk, make sure to slowly stir it, because coconut milk is a bit sensible. Never bring the soup to a rolling boil, the coconut milk won't like it and will curdle.

Once the chicken and mushrooms are cooked add the chili pieces, fish sauce, and lime and cook for another minute or two on low heat. Taste with salt and take from the heat.

Just before serving, take out the lemongrass pieces and lime leaves and add the tomato pieces and chopped coriander.

Serve hot!
Notes
Try to get Kaffir Lime leaves or Kaffir lime fruit rind. Otherwise, substitute with regular untreated lime leaves or lime fruit.
Use only the white bottom part of the lemongrass. The green leave is fibrous and not suited.
If you can't get galangal just leave it out of the soup. Don't use regular ginger, the soup would turn out differently and it wouldn't suit the flavors.
You can also get a set of fresh Thai ingredients which includes galangal, thai chilis, kaffir limes and lemongrass.
Nutrition
Nutrition Facts
Tom Kha Gai Soup Recipe
Amount Per Serving (343 g)
Calories 157
Calories from Fat 45
% Daily Value*
Fat 5g8%
Cholesterol 42mg14%
Sodium 1031mg43%
Potassium 660mg19%
Carbohydrates 11g4%
Protein 17g34%
Vitamin A 405IU8%
Vitamin C 12.6mg15%
Calcium 79mg8%
Iron 1mg6%
* Percent Daily Values are based on a 2000 calorie diet.