Lemongrass tea recipe will be your next favorite if you enjoy the fresh lemongrass flavors and if you want to start into a new fresh day. This typical Asian restaurant and spa hot tea beverage assist our body to revitalize completely with each sip!
The Lemongrass tea recipe is for you if you are looking to get into a healthier groove in your life.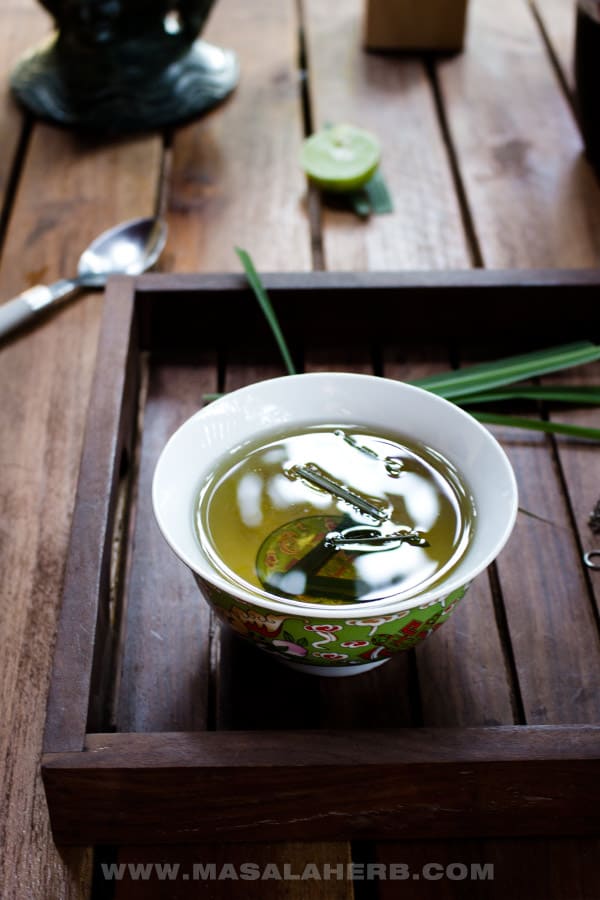 Global Food Recipes
with Spices and Herbs
Free E-Book available for a limited time. Grab yours now and get instantly inspired!
Jump to:
🍵 Lemongrass Tea Trend
Fresh lemongrass has many health benefits.
Did you ever want to learn how to make this Asian classic, lemongrass tea, from scratch at home?
You might have spotted lemongrass tea at your Asian neighborhood restaurant's menu or you got introduced to it while at the spa.
Various Asian food joints such as Thai and Vietnamese restaurants will suggest you have a lemongrass tea after food to digest easier.
In reputable spas, it is commonplace to serve a hot cup of lemongrass tea before treatment as it relaxes the body and mind and helps in flushing out toxins.
If you are looking to start a new year healthy or if you just decided to change your ways to the better, then the lemongrass tea recipe is going to be a useful hot beverage in your repertoire.
🌾 What is it?
Lemongrass is also known as Citronella or Fevergrass.
It is a tropical plant, native to India and South Asia, where lemongrass grows in long slender green and white grass blades.
Lemongrass looks like any other long field grass blade but you can always recognize it by its fresh lemony smell and taste and because it grows together in a tuft.
The blades, however, are fibrous and rather though.
🍋 What does it taste and smell like?
As the name suggests, the plant got its name because of the resemblance to fresh lemon/citrus in taste and smell but it does also have a refreshing and welcoming touch of grass.
Compared to lemon juice when heated, lemongrass doesn't alter in flavor and it tends to be more intense, enriching other foods easily without the flavor profile getting altered.
It's not sour, it's rather sweet.
You can smell lemongrass when you are near a growing patch.
So, in that sense the smell is strong but when you drink the lemongrass tea recipe, you don't feel overwhelmed by the flavors.
💖 Why is it good for?
Lemongrass tea health benefits are numerous because the grass contains antioxidants (prevent cancer).
Because fresh herbs contain antioxidants and when eaten raw you can get the most out of benefiting properties.
Antioxidants support the human body cells and that means they help in preventing cancerous growth.
Antioxidants basically keep us alive even when we age!
Health Benefits
In the case of our lemongrass tea recipe, the benefiting properties are released into the tea, which in turn take effect after digestion.
So this lemongrass tea, benefits, besides providing essential antioxidants, the following way:
Anti-bacterial, -fungal, inflammatory
It has Anti-bacterial, Anti-fungal & Anti-inflammatory benefits.
Lemongrass tea properties prevent the growth of certain bacteria and fungus.
It may prevent the flu or a cold and it has been used to reduce fever (that's why it's also known as fever grass)
Digestion
It helps you digest and calms an upset stomach.
Lemongrass helps to protect the stomach and promotes a healthy digestive system.
Detox
It's a natural diuretic, it detoxifies!
Lemongrass tea will help you clear your body of toxins.
It's an organ cleanser and if you drink lemongrass tea daily, it will give your skin a healthier look in the long run, as it flushes out any bodily toxins.
Cholesterol + Blood Pressure Control
It regulates cholesterol and blood pressure.
Lemongrass extract taken in over a longer period of time showed to have an effect in a laboratory conducting research on taking down cholesterol levels.
Weightloss
Lemongrass in the form of a tea drives your metabolism and that can help you to lose weight! (But understand that it also increases appetite)
Stress control
The humble lemongrass clears the mind and reduces stress significantly.
It can help in treating nervous disorder and it will help you to relax and calm down after a stressful day.
Who needs to avoid drinking Lemongrass tea?
This Lemongrass tea recipe should be avoided by pregnant ladies and those who take prescription diuretics.
Otherwise, young or old, there are no age limits what so ever to consume lemongrass tea.
💭 FAQ
Here are some of the most commonly asked questions in regards to preparing lemongrass tea from scratch at home, with a short answer.
How much lemongrass tea should I drink?
Find a balance when consuming lemongrass tea. 1-2 cups hot brewed lemongrass tea enjoyed every day for a longer period of time, will be beneficial to your health.
When to drink lemongrass tea?
Whenever you feel like it! I think the best time to enjoy a freshly prepared cup of lemongrass tea is on a rainy day as a little pick me up or to relax after a long day. I mainly prepare lemongrass tea in the evening after food to help me digest and to get me into sleep mode. As explained further above, lemongrass tea is great to help you detox, so you can add it to your diet plan if you are serious about your weight loss.
Is lemongrass tea acidic?
No lemongrass is not acidic because it's a grass a not a citrus fruit.
🌱 Growing
We have been growing lemongrass for years again and again in Asia.
In the European Alps, we didn't have that much of a success.
My conclusion: It doesn't make sense to grow lemongrass in a cold climate or indoors in a pot.
Lemongrass needs a lot of sun and well-drained mud floor to grow thick long and green grass blades.
If there is too much rain during the rainy season, lemongrass can die, although it's quite a sturdy plant.
So, in the Northern Hemisphere, I suggest that you go and buy fresh green Lemongrass blades.
You usually get them nowadays too in regular supermarkets or otherwise at an Asian neighborhood stop.
I am always glad to have my lemongrass blades growing in the garden as I get fresh grass that way whenever I need some.
Yes, it does make sense to grow your own at home to make this lemongrass tea recipe!
If you want to grow Lemongrass then don't get seeds but instead the lemongrass plant.
If you have pets, keep the lemongrass away from them or they are going to finish your plants.
Dogs and cats like to chew on lemongrass frequently in a day.
Especially dogs have strong saliva and that for some reason doesn't do the plants too well.
🔪 How to make it?
Follow these 3 main steps to prepare lemongrass tea from scratch at home.
Step 1
Rinse your lemongrass to get rid of impurities but be careful to not cut yourself because lemongrass blades are sharp.
Cut your lemongrass into smaller pieces with a kitchen scissor.
Step 2
Keep a pot with water to cook on the stove and add in your lemongrass leaves.
Optional: Add loose tea leaves to the tea if you want to add caffeine to your lemongrass tea recipe.
Step 3
Simmer your tea in the pot covered for about 10 minutes (and 6 minutes if you add tea leaves).
Keep away from heat and allow the tea leaves to get infused for a few more minutes.
Strain tea from leaves and serve hot with or without sugar.
🧉 How to prepare tea bags?
You can prepare your own tea bags at home with your homegrown lemongrass or if you want to be in control of what's in your tea.
First, cut and dry your fresh and green lemongrass tea blades.
Secondly, get these empty tea bags.
Thirdly, stuff your empty tea bags with your dried lemongrass pieces.
The smaller the lemongrass blade pieces the better.
🍯 Flavor variations
Besides adding black tea leave to your lemongrass while your tea is brewing in the pot, you can also add the following ingredients to enhance your tea even further:
green tea, white tea or oolong
fresh ginger root slices
fresh turmeric root slices
lemon juice to add acidity
honey to sweeten
You can turn this tea into a cool lemongrass iced tea, by placing the strained tea into the fridge to cool down completely.
Serve your lemongrass iced tea with ice cubes and enjoy on a hot sunny day.
🍶 More healthy tea ideas
Dear Reader, where did you get to know about lemongrass tea for the first time?
Global Food Recipes
with Spices and Herbs
Free E-Book available for a limited time. Grab yours now and get instantly inspired!
📖 Recipe
Fresh Lemongrass Tea Recipe
Lemongrass tea recipe will be your next favorite if you enjoy the fresh lemongrass flavors and if you want to start into a new fresh day. This typical Asian restaurant and spa hot tea beverage assist our body to revitalize completely with each sip!
Print
Pin
Rate
Instructions
Place the water into a pan and heat up.

If you use fresh lemongrass, cut your clean and washed lemongrass with a scissor into smaller bits. Add the lemongrass to the cooking water.

Bring the water with the lemongrass to a boil and then let it simmer for 10 minutes covered. Take from the heat and strain your tea.

Serve hot with a slice of lemon and you maybe add sugar although I would try it without sugar. It beats the purpose to add sugar or sweetener to a healthy hot tea.
Notes
Turn this fresh lemongrass tea into an iced lemongrass tea by cooling it in the fridge and serving with ice cubes.
Add a tea bag when serving this lemongrass tea, for those who want more flavor in their tea.
Nutrition
Nutrition Facts
Fresh Lemongrass Tea Recipe
Amount Per Serving (313 g)
Calories 14
% Daily Value*
Sodium 19mg1%
Potassium 108mg3%
Carbohydrates 3g1%
Calcium 21mg2%
Iron 1.2mg7%
* Percent Daily Values are based on a 2000 calorie diet.