Careful with the stinging nettle while picking and rinsing. It will literally "burn"your skin and fingers. (Its not harmful to the skin, in fact it is told to help the circulation, but it hurts!)
Some time back I had introduced you to a creative home made Dandelion flower jelly, and back then I had promised to share a few other healthy culinary uses for the plant.
Before the Austrian alps were commercialized, folks of the mountains had ways and secrete family recipes to their disposition.
The chosen ingredients were commonly available products, such as wild herbs.
While the wisdom in the old times for those plants was passed over from generation to generation, today the uses and knowledge are almost forgotten.
My grandmother was harboring great expertise in this field and I remember her trying to explain us the names and uses, but back then I myself had little interest for those type of things.
We preferred to jump from the hayloft height into soft fresh hay or feed the rabbits and other animals.
Only a few years later in my teens I came across a few books here and there and I started to see all the common plants around us with different eyes.
My sister is a learned Apothecary, so I picked up from her too a few wisdom's here and there.
The pharmacy here still prepares fresh herbal mixes and ointments for the locals, so they are used to work with this type of ingredients.
She was kind enough to share with us her Detox tea, which I ll be coming to later on.
First I want to explain you some of the few herbs I have used for this tea.
Horsetail (Equisetum arvense) also known in English as Field Horsetail, Oblivion Horsetail or Common Horsetail and in German as Zinnkraut or Acker-Schachtelhalm was known thousand of years ago to the ancient Greek and Arabic physicians (Medicus) as a herb to stop bleedings.
The Indian Ayurvedic medicine uses till date the plant to treat gallbladder, kidney and sexually transmitted diseases.
Modern medicine uses Horsetail to treat urinary system conditions and to strengthen nails and hair.
The plant itself is one of the oldest of the planet earth and interestingly there are legends that gold hangs on the roots of the Horsetail, although the amounts are too less to be extracted.
Prior it was even used to polish tin objects!
The plant itself is known to hold a couple of interesting minerals such as Calcium.
A fun fact is, that Japanese and Koreans eat the buds in spring as vegetables.
Horsetail is truly an amazing plant!
The one with the long thin stems.
Stinging Nettle in English (Urtica dioica) is also known in German as Brennnessel.
This burning plant grows wild in Europe, Asia, North Africa and America.
There are countless historical legends all over the world about the stinging nettle and while others called it an evil unwanted plant some were able to understand the use in a medicinal and culinary way.
Before the plant strings were even used for the production of nets and cloth in general.
The ancient Greek Hippocrates restored with the burning nettle the harmony in the human body.
The seeds are in general known to be a powerful aphrodisiac.
Nowadays it is used to treat anemia, iron deficiency, jaundice, rheumatism, urinal problems and diarrhea.
Commonly we were told as kids too that the burning of the plant on the skin was helpful for the blood circulation.
The plant tastes a bit like spinach and it is rich in Vitamins A, C, Potassium, Manganese and Iron.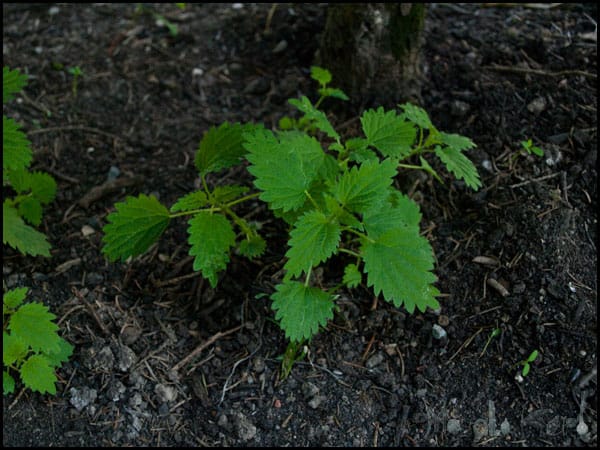 Dandelion info see - Dandelion Flower Jelly
Mint is a well known plant all over the world.
There are plenty of different types and Mint crossings so I am not going to go any deeper into the topic.
The plant is used to treat asthma, digestion problems, migraine, bloating and bad breath.
The combination of those herbs in a tea will help you to get rid of body toxins in general.
I like to drink the tea after a long party night or whenever I have some urinal problems.
Usually it tastes like old socks (I am honest!), but I had started to add mint to enhance the flavor and to neutralist the other herbs aroma.
It turns out to be an exciting new tea experience!
More homemade healthy Tea Recipes
Global Food Recipes
with Spices and Herbs
Free E-Book available for a limited time. Grab yours now and get instantly inspired!
Detox Herbal Tea
Careful with the stinging nettle while picking and rinsing. It will literally "burn"your skin and fingers. (Its not harmful to the skin, in fact it is told to help the circulation, but it hurts!)
Print
Rate
Ingredients
2

big sized Horsetail plants

3

medium sized Stinging Nettle plants

4

big sized Dandelion leaves

Sugar optional
Instructions
Pick all the above named herbs fresh and rinse any dirt off. Keep 1 liter of drinking Water to cook and add the fresh herbs (and sugar if you like). Let it cook for 10-15 minutes. You ll notice that the water starts to change color.

Strain the tea and serve it hot!