Home-brewed oregano prepared with dried ore fresh herbs.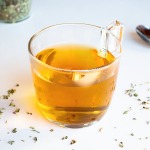 Fresh and soothing oregano tea can be easily prepared from scratch at home.
I share options to make it with fresh and dried oregano and different ways so that you can make it while you are reading this.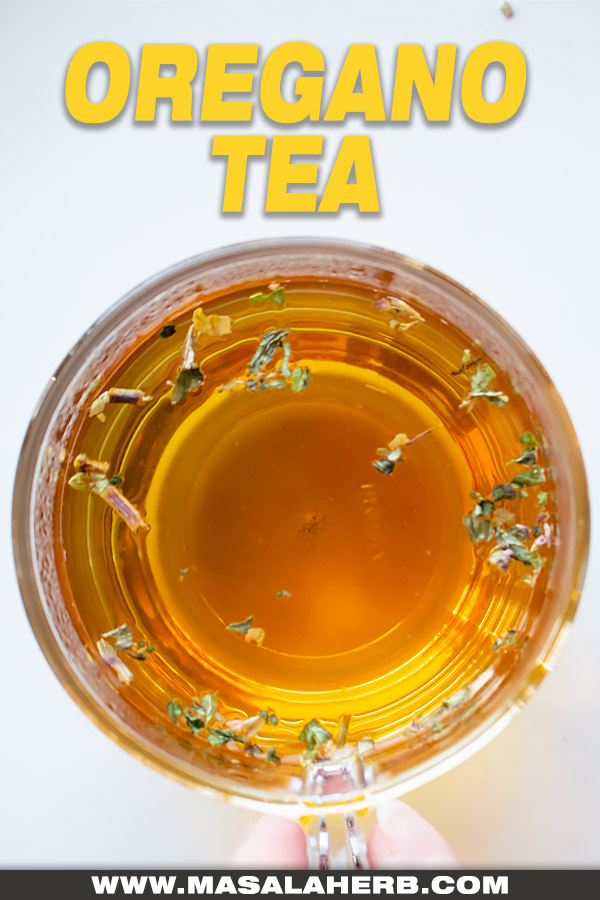 Jump to:
I talked about oregano as a herb and seasoning last year.
Oregano can be turned into a delicious herbal tea too.
You can use the same fresh or dried culinary oregano that you would use to season your food to make this tea.
What is Oregano Tea good for?
Oregano is a health boosting plant.
We drink oregano tea at home when we have a slight cold or a cough.
Granted, it's a home remedy, and a traditional one, but it's soothing and refreshing.
You can drink a cup of home-brewed oregano tea after dinner to help your digestion.
The tea has another useful science backed up use for women, it can treat painful menstrual cramps.
Some people claim that it's good for weight loss, but that's just a claim and nothing else.
Oregano Varieties that you can use
Many different varieties of oregano exist. Some are sweeter and some are pungent/spicy.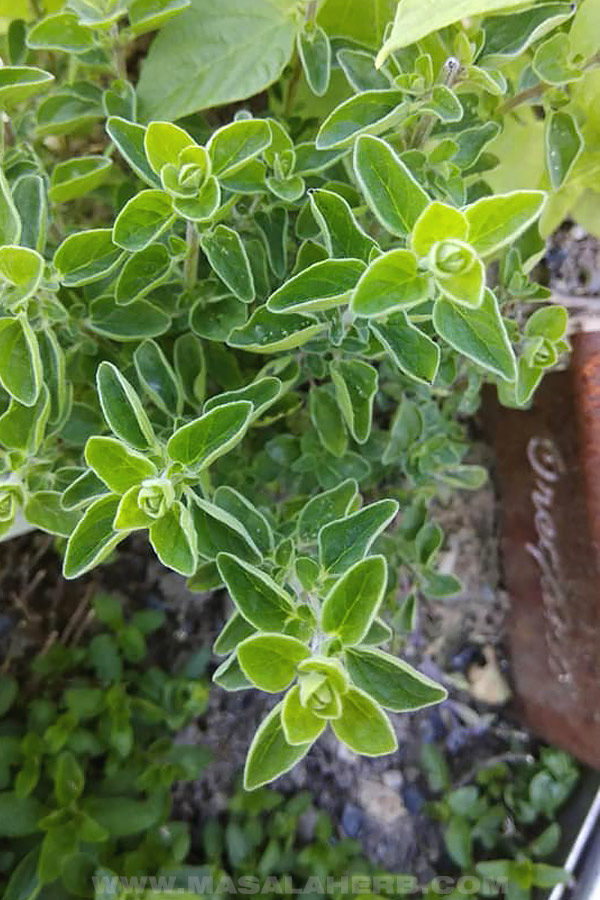 You can use any of the following to make this tea:
Oregano (aka Wild Marjoram) - that's what they usually sell in stores. It's milder in flavor but the most common variety all over the world.
Greek Oregano
Syrian Oregano - Also known for za'atar.
Dittany of Crete - a rare variety growing in Crete (Greece). Its flowers are used to make traditional tea too.
Mexican and Cuban Oregan - Those are different species but they make a great tea too.
Some Oregano varieties are also called Marjoram in some parts of the world.
However, oregano and marjoram are not the same things, although some people might claim it's the same thing (such as my relatives in France haha!).
How to make the tea?
You can choose to use fresh or dried oregano.
In my opinion, dried oregano is better, because the dried leaves tend to infuse the tea more intensely.
Yet, if you have fresh leaves growing in your garden, you can use those too or you can air dry or dehydrate your herbs too.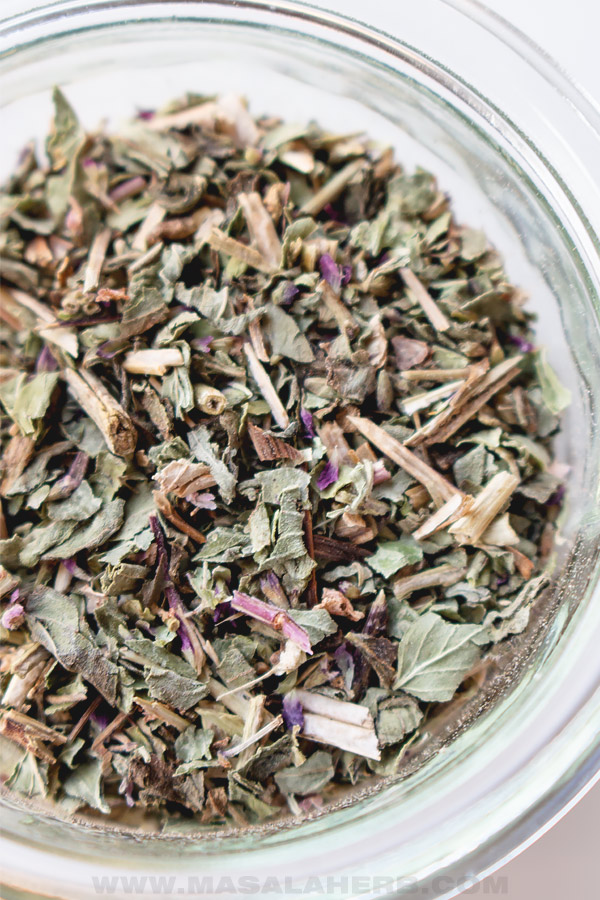 You have two options to make this herbal tea (recipe to print in the recipe card further below).
Option 1 is better with dried oregano, option 2 can be prepared with dried or fresh herbs.
Option 1 - Tea Bags/Infuser
Boil your water.
Fill empty new tea bags or ball infuser with oregano.
Place bag or infuser with herbs in your cup and pour hot boiled water over the herbs.
Steep for about 5 minutes. Take out when done.
Sweeten if you like and enjoy a hot cup of herbal tea.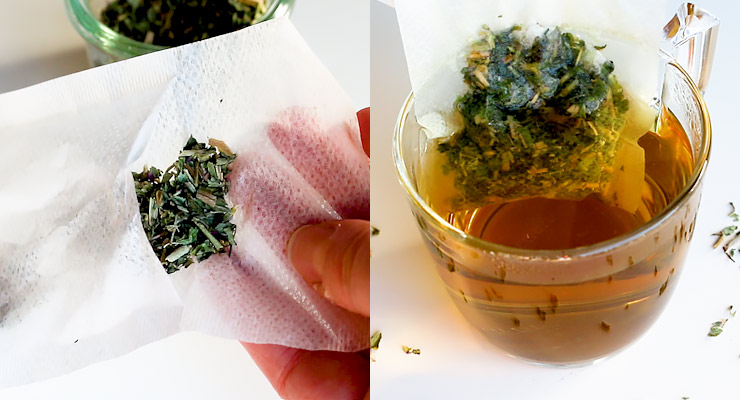 Option 2 - Cook & Strain
Bring some water to boil in a cooking vessel.
Add the fresh or dried oregano to the cooking water.
Turn off the gas and steep the herb for about 5 minutes.
Strain, sweeten and serve up hot in a cup.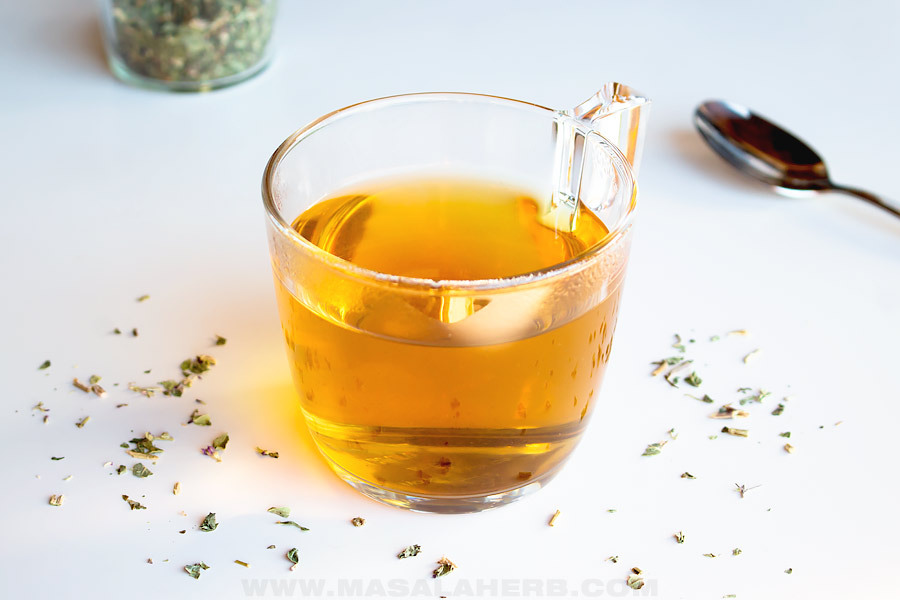 Flavor Variations
You can sweeten your oregano tea with sugar, honey and even stevia.
The stevia leaves can be added to your oregano leaves while you steep the ingredients in hot water.
You can add the following ingredients to your oregano leaves if you want to enhance it further:
green or black tea – but it won't be caffeine-free anymore
mint
ginger
rosemary or thyme - for a Mediterranean touch
thyme
lemon juice – can be added to the tea in the cup
Hot tea can be turned into iced too. Just cool it in the fridge and add ice cubes to the tea to serve cooled.
FAQs
Can I drink Oregano Tea everyday?
Yes, you can but on a lower dosage and not more than a cup per day. As Paracelsus said: "The dose makes the poison". What he means with that is, that everything is good in moderation and that holds true for this oregano tea too.
Can I drink Oregano tea when I'm pregnant?
No, avoid drinking oregano tea when pregnant. Science papers explain that it is a herbal abortion tea and the tea shouldn't be ingested when pregnant.
Can I make this herbal tea with milk?
Herbal teas are meant to be prepared with water only. I don't think adding milk is a good idea.
How can I store my oregano?
Store dry oregano in airtight containers away from direct sunlight. For fresh oregano, place it in a bag in your fridge to refrigerate for a few days or freeze the leaves in batches.
More Herbal Tea Ideas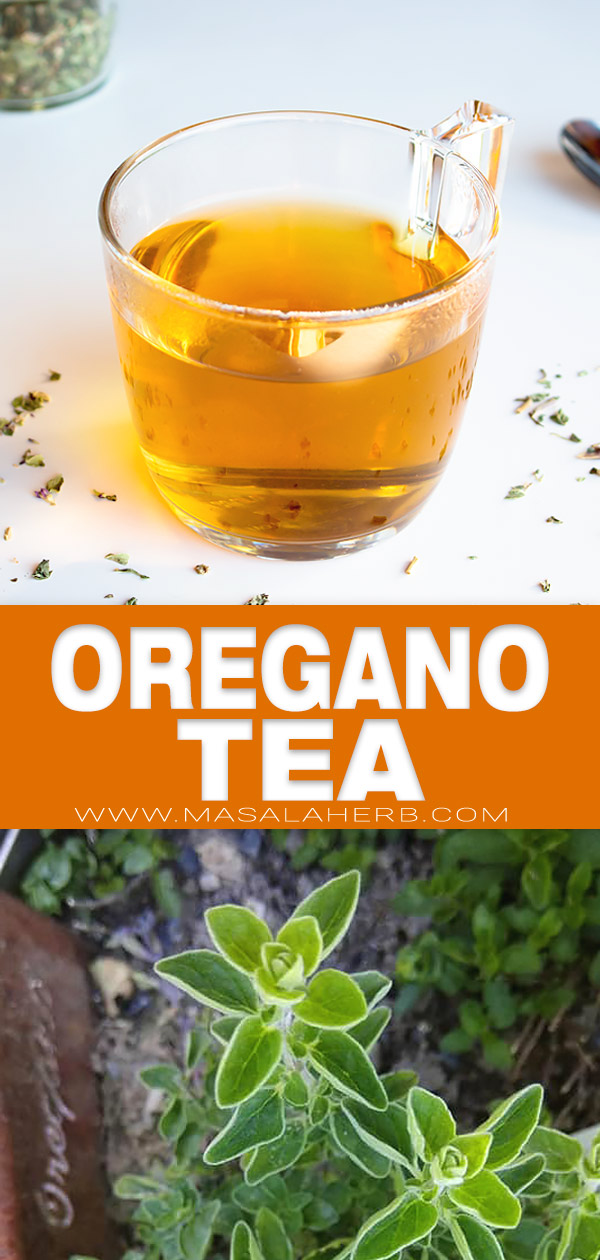 📖 Recipe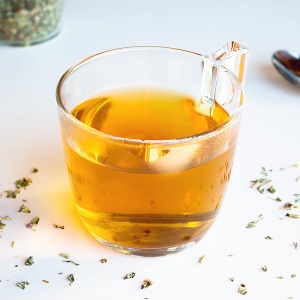 Oregano Tea Recipe
Home-brewed oregano prepared with dried ore fresh herbs.
Print
Pin
Rate
Ingredients
1-2

Tablespoons

dried Oregano

or 5-10 sprigs fresh Oregano

1½

cup

Water

Honey

or Sugar or any other sweetener
Instructions
Option 1 – steep with teabag/infuser *See Notes
Boil your water. I like to use a water cooker for that.

Place tea bag/infuser in a large cup and pour hot water over that.

Steep for about 5 minutes. Take out tea bag/infuser.

Enjoy your hot tea with a sweetener of your choice (or non)
Option 2 – boil & strain
Bring a small pot with water to boil over the stovetop.

Add fresh oregano sprigs or dried oregano to the cooking water.

Turn of the heat or take the pot from the stove.

Allow the herbs to steep for 5 minutes.

Take the infused herbal tea through a fine sieve and pour your ready and hot tea into a cup.

Sweeten your tea if you like and serve hot.
Notes
Option 1 is better with dried oregano and option 2 can be prepared with fresh or dried oregano.
Equipment
water boiler or small pot to cook water

new empty tea bags or infusers (optional)
Nutrition
Nutrition Facts
Oregano Tea Recipe
Amount Per Serving
Calories 13
Calories from Fat 9
% Daily Value*
Fat 1g2%
Sodium 19mg1%
Potassium 63mg2%
Carbohydrates 3g1%
Protein 1g2%
Vitamin A 85IU2%
Calcium 91mg9%
Iron 2mg11%
* Percent Daily Values are based on a 2000 calorie diet.