Choose if you want to use dried raw chicory roots or roasted roots.
Chicory Root Tea is a nifty way to ditch your bad health habits.
In this post, we explore how to use it and the differences between raw and roasted chicory root.
Jump to:
📕 What is Chicory Root?
Chicory is a hardy bushy plant that grows beautiful blue flowers. It's a wild plant in Europe and you can see it there on the roadside.
The plant has been known for its healing properties since way before the middle ages.
Especially the fibrous roots had been used for all kinds of ailments.
In the 21st century, the roots are sold dried, and turned into small pieces. These are then used in central and east Europe to make herbal tea with it.
Further, chicory roots can also be roasted and ground into a fine powder. This powder is then used as a substitute for coffee, which is also known as chicory coffee.
Many different chicory varieties exist. In fact, Belgian gardeners came up with a vegetable called Chicory Salad, which you might know as Belgian Endives.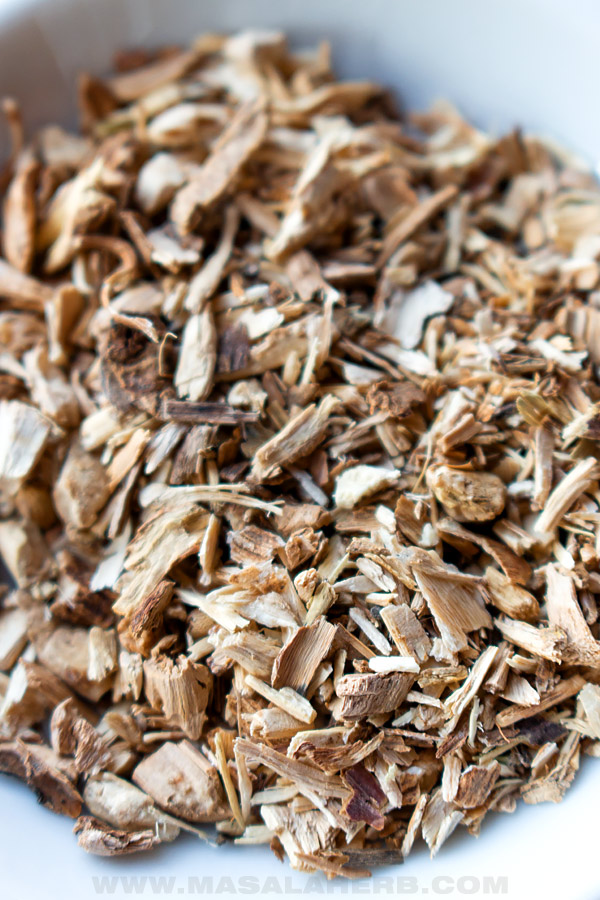 🥣 Ingredients + Equipment
In a nutshell, here is what you need to make this herbal chicory root tea at home.
🔪 How to make it?
Here is how it's made. If you need exact measurements, those are in the printable recipe card further below.
Step 1
Boil water.
Step 2
Place dried chicory root pieces into an empty tea bag or infuser.
Place tea bag in a cup and pour water over it. Sweeten to your liking.
Step 3
Remove the tea bag or infuser after 5 minutes.
Enjoy your herbal tea.
💭 FAQs
Dried raw VS roasted chicory roots, which one should you make?
I like it simple and stick to the raw or so-called unroasted chicory root tea. You can choose either one. The roasted chicory root version tastes more like coffee. You can use it the same way in a tea bag but it is more common to brew it like regular coffee. Try both and see which one you prefer.
Can I roast my own dried raw chicory roots?
Yes, but know that there is a fine line between roasted and burned chicory roots. Place the root pieces into a pan without anything else and keep over moderate to high heat. Stir the root, they will start to turn brown. When they look done (told you it's a fine line), take them from the heat and allow them to cool a bit. Take them to a mortar and pestle and grind your roasted chicory roots fine.
Where can I buy dried chicory roots?
The roots can be purchased online at Etsy or sometimes they have them in stock on amazon too. Look out for USDA-approved roots. If you live in Europe, you are in luck because herbs and roots can be bought in pharmacies in half pound or quarter kg bags.
Can I forage for this plant too?
Yes in Europe, where the plant has a long tradition, you can find it during the summer months growing wild at the side of the road. It's considered a weed. It's also growing wild in North America in the cooler zones. Look out for blue flowers and it resembles a dandelion.
Can I drink this when pregnant?
Please consult your physician.
Can you be allergic to chicory?
If you have a ragweed or birch pollen allergy, you may be allergic to chicory too. In that case, don't consume chicory at all. Paul, my husband, has both, a birch pollen and ragweed allergy, so he can't have chicory at all.
What does chicory root tea taste like?
The raw and un-roasted roots taste a bit bitter like plain flower roots, nothing fancy. Roasted roots taste more like coffee. I personally prefer the raw ones to roasted chicory but I might be an exception. I like all things not sweet and I enjoy bitter herbs, so if this is you, then you will probably prefer the unroasted version. I recommend trying out both.
👁️ More Herbal Tea Recipes
📖 Recipe
Chicory Root Tea
Choose if you want to use dried raw chicory roots or roasted roots.
Print
Pin
Rate
Ingredients
1

cup

Water

boiled

1

Tablespoon

Dried Chicory Roots

raw or roasted

Sugar

optional
Instructions
Place the dried chicory root pieces into an empty tea bag or into an infuser.

1 Tablespoon Dried Chicory Roots

Place the tea bag or infuser into a cup and pour the boiling water over that.

Steep for about 5 minutes, then remove the tea bag or infuser. Discard the used root pieces.

Enjoy your tea hot. You may choose to sweeten it.
Equipment
empty tea bags or infuser

cup