Prepare your own chamomile tea tonight!
Here you will learn everything you need to know to make chamomile tea.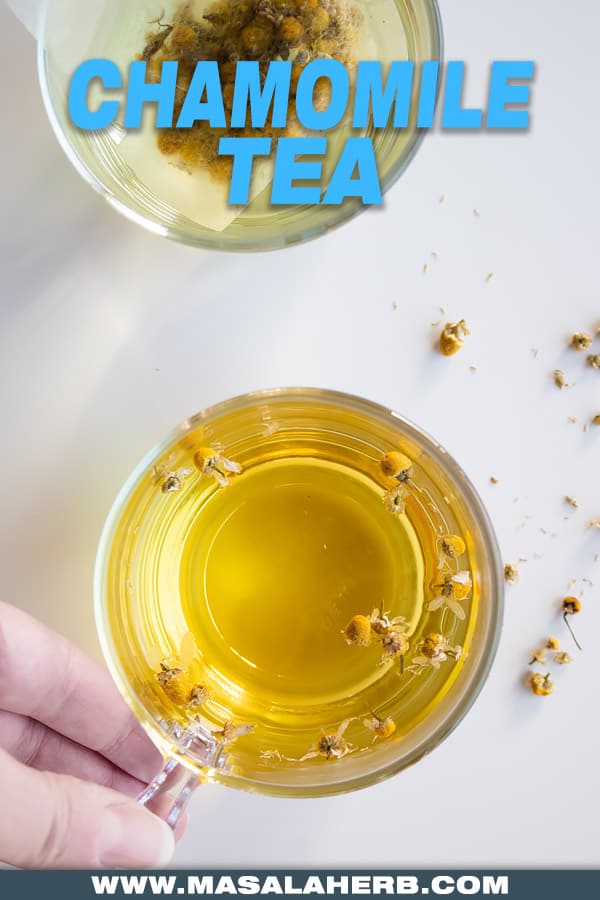 Jump to:
What is Chamomile?
Chamomile is a daisy-like flower, with white petals and a yellow procuring core.
The proper chamomile is called German chamomile or also the real chamomile.
This is because some other varieties are frequently confused with the real chamomile and the "fake" ones are sometimes sold as the real ones.
The plants grow in central and east Europe in gardens and in the wild on the fields.
The fresh flower buds are harvested from June to August and are then dried to use as a tea herbal infusion.
What is Chamomile Tea good for?
My grandmother used to make chamomile tea after dinner.
It helps in your digestion and with sleep.
Chamomile tea is known to relax and folks tend to drink it after food, before sleepy time.
So, you can prepare chamomile tea to help you find sleep BUT you will need to go pee as well, so know that. It might not be the best thing just before bed.
I like to drink chamomile after a long day or when I'm stressed out and anxious. It helps me to come down a bit.
How to make the tea?
We make tea with loose whole dried flower buds.
If you want to know how you can dry your fresh flower buds, then read up my guide on how to dry herbs. The process is the same.
Once you have your dried chamomile buds ready, you can choose to prepare your tea in two different ways.
Option 1 - Tea Bags/Infuser
Boil your water.
Grab an empty new tea bag or ball infuser that you can fill, and fill it with the flower buds.
Pour water into your cup and infuse hot water with the tea bag/infuser.
Steep for about 5 minutes and take out the bag with the flowers.
Enjoy a hot tea with or without sweetener.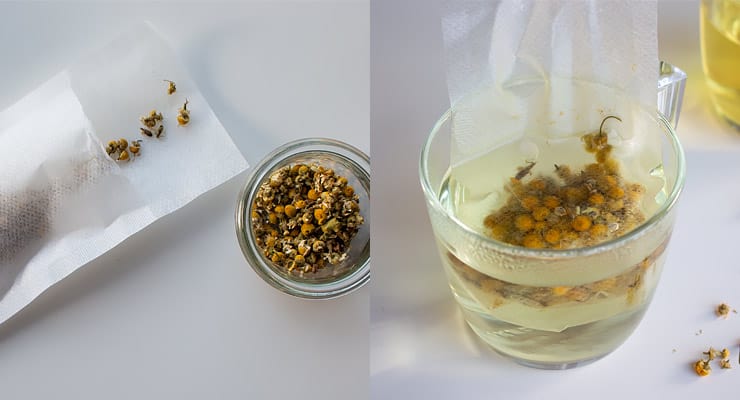 Tip: The tea bag might filter better compared to the infuser because chamomile has tiny little yellow flower pieces.
Option 2 - Cook & Strain
Bring a small cooking pot to boil with water.
Add the dried flower buds to the cooking water.
Turn down the heat and allow the flower buds to steep for 5 minutes.
Strain the hot tea and pour strained infused herbal tea into a cup.
Flavor and Recipe Variations
You can sweeten your chamomile tea with sugar, honey and even stevia.
The stevia leaves can be added to your flowers.
Besides you can mix up things and create new flavor combinations.
Add any of the following to your flower buds:
green or black tea - but it won't be caffeine-free anymore
mint
ginger
lemon juice - can be added to the tea in the cup
You are not bound to hot tee! You can choose to prepare iced tea too. For that, simply allow your cooked infused tea to cool and serve with ice cubes.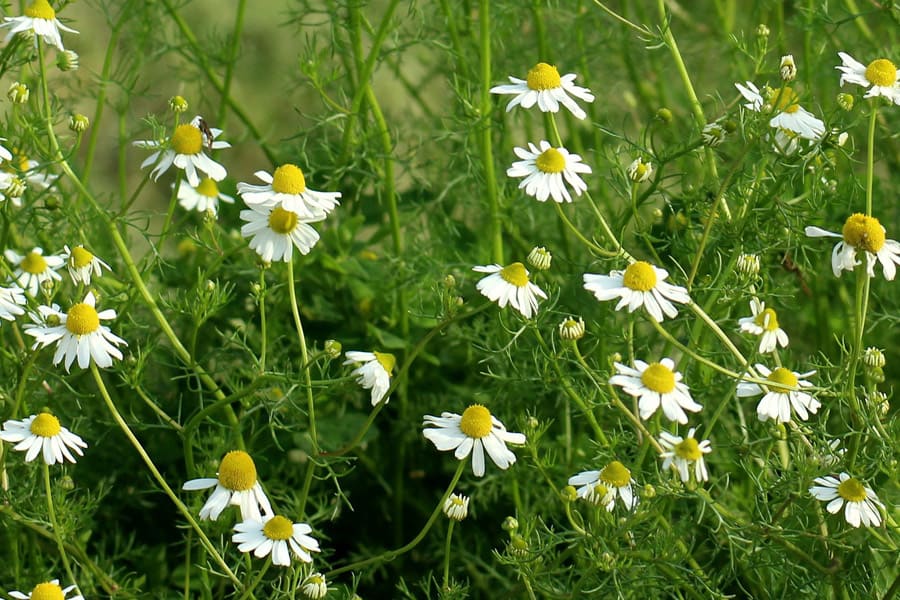 FAQs
Can I drink Chamomile tea everyday?
Yes you can. A tea a day can do you good.
Does Chamomile tea make you pee more?
Like any other herbal tea, you will experience that you will need to run to the toilet.
Can I make my chamomile tea with milk?
I love milk tea but I don't think that adding milk to this herbal tea can be a good idea. I recommend drinking chamomile tea without milk.
More Herbal Tea Ideas
📖 Recipe
Homemade Chamomile Tea Recipe
Prepare your own chamomile tea tonight!
Print
Pin
Rate
Ingredients
1-2

Tablespoon

Chamomile

dried flowers

1½

cup

Water

Honey

or Sugar or any other sweetener
Instructions
Option 1 - steep with teabag/infuser
Boil your water. I like to use a water cooker for that.

Place tea bag/infuser in a large cup and pour hot water over that.

Steep for about 5 minutes. Take out tea bag/infuser.

Enjoy your hot tea with a sweetener of your choice (or non)
Option 2 - boil & strain
Bring a small pot with water to boil over the stovetop.

Add the dried chamomile flower buds to the cooking water.

Turn of the heat or take the pot from the stove.

Allow the flowers to steep for 5 minutes.

Take the infused herbal tea through a fine sieve and pour your ready and hot tea into a cup.

Sweeten your tea if you like and serve hot.
Notes
Dried chamomile flowers have small tiny yellow pieces in the core which detach in the hot water. Use a fine sieve/tea bag/infuser if possible or else you will have these tiny pieces in your tea. The image with the flowers in the tea was just show. 😛
Equipment
water boiler or small pot to cook water

new empty tea bags or infusers (optional)
Nutrition
Nutrition Facts
Homemade Chamomile Tea Recipe
Amount Per Serving
Calories 2
Calories from Fat 9
% Daily Value*
Fat 1g2%
Sodium 18mg1%
Carbohydrates 1g0%
Protein 1g2%
Vitamin A 288IU6%
Vitamin C 4mg5%
Calcium 11mg1%
* Percent Daily Values are based on a 2000 calorie diet.