Drying herbs is easy, it's all the more convenient with a food dehydrator. Read the whole post for all your drying options.
Your ultimate guide on how to dry herbs at home!
I cover 3 drying options, various culinary herb types, share some ideas to use them, and explain how to store your homemade dried herbs the right way.
Global Food Recipes
with Spices and Herbs
Free E-Book available for a limited time. Grab yours now and get instantly inspired!
Jump to:
🆚 Fresh vs Dried Herbs
Garden fresh culinary herbs grow best during the hotter days in the year.
To preserve them, we dry them. That way you can use your precious herbs all year round in your food.
Just harvest your herbs and the next step is the drying process.
Theoretically, you can dry most culinary herbs.
That said, some herbs are more suitable when used and prepared fresh.
Others on the other end, have a better effect when used dried in your food.
Here is a list and explanation for every herb (fresh vs. dried). Please let me know in the comments if I forgot one.
thyme – great fresh and dried
rosemary – great fresh but more intense dried
oregano – great fresh but more intense dried
marjoram – like oregano
savory – great fresh and dried
sage – great fresh and dried
chives – fresh as a garnish, dried to season food
basil (Italian Basil) – better fresh, but useful also when dried
tulsi (Holy Basil) – better dried for teas
parsley – better fresh
dill – great fresh and dried
tarragon – better fresh but comes handy dried too
lemon balm – the best fresh, loses plenty of flavors when dried in the dehydrator
lavender (a flower but I use it as a herb) – more intense dried
mint – great fresh and dried
cilantro – better fresh
curry leaves – the best fresh but can be preserved, less intense dried
bay leaves – have to be dried to be used
fennel – only the leaves of course
culantro - great fresh and dried
chervil – great fresh and dried
lovage – great fresh but keeps well dried and gets more intense
stevia – sweetener, used instead of sugar fresh or dried
🔪 How to dry herbs?
You have different options to dry your herbs. Pick the one most suitable to you.
I share pro and cons for every option and technique, that will help you to simplify the whole process.
Air Dry – Traditional Option
People have dried herbs for centuries! They used it in their food but also to create homemade medicines.
The traditional way to dry your herbs is thanks to air. A well ventilated, dry and warm room is the best location.
If you have herbs with stalks, tie them together into a bundle and hang them up. You can use a herb drying rack for that purpose too.
Leave them to hang for a few weeks in a dry environment and I usually keep something under the herbs to collect the falling pieces.
Another great idea is to tie the bundles together with a paper bag over the bundle. Make some air holes into the paper bag and hang it up.
The herbs will dry in the paper bag, and you will collect the small falling herb pieces.
Keep them hanging in a warm and dry place. We usually hang them in the attic. They will take about 7-10 days to dry.
If you have small leave pieces, you can also place the herb pieces into a small square open box. I keep a paper towel in between.
Never ever dry your herbs in the direct soon. It will suck the life out of our herbs, and they will lose all those wonderful flavors.
Pros: It's free and easy. It makes a pretty deco.
Cons: Takes a while to dry. It can be problematic in a humid climate because mold can grow.
Oven Dry – Budget Alternative Option
I never dry my herbs in the oven, but it's an option if you want budget options without waiting time.
Lay out parchment over a baking pan, preheat your oven and keep it on the lowest heat setting.
Most oven's lowest heat setting is 210 Fahrenheit/ 100 Celsius. If you can use a lower setting, do that!
We want to dry the herbs and not bake them, and drying them on the lowest oven heat setting is the way to go.
Pros: Budget-friendly, you don't need to buy new equipment.
Cons: An oven is more suitable for baking, so it's not the best way to dry your herbs. Some herbs are more sensible than others and drying them in the oven will destroy some flavors.
Dehydrator - Quickest Option
Drying herbs in a dehydrator is perhaps the best options. Some people will argue that hanging and drying is better.
I, personally, prefer to dry my herbs in the dehydrator, especially if I process a larger batch.
Place your herbs on the dehydrator racks that came with your dehydrator.
Turn on the device, set to a medium heat setting and leave them to dry.
You don't need to stick around, you can do that overnight too.
A dehydrator carefully dries your fragile herbs and helps to retain all the flavors.
It's a better option if you are looking to dehydrate other foods to such as fruits.
Pros: Easy to use, effortless, less work and your herbs are done drying within 1-4 hours (depending on the herb).
Cons: You have to buy a dehydrator and place it somewhere where it won't get disturbed (i.e. kids).
🔪 How to use your dried herbs?
Use your dried herbs to season your food. That's the most obvious way to use your home dried herbs.
Add them during the cooking process when you prepare your dinner, that way they will infuse your food all the more.
You can also combine your ground dried herbs. Mix them together or add some ground spices to create seasoning blends.
A good example of dried mixed herbs is the Italian seasoning and the herbes de Provence herb blend.
You can also create your own tea blends. Just mix your dried herbs together. You can add ground spices too.
Grab some plain tea bags and fill them up with your homemade tea blend.
Use and store your DIY tea bags the same way as the store bought ones.
Dried herbs can be added to pickles too or can be left to infuse vinegar or oil to create homemade infused oils and vinegar. They add flavors to preserves.
🍱 How to store your dried herbs?
You can either store your dried herbs as a whole or you can grind them.
I simply grind them by crumbling them between my fingers. You can use a herb/ spice grinder or a mortar and pestle too.
Store your dried herbs in airtight containers, which you can lock with a lid, just the way you would store your spices.
Glass jars are usually preferred because they are look-through and that way you tend to use them more often.
Keep the jars on a spice rack where you can see them at all times, that way you don't forget them at the back of your pantry.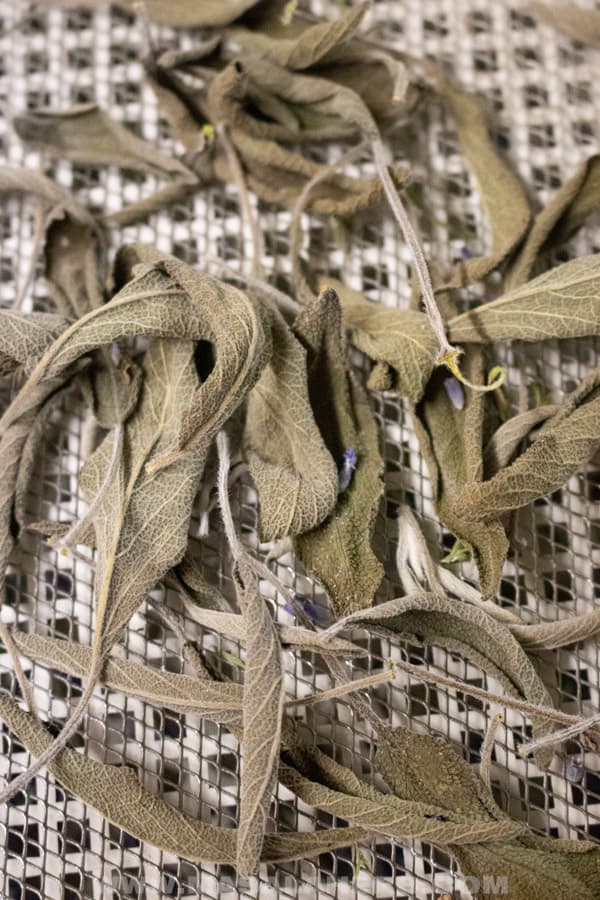 💭 FAQs
Do you wash herbs before drying?
Yes, you can rinse your fresh herbs before drying to get rid of impurities and insects. Take time to pick out and discard wilted and spotted/damaged leaves too. After rinsing, shake off excess water and pat dry carefully and well between two kitchen towels, so that no water droplet is left.
How long do dried herbs last?
If you store them in an airtight glass container, in a dry and cool environment, they will last for about 1-2 years. Dried herbs will lose their flavor over time. So, after summer, I collect the fresh leaves and turn them into dried herbs. I keep them until the next year, until I create a new batch (during the same period as in previous years).
Can I use store bought herbs to dry?
You can use store-bought herbs if they have not been treated with pesticides. The label "organic" is not a clear indication for untreated pesticide-free edible herbs. You don't want unknown substances on your plants and in your food.
How do you keep your herbs dry after drying?
Store them right after the drying process. Don't keep them out or else they will take in humidity. This is especially true in a humid environment after having dried them in the dehydrator or oven. Just make sure the herbs are not warm, crumble them and store right away. You can add some rice kernels to your spice jars, the rice will suck in extra humidity.
Global Food Recipes
with Spices and Herbs
Free E-Book available for a limited time. Grab yours now and get instantly inspired!
📖 Recipe
How to dehydrate herbs
Drying herbs is easy, it's all the more convenient with a food dehydrator. Read the whole post for all your drying options.
Print
Pin
Rate
Ingredients
Rosemary Fresh

*see Notes for drying durations

Tarragon Fresh

Oregano Fresh

Savory Herb Fresh

Sage Fresh
Instructions
Rinse your herbs to get rid of impurities.

Shake off excess water, pat completely dry, carefully without damaging the fresh herbs, between two clean kitchen towels.

Place leaves on a dehydrator rack. Spread them out over the racks. Keep one herb variety per rack because some need longer than others to dry.

Stack each rack over each other. Turn on the heat and set to a medium heat setting, 135 – 145 Fahrenheit/ 57- 62 Celsius.

Every herb takes its own time to dry completely. See in the notes for the approximate duration.

When dehydrated, take from racks and wait 5 minutes to reach room temperature. Crumble herb and store in an airtight container until further use.
Notes
These are just a few herbs that I dried in the dehydrator. You can, of course, dry other herbs too. I chose those herbs because I had them growing in our garden and because it's a good variety of herbs. See in the post for a list of culinary herbs.
Duration for each herb in the ingredient list dried (with recommended temperature in the recipe):
rosemary 1 hour
thyme 2-3 hours
tarragon ~3 hours
oregano 2-3 hours
savory 3-4 hours
sage 1 ½ hours