Healthy orange blossom tea to make at home whenever you crave bright mediterranean flavors.
In the last years, I have changed my habits from prepacked tea bags to homemade teas.
The reason for the switch was the fact, that homemade teas are healthier. You know what's in it and that's the case wih this orange blossom tea too!
The herbs and spices are mostly grown in our Gardens, and lucky as I am, we got one on 2 continents.
Yet, my knowledge all around medicinal garden herbs in Europe is of course much bigger, compared to what I know and what I am still learning about the ingredients in India.
One of our absolutely favorite teas for the body and soul is the "Sleepy Tea" prepared with dried Orange Blossom petals.
What are orange blossoms?
You might have heard of Orange Blossoms before and maybe you might remember the strong aroma associated with the blossoms.
I am addicted to the flavor and smell, in fact, it's one of my favorite flower essences.
Orange Blossoms are the parts of an orange tree before the petals turn into fruits.
They are collected and dried in the mediterraneans where they grow in the warm dry climate.
Countries such as Morocco, Algeria, Tunesia Spain, France, Italy and Malta are known for high quality orange flowers.
Health benefits
Something many people don't know is that the flower is widely known to have relaxing properties.
When prepared as a tea, it benefits your health in several ways.
First of all, it relaxes your nerves, meaning it treats anxiety, then to it helps your insomnia problem, it promotes your appetite and it helps against stomach indigestion and upsets.
All those aspects should aid stressed out humans, so to say most of us.
Especially men will see the value of a hot cup of Orange blossoms since many men tend to have digestion and sleeping problems at night.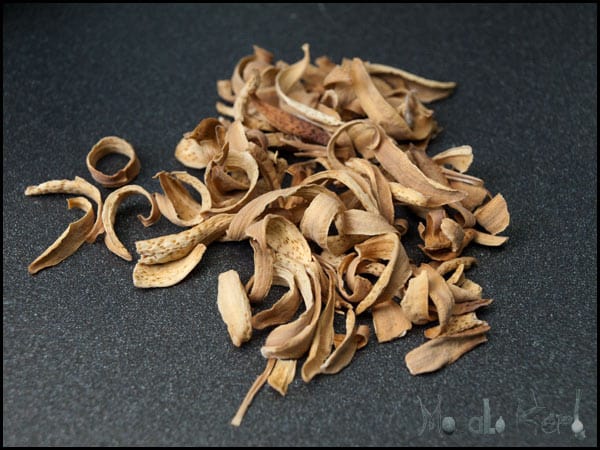 How to infuse with loose tea?
Usually, I am the lazy type of person, that's why I used to buy the ready-made tea bags in my local store.
Fortunately, I got one of those tea infuser balls or spoons and later empty teabags and even reusable cotton teabags.
You add the desired quantity of orange blossom petals or other tea leaves, blossoms, or spices in it, close it, and keep it in the cup to infuse so to prepare a flavorful brew.
Those balls come pretty handy, not only for teas but even while cooking sauces and soups.
After a while, I started to get a different type of dried tea ingredients, besides the fresh ones that were already growing in our garden.
There are uncountable different tea ingredient types, so you might want to check out other health-benefiting teas.
For sure I'll be posting some more useful variations in the future to come, just as I had posted previously the Detox Herbal tea, the Moroccan tea, the Ginger Lemon Honey tea, and the fenugreek tea.
Are loose organic plant parts save for consumption?
You don't' need to feel unsure if you should dare to make your own tea with orange petals and other plant parts
Orange flower blossoms are considered very safe and they contain small quantities of natural sedatives.
Still, if you are not sure, and if you are going through any kind of health condition, you can always consult your apothecary or your doctor.
Please feel free to share your thoughts and ideas with us in the comment section further below!
So you love SPICES and HERBS?
GET 5 FREE SEASONING LESSONS
Type in your email address below.
Including free access to the
Seasoning Members only Club!
Orange Blossom Tea
Healthy orange blossom tea to make at home whenever you crave bright mediterranean flavors.
Print
Pin
Rate
Instructions
Cook water with orange blossom flower petals. OR use place dried blossoms into empty tea bags into a cup and pour hot cooked water over to infuse.

Sweeten with sugar to your liking.
Nutrition
Nutrition Facts
Orange Blossom Tea
Amount Per Serving
Calories 2
Calories from Fat 9
% Daily Value*
Fat 1g2%
Sodium 1mg0%
Carbohydrates 1g0%
Protein 1g2%
Vitamin A 288IU6%
Vitamin C 4mg5%
* Percent Daily Values are based on a 2000 calorie diet.