A wholesome, vibrant chickpea curry prepared with coconut milk and selected spices.
A creamy coconut chickpea curry prepared with wholesome spices. This is a healthy plant-based dinner meal.
Jump to:
Global Food Recipes
with Spices and Herbs
Free E-Book available for a limited time. Grab yours now and get instantly inspired!
📕 What is it?
A Chickpea curry is an Indian inspired, spiced curry prepared with whole cooked chickpeas, spices and coconut milk.
This recipe is based on the Indian Chole Masala/ Chana Masala. It's not an authentic Indian recipe, but rather a modern Indian influenced dish.
Chickpeas are also known as Garbanzo beans in English.
🧅 Ingredients
This recipe is for you if you are getting into Indian food. You will love the flavors if you have eaten Indian food in Western countries.
Here is an overview of what you will need to help you get going. The detailed US and metric measurements are located in the recipe card, further below.
Onion - purple or white, I prefer the former.
Garlic - fresh or paste
Ginger - fresh or paste (see handy DIY combination ginger garlic paste)
Tomato - fresh
Tomato Puree
Oil - vegetable, sunflower, coconut oil or try mustard oil for more flavor.
Chickpeas - either from scratch soaked and boiled chickpeas or canned chickpeas.
Black Pepper - ground
Chili Pepper - ground, you may use hot cayenne or mild deep red Kashmiri chili pepper.
Turmeric - ground
Cumin - ground
Coriander Seeds - ground
Coconut Milk
Garam Masala - that's a spice blend mainly used to season vegetables. You get it in most stores or make it from scratch. Most homes in India have their own Garam Masala version.
Salt
Cilantro - fresh to garnish
🥣 Adaptations
You can pimp up your Chickpea curry by adding veggies and other ingredients. Add a handful or little more to your chickpea curry.
Here are some ideas that will help you to get inspired.
Cauliflower
Broccoli
Potato
Green Peas
Eggplant (aka Aubergine)
Sweet Potato
Squash (i.e. Zucchini Courgette or Butternut Squash)
Pumpkin
Spinach
Kale
Mustard Greens
Gourde - Indian vegetables such as snake gourd, bottle gourd or ridge gourd.
Drumstick - an Indian vegetable also known as Moringa Pod
Paneer (Indian Cottage Cheese)
Tofu
Shrimp (aka Prawns)
Mushroom
Lamb - meats turn it into a hearty meal
Beef
Chicken
Red Lentils (aka Masoor)
Kidney Beans or Red Beans
Peach or Mango purée to add sweetness
🔪 How to make it?
This curry is a one pot dinner meal. It comes together effortlessly, and you will have fun preparing it!
Step 1
Prepare and cut all fresh ingredients. Keep cooked chickpeas ready too.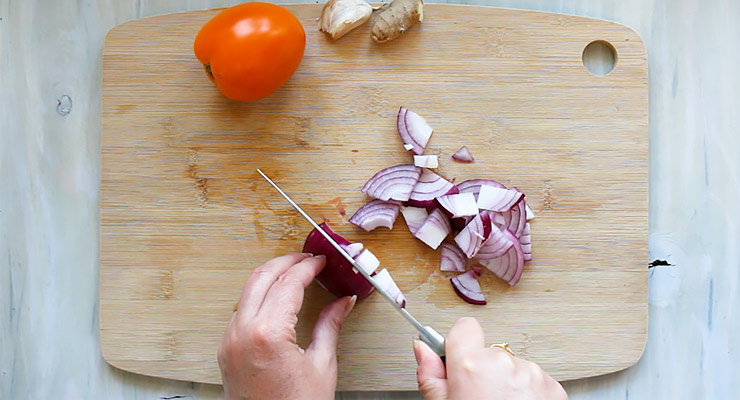 Step 2
Sauté onion, ginger, garlic, tomato.
Stir in chickpeas, spices and coconut milk.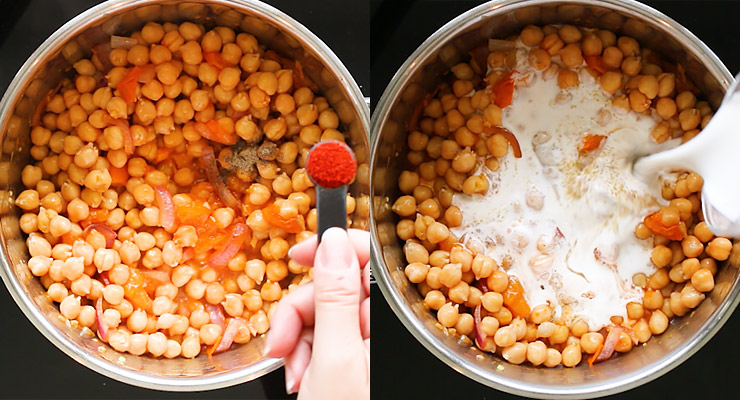 Step 3
Cook for about 20-30 minutes covered, or until you are satisfied with the flavors and consistency.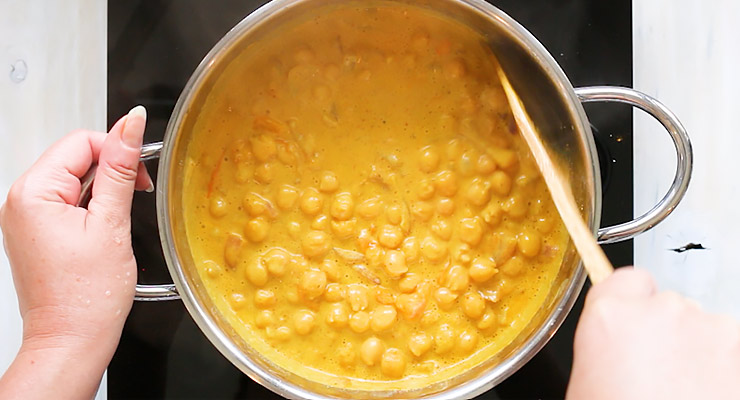 🍴 Serving
This vegan curry goes really well with plain cooked rice.
Currently, I'm in love with brown rice, because it's more nutritious and keeps me full longer. That means I don't feel hungry so soon again. Many brown rice variations exist out there.
If you like Indian flat breads, then plain rotis or ghee chapati/ parathas make a great curry addition. Indian nan, a northern Indian flat bread, can be served with this curry too.
Otherwise, I also recommend whole wheat bread such as spelt flour bread with nutritious tasty seeds. If you are into comfort food, you can prepare quick garlic bread too.
If you are into chutneys and pickles, I recommend that you add a small quantity of that too. They add an element of tartness to your meal. My latest favorite is a red currant chutney.
🍱 Storing
This curry keeps well in the fridge for at least a week.
Store your leftovers or meal prep your chickpea curry in rectangular or square glass jars.
They come with a sealable airtight lid, which you can remove, to reheat your curry in the oven or microwave.
That way, you are less likely to transfer your meal to different containers, which will save you time.
The glass containers also look great in your fridge, and you are less likely to forget your leftovers in your fridge.
You get these glass containers in IKEA or on Amazon.
This curry is also freezer-friendly!
💭 FAQs
How to use dried chickpeas to make this dish?
Dried chickpeas need to be soaked overnight in water to soften. Then the chickpeas need to be boiled soft. The easiest way to do this is with the help of a pressure cooker. Dried chickpeas are a great choice if you are looking for a budget-friendly recipe option, and this is also your choice if you want to avoid artificial preservatives. The con is, that dried soaked chickpeas take forever to cook through (min 30 mins with a pressure cooker). You can also use canned chickpeas instead of dried chickpeas, and they are convenient and already soft out of the can, but they contain preservatives.
Is this curry spicy hot?
This chickpea curry is a well-balanced meal, it's not overly spicy hot due to the choice of seasoning and the coconut milk tones it down and adds some sweetness as well.
Is this curry good for weight loss?
Absolutely! The combined ingredients used in this curry will help you to stay full longer. That means you won't crave food soon again. Just keep in mind that the portion size is important when you are trying to lose weight. Coconut milk contains healthy fats, which your body requires to function properly.
Can babies eat this chickpea curry?
If the baby is in food eating age, then yes, but I recommend reducing the quantity of some spices so that your child gets used to eat spices, a step at a time. Furthermore, omit chili pepper powder altogether when preparing this chickpea curry for your baby and you.
Can I use curry powder instead of garam masala to make this?
Yes, you can use curry powder instead of garam masala, but your curry will taste differently.
What are Chickpeas called in India?
India is a country of many languages and scripts. Hindi and English are the main languages. In Hindi, chickpeas are known as chana. In Punjabi, they are known as chole.
👁️ Indian Curry Recipe Ideas
Global Food Recipes
with Spices and Herbs
Free E-Book available for a limited time. Grab yours now and get instantly inspired!
📖 Recipe
Creamy Coconut Chickpea Curry Recipe
A wholesome, vibrant chickpea curry prepared with coconut milk and selected spices.
Print
Pin
Rate
Instructions
Prepare your fresh ingredients. Slice onion, chop garlic and ginger (or even better grate ginger), dice your tomato.

1 Onion,

2 Pieces Garlic Cloves,

1 Inch Ginger Fresh,

1 Tomato

Heat up a medium-sized pot with oil and sauté onion slices until they have softened. Cook on a medium to low heat setting.

1 Onion,

1 Tablespoon Oil

Stir in ginger and garlic and sauté over a medium heat setting.

2 Pieces Garlic Cloves,

1 Inch Ginger Fresh

Then add your tomato pieces and tomato purée. Mix it all in and keep over a medium to low-heat setting.

1 Tomato,

2 Tablespoon Tomato Sauce

Continue to add in ingredients and reduce the heat setting to low. Stir in chickpeas and spices, including the black pepper, cayenne pepper, turmeric powder, ground cumin, ground coriander seeds and garam masala.

1 Can Chickpeas,

¼ Teaspoon Black Pepper Ground,

½ Teaspoon Cayenne Pepper Ground,

1 Teaspoon Turmeric,

1 Teaspoon Cumin Seeds Ground,

1 Teaspoon Coriander Seeds Ground,

1 Tablespoon Garam Masala

Pour in Coconut Milk and mix it all in. Increase heat to medium.

Cook your curry covered for about 20 minutes over a low to medium heat setting so that the ingredients get cooked through and the curry gains on flavor.

Season with salt at the end (optional) and serve up hot with rice or flat bread.
Notes
1 can chickpeas = 16.9 oz/480grams. You can use dried and boiled chickpeas too. In that case, weigh your chickpeas once they are boiled.
Adding salt is optional and you might not need it.
Nutrition
Nutrition Facts
Creamy Coconut Chickpea Curry Recipe
Amount Per Serving
Calories 201
Calories from Fat 117
% Daily Value*
Fat 13g20%
Sodium 13mg1%
Potassium 394mg11%
Carbohydrates 21g7%
Protein 3g6%
Vitamin A 818IU16%
Vitamin C 16mg19%
Calcium 146mg15%
Iron 2mg11%
* Percent Daily Values are based on a 2000 calorie diet.