A comforting and bright-colored shrimp curry prepared with coconut milk.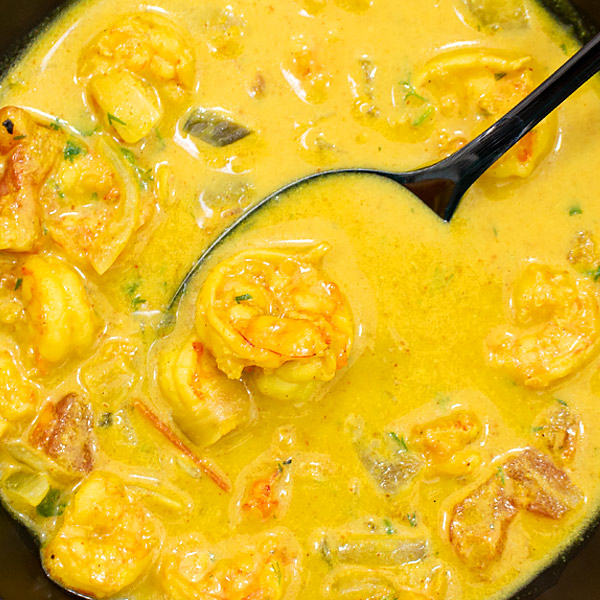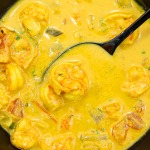 This is a simple wholesome one-pot Indian-inspired shrimp curry prepared with coconut milk and spices.
It resembles the Goan shrimp curry (aka prawn curry) and the Thai shrimp curry but it's a curry in a hurry!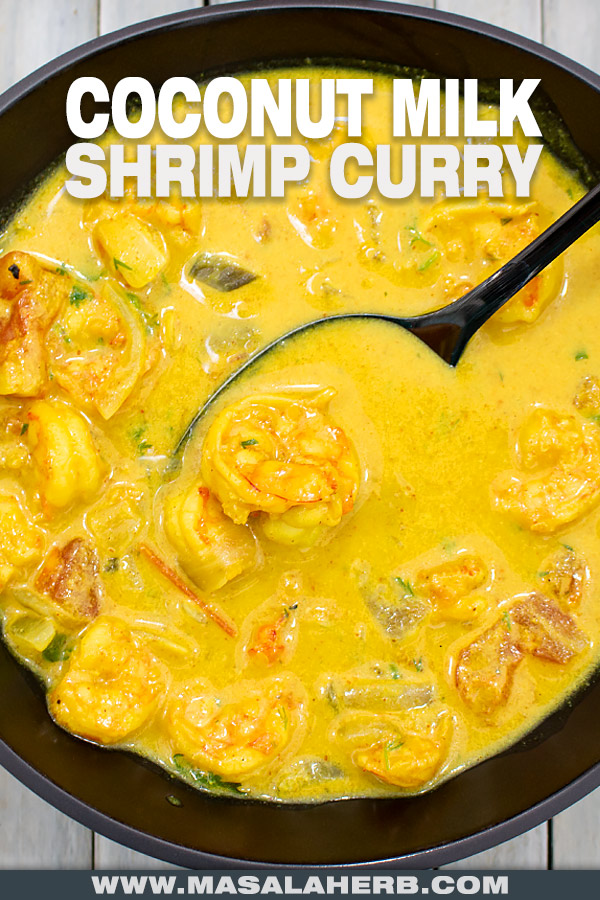 Global Food Recipes
with Spices and Herbs
Free E-Book available for a limited time. Grab yours now and get instantly inspired!
Jump to:
🍤 Ingredients
This is what you need to make this seafood curry. Full details in the recipe card further below.
onion - medium sized or two small
tomato - medium sized or two small
cilantro - aka fresh coriander
oil - any vegetable oil. You can use coconut oil too.
ginger and garlic - ginger garlic paste can be made at home or you can get it in stores too. OR grated or finely chop ginger and garlic, the ratio is always 1:2 Ginger:Garlic.
shrimp - small, medium or large shrimps. Fresh is preferred but you can use boiled ones too. They should be without tails!
salt (optional) and black pepper
turmeric - usually dried one but if you have fresh turmeric roots, than youcan use that too finely grated or chopped in.
chili pepper ground - choose if you want some heat or not. Use Cayenne for hot, ground Kashmiri pepper for a moderate heat lending a red shade to the dish or a soft sweet paprika powder.
cinnamon ground
coriander seeds ground
cumin ground
broth - vegetable broth or seafood stock. You can also use lobster stock!
coconut milk - can be canned store bought or homemade coconut milk
lime - the juice form a fresh lime. You can substitute with lemon too.
🔪 How to make it?
Here is an overview of how to make this from scratch. The full recipe is located in the recipe card and comes with US and metric measurements.
Step 1
Prep and cut onion, tomato, and cilantro and keep cleaned shrimp at the side.
Sauté onion slices, tomato dice, and ginger garlic.
Step 2
Stir in raw shrimps, spices, broth, and coconut milk.
Mix together.
Step 3
Simmer your curry covered for about 15 minutes so that the flavors can develop.
Take from the heat at the end and stir in lime juice and fresh cilantro, before serving up hot.
🍴 Serving
A classic way to serve your homemade coconut milk shrimp curry is with boiled or steamed rice.
Some other rice sides dishes to serve along:
Yet, you can choose to have this curry with just bread. I love it with plain bread rolls or Indian roti flatbread.
An Indian nan bread can be served with it as well or any other plain flavored Indian flatbread.
Another unconventional way to serve up your shrimp curry is with other side dishes such as ebly wheat berries, grits, or polenta.
🍱 Storing
Store your leftovers in an airtight container in your fridge for up to 3-4 days.
Reheat your shrimp curry gradually over the stovetop, microwave, or in the oven.
I like to reheat mine in the oven in glass storage containers. Easy to move from fridge to oven, as you don't have to transfer the curry from one container to the other.
The curry gains on flavor when reheated and slightly reduced, so leftovers are welcome here!
You can also freezer your curry with shrimps in batches.
To thaw, keep in your fridge overnight or reheat from the frozen state if you are in a hurry. Reheating frozen shrimps in your curry directly without thawing first, may result in dry shrimps.
💭 FAQs
Why is my coconut curry curdling?
Coconut milk will curdle if you heat it up too much and too fast. Control your heat to avoid curdling. Also, adding acidity such as lime or lemon juice when the curry is boiling can curdle it as well. It doesn't look that great as when you have uncurdled curry, but it still tastes the same way, so theoretically there is nothing wrong with your curry if you spot some curdles.
Can I substitute coconut milk in this recipe?
Yes, you can use heavy cream, table cream, or half and half (depending on the consistency) to make this curry without coconut milk. Using other vegan milk options instead of coconut milk, such as almond milk, may result in a watery curry.
How to thicken this curry more?
You can either leave it to simmer slowly over a longer period of time until you are satisfied with the consistency OR you can mix 1 tablespoon of coconut flour with water to create a slurry and to mix into the curry. The slurry thickens the curry too.
What are the dietary plus points of this curry?
This shrimp curry is low carb/keto and suitable for diabetics as it doesn't contain added sugars. It's a nutritious dish, stuffed with health benefitting spices, protein-rich shrimps, and healthier fats from coconut milk.
Global Food Recipes
with Spices and Herbs
Free E-Book available for a limited time. Grab yours now and get instantly inspired!
📖 Recipe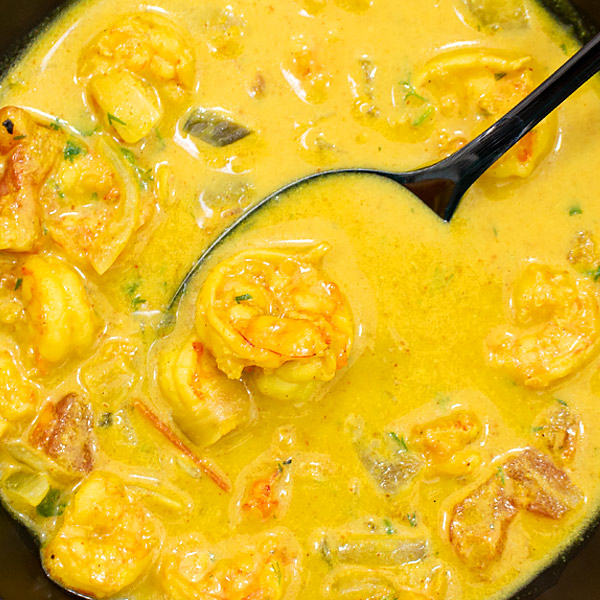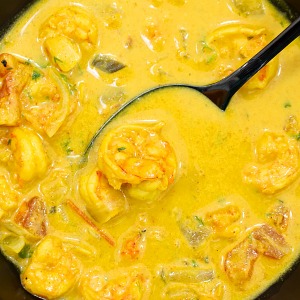 Coconut Milk Shrimp Curry Recipe
A comforting and bright-colored shrimp curry prepared with coconut milk.
Print
Pin
Rate
Ingredients
Prep and cut fresh ingredients
Instructions
Slice onion, dice tomato and chop fresh cilantro (coriander). Keep aside with the cleaned shrimps.

1 Medium Onion,

1 Medium Tomato,

1 Tablespoon Cilantro Fresh

Heat up a pan with the oil and saute onion first alone over a medium heat setting until they appear soft.

Stir in diced tomato and ginger garlic. Combine and stir cook for a minute or. Keep on a medium to high heat setting.

1 Tablespoon Ginger + Garlic

Reduce the heat to a minimum and make some space at the center of your pan. Stir in shrimp.

Add all the seasoning and spices. Salt, black pepper, turmeric, chili pepper, cinnamon, coriander seeds ground, and cumin ground.

1 Teaspoon Turmeric,

¼ Teaspoon Salt,

¼ Teaspoon Black Pepper Ground,

½ Teaspoon Red Chili Pepper,

½ Teaspoon Cinnamon Ground,

1 Teaspoon Coriander Seeds Ground,

1 Teaspoon Cumin Seeds Ground

Increase the heat setting to medium and combine all the ingredients. Stir cook for a minute.

Pour in broth and coconut milk. Mix everything well.

1 Cup Broth,

1 Cup Coconut Milk

Close curry with a cover and simmer over a slow to medium heating for about 15-20 minutes. Control heat, don't allow a rolling boil because the coconut milk could curdle.

When you are done with the cooking, take your curry from the heat and pour in lime juice and add the fresh chopped cilantro. Mit it up.

Juice of ½ lime,

1 Tablespoon Cilantro Fresh
Notes
Use Ginger garlic paste or finely grated or chopped ginger and garlic. The ratio is 1:2 Ginger:Garlic and 3 servings require 1 tablespoon ginger and garlic combined.
The shrimp size indicated as medium is for the 20-25 shrimps, which is required to serve about 3 people. If you use smaller shrimps, add more. If you use larger shrimps use fewer shrimps. You can also weigh your shrimps to be more exact. See metric measurement. 240 grams =8.5 ounces.
Turmeric is also known as Curcuma. You can use standard ground and dried turmeric OR fresh turmeric root, grated or chopped fine.
Equipment
Wok or Large Deep Pan or Medium Sized Pot
Nutrition
Nutrition Facts
Coconut Milk Shrimp Curry Recipe
Amount Per Serving
Calories 111
Calories from Fat 63
% Daily Value*
Fat 7g11%
Cholesterol 101mg34%
Sodium 224mg9%
Potassium 263mg8%
Carbohydrates 10g3%
Protein 3g6%
Vitamin A 370IU7%
Vitamin C 10mg12%
Calcium 65mg7%
Iron 1mg6%
* Percent Daily Values are based on a 2000 calorie diet.