3 ingredients to make this famouse indian roti bread. The most basic flatbread to go with your Indian food.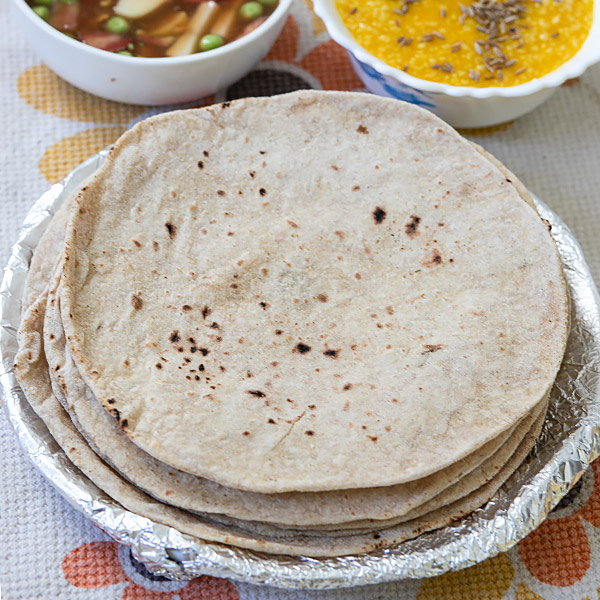 The Indian roti, which is also known as chapati, is a delicious but simple put-together soft flatbread prepared with whole wheat flour.
Global Food Recipes
with Spices and Herbs
Free E-Book available for a limited time. Grab yours now and get instantly inspired!
Jump to:
📕 What is a Roti?
A roti is a round Indian flatbread, which can be compared to wheat tortillas.
Every family household in the Indian subcontinent prepares a batch of fresh rotis every single day.
The whole wheat flour used is known as atta or simply roti flour.
They prepare the dough, leave the dough to rest, roll out the balls and cook the bread on a flat pan known as a tawa pan in India.
Roti is a staple daily flat bread in the Indian subcontinent.
Normally the task of making the roti is given to the women of the house, and the ladies cook the flatbreads in the early morning hours when it is still dark outside.
Depending on the household, the wholewheat dough is prepared at times the previous evening.
📜 Chapati vs Roti vs Phulka vs Paratha vs Nan
In India, flatbreads have at times different names, depending on the region and it can get confusing!
So, chapati, roti, and phulka are the same thing, a plain flatbread prepared with wholewheat flour or local millet flours. Sometimes all-purpose flour is added.
However, a flatbread with ghee is also a chapati in Goa, and up in the North chapati with ghee (clarified butter) are better known as a paratha/parantha.
Yet, a paratha can be prepared with all-purpose flour or whole wheat flour and they can also be stuffed with ground beef, potatoes, or veggies.
Variations of parathas such as the Kerala Lachha paratha exist. Here the dough is shaped and rolled into a snail shape.
Chapati, Roti, Phulka, and Paratha are rolled-out doughs and cooked on the stovetop on a so-called tawa (disk-shaped flat pan).
A nan is a stretched-out all-purpose flour flatbread that is leavened with egg or in modern recipes with yeast.
Often while nan bread includes milk too and is basted with butter and fresh chopped garlic.
Nans are typically cooked in a tandoori oven and never on the stove top (only in modern recipes). They are a specialty from the Punjab region up in the North.
In some regions in India, you will see more variations of flatbread.
Millet varieties were traditionally used as the main ingredient to make Indian flatbread. Those, unfortunately, lost on importance due to the Indian food security program.
🧅 Ingredients
The most basic roti is prepared with just 3 inrgedients. It's a poor mans food and a fixed staple.
In India, they use mainly darker shaded whole wheat flour but some people like to mix in all-purpose flour to make the flatbread appear whiter.
Indian whole wheat flour is called atta and all-purpose flour is known as maida. It's different to the western whole wheat flour. Indian atta is finer ground.
Yet, you can just use the regular whole wheat flour that you get in your grocery store and you can mix in some white all-purpose flour.
Adding white flour can help if you are a beginner because the gluten in the flour helps in stretching out the flatbread. It's more elastic that way.
Whole wheat flour dough breaks if you are not used to work with it.
You can use a ratio of 2:1, whole wheat : all purpose flour.
🔪 How to make it?
Here is an overview on how to make plain rotis at home from scratch.
The detailed recipe with US and metric measurements is located further below in the printable recipe card.
Step 1
Combine flour and salt.
Make a well in the center and pour in some of the water.
Step 2
Mix the roti ingredients with your hands and add more water as needed.
Work it out and prepare a smooth non-sticky dough.
Allow the dough to rest for 15-30 minutes.
Step 3
Prepare golf ball sized round shapes (all same size) and roll out with a rolling pin to a 3 millimeter or about ⅛ inch thickness.
Step 4
Heat up a flat pan (tawa or crepes style pan) and fry on both sides dry until cooked through.
If you want them to blow up, place them into an open fire.
💡 Tips
Add little oil to your dough, this is a trick to make your life easier and should help you to create soft roti.
Use quality fine ground whole wheat flour. Try to get Indian whole wheat flour, aka atta, as it's more suitable for Indian flatbreads.
Add enough water to the dough so that it's not dry. Adjust the liquids. You will notice that sometimes the quantity of liquid depends on the weather in your part of the world because your flour gets affected by humidity in the air and sucks in water. Wet weather means, add a few drops less water. In a dry climate, I often noticed that I needed little extra water than described in a recipe. Use your judgment. The dough should not be too dry, nor should it be sticky. Adjust with a small quantity of flour and water until you got it right!
Try using lukewarm water for better results. If you struggle a lot try using milk or buttermilk, instead of water. That will get you 100% soft roti but that's not the traditional way and the chapatis will taste different too.
Work out your dough until you have a smooth and soft dough that is not sticky. It's important that you work out your dough first and then a second time shortly just before rolling out again.
Let your dough rest at least 15 mins after having worked it out the first time. For the best result let it rest overnight.
Roll out your flatbread evenly, not too thin, nor too thick. 3 mm or 0.11 inch is the rule. when rolled out too thin your iti tends to get harder whilst cooking. Also, don't add too much flour while rolling out the dough, just enough so that it doesn't stick. Flour literally sucks out the water from the chapati and it can turn out more dry and hard.
Use a good non-stick tawa griddle, which heats up evenly. Don't try it out for the first time with a regular sticky griddle. You will have a hard time and your chapati will get black and burn on some spots while remaining uncooked in other places. For example, I tried making roti once with a traditional clay griddle. It was a sticky horror.
Dust your rolled-out Indian bread before cooking it to get rid of excess flour which can burn on the griddle and turn your bread harder. To dust, just slap the roti between your wet palms. Fun fact, the word chapati comes from chapat, which means to slap.
Heat up your pan before placing the first roti into the griddle pan. Always cook with high heat only on all sides for a short time. never cook on slow heat, or else it will get chewy.
🍴 Serving ideas
Roti is the simplest bread in the world and the humble flatbread can be used in so many ways with your food.
It's an essential in your Indian food repertoire.
You can use the flatbread to spoon up Indian curries or you can simply transform it into a wrap or in India they would call them stuffed chapati rolls.
You can also drop some ghee over the still warm, freshly prepared, roti during serving time.
🍱 Storing
Store your cooked rotis in an insulated container so that they stay warm and soft.
Those containers are common in the Indian subcontinent but not so in the West.
💭 FAQs
Why is my dough sticky?
When preparing the roti recipe, you might have added a little more water than needed.
A quick fix for that is to add small quantities of flours to the dough while working out the dough further until you get a smooth dough.
How to make a round shaped roti?
When rolling out the dough keep enough flour under your flatbread, but not too much either, just enough to not stick. Use a small rolling pin too. If you are new to this, just roll out the dough a little and turn it each time so that you slowly have a round circle-shaped. In time you get the hang of this and eventually you will see that when rolling out the flatbread dough with some flour underneath, that the roti circle starts to move a little always towards the right. And so you can create effortlessly round shapes.
Why does a roti puff and how to puff it?
You will have noticed that roti is often seen and presented puffed/fluffed, stuffed with hot air when freshly prepared. When working out, the dough layers are formed in-between and so the heat of a naked flame creates hot air which makes the chapati puff. A roti doesn't puff on a tawa pan. If you want to puff up your flatbread like a balloon, then cook it first on both sides, and at the end drag the flatbread on a raw gas flame until it puffs but be careful that the bread doesn't get burned. That will create the balloon effect. This works with plain rotis only.
Why didn't my roti puff?
The main reason why it didn't puff it's because it wasn't rolled out evenly. Also, when it's too dry or hard it won't puff.
Global Food Recipes
with Spices and Herbs
Free E-Book available for a limited time. Grab yours now and get instantly inspired!
📖 Recipe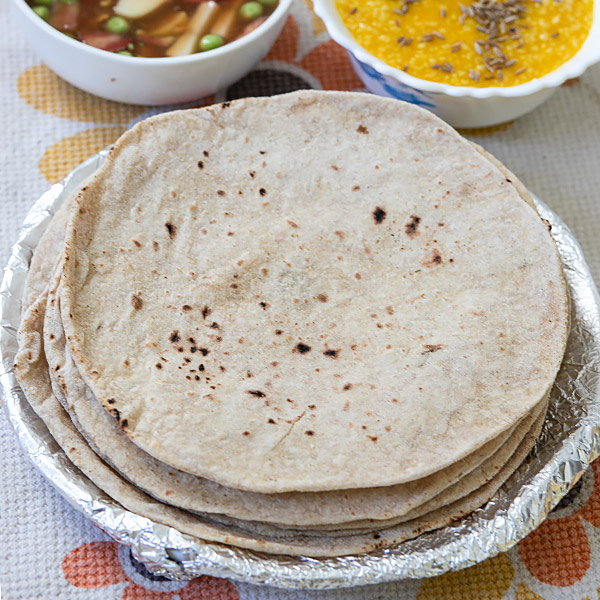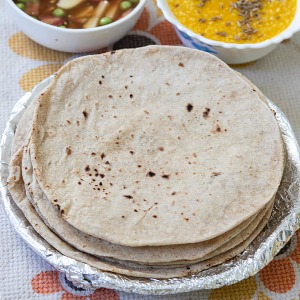 Indian Roti Flatbread Recipe
3 ingredients to make this famouse indian roti bread. The most basic flatbread to go with your Indian food.
Print
Pin
Rate
Servings:
12
rotis (smaller size)
Ingredients
2

cups

Indian Whole Wheat Flour

called atta, *see Notes

Salt

pinch

½

cup + 1½ Tbsp

Water

adjust as needed, this is an approximate
Instructions
Make a well in the center and pour in some of the water.

With your hand, start to mix it all together. Add some more water and combine further. The dough will start to stick and come together.

Add only as much water as needed. You might need more or less (depends on the flour). The dough should be non-sticky but not dry. It should be elastic, smooth and firm.

Allow the dough to rest. Cover with some flour and a kitchen towel. Leave to rest for about 15 to 30 minutes. That way your dough will be easier to work with later.

Knead your dough on a lightly floured surface for a minute or so. Prepare golf ball sized batches. Roll each into a smoot ball with the palm of your hand.

Lightly flour your working surface and roll out each roti ball. Roll out evenely in a circular motion so that the rotiturns out round. It should be not thinner or thicker than 3 mm (⅛ inch) and roll out evenly.

Let them rest again for a few minutes or until the pan it hot

In the meanwhile heat up a tawa grill (flat crepes like pan) and wait for it to be hot.

Take a roti in your hand and slap it between your palms to get rid of extra flour. Dust it that way or else the extra flour will burn on the pan.

Place the roti on the hot tawa and dry cook on both sides, each side for about 30 seconds, or until you can see brown spots and it looks cooked.

If you want it to puff, take the cooked roti and place on an open flame until it puffs up. Be careful not to burn anything when you do this. You might need to practise.
Notes
As a substitute to Indian whole wheat atta flour use regular whole wheat flour.
You may use some all-purpose flour too. In that case keep a ratio of 2:1 whole wheat: all-purpose flour. It's easier for beginners to add all-purpose flour.
See post for tips.
Nutrition
Nutrition Facts
Indian Roti Flatbread Recipe
Amount Per Serving
Calories 68
Calories from Fat 9
% Daily Value*
Fat 1g2%
Sodium 1mg0%
Potassium 73mg2%
Carbohydrates 14g5%
Protein 3g6%
Vitamin A 2IU0%
Calcium 7mg1%
Iron 1mg6%
* Percent Daily Values are based on a 2000 calorie diet.
The pictures were taken by Teena Khan for Masala Herb.