Spiced red currant chutney. This is a savory preserve.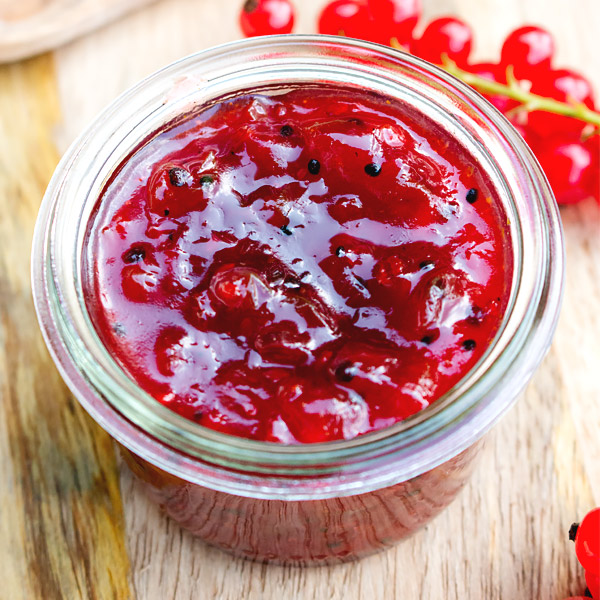 Red currant chutney is a savory vibrant berry preserve.
It's tart, sweet, zesty, and full of flavors!
Global Food Recipes
with Spices and Herbs
Free E-Book available for a limited time. Grab yours now and get instantly inspired!
Jump to:
📕 What is it?
Chutneys are savory preserves. They originated in India, yet evolved to something else in the West.
Traditional Indian chutneys are spiced sauces, served with a snack or dosa.
Western chutneys resemble jams and relish, but they are savory and include Indian spices and vinegar to help preserve the chutney.
So this, red currant chutney, is a recipe that I made up, but which was inspired by some of the Indian chutneys and European jams. It's like a cross between the two!
Red currants are sour ruby red berries that start to ripen end of June and July.
If you like red currants then check out our red currant jelly.
🧅 Ingredients
Full recipe in the recipe card further below.
Main ingredients:
red currants - fresh or frozen berries without the green parts
sugar - any, helps to preserve.
onion - yellow or purple
ginger and garlic - fresh, also helps to preserve
vinegar - any that you like and use
oil - vegetable oil, or rapeseed or canola, or sunflower.
Lemon peel or lemon zest - must be untreated (no pesticides)
But the real flavor givers are the spices!
For the seasoning
salt and black pepper
chili pepper - fresh or dried, I used peri peri chili but you can use any that you like and get
cinnamon - stick or ground
mustard seeds - black or brown/red
cumin powder
coriander powder
star anis - just a corner
The combination of these spices makes this chutney so unique. Every spice elevates the taste of the red currants. And they also help in preserving the chutney.
The sugar balanced the flavors and makes sure that the chutney will last for weeks and months.
The vinegar is also a preservative and the onion lends the chutney an unmistakable savory touch.
🔪 How to make it?
Step 1
Prep ingredients.
Chop onion, garlic, ginger. Peel Lemon.
Step 2
Temper mustard seeds and chili pepper, saute onion, garlic ginger.
Add fruit with sugar and remaining spices and vinegar.
Step 3
Cook down chutney and stir occasionally.
Cook to desired consistency, take out whole spices, and pour in a jar when done to store.
🍴 Uses
We use our red currant chutney just like we use lingonberry jam, we serve it with meats.
For example, schnitzel, steak, pork roast to just give you an idea.
The tart spiced flavors make it a great addition served like a thick fruity and chunky sauce with most main course meals.
I also think that it works great served along with a cheese or charcuterie board.
Or think of using it instead of fig jam in the beautiful baked brie appetizer.
🍱 Storing
Store your chutney in clean sterilized jars and lock with a clean lid.
Pour the jam up to the rim so that there is no air trapped between the chutney and the lid.
Close the lids and turn them upside down to create a vacuum. Turn it back face up after a little while.
The fruit chutney is good for at least 10 months if prepared and stored as per instructions.
Keep in the fridge once you opened the jar. Also, please don't eat from the spoon and dip it back into the chutney, this will just reduce the shelflife and mold can grow that way.
💭 FAQs
Will chutney thicken as it cools?
Yes, it will appear liquid when cooking hot Especially red currant sets really well due to the fact that it is rich in natural pectin.
Can chutney be frozen?
You can freeze your chutney in small batches but you don't really need to because it holds really well outside on your shelf if you prepared it the way I explained it.
Global Food Recipes
with Spices and Herbs
Free E-Book available for a limited time. Grab yours now and get instantly inspired!
📖 Recipe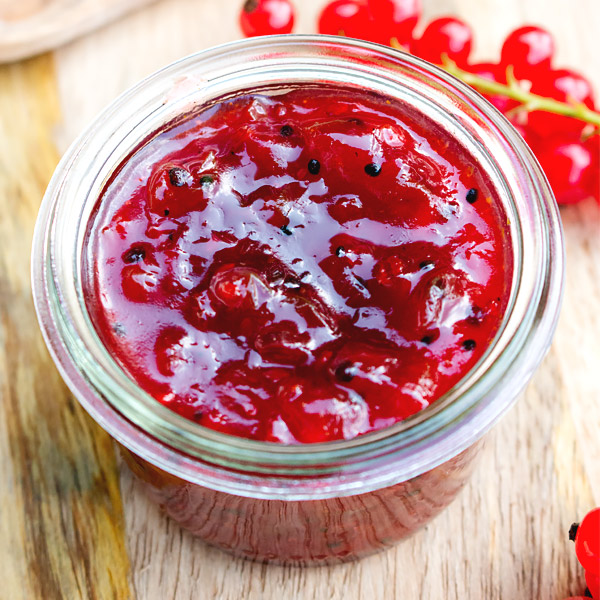 Red Currant Chutney Recipe
Spiced red currant chutney. This is a savory preserve.
Print
Pin
Rate
Servings:
5
mini mold jars
Instructions
Prepare fresh ingredients. chop garlic, chop ginger, and dice onion. Peel lemon.

1 piece Onion,

1 inch Ginger,

1-2 cloves Garlic,

3 slices Lemon Peel

Heat up a saucepan with oil and add mustard seeds and chili pepper. Keep on a lower heat setting to temper spices (that means to fry spices in oil for a short time to release flavors). Careful, mustard seeds jump out. Do that for a minute or so or until you can smell the nutty fragrance of the mustard seeds.

1 Tablespoon Oil,

1 Teaspoon Mustard Seeds,

1-2 piece Red Chili Pepper

Stir in onion and keep over a medium heat setting. Saute onion to soften a bit.

Stir in ginger and garlic, also saute for a minute or so.

1-2 cloves Garlic,

1 inch Ginger

Stir in red currants and sugar. Mix up and keep over a medium heat setting.

1 pound Red Currants,

½ pound Sugar

Season with your spices by adding them all, salt, pepper, cumin, coriander, turmeric, star anise, cinnamon and lemon peel. Also pour in the vinegar.

3 slices Lemon Peel,

½ Teaspoon Salt,

¼ Teaspoon Black Pepper,

½ Teaspoon Cumin ground,

½ Teaspoon Coriander Seeds ground,

½ Teaspoon Turmeric Ground,

1 stick Cinnamon,

1 corner Star Anise,

2 Tablespoon Vinegar

Mix and bring to a rolling boil. Reduce heat and allow your chutney to simmer slowly over a low heat setting so that it can reduce slowly. That way the flavors will develop.

When reduced, take out whole spices and discard them.

Reduce chutney further to desired consistency. You can also check with a thermometer if it is set. 220 Fahrenheit/ 105 Celsius is the setting temperature. Or drop some hot chutney on an ice cold plate, if it runs it is not set.

Pour chutney into clean jars and fill up to the top. Close with lids. If you use jars with a rubber gasket, boil the rubber first in water to kill all the germs.

Store in a cool place away from direct sunlight and humidity. Keep in the fridge once opened.
Notes
Nutrition Serving = 1 small weck jar at 2.7 fl oz/80 ml
Always cook your chutney over a low heat setting after you brought it to a rolling boil because the flavors need to develop. Also, high heat will cause it to jump out and you don't want a sticky mess around, or it will burn.
Equipment
080 Weck Mini mold jars (2.7 oz/80 ml)
Nutrition
Nutrition Facts
Red Currant Chutney Recipe
Amount Per Serving
Calories 275
Calories from Fat 27
% Daily Value*
Fat 3g5%
Sodium 237mg10%
Potassium 344mg10%
Carbohydrates 62g21%
Protein 2g4%
Vitamin A 131IU3%
Vitamin C 53mg64%
Calcium 53mg5%
Iron 2mg11%
* Percent Daily Values are based on a 2000 calorie diet.