Cheesy baked brie with fig jam and walnuts - a delicious appetizer, snack or after meal course idea to entertain guests. Don't tell anyone, I make it sometimes just for myself.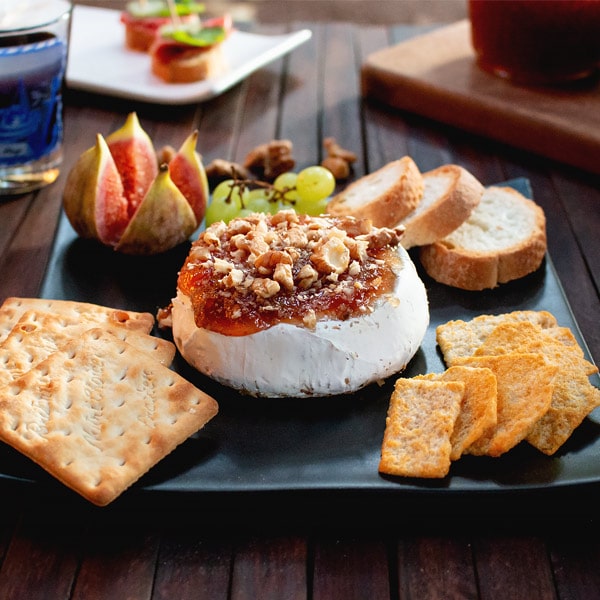 Baked Brie with fig jam is a heavenly delight!
If you haven't tried this appetizer yet, you should now!
Especially if you are a fan of cheese dip with brie and meat charcuterie boards.
Jump to:
What is Brie cheese?
Essentially brie is a soft Cheese variety from the Brie region in France.
Brie resembles the stinky camembert cheese in its creamy texture and shape, but not flavor.
Brie cheese is more subtle in flavor and Brie is not a stinky cheese, which makes it a perfect cheese to dip in your cracker or bread!
President makes excellent commercial Brie cheese.
They are known for their Camembert cheese.
Otherwise, try to get local artisanal handmade brie from quality producers.
For example, I love to get a local brie which includes green pepper seeds.
How to make it?
Preparing and baking the baked brie topped with fig jam will take you only about 12 minutes altogether!
Because of the ease involved in preparing baked brie as an appetizer, it turns into a perfect food dish where you get to spend more time with your guests.
Besides serving the baked brie as an appetizer, I like to serve it after the main course meal, just before the dessert as an extra course.
Step 1
Spread jam over brie cheese and sprinkle nuts over that.
Step 2
Bake cheese for about 10 minutes.
Step 3
Place on a serving plate and arrange dippers around the cheese.
Serve up quickly!
Tips
The trick to baking brie so that it holds its shape is to keep it only for 10-12 minutes in the oven at 180 Celcius/ 350 Fahrenheit.
Don't bake your brie less than 10 minutes because the cheese won't melt and ooze out when you take your first cut.
The whole point of a perfectly baked brie is that the cheese melts on the inside and that the cheese holds its round shape so that your presentation succeeds in front of your guests.
Your brie will lose its shape if you bake your cheese for too long or on a higher heat.
At the same time keep in mind that every oven is a bit different, hence why I mention 10-12 minutes.
So, if you prepare this for the first time, keep an eye on your brie baking in the oven.
Why is it without pastry?
I love baked brie with fig jam but I'm a bit lazy, so I prepare it without pastry, which can be used to wrap around the brie wheel.
This is known as brie en croute.
Essentially I always preferred the taste of baked brie without the puff pastry because I want to enjoy the moment when I cut into the almost "naked" baked brie cheese and the cheese starts to melt out.
It's so satisfying to watch it for a few seconds because then I just can't stop myself anymore and I start to dig in!
At the same time, I tend to serve my baked brie with various cracker and bread and I think with the pastry shell around the baked cheese, it gets too much.
You know what I mean?
I just want to enjoy my cheese, not some baked pie like thing.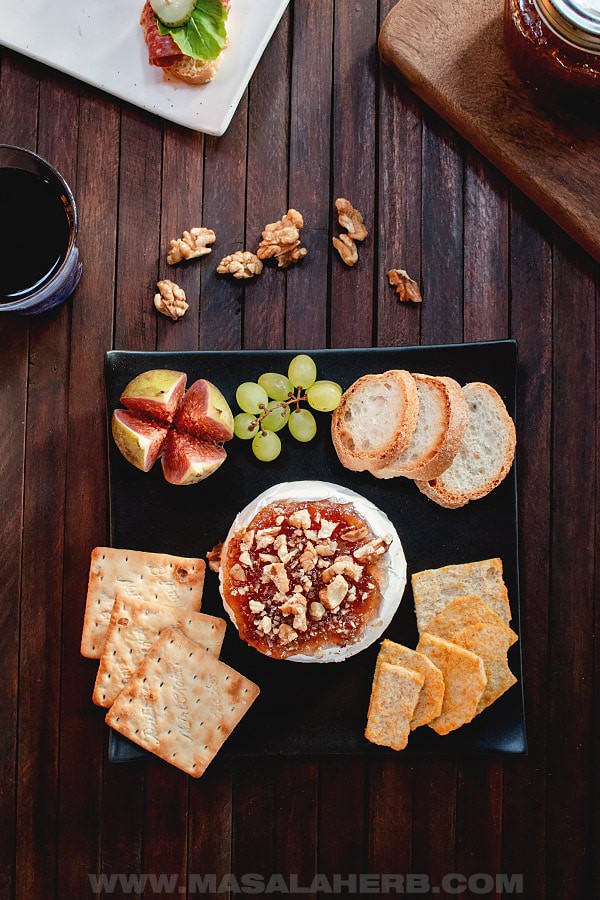 Serving
I absolutely love to serve up brie to my guests as an aperitif or after a main course meal.
What you can do is get a few different dipping options for your baked brie with fig jam because most people like a choice and it's fun to dip different pieces of bread, sticks, and crackers into the cheese.
Dipping options:
baguette bread
crackers
flavored breadsticks
Pita or Taco Chips (I like the jalapeno flavored chips)
Apple Slices - For guests who are into a low-carb and gluten-free diet
Also, I tend to keep fresh fruits around which help in clearing the taste palate. So, I keep fresh grapes and figs at the side as well.
To drink you get to pick a good wine.
I noticed that I enjoy dry red wine with my brie, but feel free to use any other red, white, rose or sweet dessert wine (depending on the occasion).
More Cheesy Appetizer Ideas
Dear Reader, when are you making this baked brie with fig jam and walnuts next?
Global Food Recipes
with Spices and Herbs
Free E-Book available for a limited time. Grab yours now and get instantly inspired!
📖 Recipe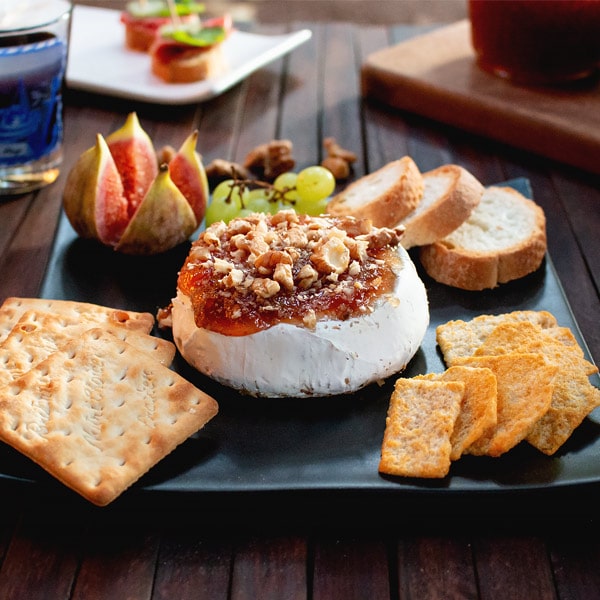 Easy Baked Brie with Fig Jam and Walnuts Recipe
Cheesy baked brie with fig jam and walnuts - a delicious appetizer, snack or after meal course idea to entertain guests. Don't tell anyone, I make it sometimes just for myself.
Print
Pin
Rate
Ingredients
For the Baked Brie
1

wheel

Brie cheese

Walnuts
Serve with:
Crackers

Bread

Pita chips

Apple Slices
Instructions
Preheat your oven to 350 Fahrenheit/ 180 Celcius.

Lay out a baking sheet on the baking tray. Place your whole brie cheese on the baking sheet.

Spread the fig jam over the cheese on top (as shown in the video). Sprinkle some of the lightly crushed walnuts over the fig jam.

Bake the brie with jam and walnuts for about 10 to 12 minutes in the oven.

Take the cheese from the baking sheet and place into a serving tray/plate with the crackers, bread, and fruits.

Cut into the cheese and the inner core will come flowing out.
Nutrition
Nutrition Facts
Easy Baked Brie with Fig Jam and Walnuts Recipe
Amount Per Serving (48 g)
Calories 3
% Daily Value*
Cholesterol 1mg0%
Sodium 6mg0%
* Percent Daily Values are based on a 2000 calorie diet.