My ricotta dip topped with jam. Whip it, bake it and serve it. Easy, tasty and beautiful!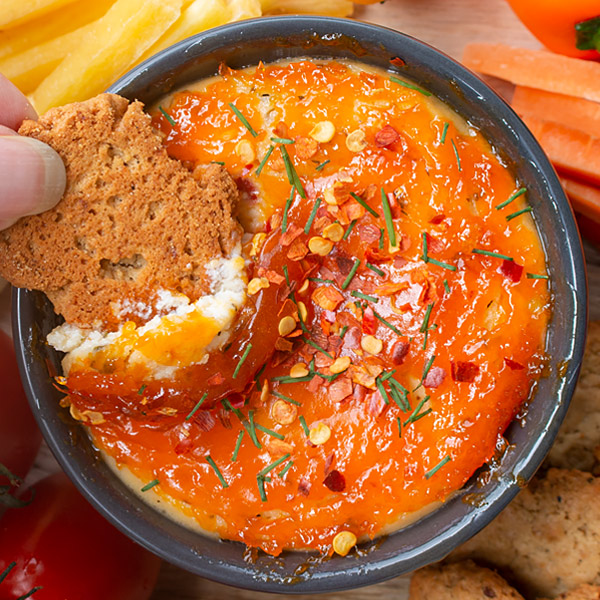 Entertain your guests with this baked ricotta cheese dip.
The dip is enriched with herbs and spices, topped with jam, and baked hot.
Jump to:
I have been trying my hands on different hot cheese dips prepped with a jam topping. This baked ricotta dip was inspired by the baked brie with fig jam appetizer.
📕 What is ricotta?
Ricotta is a grainy soft by-product of cheese making. It's made from the whey that is leftover from making cheese.
This Italian cheese is white and almost odorless and is used extensively in Northern Italian cuisines.
The local varieties in Italy can be made from sheep, goat, or buffalo milk.
Yet, ricotta is popular in the rest of the world too, where it is mainly produced with cow's milk.
This cheese is great as a hot appetizer dip!
🥣 Ingredients
Here is an overview of what you will need to make this easy dip from scratch at home. The US and metric measurements are located in the recipe card below.
For the dip:
egg - it holds the dip together, makes i creamy and adds flavors
ricotta cheese - fresh
salt and black pepper
garlic powder
onion powder
crushed red chili flakes - don't skip that! It compliments the dip and it won't be spicy hot because of the creamy ricotta.
thyme - dried
oregano - dried
jam - I chose apricot jam because that's what I had at home, but you can use fig jam or any other jam too, such as a tomato jam. The orange color of the apricot jam is also appealing to the eye.
Topping:
chives - fresh and chopped small
crushed red chili flakes - some more because it looks great and adds minor heat
This dip is made with dried onion and garlic powder because as a seasoning, they mix better into the mass. I don't recommend using fresh garlic and onion.
🔪 How to make it?
To make the whipped ricotta dip from scratch is easy!
Here is everything you need to know in a nutshell to help you start out. The full progress details are in the printable recipe card at the bottom.
Step 1
Scramble the egg in a bowl.
Stir and mix in ricotta and seasoning ingredients.
Step 2
Pour and spread the ricotta mass between your ramekins.
Top the ricotta with a layer of jam.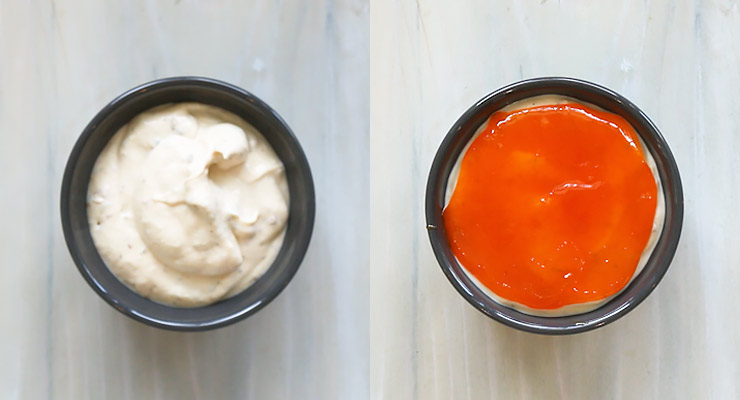 Step 3
Bake the dip.
When done take out and top with freshly chopped chives and some more crushed red chilis.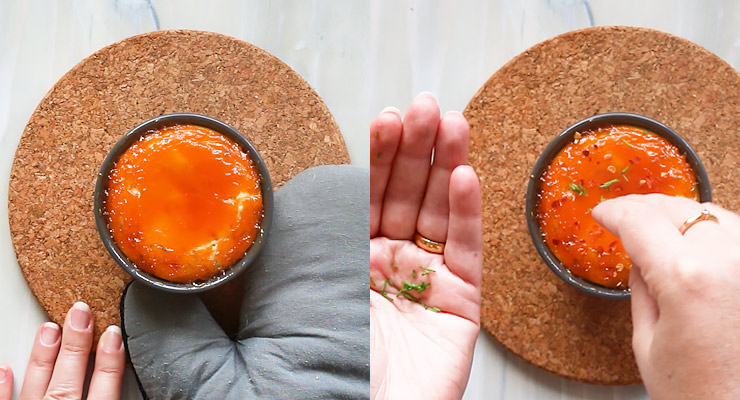 🍴 Serving
I love love love this hot creamy dip with a set of dipping options.
So, you can prepare something like a charcuterie board just with dippers.
Arrange the dippers around the baked ricotta dip and place it in the center of a table so that people can freely take some.
You can add the following dippers:
crackers -ritz crackers, plain ones, flavored whichever savory cracker.
other savory cookies - I used bacon flavored cookies in the images.
grissini breadsticks - they look nice and are elongated, perfect for dipping.
chips - firm hard chips do better. Tortilla chips are great.
jalapenos - fresh chilis if you like it spicy hot.
vegetables - such as fresh cucumbers, carrots, celery stick, peppers, sharp radish and tomatoes. They add a level of freshness to the dip and they balance the appetizer well.
fruits - well why not, right? Fresh grapes and fig make an excellent choice.
Guests love options, so keeping those dippers ready in a bowl or even better laid out on a granite slate to leave a lasting impression.
🍱 Storing
If you have leftovers, you can just keep the dip in the baking dish and place it in the fridge. Just cover it with some foil or clean wrap.
To reheat, place in the oven over a lower heat setting for 5-10 minutes or until it is warm again.
Use up within 2-3 days!
You can also prepare the full dip with the jam on it and freeze the ramekins. Just cover it on top with a clean wrap.
When you are ready to bake the ramekins, just place them frozen into your oven and bake them. Just add a lot more extra time to that so that the dip is properly cooked through, about 15-20 minutes more.
💭 FAQs
Can I make this eggless?
The dip will separate during the baking process if you skip the egg and it might not look that creamy. If you don't care about that, then go ahead and skip adding the egg.
Which ricotta should I use?
Use freshly made ricotta with a more recent Manufacturing date. Ricotta can be made at home too or get it from your local farmer's market for a more quality-rich soft ricotta. I leave you to choose between sheep, goat, cow, or buffalo milk ricotta.
What size ramekin should I use?
Preferably 4 oz/ 120 ml.
Can I use honey, maple syrup, or jelly instead of jam?
Yes, you can, but I haven't tried it. I still think the cheese dip tastes best with jam.
Can I bake this dip and serve it up cold too?
Yes, you can if you don't mind it being room temperature or fridge cold. It just tastes better hot. Also, the dip is soft when hot and gets harder the colder it is.
Is this dip healthy?
Depends on what healthy is to you. It's a protein and fat-rich dip, therefore it is low carb and keto (if you don't count the dippers). It's also a vegetarian dip. To make it vegan, you would have to skip the ricotta with vegan ricotta
Global Food Recipes
with Spices and Herbs
Free E-Book available for a limited time. Grab yours now and get instantly inspired!
📖 Recipe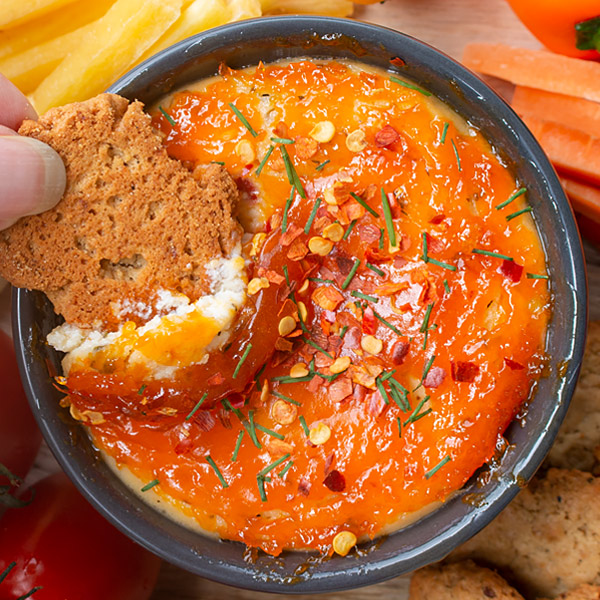 Baked Ricotta Cheese Dip with Jam
My ricotta dip topped with jam. Whip it, bake it and serve it. Easy, tasty and beautiful!
Print
Pin
Rate
Instructions
Preheat your oven to 350. Fahrenheit or 180 Celsius.

Break the egg into a mixing bowl and scramble.

Stir ricotta cheese to that.

Add all the seasoning: salt, black pepper, garlic powder, onion powder, oregano, thyme, and crushed red chili pepper.

½ Teaspoon Salt,

½ Teaspoon Black Pepper Ground,

½ Teaspoon Garlic Powder,

¼ Teaspoon Onion Powder,

½ Teaspoon Red Chili Pepper Flakes,

½ Teaspoon Oregano Dried,

½ Teaspoon Thyme

Mix all the ingredients together and prepare a well-combined mass.

Fill ramekins with the ricotta mass. Don't overfill it, keep some space, or else your dip will overflow.

Spread jam over the dip in the ramekins.

Bake ricotta cheese dip at 350. Fahrenheit or 180 Celsius for about 18 minutes (15-20 mins, depends on your oven).

Top with red crushed chili pepper and cut chives.

½ Teaspoon Red Chili Pepper Flakes,

Chives

Serve up hot with dippers.
Notes
2x ramekins at 4 oz/120 ml for the basic recipe quantity.
1 cup ricotta cheese = 8.8 ounces or 250 grams.
you can use your favorite jam. Apricot, fig, and even my Christmas jam make for a lovely topping
Nutrition
Nutrition Facts
Baked Ricotta Cheese Dip with Jam
Amount Per Serving
Calories 365
Calories from Fat 162
% Daily Value*
Fat 18g28%
Cholesterol 145mg48%
Sodium 738mg31%
Potassium 228mg7%
Carbohydrates 33g11%
Protein 17g34%
Vitamin A 849IU17%
Vitamin C 4mg5%
Calcium 291mg29%
Iron 2mg11%
* Percent Daily Values are based on a 2000 calorie diet.