A ruby red, sweet n easy red currant jelly recipe without pectin. A delicious breakfast hit with butter and bread or gift it to a beloved family member or friend.
Total Time:
1

hour
20

minutes
Cook Time:
1

hour
10

minutes
Jump to Recipe
Red Currant Jelly is a classic jelly that we prepare from scratch every year during the months of June and July in Europe.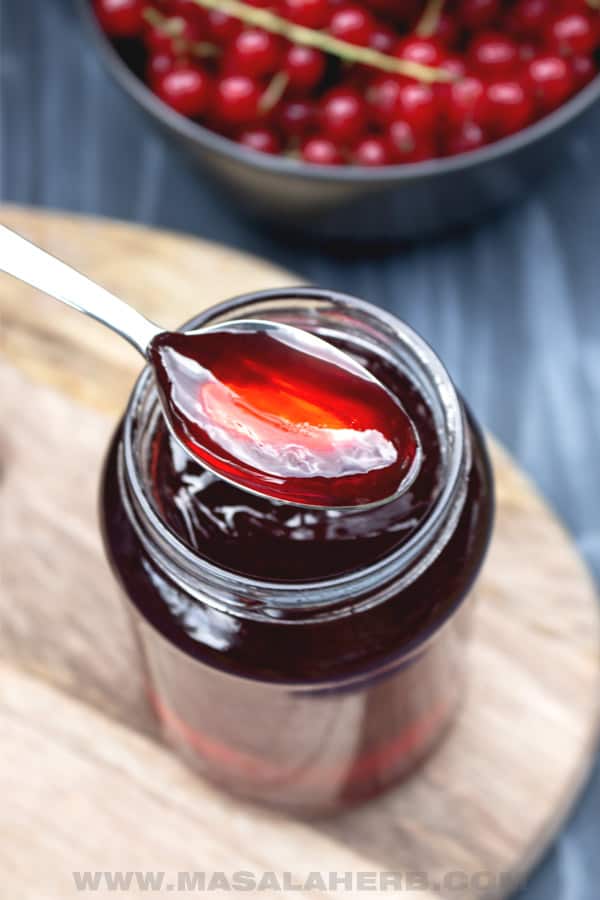 Global Food Recipes
with Spices and Herbs
Free E-Book available for a limited time. Grab yours now and get instantly inspired!
This red currant jelly recipe is without pectin and preservatives, you can make it easily at home with the process shots in the recipe and how to + tips further below.
If you like sweet savory spiced chutneys, then check out my red currant chutney.
Jump to:
📕 What are red currants?
Red Currants (or redcurrants spelled) are ruby red semi-translucent round berries.
The red currants are related to gooseberries and black currants.
Similar varieties are the white albino currants and the jostaberry which is a cross of the red and white currant.
Red Currants grow in cold climates on shrubs and are usually harvested in July.
📜 Are they sour or sweet berries?
The red currants are usually turned into a sweet red currant syrup.
However, there is always enough red currants to prepare this organic red currant jelly recipe from scratch.
Red currants are known to be very sour fruits and they look like gorgeous sparkling ruby red stones.
The moment you crush a berry you realize that the red currants aren't just sour but extremely sour!
Then, of course, it depends where the red currant bush hail from.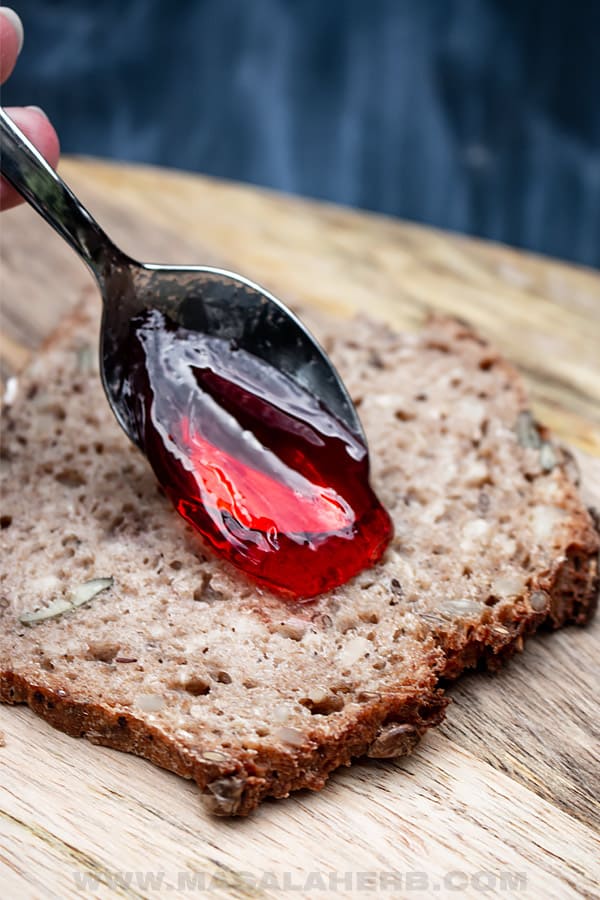 For example, my grandfather and uncles grow red currants in north France.
Somehow those red currants always turn out sweeter in France as compared to the ones growing at 600 m above the sea level in the Austrian Alps.
Also if the red currant bush leaves don't get enough sun due to a heavy rainy spring, the berries tend to turn out more sour.
Besides the number of sun rays that hit the plant, the soil in which the bushes grow also has an impact on the sweetness of the fruits.
Though in general, commercially available red currants do tend to be sweeter.
We also shouldn't forget that sour berries indicate something important!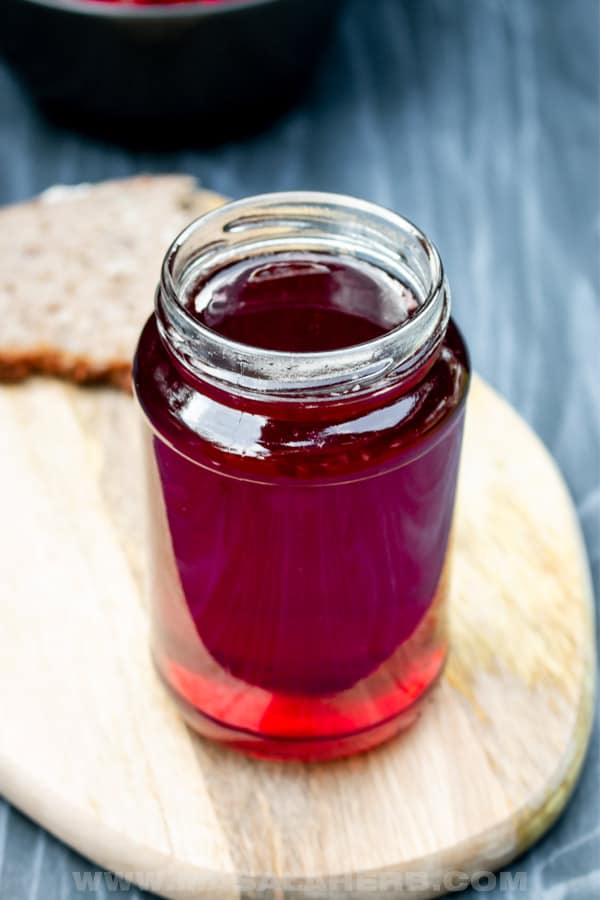 👩🏻‍⚕️ Health benefits
Sour means the berries are filled with nutritious ascorbic acid, better known as Vitamin C, which is an essential Antioxidant.
Antioxidants block damages caused by free radicals which can destroy DNA.
Consider this: The more free radicals the more health problems (cancer) and the faster you will age.
We all have come across these terms, Antioxidants and free radicals over the past couple of years but I noticed often that it isn't always understood by others.
So the knowledge around the topic is limited and people can be easily fooled.
I have a great example: Somebody proclaimed some selected fruits as superfoods, so-called cancer killers, as for example the soursop fruit, Guava and Goji berries to name a few.
The problem with that is that some people take advantage and are selling these so-called superfruits at overpriced rates in the markets to those who are desperate to find a cure for cancer, and that just can't be right.
You see, soursops or guava are not the only fruits rich in vitamin C, there are other fruits such as citrus fruits, red currant, blueberries or lesser-known Indian berries such as the Zunna berry which are also very rich in vitamin C.
These fruits are commonly available, completely normally priced, especially lemons and oranges.
To enjoy our red currants longer, I choose to preserve them.
One of the best ways to indulge in red currants is this red currant jelly recipe.
🫐 Ingredients
The red currant jelly recipe is a family recipe calling for only 3 ingredients.
Also, this red currant jelly is completely pectin-free.
If you want added flavor, then use organic red currants to bring out all the goodness of this gorgeous jelly.
The amount of sugar in the recipe below is normal for making any jam or jelly.
The sugar is required to preserve the jelly well and for a longer period.
If you would reduce the sugar, you would end up with mold on your gorgeous homemade jelly.
You would have to consume the jelly within only a few days.
Commercial jams have chemical preservatives included which makes the jam taste strange and artificial.
Also, these preservatives might not always be good for you.
That is why you need to use plain old regular sugar instead so that the jelly preserves long enough and so that you can retain the natural flavor in the jar.
When you intend to use the jelly, you usually just take a small spoonful on your bread slices, so the jelly will never taste too sweet.
🔪 How to make it?
To prepare this red currant jelly simply follow the steps.
Find the full printable recipe further below with the ingredient and instruction details.
Step 1
Wash your fruits and place the red currants into a pot with water.
Boil until the water is infused with the cooked red currants.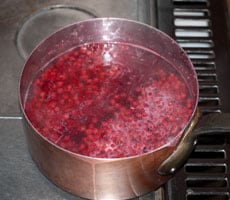 Step 2
Strain to separate the hot red currant water from the fruit pieces.
Discard the fruit pieces.
Cook the red currant water with the sugar.
Step 3
Cook the red currant jelly until it is set.
Test if the jelly is set with a thermometer: 220 Fahrenheit/ 105 Celsius OR test by dropping some hot jelly on an ice-cold plate to see if it's running when cooled down.
Pour the red currant into jam jars when still hot and liquid right after cooking.
🍱 Storing
Store your red currant jelly in a sterilized glass jar locked with a clean lid.
Keep in a cool and dry place away from direct sunlight.
Store in the fridge once opened and consume within months.
🍴 Uses
The homemade redcurrant jelly is great...
as bread spread or with croissant, scones etc. for breakfast
as a doughnut filling
as a cake glaze instead of apricot jam or in tart and pie jellies
in cookies such as Linzer cookies and Thumbprint cookies
served as a sauce with savory meals such as with game, lamb, turkey, veal or with Schnitzel instead of Lingonberry or Cranberry Jam.
👁️ More red currant recipes
Dear Reader, do you grow your own red currant or do you buy them?
Global Food Recipes
with Spices and Herbs
Free E-Book available for a limited time. Grab yours now and get instantly inspired!
📖 Recipe
Red Currant Jelly Recipe
A ruby red, sweet n easy red currant jelly recipe without pectin. A delicious breakfast hit with butter and bread or gift it to a beloved family member or friend.
Print
Pin
Rate
Instructions
Strain the boiled currants. Make sure to squeeze the fruit left overs well so that all the juice comes out. Discard the fruit parts.

Take the strained red currant water back to the heat and add all the sugar.

Mix everything well. Cook your jelly on a low rolling boil and stir occasionally. The cooking and reducing so that the jelly forms, can take around 70-90 minutes.

Remove from the heat and test the jelly by adding some of the hot jelly into an ice-cold plate. The jelly is ready if it's not running, if it's still running it will need more cooking and then repeat the test again. OR test with a candy thermometer. Setting temperature is 105 Celsius/220 Fahrenheit.



Add a few drops of rum into the lid (to kill further bacteria), close the jar with the jelly still hot and turn the jar upside down to create a vacuum. Leave the jelly to cool completely so that it turns from liquid to jelly.

Store in a cool and dry place for up to 10 months. Store in the fridge once the jar has been opened. Makes about 5 jars.
Notes
Use fresh red currants only. The recipe can be use with white currants too.
Use regular sugar, not pectin sugar.
The ratio should be 1:1 red currant water and sugar. So if your red currant water turns out to be less than 1 kg (2.2 pound), adjust the sugar weight to the same weight measurement. example 1 liter (5 cups) extracted red currant water and 1 kilogram (2.2 pounds) sugar.
1 serving = 1 teaspooon, 100 servings = 5 jars
Nutrition
Nutrition Facts
Red Currant Jelly Recipe
Amount Per Serving
Calories 41
Calories from Fat 9
% Daily Value*
Fat 1g2%
Sodium 1mg0%
Potassium 14mg0%
Carbohydrates 11g4%
Protein 1g2%
Vitamin A 5IU0%
Vitamin C 2.1mg3%
Calcium 2mg0%
Iron 0.1mg1%
* Percent Daily Values are based on a 2000 calorie diet.