The best way to use up your fresh red currant + a simple recipe to dry red currants in a dehydrator.
Here are some great recipe ideas to make the most out of your fresh and frozen red currants!
Jump to:
❤️ What are red currants?
Red currants are ruby red berries that grow on a strand together. They ripen in the summer months, from June to July, making them super seasonal fruits.
The berries are widely used and loved in Europe, where they also originated.
Red Currants taste tart and a bit bitter and are not that sweet. Yet, if the bush is located in a sunny spot, the fruits will turn out a bit sweeter, than those who grow in the shade.
There are also other currant varieties, such as the lesser-known white currant, black currant (aka cassis), and the Jostaberry. The white ones are the sweetest.
🖋️ Recipe Ideas
Here are some great uses for your red currants. Most turn out best with fresh red currants, but you can also use frozen red currant.
Red Currant Jelly Recipe
A ruby red, sweet n easy red currant jelly recipe without pectin. A delicious breakfast hit with butter and bread or gift it to a beloved family member or friend.
Get the Recipe
Red Currant Syrup Recipe
Red Currant cordial is a very easy and delicious way to use up your red currant harvest. Make sure to get the necessary common kitchen equipment, which is required to make this amazing refreshment.
Get the Recipe
Red Currant Ice Cream
A creamy homemade ice cream with red currants as the star ingredient.
Get the Recipe
Red Currant Chutney Recipe
Spiced red currant chutney. This is a savory preserve.
Get the Recipe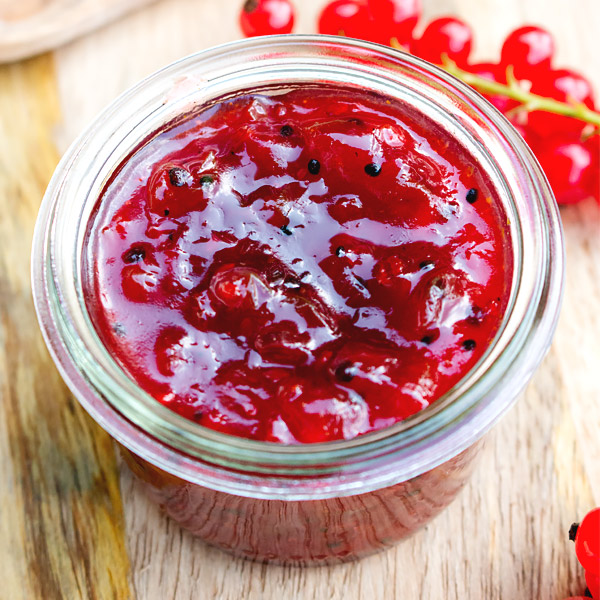 Red Currant Crumble Bars
These Red Currant Crumble Bars are gluten free, super easy summer berry recipe that you can whip up in only a few minutes. Serve them for dessert, breakfast, or enjoy as a delicious snack during the day.
Get the Recipe
Red Currant Honey Iced Tea
A refreshing red currant iced tea recipe combines the antioxidant rich juice from fresh currants with honey sweetened tea.
Get the Recipe
German Red Currant Cake (Johannisbeerkuchen)
Easy and yet so delicious. This red currant cake is the perfect treat to celebrate summertime!
Get the Recipe
Red Currant Margarita with Ginger Sugar Rim
If you love margaritas, this red currant margarita recipe with a ginger sugar rim is a fun new cocktail to try. So refreshing.
Get the Recipe
📖 Recipe
Dehydrated Red Currants
The best way to use up your fresh red currant + a simple recipe to dry red currants in a dehydrator.
Print
Rate
Instructions
Wash your berries well to get rid of all impurities.

Dry them carefully with a clean kitchen towel. Keep in mind that red currants can stain. You don't want extra water on the berries as this can prolong the drying process.

Keep your dehydrator ready as per instructions. Turn the device on.

Place and spread the currants on the dehydrator baskets. Don't overcrowd as this can prolong the drying time too but also keep enough berries to dry to use the space properly.

Keep one basket over the other on the dehydrator. As per device, you may be able to stack up to 10 baskets. The more baskets with fruits the longer it can take for the berries to dry in the top baskets.

Keep the berries to dry at a medium to high temperature (about 135. F./60. C.) or as per device instructions. The drying time is about 16 hours.

Check on the drying process of your dried red currants. I like to switch the position of the baskets every few hours so that the fruits get equally dried and I make sure that the berries don't stick on the grid.

Dry crispy or chewy, the way you want. Store your cooled and dried berries in an airtight container until further use.
Nutrition
Nutrition Facts
Dehydrated Red Currants
Amount Per Serving
Calories 254
Calories from Fat 9
% Daily Value*
Fat 1g2%
Sodium 5mg0%
Potassium 1247mg36%
Carbohydrates 63g21%
Protein 6g12%
Vitamin A 191IU4%
Vitamin C 186mg225%
Calcium 150mg15%
Iron 5mg28%
* Percent Daily Values are based on a 2000 calorie diet.