Homemade pizza pockets stuffed with pepperoni and mozzarella cheese. These cheesy hot pockets are irresistible!
Heavenly pepperoni and cheese stuffed hot pizza pocket. If you love pizza, those are for you!
Global Food Recipes
with Spices and Herbs
Free E-Book available for a limited time. Grab yours now and get instantly inspired!
Jump to:
📕 What are Pizza Pockets?
My homemade Pizza Pockets are inspired by the Italian Calzone Pizza, which is a pizza folded over and baked with a pizza filling.
I came up with these because I wanted something pizza, small and that could be carried around.
They are great as a main course Friday night meal or as party food. You can add them to your game day menu or make them for a children's party.
If you are looking for similar party foods, take a look at the Mini Pizzeti and the French Bread Pizza Bites.
🍅 Ingredients
Here is a brief of what you will need to make these Pepperoni pizza pockets at home. Note that the detailed measurements and instructions with video are located much further below in the printable recipe card.
This is just a shopping cart overview.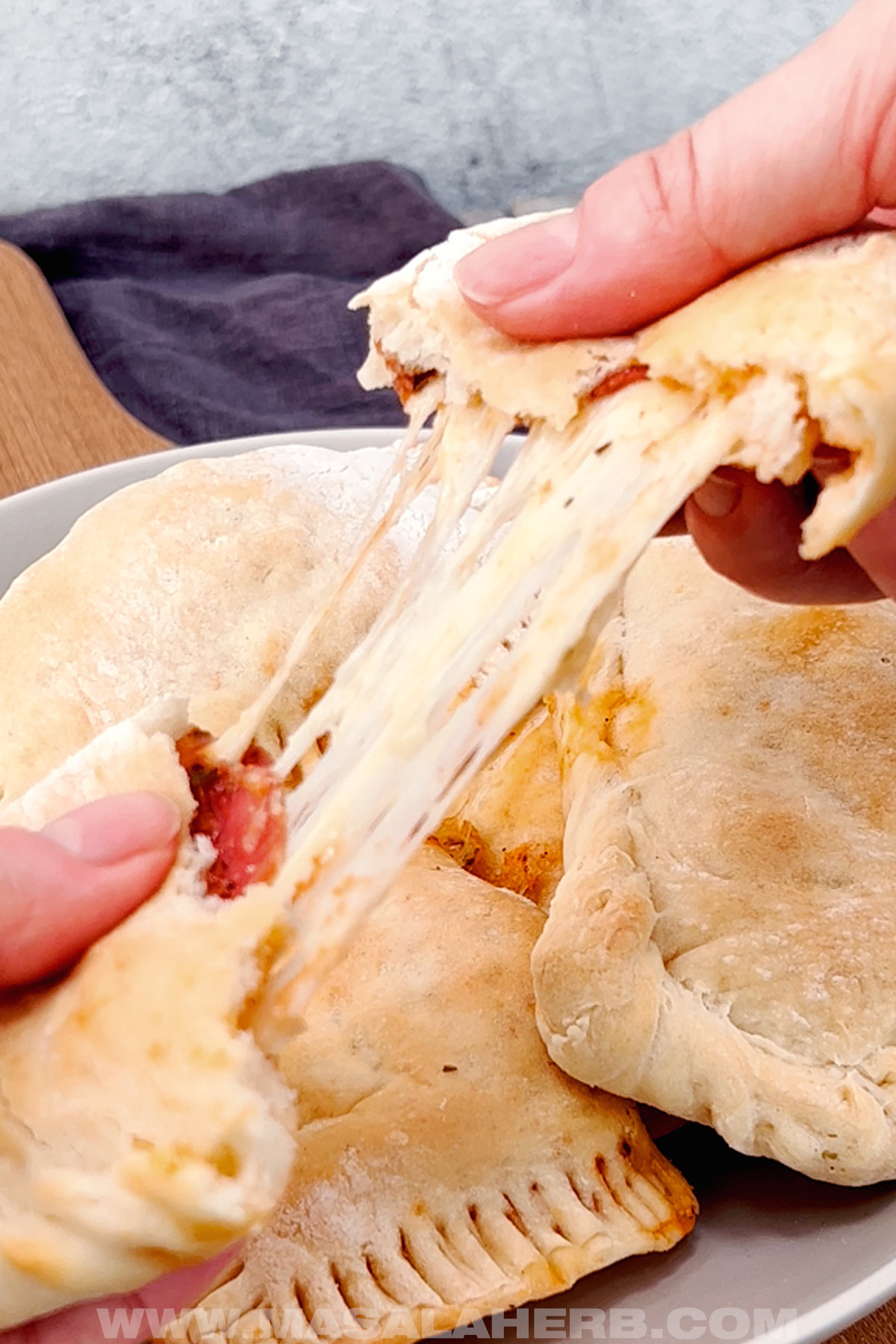 🔪 How to make it?
This recipe is so simple to prepare and fun at the same time. Who doesn't like pizza in a hot pocket form, right?
Here is a quick overview to help you get going in your kitchen! (Get the full printable recipe located below with video)
Step 1
Spread and roll out your raw pizza crust.
Cut into 12 rectangles.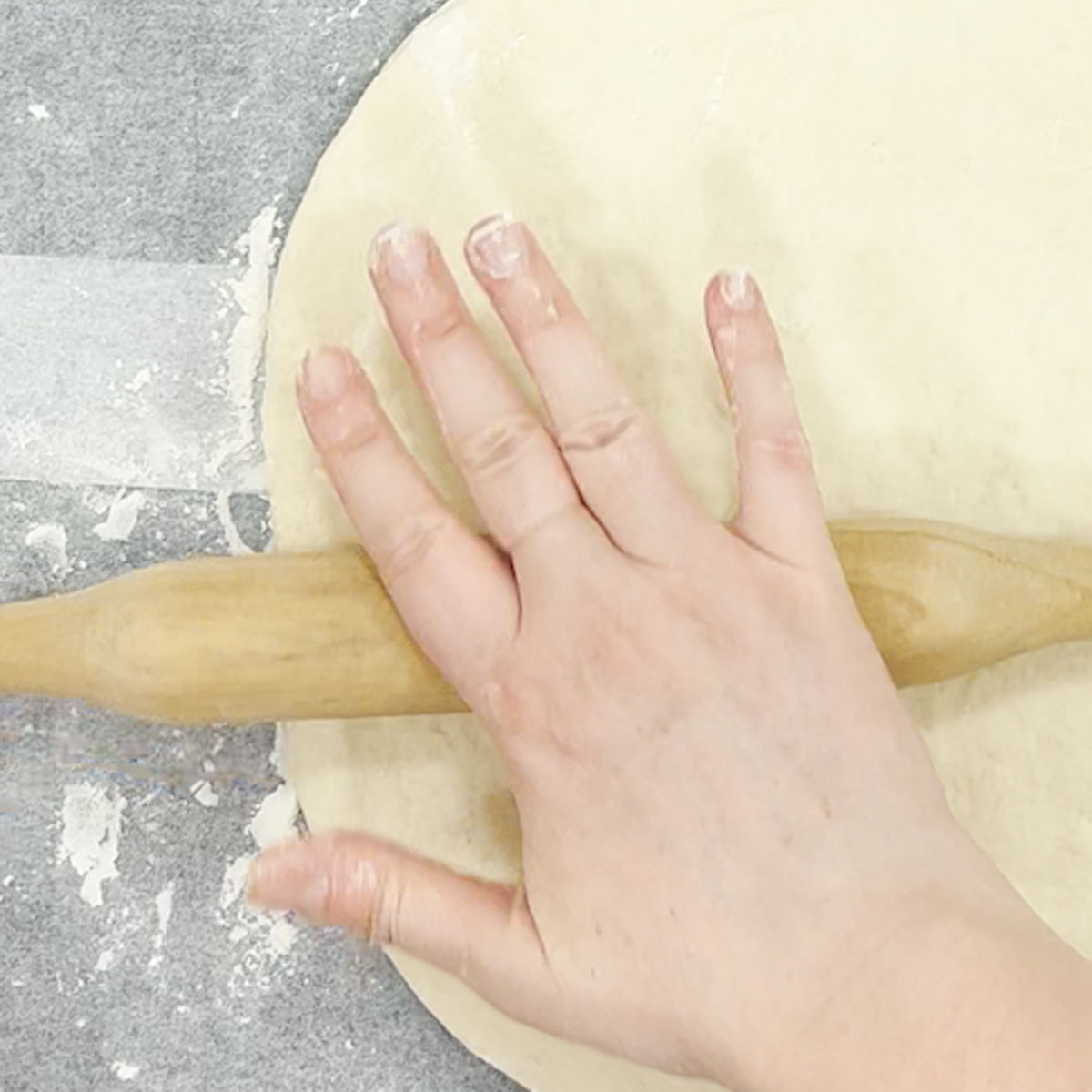 Step 2
Cut your fresh mozzarella cheese ball into slices.
Step 3
Top each rectangle with tomato sauce, seasoning, pepperoni slices and mozzarella cheese.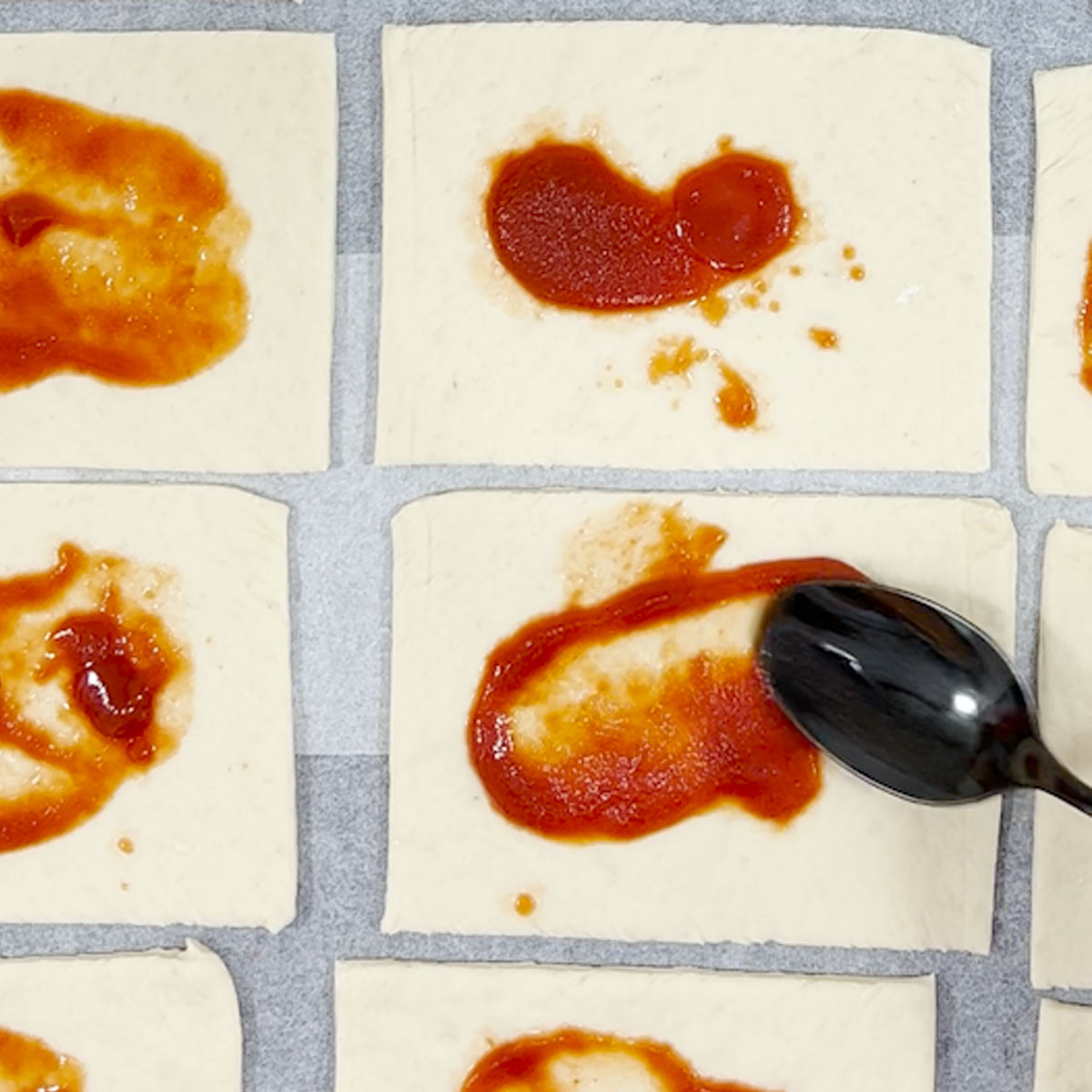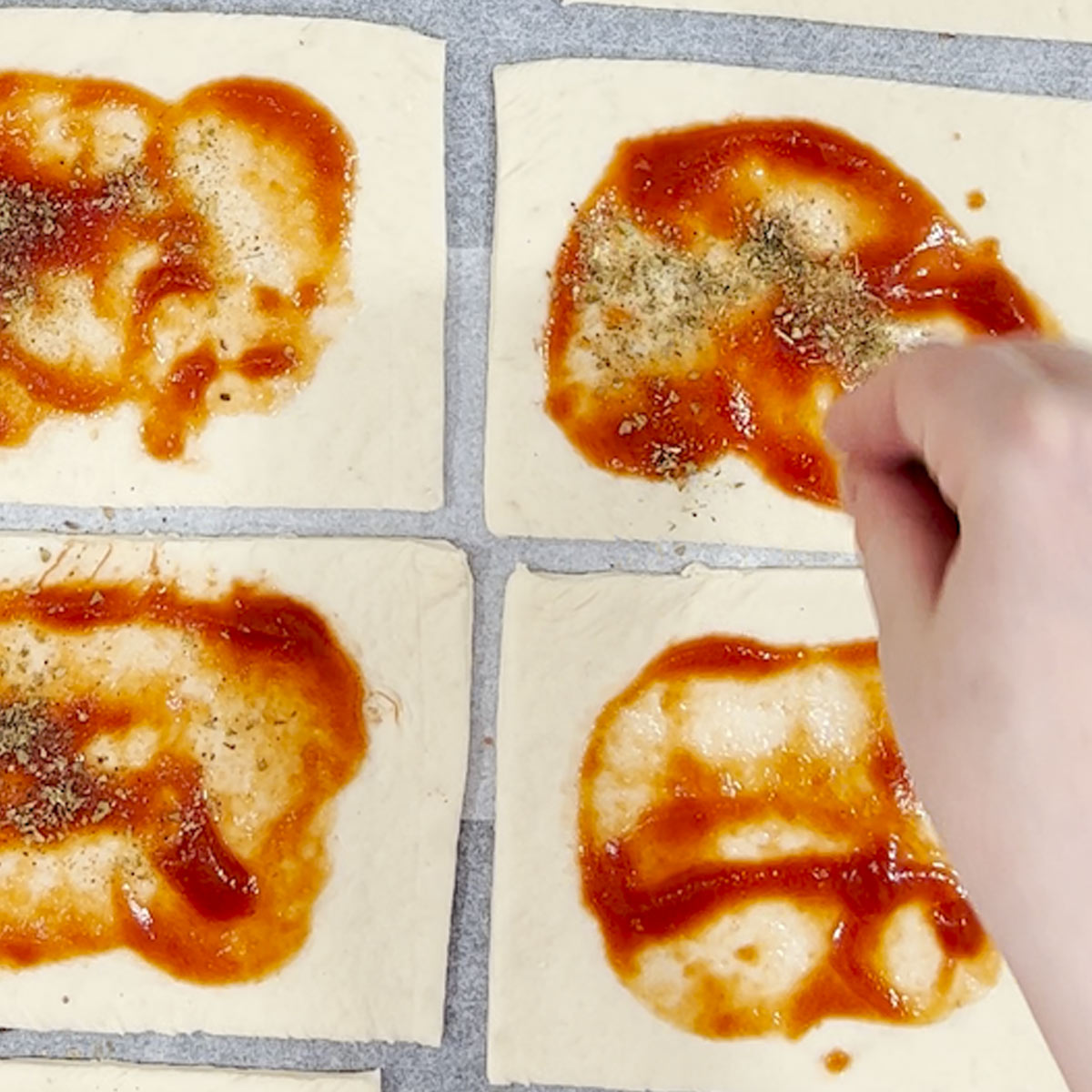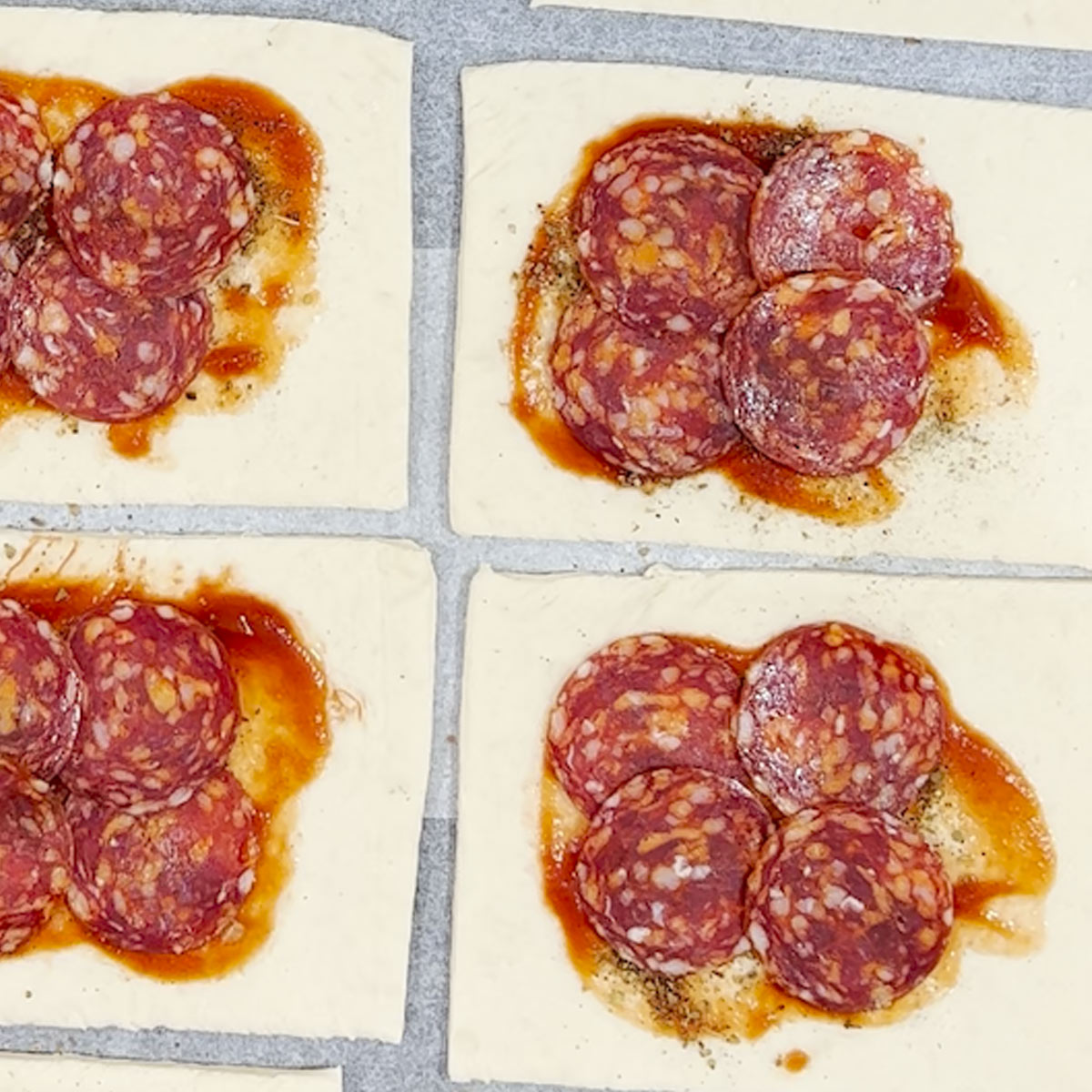 Step 4
Pull dough over filling and seal the edges.
Step 5
You can crimp in the edges by pressing down with a fork to seal OR use the rope-style crimping technique.
I used both to show you (watch video in the recipe card). The fork technique is easier, the rope-style crimp looks more professional and prettier, they also seal better that way.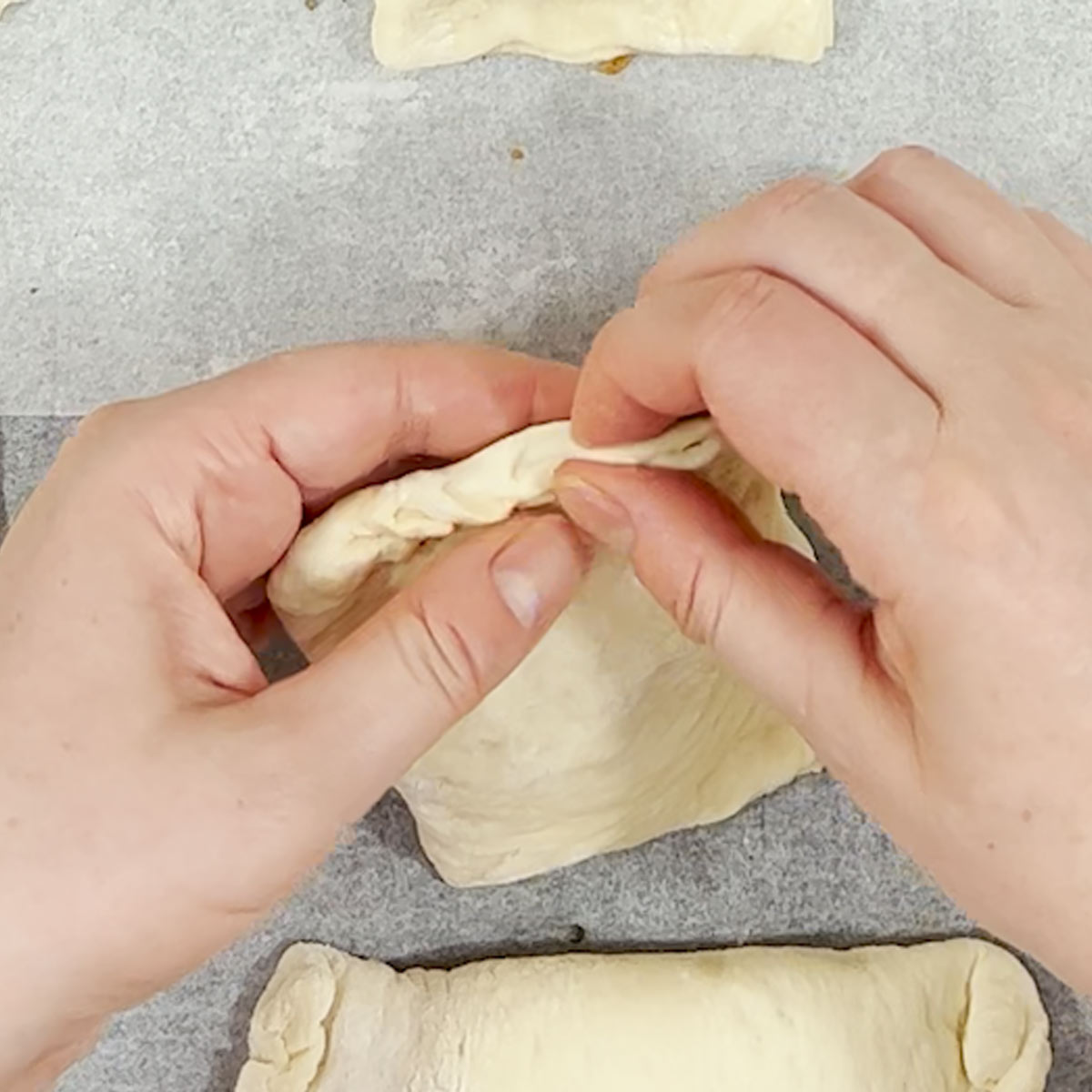 Step 6
Place pizza pockets on a baking pan lined with parchment paper and bake.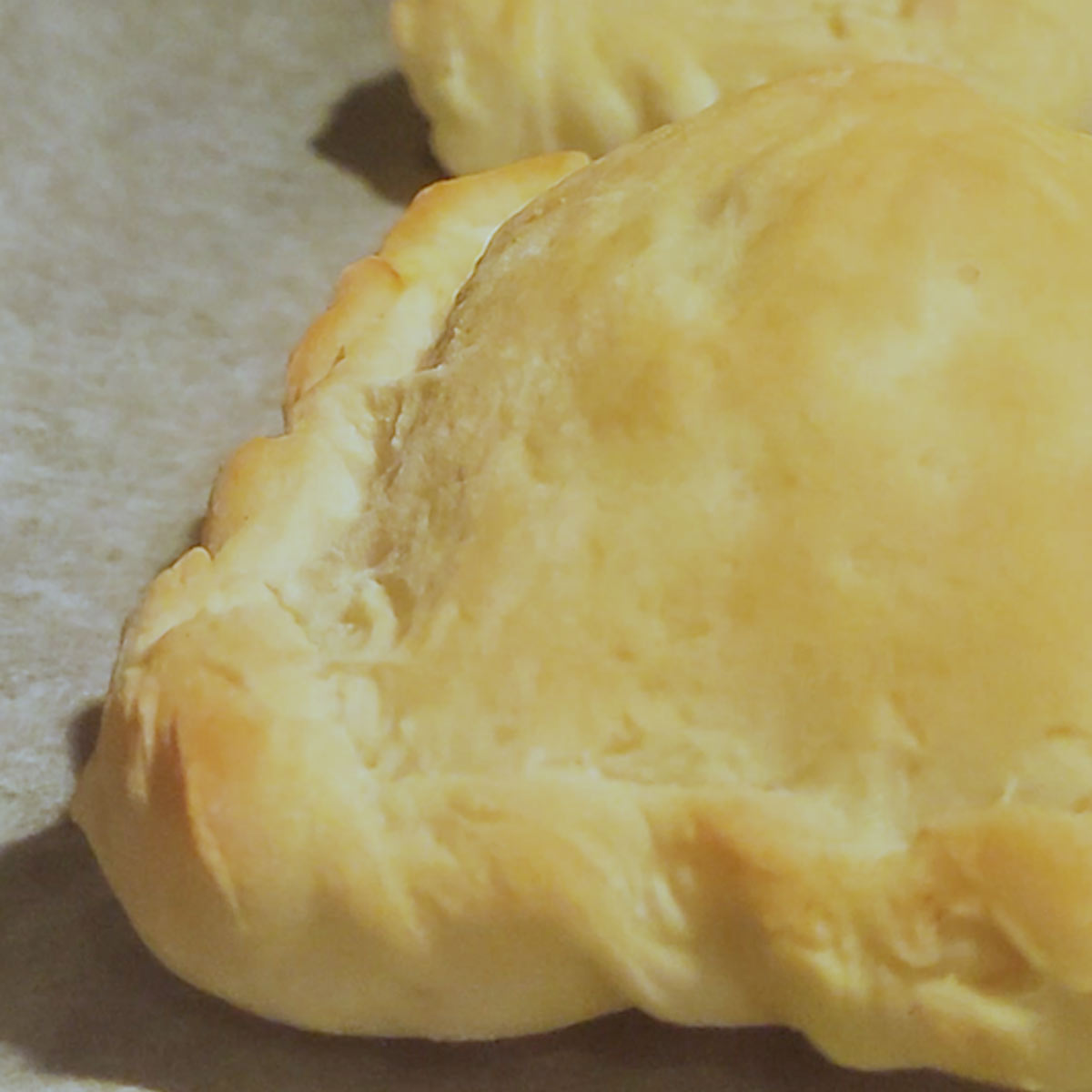 💡 Tips
This recipe tastes a million times better with homemade pizza crust. I used my homemade classic pizza dough in the pictures and video.
Use oregano to season but if you have pizza seasoning or an Italian seasoning mix, that's even better!
Don't skip the salt, that makes a difference and bring out all the other flavors.
Roll the dough out on a lightly floured surface with a rolling pin if it's looking too thick. I like to work with a dough thickness of about 0.1 inches or 3 millimeters.
You do not need to pre-bake your pizza crust.
Only fill the center, avoid spreading ingredients to the border because you will need to seal the edges. If the edges are wet, thanks to the tomato sauce, they won't seal that well.
You can seal two ways, either by twisting and pinching in and using the rope-style crimp technique (see FAQs further below for details). This method is more reliable and your filling is less likely to pour out. The other way is to press the seam edges together with a fork.
Slice into your pizza pockets so that steam can escape during the baking process. Or else the pocket base will get soggy.
Bake at a higher heat setting so that the outside turns out crunchy and the yeast dough airy on the inside.
🍱 Storing
To freeze
You can freeze raw unbaked pizza pockets. That's a great option if you want to keep a larger batch ready in your freezer.
Prepare the mini pizza pockets as per instruction but don't bake them! Place them on a sheet and keep them to freeze hard in your freezer.
Once they are hard, place them into a storage container and close with a lid. Keep in your freezer for up to 2–3 months.
When you want to prepare to eat them, place them into your oven frozen and add another 8–10 minutes to your regular baking cycle because they have to thaw and bake in one go.
Leftovers
You can store leftover for up to 1 day in your refrigerator.
Warm them up in your oven for a few minutes at a normal oven heat setting or in your microwave.
I like to store them in rectangular glass containers (just like the ones you get in IKEA), which can be close with a lid.
Those can be taken from the fridge and placed directly into the oven to warm up your pizza pockets.
Just make sure to use the right oven heat settings. Check the instructions that came with the glass containers for recommended max heat.
🍴 Serving Ideas
Those pockets filled with gooey cheese and hot pepperoni are divine on their own.
Yet, if you are planning to have them for lunch at work, at school or as a TV dinner meal, you might want to serve them with a little side dish salad.
I like my pizza pockets with shredded vinaigrette flavored salads. This includes the shredded carrot salad, the Bavarian coleslaw or my simple Turnip salad.
A basic green Lettuce salad or a bean and corn salad are both fantastic additions too!
💭 FAQs
Is calzone the same as pizza pocket?
Calzone are regular pizza sized folded over pizzas. The topping is basically the filling. These pizza pockets are inspired by calzones, but they are much smaller, the size of a hand pie.
How do I seal my pizza pockets/mini calzones with a rope-style crimp?
Place the two edges together over each other. Start at one corner by pinching and twisting in diagonally across the seam. Repeat until you have done the whole length of the seam.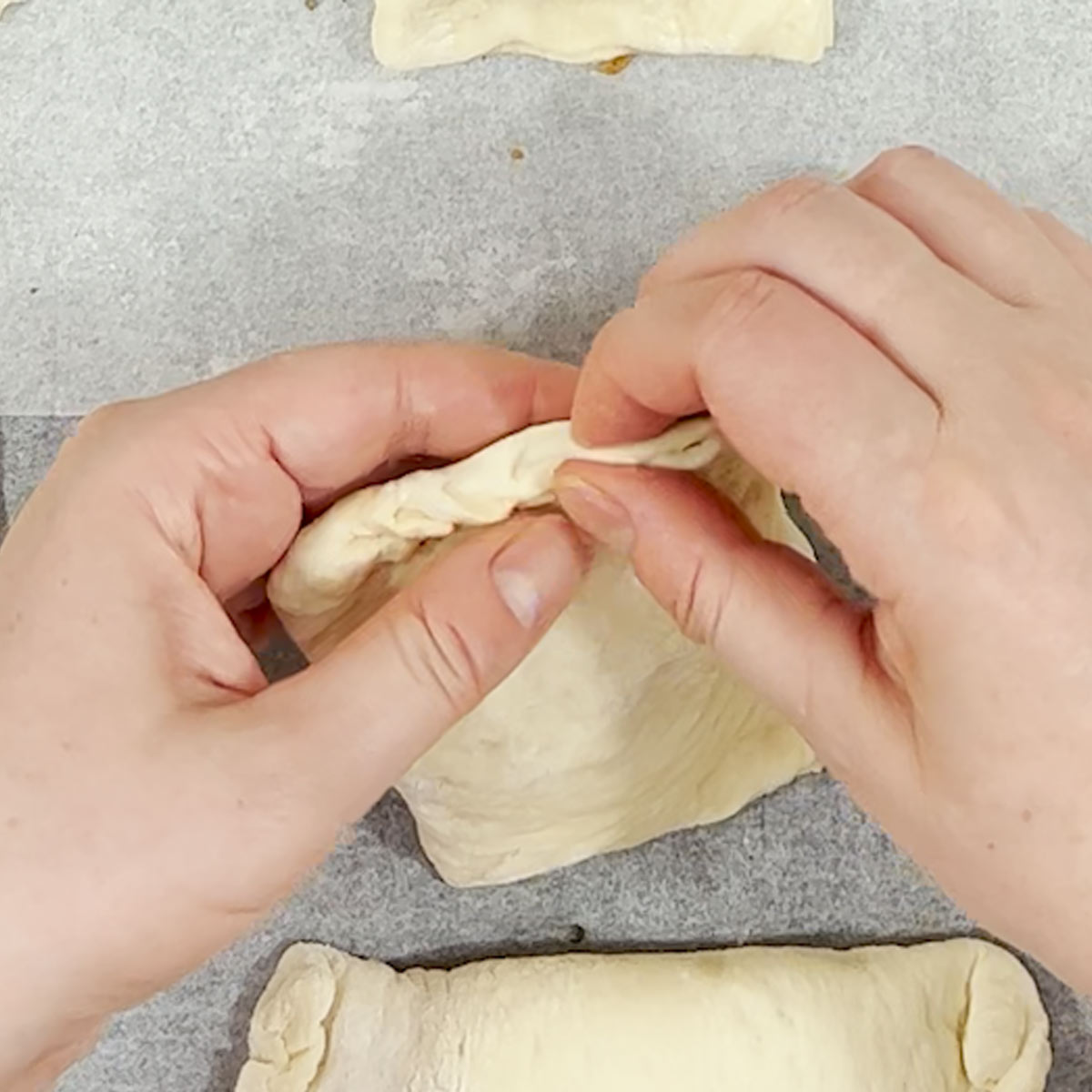 How long should I bake my pizza pockets?
Bake your stuffed pizza pockets in a preheated oven at 430 Fahrenheit (ca. 220 degree Celsius) for about 15 minutes.
How do I know when they are done baking?
When they start to turn a bit golden, that's when your pizza pockets are done baking.
Why are my pizza pockets leaking?
The sealing of your mini pockets had a cut, or it didn't seal well enough or some tomato sauce got between the two folded sides. It happens, it's ok. They are still tasty!
What should I do if my pizza pockets are leaking during the baking process?
Finish the baking cycle until baked through. I just eat the molten cheese when it cools down. You will still have a filing, just the cheese will be slightly less in the pockets, but that's ok. This should be a fun food!
How can I substitute Pepperoni slices?
If you can't get pepperoni or if you don't want any heat at all, you can use ham pieces or salami slices instead. If you want to make this vegetarian, use a vegetarian cheese because Mozzarella is made with animal rennet and skip the meat altogether.
👁️ Everything Pizza Recipes:
Global Food Recipes
with Spices and Herbs
Free E-Book available for a limited time. Grab yours now and get instantly inspired!
📖 Recipe
Pepperoni Pizza Pocket Recipe
Homemade pizza pockets stuffed with pepperoni and mozzarella cheese. These cheesy hot pockets are irresistible!
Print
Pin
Rate
Instructions
Pizza Crust and Topping
Lightly dust a clean working space with flour where you can roll out your pizza crust/dough. Spread out the dough and roll it out to a thickness of about 0.1 inches or 3 millimeters and into a rectangle. It's ok if the corners are rounded.

1 Piece Pizza Crust,

All-purpose Flour

Slice into the crust and cut into 12 rectangles, each about the same size. Note: The corner rectangles may turn into triangles, which is ok. You can still turn them into pockets.

Prepare your fresh mozzarella by cutting it into half and then into thick slices. Keep aside with all the other topping ingredients, the tomato sauce, the oregano or pizza seasoning, the salt and the pepperoni slices.

⅓ Cup Tomato Sauce,

1 Tablespoon Oregano OR Pizza Seasoning,

¼ Teaspoon Salt,

1 Large Fresh Mozzarella,

48 Slices Pepperoni

Top each rectangle with the tomato sauce and spread it out but keep distance from the border. The tomato sauce should remain in the center.

Season with oregano or pizza seasoning and salt.

1 Tablespoon Oregano OR Pizza Seasoning,

¼ Teaspoon Salt

Place 4 slices of pepperoni over each rectangle and top with the mozzarella cheese.

48 Slices Pepperoni,

1 Large Fresh Mozzarella
Sealing and Baking
Preheat oven to 430 Fahrenheit (ca. 220 degree Celsius).

Pull the dough from one end over the filling to the other end so that the edges meet. Make sure that the filling is tucked in and not getting too close to the edge. Lightly press down the edges. Do that with all pockets.

Crimp the seams of the edges. You can choose between two sealing techniques in this recipe. Choose one of the two or do both with all your mini calzone pockets.

Crimping technique No. 1 – The rope-style crimp. Start at one corner by pinching and twisting in diagonally across the seam. Repeat until you have done the whole length of the seam. (Please watch the video above)

Crimping technique No. 2 – The fork crimp. Press down with a fork along the length of the edges to seal the seams.

Line a baking pan with parchment baking paper and place 6 pizza pockets at a time next to each other, but keep some distance between each pocket.

Bake in the preheated oven at 430 Fahrenheit (ca. 220 degree Celsius) for about 15 minutes or until the pockets have gained some colors. They are done if they look baked. In doubt, keep them in for another 1–2 minutes. Note that they will take longer to bake if you reduce the heat setting or if you didn't roll out your pizza crust as directed.

Keep out to cool after baking, they will be very hot on the inside! Enjoy (see serving ideas in post).
Notes
Use a homemade classic pizza dough or store-bought pizza crust. It should be rolled out to a rectangle. Try my instant no yeast pizza dough recipe for last-minute baking!
I prefer to use pizza seasoning because the herbs and spices are a perfected blend to season pizza dishes, but if you don't have pizza seasoning you can use simply oregano (dried or fresh) or even marjoram. Another option is to use Italian seasoning, which is similar to pizza seasoning.
Use about 4 slices of Pepperoni per rectangle. It can be substitutes with salami or ham if you prefer.
To make it vegetarian, skip the meat altogether and just fill your pockets with more cheese. BUT use a cheese that is made without animal rennet, such as a fresh cheese.
The best fresh mozzarella is the Italian buffalo mozzarella. It's made with buffalo milk, and it is superior in taste but also more pricey.
Galbani is a decent Italian brand selling fresh mozzarella balls in Europe, the US, and Canada.
You can substitute fresh mozzarella cheese with processed mozzarella cheese or pizza cheese. 
If your pizza crust isn't perfectly rectangle after rolling out, it will have rounded shorter corner rectangles which will look like triangles. You can still fold those into pockets but reduce the filling and fold over to smaller triangles. These may bake through slightly faster by 1–2 minutes.
Equipment
1 baking pan with parchment paper

1 3.5" Paring Knife
Nutrition
Nutrition Facts
Pepperoni Pizza Pocket Recipe
Amount Per Serving
Calories 133
Calories from Fat 45
% Daily Value*
Fat 5g8%
Cholesterol 8mg3%
Sodium 383mg16%
Potassium 47mg1%
Carbohydrates 17g6%
Protein 5g10%
Vitamin A 39IU1%
Vitamin C 0.5mg1%
Calcium 41mg4%
Iron 1mg6%
* Percent Daily Values are based on a 2000 calorie diet.