Homemade Hawaiian Pizza with pineapple chunks and ham. It can't get better than that!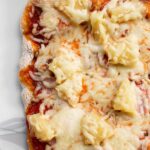 The Hawaiian Pizza is my all-time favorite pizza!
I show you how to make this pineapple pizza at home with my recipe further below.
Global Food Recipes
with Spices and Herbs
Free E-Book available for a limited time. Grab yours now and get instantly inspired!
Pizza, no doubt, is always a dinner time winner in my book and there is nothing better than a pizza topped with pineapple chunks and ham.
I know there is a huge debate about this and there are naysayers out there yet I don't care.
I love my pizza topped with pineapple chunks and delicious ham slices.
If this is something you can relate to, welcome to the wonderful club of pineapple pizza lovers.
We know all the good things in life and now you can make your own hawaiian pizza at home.
Jump to: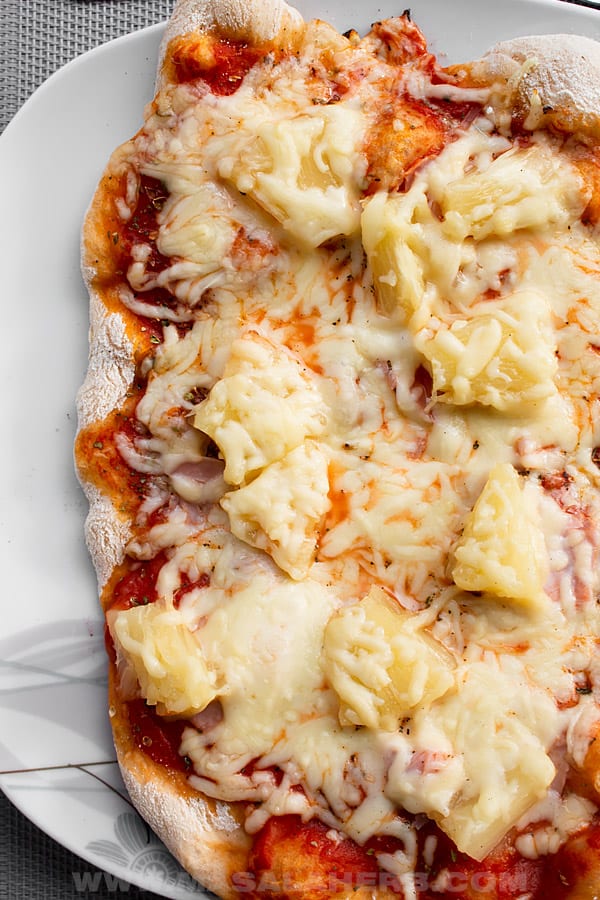 🔪 How to make it?
To make Hawaiian pizza is super easy and straight forward.
I prepare my pizza base from scratch so I have included the pizza base recipe to the process.
You can use a store-bought pizza base too.
Yet a homemade pizza base always tastes better!
Step 1
Prepare the dough by mixing together all the dough ingredients.
The dough needs to be worked out so that it will rise better.
Keep the pizza dough to rise for a few hours for fluffy pizza dough.
If you need more details to make your pizza crust, check out my easy pizza dough recipe post.
If you need a quick dough within minutes, check out my no yeast instant pizza dough.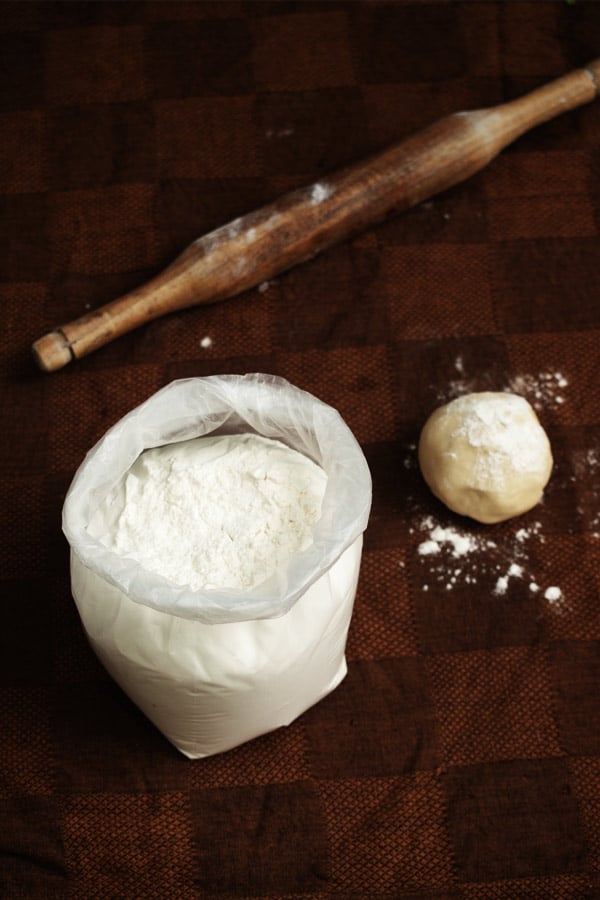 Step 2
When you are ready to prepare and bake your Hawaiian Pizza, stretch or roll out your pizza dough so that it's almost same thick on all corners.
Tip: Pizzas in Italy are mostly off-shape and stretched out.
Spread the tomato sauce over the pizza crust, sprinkle with salt and a pizza or Italian seasoning blend.
Place pineapple chunks over your pizza and ham pieces.
Sprinkle grated cheese over the pizza.
Step 3
Bake your pizza in the oven or on a pizza stone on the grill over a high heat setting.
430 Fahrenheit and 220 Celsius is a great heat setting for a crisp perfectly baked pizza crust.
🆚 Oven VS pizza stone BBQ
Usually, I bake my pizza in the kitchen oven because I'm a pizzaholic and I don't have a grill waiting for me at all times.
Baking Pizza in an oven is the most common way and it does trick, feeding the whole family.
Yet, baking a pizza on pizza stone in a BBQ or Pizza oven will take your pizza to a whole new level!
The pizza stone is left in the bbq during the heating process, which turns the stone into a hot plate.
The pizza is then left on the pizza stone and the BBQ lid is closed.
That way the pizza is cooked evenly on high heat and within minutes.
The result is a soft perfectly cooked pizza crust, which is slightly crunchy as well.
Combine that with juicy pineapple chunks and smoked sliced ham and you have yourself a delightful irresistible pizza.
📜 Alternative toppings
Pineapple is the star on a hawaiian pizza, and I will always prefer the ham and pineapple combo on my pizza.
Yet, I'm giving you a few options to create a gourmet hawaiian pizza adjusted to your taste preferences.
Here are some of the best alternative hawaiian pizza toppings:
Fiery hot Hawaiian Pizza with pepperoni, jalapeno or habaneros (if you dare!)
Bacon Pineapple Pizza instead of the ham
The Hawaiian chicken pizza with chicken instead of ham
Chorizo sausage with pineapple to pep up things
👁️ More pizza recipes
Dear Reader, how are you guying to bake your Hawaiian Pizza?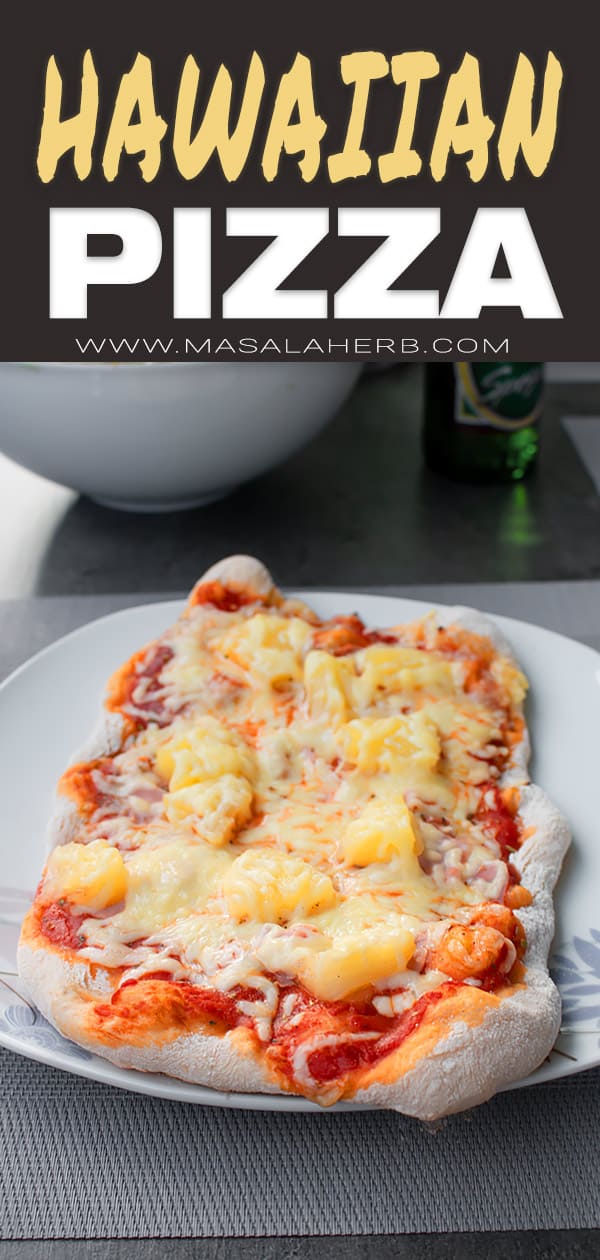 Global Food Recipes
with Spices and Herbs
Free E-Book available for a limited time. Grab yours now and get instantly inspired!
📖 Recipe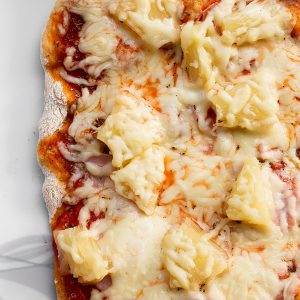 Homemade Hawaiian Pizza Recipe
Homemade Hawaiian Pizza with pineapple chunks and ham. It can't get better than that!
Print
Pin
Rate
Ingredients
For the dough:
2

cups

All-purpose Flour

1

packet

Yeast

2 ¼ Teaspoon

pinch

Salt

1

Tablespoon

Oil

optional

¾

cup

Water

luke warm
Instructions
Mix the whole content and place it onto a working surface. Now work out your dough with some extra flour so that the ingredients are well incorporated and you should have a smooth nonsticky dough at the end. Or use a kitchen machine to help you out.

Make a ball and place it back into the mixing bowl, sprinkle some flour equally on top and cover with a cloth. Leave your dough to rise for a few hours until double in size.

Take out your big fat dough and work it out shortly with your clean hands and some flour. Then roll or stretch out the dough into a thin roundish pizza base.

Preheat your kitchen oven or BBQ with Pizza stone to 430° Fahrenheit or 220° Celsius.

Top the pizza dough with the Tomato Paste and spread it out.

Place the ham, pineapple chunks over the pizza crust and generously cover with cheese.

Bake the pizza in the oven at 430° Fahrenheit or 220° Celsius for about 12 minutes or in the BBQ covered for 5-8 minutes until you have a baked crust.

Cut pizza slices and enjoy still warm.
Notes
Pizza measurements equal one large pizza or two smaller pizza (as shown in the image) or 12 slices.
You can add olive oil to the dough. It helps to stretch and gives the dough flexibility.
Keep in mind that the longer the dough rises the fluffier and better the crust will turn out.
Choose a cheese that melts. I like to use mozzarella, Emmenthal, cheddar amongst others.
Nutrition
Nutrition Facts
Homemade Hawaiian Pizza Recipe
Amount Per Serving
Calories 141
Calories from Fat 45
% Daily Value*
Fat 5g8%
Cholesterol 11mg4%
Sodium 143mg6%
Potassium 112mg3%
Carbohydrates 19g6%
Protein 6g12%
Vitamin A 164IU3%
Vitamin C 2mg2%
Calcium 69mg7%
Iron 1mg6%
* Percent Daily Values are based on a 2000 calorie diet.