Pineapple and anything Hawaiian related has always been super exotic for the cold alpine region.
Once in a blue moon you would find a relatively acceptable looking pineapple in the supermarket and of course the price would be exuberant.
Pineapple has always been everyone's favorite, whether raw, juiced or cooked.
We used to enjoy this yellow prickly fruit anyway it would be be prepared
The Ananas, as it's also known , has always been available and sold in cans.
Folks have always had to be content with the preserved, cored pineapple slices or chunks.
Adding pineapple to your pizza
We would happily enjoy pieces of pineapple in fruit salads and open faced cheese and ham sandwiches.
Yep, we Austrians and Germans are addicted to  the combination of pineapple, ham and melting cheese.
Pizza, no doubt, is always a dinner time winner in German speaking households.
Therefore, it isn't surprising that the Hawaiian Pizza frequently appears on the dinner table.
-> Get the free Masala Herb Newsletter
Here in Goa, I don't need to rely on canned pineapples.
In fact I can choose a smaller fresh pineapple in the market for not more then 20-30 INR (0.30-0.50 $) and I'll have more then enough to make 3 big Pizzas.
You can find organic pineapples which are grown home grown.
These home grown organic pineapples are super prickly, but super tasty.
Somehow I tend to get an itchy rash when the poky pineapple touches my skin.
This is my only little problem, which you shouldn't have.
So if you live in a place where pineapples are growing practically wild, you could enjoy them as a delightful Pizza topping.
It's just unbeatable with ham and melting cheese!
The Hawaiian Pizza is my all time favorite (there I said it!).
When I go out to a pizza place I try to score a whole one for myself.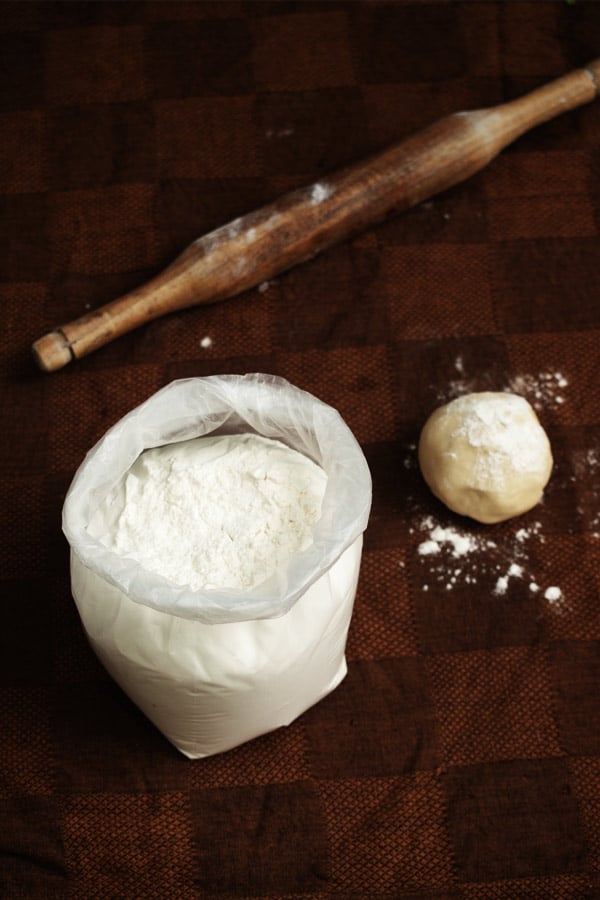 This is a very simple and quick recipe from scratch.
If you are not in the mood or out of time, then you could just use a ready made pizza dough from the store.
But of course the taste won't be completely the same. Just saying…
Hawaiian Pizza Recipe
Ingredients
For the dough:
200 grams White all purpose flour
½ Packet or 3.5 grams dry yeast
dash salt
1 Tablespoon Oil
100 milliliter luke Warm Water
For the topping:
100 gram Pineapple
50 gram Ham
Mozzarella Cheese slices
5 Tablespoons Tomato Paste
pinch Salt
pinch Pepper
dash Pizza Seasoning
Instructions
To make the pizza dough add the flour, yeast and salt into a mixing bowl and blend the dry ingredients.
Make a small well into the center of the flour mixture and add the Oil and warm water.
Mix the whole content with your clean hands and place it onto a working surface. Now work out your dough with some extra flour so that the ingredients are well incorporated and you should have a smooth non sticky dough at the end.
Make a ball and place it back into the mixing bowl, sprinkle some flour equally on top and cover with a cloth or plastic wrap. At this point I heat up my oven for a few seconds until it is nice warm inside, put it off and keep the bowl with the dough inside the warm oven for about 1 hour or until the dough has risen double in size.
Take out your big fat dough and work it out shortly with your clean hands and some flour. Then roll out the dough into a ½ centimeter thick round pizza base.
Preheat your oven to 220 C!
Prepare the pineapple by cutting off the top poky "leafs", the bottom and the skin, so you don't have any poky parts left, but take care not to waste too much of the flesh by doing that, the juiciest and sweetest flesh is in the edges. At this point you can either remove the hard core by cutting it out or you can eat the core too. I don't mind eating it but others have reported throat itchiness by eating the core. Cut into slices and then into smaller chunks. Keep aside
Cut them Ham into stripes or small bits and slice the fresh Mozzarella ball into thin slices. Keep aside.
Top the Pizza dough with the Tomato Paste and season with salt, pepper, and pizza seasoning.
Place and spread the remaining ingredients on top of the pizza (Pineapple, Ham, Mozzarella cheers).
Bake for 15 mins at 220 C. or until the pizza base is completely baked and not soft and raw.
Cut into Pizza slices and enjoy!
Do you consider Pineapple as an exotic fruit?
---
The following two tabs change content below.
I am Helene, and created Masala Herb to share my food and travel journey with the whole world. You will find Asian and Western dishes here, as well as unique travel guides to inspire your day. Don't miss a post! Subscribe to the free newsletter!
Latest posts by Helene Dsouza (see all)