This hearty Mulligatawny soup recipe will be your go-to dish this season. It's easy to recreate the Indian inspired soup at home.
A Mulligatawny soup is a must-have in your spicy recipe repertoire.
This one pot chicken curry soup is a flavor experience, and it will warm you up from within.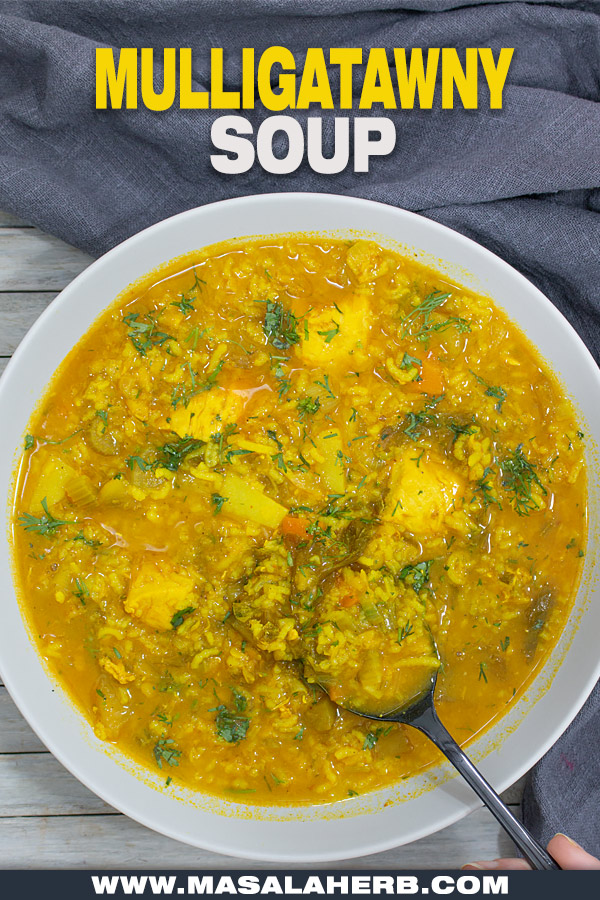 Global Food Recipes
with Spices and Herbs
Free E-Book available for a limited time. Grab yours now and get instantly inspired!
Jump to:
Whether you want to warm up during cold nights or you just want comforting flavors, a homemade Mulligatawny soup recipe will be your best friend in any case.
It's a healthy soup, and it doesn't have any special rules.
Just throw in all the ingredients, let it cook, and submerge yourself into the flavor experience.
📕 What is a Mulligatawny soup?
The mulligatawny soup is an Indian inspired Western soup.
The soup was prepared by and for the British when they colonized the Indian subcontinent, before the country's independence in 1947.
The name and preparation came from the south Indian Milagu "soup", which comes from the Tamil meaning pepper water.
The Mulligatawny recipe is based on Indian cuisine, but it doesn't exist in India.
The soup is also known as a chicken curry rice soup, as an Indian curry soup, or some people call it a curried chicken and rice soup.
It reminds me of a South Indian sambar just that rice and chicken is added to the dish.
Soups are not part of the Indian culture, however, dishes such as pepper water, tomato water, aka rasam soups do make an appearance in traditional regional cooking.
Mulligatawny is rather unknown in rural India and makes occasionally an appearance in Hotel menus and in the cities as a modern British-Indian dish.
This Indian fusion export is a favorite in the English-speaking western world.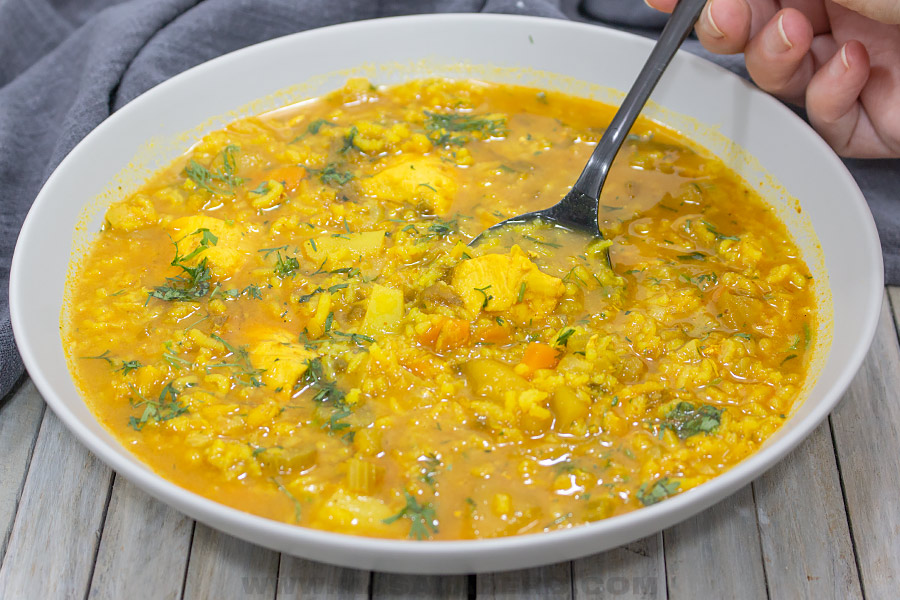 🧅 Ingredients
The spiced soup recipe is a balanced nutritious dish.
Many variations exist, this is my take on this dish:
Chicken - I use boneless chicken. You can use bone-in chicken as well if you want to add more flavors to the dish. Skip adding chicken if you make this soup meatless.
Rice - Rice thickens the soup and lends a lovely consistency. I tend to use Basmati Rice, but you can use other long-grain rice varieties too.
Lentils - Red split lentils (aka Masoor dal) add protein and healthy carbs to your soup. Besides, lentils are rich in fibers, and you need those for your gut health.
Vegetables - I add potato, carrot, celery to my mulligatawny soup. You can also add sweet potatoes, cabbage, turnips, spinach, mustard greens, turnip greens, and parsnips to enrich your soup. I have picked a few only for my stew, but feel free to pimp it up your way.
Apple - Adds a slight sour sweet flavor note to the soup and helps thicken the soup. Plus it's nutritious! I use tart apple varieties, like granny smith.
Ginger and Garlic - I add a paste made from ginger and garlic, but you can also grate your ginger or chop it fine, and also chopped fresh garlic.
Oil - Olive oil, vegetable oil, mustard oil (love this one lately!), sunflower oil, safflower oil, take your pick!
Curry Powder - A western invention, it adds naturally color and flavor. You can use your favorite curry powder blend.
Turmeric - To add an even more vibrant yellow shade to the soup, and because turmeric is healthy.
Cumin and Coriander Seed ground - Those two spices go hand in hand, they are also commonly used in Indian cuisine.
Salt and Black Pepper
Bay Leave - Commonly used spice in Western clear soups.
Green Chili Pepper - Optional if you don't want heat. It adds a slight tickle to each spoonful of soup.
Water and Chicken Stock or Broth
Tomato Purée - Helps thicken the soup and rounds up all flavors
Cilantro - aka fresh coriander leaves. Any variety (yep, there are cilantro varieties in this world!) This is to garnish your soup.
My original recipe, first published in 2016, included a dollop of yogurt as a topping. I stopped doing this ever since. Feel free to add yogurt or sour cream as a topping.
You may also want to lighten up the meal further by sprinkling fresh lemon juice over the soup after it is done cooking. Adds flavor and vitamin C!
🔪 How to make it?
Prepare your own chicken curry soup recipe at home by following these simple, straightforward steps to guide you.
Find the complete recipe with detailed US and metric ingredients and instructions further below.
Step 1
Cut veggies and chicken, prep and keep all ingredients ready.
Step 2
Sauté your onion, green chili pepper, celery stalk, carrot, and potato in oil.
Mix in the ginger and garlic as well as the curry powder and stir, cook for a minute.
And throw in the chicken pieces and season with cumin, coriander, and turmeric.
Continue to pour in the tomato sauce, chicken stock, water, and season with salt. Mix it all well over medium heat.
Also add the apple pieces, lentil, rice, and bay leaves, and mix.
Step 3
Cook for 30 minutes over medium heat until all the ingredients are cooed through, and you are left with a delicious soup.
🍴 Serving
The mulligatawny soup is a whole meal in itself. It includes, rice, lentils, veggies and chicken.
Therefore, most of the time, we don't really eat anything else with it.
But I think a light salad with a simple vinegar dressing works great as a dish. For example, a lettuce salad, small turnip salad or cabbage salad.
You can choose to have Indian flat breads with your mulligatawny soup, as in roti or nan.
🍱 Storing
The soup keep well in the fridge for up to 5-6 days.
Store leftovers in an oven-friendly glass container, that way you just need to place it into your oven or microwave oven to heat it up again.
Those containers come with a lid to store in the fridge, and they are great to freeze your soup too.
When frozen, thaw overnight in your fridge or slowly with a lower oven heat setting. You can, of course, also place the frozen soup into a pan over the stove top to melt and reheat your soup.
The mulligatawny make for a great addition to your weekly meal prep menu plan.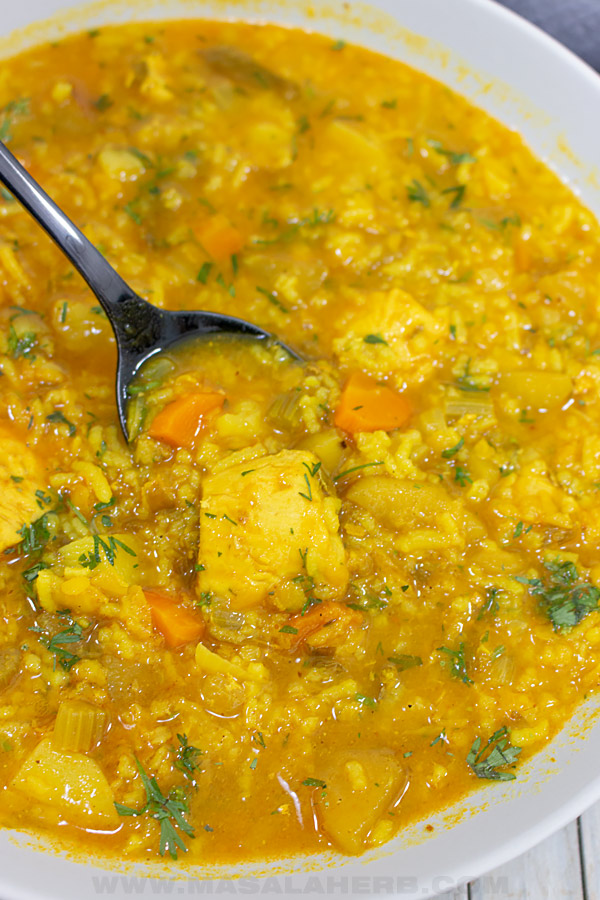 💭 FAQ
Is this soup suitable for special dietary needs?
My mulligatawny recipe is gluten-free. To make it vegan or vegetarian, skip adding chicken and use a vegetable broth.
Is the soup spicy?
As it is with any Indian-based meal, it depends on your spice perspective. What is spicy to one, might be mild to another. My mulligatawny chicken curry soup is very mildly spiced from a westerners point of view. From an Indian perspective, it's plain bland. Somebody who has never eaten spice before in his or her life will experience the chicken mulligatawny soup as spicy. Remember, the amount of chili pepper used in a dish usually creates heat in a meal.
If you don't want any heat in your soup, simply skip the green chili pepper.
Can I make this soup with coconut milk?
Yes! Reduce the water content by about 1 cup/ 200 ml and add the same quantity of coconut milk.
Can I make Mulligatawny soup with lamb or beef?
Yes, you can substitute chicken with lamb or beef meat, but I haven't tried it. I still think that chicken is the best choice of meat here.
How can I make this soup even more nutritious?
You can use brown rice instead of white rice for starters. Instead of boneless chicken, use bone-in chicken because bones not only add flavors but are rich in essential nutrients.
Why is it called a soup and not a stew or curry?
Mulligatawny soup evolved a lot over the last 100 years. It was based on rasam, which is a clear South Indian soup, but in time people created their own versions. Modern Mulligatawny soup is actually a curried stew.
🍲 More Lentil Soups
Global Food Recipes
with Spices and Herbs
Free E-Book available for a limited time. Grab yours now and get instantly inspired!
📖 Recipe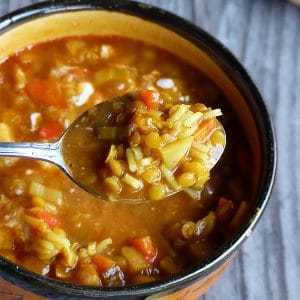 Chicken Mulligatawny Soup Recipe
This hearty Mulligatawny soup recipe will be your go-to dish this season. It's easy to recreate the Indian inspired soup at home.
Print
Pin
Rate
Instructions
Prepare vegetables. Peel if needed and slice small. Peel, remove the apple core and cut small. Also, keep your cut chicken breast ready and all the other ingredients.

Heat up a large soup pot with oil and sauté your onion, green chili pepper, celery and carrot.

Continue to add in the potato and stir-fry for a minute.

Reduce the heat and add in the ginger garlic paste (or finely chopped ginger and garlic) and the curry powder. Mix it all in.

Add in the cut chicken and stir cook over high heat for a minute.

Now you can throw in the turmeric, cumin, coriander powder and stir fry again.

Continue to pour in the tomato puree, salt, and pepper and stir fry the whole content.

Add the apple to the soup with the bay leave, lentils and rice.

Mix the whole content well and cook for about 30 minutes over medium heat until the soup thickens and all the ingredients are cooked through.

Serve hot with some yogurt and chopped cilantro as a garnish.
Notes
You can use Ginger and Garlic Paste or freshly grated or chopped Ginger (⅓) and Garlic (⅔).
This recipe was first posted in 2016. I changed it up a bit over the years. Increased the quantity of water and I increased the cooking time so that the flavors have more time to develop.
Nutrition
Nutrition Facts
Chicken Mulligatawny Soup Recipe
Amount Per Serving (389 g)
Calories 314
Calories from Fat 90
% Daily Value*
Fat 10g15%
Cholesterol 23mg8%
Sodium 386mg16%
Potassium 899mg26%
Carbohydrates 37g12%
Protein 17g34%
Vitamin A 2305IU46%
Vitamin C 13.7mg17%
Calcium 74mg7%
Iron 4.6mg26%
* Percent Daily Values are based on a 2000 calorie diet.