A Mulligatawny soup recipe is a must-have in your spicy recipe repertoire.
Learn how to make the mulligatawny soup from scratch easily.
This Indian chicken curry soup is a flavor experience and will warm up your body with comforting flavors.
Whether you warm your self up during cold nights or you just want a comforting flavor blast this wonderful day, a homemade Mulligatawny soup recipe will be your best friend in any case.
This British-Indian Mulligatawny soup is a healthy change.
It's going to be your go-to dish when you are out of cooking ideas and you are super hungry.
Easy to recreate, the Indian Mulligatawny soup recipe doesn't have any special rules.
You just throw in all the ingredients, let it cook and submerge yourself into the flavor experience.
What is the Indian mulligatawny soup made of?
The spiced Mulligatawny soup recipe is a balanced nutritious dish.
While there are many variations out there, an Indian Mulligatawny soup usually consists of the following ingredients:
Flavorful Chicken (however you can turn your Mulligatawny Vegetarian by omitting the chicken)
Rice which thickens the soup and lends a lovely consistency
Red Split Lentils to add Protein and other nutrients to your healthy eating habits
Assorted Vegetables, usually that depends on what' s in the pantry but of course, I have my favorite ingredients
Selected aromatic Spices to turn the soup into perfection in itself.
Therefore, you can confidently add this chicken curry soup aka Indian Mulligatawny, to your Indian soup recipes collection.
I switched the status of this hearty soup from normal, random recipe to a treasured essential in my recipe collection.
As a result, it turned into a must make dish when the days get shorter and the temperatures drop.
I love a bowl full of Indian Mulligatawny soup recipe with freshly baked homemade 30-minute dinner rolls.
Hence it's an easy dinner and it's so good!
Where did mulligatawny soup come from?
Mulligatawny soup sounds very Indian and its roots are in India's past.
The soup was prepared for the British when they ruled the whole Indian subcontinent before the Indian independence in the 1940s.
The name and preparation came from the south Indian Milagu "soup", which comes from the Tamil meaning pepper Water.
Mulligatawny soup is based on Indian cuisine, it's a chicken curry soup
Soups are not part of the Indian culture, however, dishes such as Pepper water, tomato water, aka rasam soups do make an appearance in the traditional regional cooking.
Mulligatawny soup by itself is rather unknown in rural India and makes only an appearance in Hotel menus (not to be confused with the roadside eaters known as hotels as well) and in the cities as a modern dish.
That again proves that this Indian fusion export is a favorite in the English speaking western world!
Is mulligatawny soup spicy?
As it is with any Indian based meal, it depends on your spice perspective.
What is spicy to one, might be mild to another.
My chicken curry soup is very mildly spiced from a westerners point of view.
From an Indian perspective, it's plain bland.
Somebody who has never eaten spice before in his or her life will experience the mulligatawny soup spicy.
Remember, the amount of chili pepper used in a dish usually creates the heat in any meal.
My recipes always use less red chili pepper powder and I add less green chillis as well.
Also, some chili varieties are hotter the others.
Please keep this in mind when adjusting the heat in this Mulligatawny recipe
Popular dishes like the Mulligatawny soup:
Dear reader, do you enjoy spicy soups?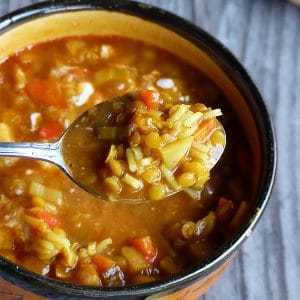 Mulligatawny soup recipe – How to make Mulligatawny Soup
This hearty Mulligatawny soup recipe will be your go-to dish this season. It's easy to recreate the Indian soup at home. Follow the step by step pictures and enjoy the warming flavors in your home.
Print
Pin
Rate
Ingredients
1

Onion

1

small

Green Chili Pepper

1.8

ounces

Celery stalk

1

small

Carrot

4.6

ounces

Potato

2

Tablespoons

Olive Oil

1

Tablespoon

Ginger + Garlic

*see Notes

1

Tablespoon

Curry Powder

1

Chicken Breast Lobe

1

Teaspoon

Turmeric Powder

1

Teaspoon

Cumin Powder

1

Teaspoon

Coriander Seed Powder

2

Tablespoon

Tomato Paste

Salt

to taste

1/2

Teaspoon

Black Pepper

2 1/2

cups

Water

2 1/2

cups

Chicken stock

1

Apple

2

small

Bay leaves

1/2

cup

Red Split Lentils

(Masoor dal)

1/2

grams

Rice

1

Tablespoon

Yogurt

to garnish
Instructions
Start by preparing your cleaned/peeled ingredients.Chop your onion and chili. Cut your celery stalk into slices, your carrot, and potato into small cubes. Place the oil into a pot and fry your onion with the chili and celery until soft. Then add the carrot and stir-fry for a minute.

Continue to add in the potato and stir-fry for a minute. Then add the ginger garlic paste (or finely chopped ginger and garlic) as well as the Curry powder and stir fry once again for a minute.

Next, add in the small cut chicken breast and stir fry once again for a minute. Now you can throw in the turmeric, cumin, coriander powder and stir fry again. Continue to pour in the tomato puree salt and pepper and stir fry the whole content. Pour in the water and chicken stock and mix well.

At that point, we peel and cut the apple into small cubes. The apple will give this dish the special zing you are looking for and you will never want to miss it. Add the apple to the soup with the bay leaves, clean lentil and rice. Mix the whole content well and cook for minimum 30 minutes on normal to slow heat until the soup thickened.

If it gets to dry you can add some liquid during the cooking process. Make sure the lentil and ingredients are soft and properly cooked before serving. Serve hot with some yogurt as garnish.
Notes
You can use Ginger and Garlic Paste or freshly chopped Ginger (1/3) and Garlic (2/3).
Nutrition
Nutrition Facts
Mulligatawny soup recipe – How to make Mulligatawny Soup
Amount Per Serving (389 g)
Calories 314
Calories from Fat 90
% Daily Value*
Fat 10g15%
Cholesterol 23mg8%
Sodium 386mg16%
Potassium 899mg26%
Carbohydrates 37g12%
Protein 17g34%
Vitamin A 2305IU46%
Vitamin C 13.7mg17%
Calcium 74mg7%
Iron 4.6mg26%
* Percent Daily Values are based on a 2000 calorie diet.