Moroccan lentil soup (aka Harira) is a nutritious low carb soup, stuffed with legumes and veggies! The soup is enriched with healthy and taste giving spices and is not hot but perfectly mild balanced in flavor. One-Pot, easy plant-based, meatless north-African soup. Enjoy this soup as a main dish with flatbread or as a starter.
Total Time:
1

hour
25

minutes
Cook Time:
1

hour
10

minutes
Jump to Recipe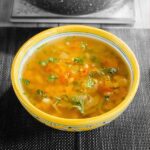 Moroccan Lentil Soup, aka Harira, is a spiced north African nutritious soup, low in carbs and high in Proteins.
This is a vegan version of the Harira soup, and it's not a traditional authentic recipe. It's based on the original, which is prepared with meats.
Global Food Recipes
with Spices and Herbs
Free E-Book available for a limited time. Grab yours now and get instantly inspired!
If you like soups like my Indian lentil soup, then this one-pot easy soup should be your next dinner meal!
Jump to:
📕 What is Moroccan Soup (Harira)?
Harira is a Moroccan Lentil Soup served all year round but especially during Ramadan to break the fast at night.
The soup is usually prepared with local meats such as lamb to enrich it and make it super nutritious, because of the daylight fast.
If you don't get to eat the whole day, you need to pack the soup with nutritional value.
With the proteins from the meat and lentils, this is easily achieved, yet this is not the only perk of this wonderful soup.
Moroccan ladies know how to cook up great dishes, so they figured it would make sense to season it appropriately because you need to celebrate the fact that you managed to get through another day without eating, right?
So, the Moroccan soup is packed with gorgeous flavors.
You won't be able to leave your spoon alone.
🥖 Moroccan stew ingredients:
This Moroccan Lentil Soup is vegan, simply because I am really picky with lamb meat and I don't think this soup would be that great with beef or chicken.
Besides I decided long ago that this soup is just amazing vegan and that anything more would be almost too much.
After all, I am not a person who needs to fast.
Yet, if you feel like adding lamb to it, just do it!
(and then invite me over to convince me to make mine with lamb meat in the future! :P)
You will need legumes, red lentils and chickpeas (garbanzo beans), for this soup.
I use only dried lentils and chickpeas, not the canned stuff and I usually go organic as well because those taste better and the quality is higher as well.