Zaatar Bread, aka Manoushe or Manakish, is a popular flatbread from the middle east. The bread can be prepared with pizza dough and is then topped with a zaatar seasoning paste before being baked in high heat for a short time. The result is soft and layered, seasoned bread.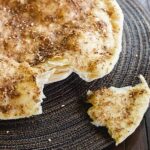 Zaatar Bread is a soft flatbread topped with a zaatar seasoning mixed with olive oil paste, which is then baked like a pizza.
The bread is enjoyed still hot in the middle east for breakfast or with a meal.
You will love this seasoned flatbread if you are into pizza, pita, and other middle eastern/Mediterranean baked delicacies!
Zaatar Bread is the English name.
The flatbread is better known by various names.
Man'ousheh is the single form for one zaatar bread and manakish the plural.
Other writing variations include manoushe, manoush, manakeesh, manaeesh and manaqish.
This particular flatbread is usually associated with the Lebanese and Syrian cuisine.
Yet, zaatar bread, in general, is super popular across the middle east as is the seasoning used on the bread, Zaatar.
I got to taste my first zaatar bread in Austria when the village organized that the Syrian men refugees prepared Manakish for the yearly village celebrations.
The point was to introduce their culture closer to the population, so to say to integrate them and keep them busy with things to do.
With that said,... looks like Zaatar bread is going to be more common in Europe from now on!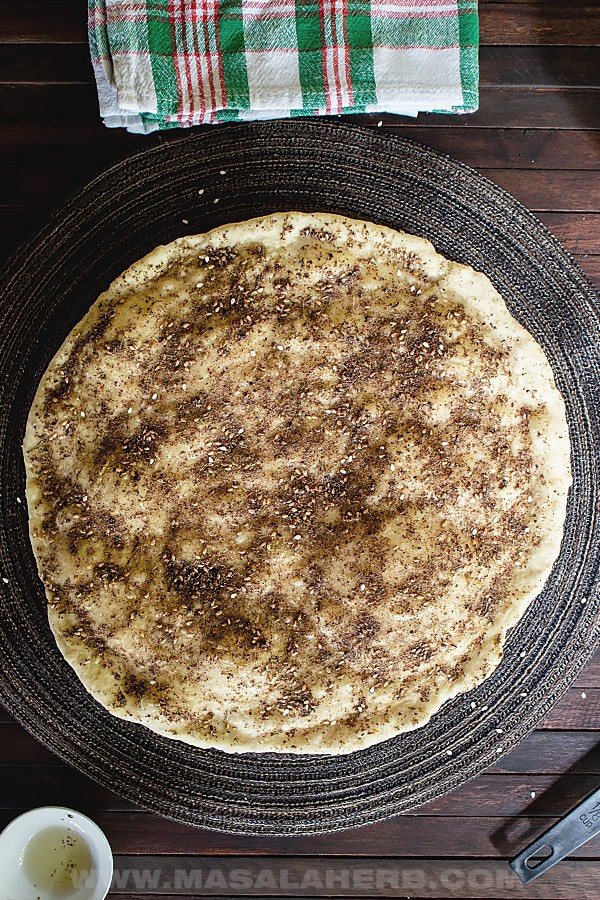 Zaatar bread ingredients
So when I tasted Zaatar bread, prepared by the refugees, I instantly fell in love with the flatbread.
Yet I think the men who prepared it were missing an essential ingredient to prepare the zaatar (which is kind of the main ingredient here anyway).
As I mentioned in my zaatar seasoning recipe, the blend of spices is prepared with sumac, which is a sour spice.
It adds tartness to zaatar and that is why zaatar is such a big deal!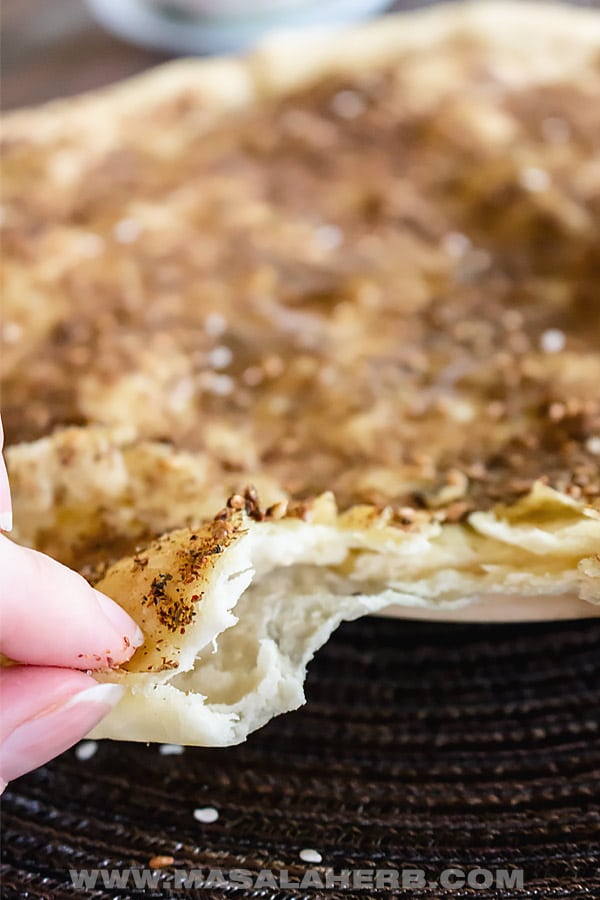 The refugees obviously didn't have sumac when they prepared their own zaatar. So the taste was slightly off.
Nonetheless, the locals in the village enjoyed the flatbreads and the event was kind of a success.
Anyhow, this brings us back to the fact that the few ingredients that are used to prepare this zaatar bread should be spot on and of great quality!
So, keep that in mind when you buy the ingredients.
You will need a Pizza dough, which is prepared with flour, yeast, water, salt and olive oil.
You can see in my how to make pizza dough video that preparing pizza from scratch is the way to go.
The flavors are way better and you know whats in your dough.
To top the rolled out pizza dough you will need a zaatar paste, which is simply zaatar mixed with olive oil.
The Zaatar bread is soft when finished baked and has layers and at times it creates air pockets and blows up a bit when you bake it.
When it's baking, you will smell it from afar because the herbs with the olive oil are getting infused into the bread surface.
You won't be able to stop yourself from finishing the whole thing by yourself.
The amount of Zaatar Olive oil paste can be adjusted. I don't add that much.
I think it' s sufficiently seasoned, however, feel free to double the amount of paste which you spread over the rolled out bread dough.
Serve the hot Zaatar Bread for breakfast or enjoy with a meal, homemade Labneh or even with a delicious olive tapenade or my green cashew basil pesto.
More Mediterranean recipe ideas:
Flatbread Recipes from around the world
Dear Reader, how did you get to know about this flatbread?
Please feel free to share your thoughts and ideas with us in the comment section further below!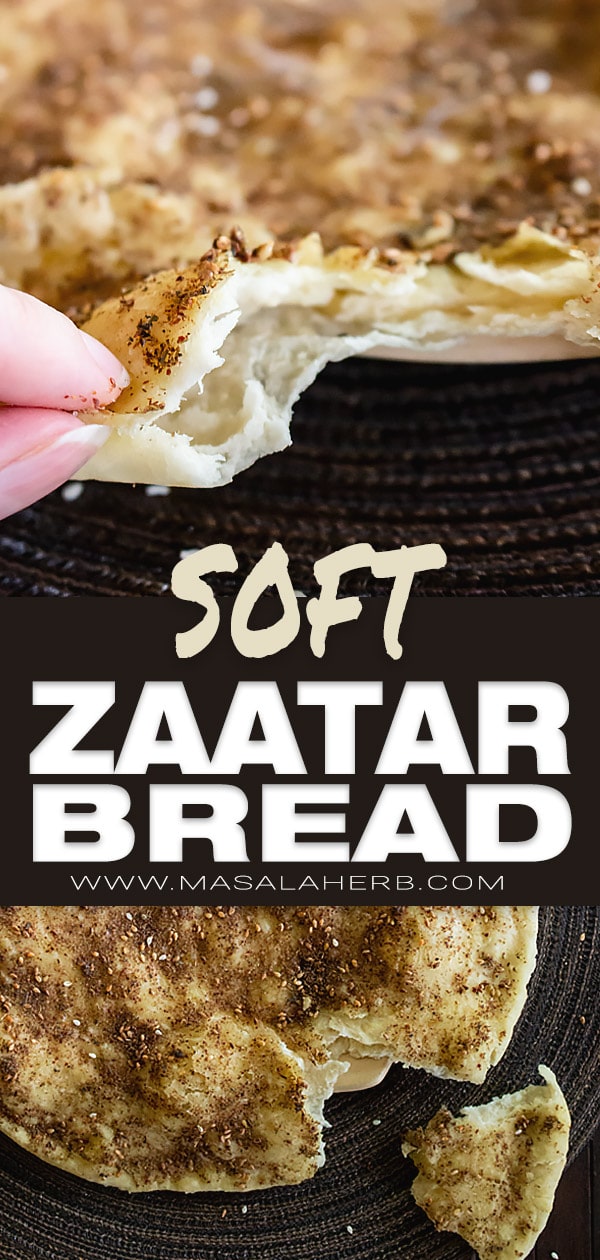 So you love SPICES and HERBS?
GET 5 FREE SEASONING LESSONS
Type in your email address below.
Including free access to the
Seasoning Members only Club!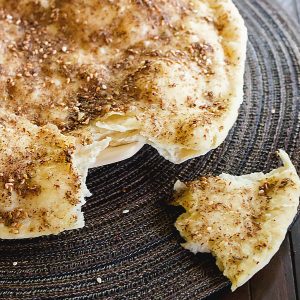 Lebanese Zaatar Bread Recipe - Manoushe/Manakish
Zaatar Bread, aka Manoushe or Manakish, is a popular flatbread from the middle east. The bread can be prepared with pizza dough and is then topped with a zaatar seasoning paste before being baked in high heat for a short time. The result is soft and layered, seasoned bread.
Print
Pin
Rate
Servings:
1
large flatbread
Ingredients
For the bread dough:
2

cups

All-Purpose Flour

2

Teaspoon

Instant Yeast

*see Notes

½

Teaspoon

Salt

1

Tablespoon

Olive Oil

½

cup

Lukewarm Water
Instructions
In a bowl add the dry ingredients first. That includes the flour, the yeast, and salt. Mix all the dry ingredients.

Create a well in the center and add the olive oil and some of the lukewarm water.

Start to mix all the ingredients and add some water when it gets dry. That way you mix the dough ingredients and form it slowly into a smooth ball while incorporating step by step all the water.

Then work out the dough. This is important because layers get formed and the dough will be able to rise properly. You want an airy light dough.

Place your dough into a bowl, cover with some flour and a cloth and keep in a warm and dry spot.

Leave the dough to rise for as long as possible. You can prepare the flatbread once your dough has doubled in size.

Preheat your oven to 210 Celsius/410 Fahrenheit.

Work out your dough again before you roll it out.

Roll out or stretch out your dough to a circle or elliptical shape and place on a baking tray.

In a bowl mix the zaatar seasoning with the olive oil.

Spread the zaatar paste over the flatbread all over evenly.

Bake your Zaatar bread for 6 minutes at 210 Celsius/410 Fahrenheit.

Enjoy the manoushe still hot for breakfast or as a flatbread with middle eastern meals.
Notes
 I use instant yeast to prepare the dough with yeast without having to proof the yeast. You may use fresh yeast or dry active yeast as well. In that case, refer to the package instructions for the yeast proofing.
You can heat up your oven for a few seconds and place the bowl with the dough into the warm oven (not hot!) while the oven light is on. The oven light creates more warmth, and that helps the dough to rise. It mimics the warming cupboards in commercial bakeries and kitchens. Keep in mind the yeast will be most active in a dry warm environment. Humidity levels above 75% in the air are not beneficial for yeast growth in homemade bread dough.
For the best yeast rising result. Leave the dough to rise for at least 4 hours or overnight.
You can split the dough in two or three and create smaller flatbreads, instead of one large one.
You may double the amount of paste used on bread if you want to add even more flavors.
One large Manoushe flatbread serves two. Nutrition is calculated for 2 servings.
Nutrition
Nutrition Facts
Lebanese Zaatar Bread Recipe - Manoushe/Manakish
Amount Per Serving (216 g)
Calories 1375
Calories from Fat 414
% Daily Value*
Fat 46g71%
Sodium 1190mg50%
Potassium 545mg16%
Carbohydrates 204g68%
Protein 36g72%
Vitamin A 230IU5%
Vitamin C 3mg4%
Calcium 151mg15%
Iron 19.5mg108%
* Percent Daily Values are based on a 2000 calorie diet.