Colombian Arepas are popular flatbreads made of corn.
Daniel from Layer Culture is an expert in Colombian and South American travel food culture. He shares his arepas colombianas recipe further below.
What is the Colombian Arepa?
The Colombian arepa is a versatile type of flatbread. Sometimes they are also known as Colombian pancakes amongst the English speaking countries.
They are prepared with arepa flour, a variety of ground cornmeal.
Did you know that the Arepa, that has been at the heart of the Colombian family meal for many years? Almost every Colombia home prepares corn arepas from scratch.
Not only that, but the Arepa has a cultural significance to the people that prepare, cook and eat them.
Also, there are many different types of Arepas in Colombia, depending on which region you are in.
One thing that is certain when it comes to Colombian cuisine is that the tasty arepa is a pretty big deal.
A Brief History of the Arepa
If you have done any traveling in Colombia, you'll know that the Arepa makes up part of daily life for Colombians.
Like going without a cup of coffee, many Colombians simply cannot live without it.
People who have studied its history have said that the Arepa is a food that existed way before the Spanish conquerors arrived in the Americas.
The Colombian Arepa recipe is made from corn. The arepa ingredients are a staple for the indigenous people throughout the continent.
Today you can buy the Arepa ready packaged and almost ready to eat, all you have to do is heat it up for a couple of minutes on the grill or by frying it at home and you are good to go.
How to eat a Colombian Arepa
Arepas are so versatile because they can be eaten for breakfast, lunch or dinner.
Usually, you find Arepas served as part of a full meal, an appetizer or as part of a side dish.
One thing that is common at the Colombian dining table is to see Arepas served with different toppings.
For example, the Arepa paisa, which is very common in the Antioquia region of Colombia; will be topped with butter and served with a block of cheese and an egg.
The truth is though, you can add and mix whatever flavor combination you desire and you'll enjoy it.
Think of an Arepa as a vessel for helping you combine the ingredients that you love.
Venezuelan Arepas, on the other hand, are stuffed arepas. The arepas filling can consist of various ingredients.
The Colombian version of the Arepa almost always has it's ingredients on-top.
You'll find that in Colombia's Coffee Region, the Arepa is usually sold by street vendors and prepared fresh daily by a neighbor, or in restaurants and takeaways.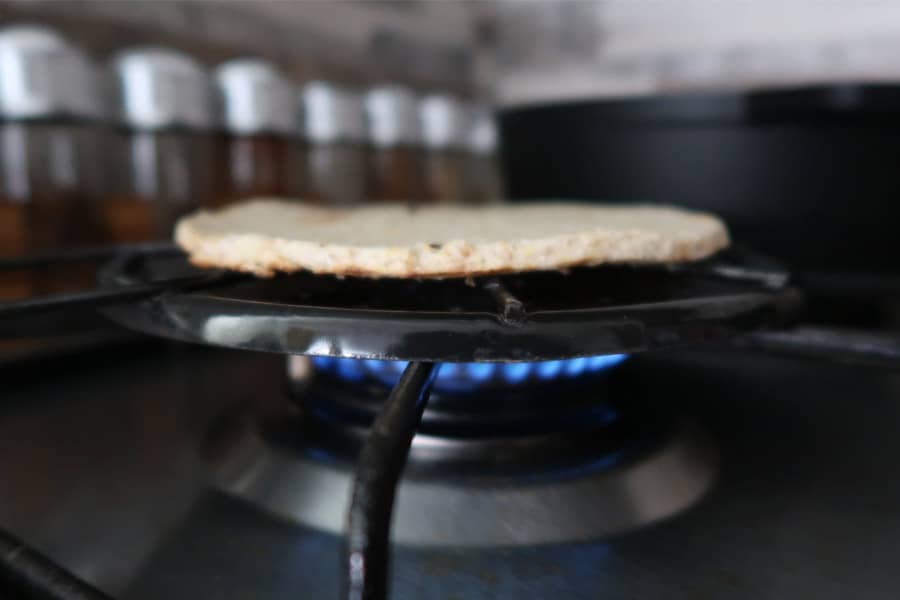 More South American Arepa variations:
Dominican Arepa
Cheese Arepas (aka arepa con queso or arepas de queso)
Sweet Arepas de Choclo
Colombian Arepa Recipe
The easy arepas recipe for making a Colombian Arepa is quite simple. Prepare and cook the corn arepa recipe to make your own batch. Getting them right may take a bit of practice but they are not difficult. Enjoy your own freshly prepared gluten free arepas.
Print
Pin
Rate
Ingredients
1

cup

Arepa Flour

pre-cooked, white or yellow

1

cup

Water

warm

2

Tablespoon

Butter

Salt

to taste
Instructions
Mix together the arepa flour, water, salt and butter in a large bowl.

Knead all ingredients together until the mixture has a soft consistency.

Add more water if too dry and more arepa flour if too moist.

Begin to form medium sized balls and place them between 2 sheets of plastic

Flatten the balls with a rolling pin until you reach your desired thickness. They are mostly 1/2-inch thick.

Make sure your arepa is round, cut off extras to shape it round if needed.

Spray a griddle with cooking spray or equivalent and turn on the stove to medium heat.

As soon as the griddle is hot enough you can add the Arepas one by one.


Cook the arepas on both sides golden or until you get it toasted to your preferred consistency.
Notes
Precooked Arepa Flour is also known as Masarepa. Use yellow or white arepa maize flour.

People outside of Latin America might not be able to get the right kind of arepa flour. There are other substitutes out there on the market but they alter the authentic taste and consistency of a traditional Colombia Arepa.
Nutrition
Nutrition Facts
Colombian Arepa Recipe
Amount Per Serving
Calories 312
Calories from Fat 117
% Daily Value*
Total Fat 13g 20%
Cholesterol 30mg 10%
Sodium 109mg 5%
Potassium 152mg 4%
Total Carbohydrates 44g 15%
Protein 5g 10%
* Percent Daily Values are based on a 2000 calorie diet.
So, now we've uncovered what the Colombian Arepa is, will you try one?
The good news is, now you don't have to go all the way to Colombia to get your hands on one, and you can make your own at home.
This post may contain affiliate links, and I receive a small commission when you click through and purchase. It basically buys me my daily coffee and cheese, and yes, my flour so that I can make pizza for dinner!
The following two tabs change content below.
I ❤️ Latin America. To Layer Culture means to dig deeper into the ideas, customs and behaviour of a group of people. I invite you to join me on my quest to become fluent in Spanish.
Latest posts by Daniel James (see all)